Confused Boyfriend. Chapter 7
5 min read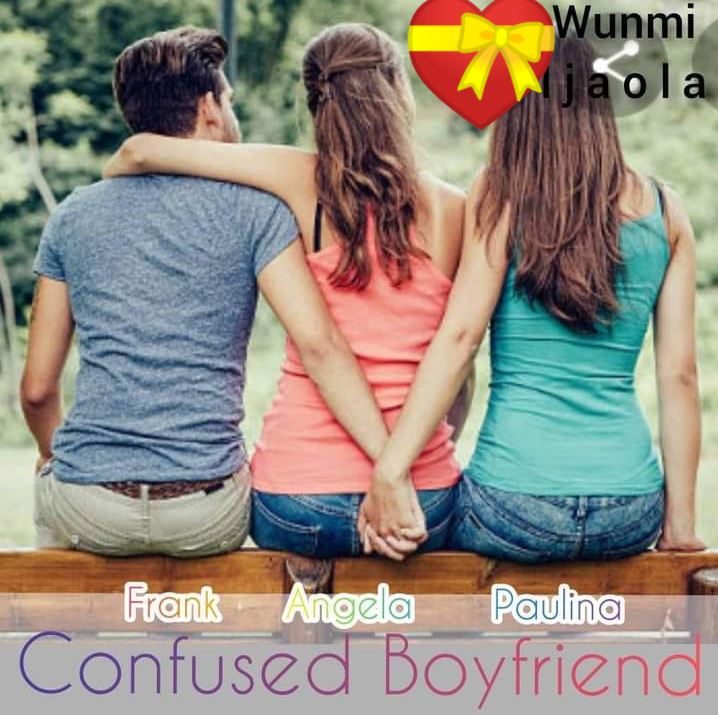 CONFUSED BOYFRIEND ‍‍
(He's in love with two girls)
Written by Wunmi Ijaola
Chapter 7
Paulina's POV
"Thank you very much dear" I said to him when the car came to an halt in front of my house and Frank came out of it first to open the door for me.
"My humble pleasure" He said.
"Do you wanna come in? " I asked him.
"Not..now but next time" He replied almost stammering.
"Ok then, so we'll call it a night now right? "
"Hmm yeah. See you in school tomorrow" He said and waved at me then he turned to go.
Oh no! He shouldn't be such a boring boy.
"Frank" I called his name softly and when he turned to me, I hugged him. I've been longing for this, I've been yearning to touch a guy this perfect. I heard his heart beating too fast or is there anyone beating a drum nearby?
After a while, I disengaged from him and he smiled awkwardly. I waved at him as I watched him walked to his car and soon it drove away.
Aw! He made my first day at school today.I smiled continuously as I walked into the house.
"She's fine. Thanks"
My aunt hung up her call.
"Paulina! " She beckoned to me.
"Aunt Bella! " I exclaimed and embraced her so closely and tightly.
"Did a guy drop you now and I think I saw the both of you hugging" My aunt said when when we disengaged.
"Yes, it feels so good and I felt so ontop of the world aunt" I said..almost crying. She pulled me closer to herself again and patted me on my back.
"I told you it was the best option, didn't I? "
"Yes, you did" I responded and as I let the tears flowly down my cheeks.
"Come on, you don't have to cry" My aunt said and wiped off the tears, I smiled as she did so.
"When you weren't around, your mom called to ask of your welfare.I'm sure she'll be very happy when she finds out that things didn't remain the same" My aunt said.
"I'll try to put a call to her before I sleep off" I said.
"Ok good.Now come and have dinner. It's the little celebration we can have now" Aunt Bella said and I nodded happily.
****
After having dinner, I went to my room to pull off my uniform and have a shower before changing into night wears then read some novels overnight, the novels Frank gave to me.
I layed on my bed horizontally and brought the books out of my bag.., Just then my phone rang.
Unknown number? How could it be? I already deleted most people's phone numbers b'cos I was beginning a new life.
"Hello" I said into it, after picking it up.
"Hello paulina" The caller said, it was a male and the voice was kinda familiar.
"Yeah, hello. Who am I into? " I asked.
"You deleted my number? " He asked.
Oh now! I think I know who it is..
"Freddie" He said.
"Okay" I responded sheepishly.
"I visited your home but your mom told me you travelled somewhere really far.. "
"Yeah"
"You couldn't even tell me Paulina, you should have told me you would be leaving Dream High School" He said.
"Why do I need to? "
"So you still don't care about me Paulina?"
"Never have i" I replied, rolling my eyes as if he could see me.
"Where do you stay now and how is your new school over there? " He asked.
"Oh Freddie, these questions you are asking me, you actually don't need answers to them" I said.
"You're still hurting me" he said.
"You are hurting yourself Freddie" I said already fed up of the boring dialogue.
"I'm the only one who likes you, are you supposed to pay me back this way for liking you this much? " He said.
"And for your information; here in my school and where I stay now, guys are almost dying to see me. I don't even need a love alarm to tell me the number of guys that likes me. So good night Freddie, I have something very important to do now. Bye" I concluded and hung up the call.
I huffed…
"So I'll be starting with Paradise on earth " I said to myself as I searched out the book.
My phone rang again, I noticed it was the same number that's just called now, Freddie! I then silenced it. He should please for goodness sake, Free me.
He called Again- Oh my God, I switched the phone off.
My secret, my little big secret.
I had a plastic surgery, I had to.
I wasn't still ugly five days ago (I had a successful plastic surgery five days ago).
So.. I left Dream high school for good. Do you expect me to stay there and continue to be mocked?
No one wanted to be my friend, not to talk of having a boyfriend. The guys turned me into their mocking – toy, the second lalorona..well except for Freddie; he was different, he never mocked me, he usually say these words 'Beauty is in the eyes of the beholder'and some other beautiful quote which I'm sure were two keep me alright but I wasn't. Among more than a thousand guys, he was the only one that finds me beautiful. Does that even make sense?
Dream High school has been hell for me, I spend most of my time in the school library because less students were there to make me feel bad – I wasn't actually the school Liberian.
I couldn't continue to live that ugly way, Aunt Bella, my mom's favourite sister brought up the plastic surgery suggestion although I had thought of it often too. My mom agreed without hesitating, I mean whose mother would want to see her grown up daughter have no boyfriend at an adult age of eighteen?
So.. I had the surgery and moved on to live with my aunt because she stays far away from my mom's place, far away from were I've been seen by people. If I didn't go, people would know recongize and know that I did plastic surgeries. I don't even want the walls to know about it, it's my little big secret.
*******
****