She Belongs To The Kitchen. Episode 9&10
9 min read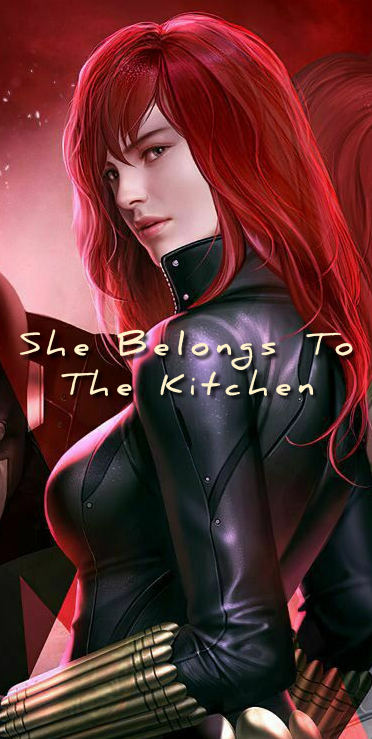 SHE BELONGS TO THE KITCHEN
*
EPISODE 9 & 10
*
By 4am the next day, Lawrence who was busy sleeping was rudely interrupted by his ringing phone.
He opened his eyes and looked around to his greatest surprise, he was sleeping on the table with Eva still tied on his back. When he tried to stand straight, he felt a sharp pain on his back and neck
"ooh it hurts a lot"
He cried out in pain.
Immediately he untie the baby on his back, lay her on the bed before picking the call without checking who the caller was.
Lawrence: Hello! who is this?
Bekky: Hello, honey its me Betty, good morning
Lawrence: oh! its you, how are you doing baby
Bekky: very well dear, how was your night?
Lawrence: More than terrible **(he whispered)**
Bekky: What dear
Lawrence: I mean its very good dear"
Bekky: I know it should be. please I called to wake you up so that you can start the morning duties to avoid the kids from going late to work.
Lawrence: okay **(he murmured before cutting the call immediately)".
With heavy eyes full of sleep, Lawrence said a brief prayer he went to the bathroom and washed his face before heading to the kitchen.
He opened the cupboard and brought out the things he will be needing for the food.
He started with cooking the white yam, when he was through , he used his phone and searched how to make egg sauce from the internet
"got it! the food will definitely be delicious"
(he said).
He brought out the things he will be using for it, fresh tomatoes, fresh pepper, onions, egg and the rest. "
first I will have to wash and slice tomatoes, pepper and onions"
He said to himself and started slicing the tomato, followed by pepper, then onion, when he was cutting onions, he started feeling its impact on his eyes, he used one of his hands to rub his eyes forgetting that he used it to cut pepper. Immediately the pepper entered his eyes he started running around like a crazy man
"haaaaa my eyes oooh! my eyeeeees, pepper, pepper! pepper want to kill me oo"
He used his other hand to rub it and it worsened it " oh my goodness! pepper ooooooooh, my eyes, water water, where is water oh! water please show yourself oooh "
He started looking for water with his eyes almost closed , when he saw water.on a basin, he rushed and put his hands inside it but unfortunately for him, it was a very hot water he used to cook yam. he removed his hand immediately he felt the hotness of it.
"ahaa, now I am sure my enemies are at work! my eyes ooo! my hand ooh!"
He continued shouting while looking for water. someone tapped him on the back and he turned to know who it was
Wally: Daddy please take this cold water I got from the freezer to wash your face and stop disturbing us with your loud voice. If mom had been shouting like this each time she cooks we all must have run mad by now. **(he said, giving him the bottle of water)"
Lawrence: Come on give me that water before I kill you now **(he thundered snatching the water from him)**
Wally started laughing at him
Wally:Daddy the cook! after all these you will still bring out one concoction for us to eat* he burst out laughing again while Stephen gave him a murderous look.
Lawrence continued with his cooking, he fried the egg sauce, when he was through he set it aside and began cooking the spaghetti. it took him some minutes before he could finish, he checked the time and it was 6:45am already. "oh my goodness!
This kids will definitely be late today"
He rushed to their rooms and started waking them up.
Lawrence: Deborah! Wally! wake up, he patted them, Deborah was the first to wake up
Deborah: Daddy good morning dad"
Lawrence: good morning princess, help me wake your siblings up, tell them to remove their cloths and come to the bathroom for their bath now
Deborah: yes daddy
Lawrence went ahead and got the bathing water ready before the children got to the bathroom.
He bath Eva and Wally while Deborah bath herself.
He dried Eva's body and put her school uniform on her. When they were all set, he served them their breakfast
"Lawrence now pray before you guys start eating"
Wally: Oh Lord, we thank you for this wonderful meal we are about to eat, bless it and may it nourish us.
We cast every spirit of purging out of it. this we pray and believe you have answered us in Jesus name. Amen
All: Amen!
They opened the food to eat…
Wally: Oh my God! another poison ooh, this one is very obvious ooo. I can't eat this"
Deborah: Daddy will not kill us in this house. Please where is mummy? she should come back Wally let's manage and eat it OK?"
Wally: Eat what? this egg sauce that is filled with oil? I can't possibly eat this because I strongly believe that behind this concoction lie another set of purging patiently waiting for us.
Deborah: better lower your voice so that daddy will not hear us.
Lawrence: no need for that, I already heard all.
He said coming towards them with an expressionless face"
*
EPISODE 10
*
Amara:Hmmmmm, how will I get this man now, he is proving stubborn. I have always felt something for him the very first day my sister brought him home as the man she will marry. How will I get him to fall for me? or seduce him to a have s-x with me? even if its once, I really want him badly.
Anyway, I will keep on trying and I know I have better chances because with my workaholic sister's schedule I am sure he is been starved of it. alright let's be going.. **(she said and went inside the kitchen to make fruit salad for herself before joining Samuel in the sitting room).
Amaya: good afternoon uncle **(she greeted him and sat beside him crossing her legs in a seductive way )**
"you want some of the fruit salad or something more sweeter*
(she said gently rubbing her laps).
She took some from the plate and tried to put it in Samuel's mouth but he held her hand before it would get to his mouth.
Samuel: will you stop that rubbish!!! what has come over you? why have you changed so much?
Amaya: Nothing. just trying to help you, instead of you to be grateful to my kind gesture you were here pretending like you don't want it.
Even a blind man can feel that my sister is starving you. she preferred her job to you. See dear, a lot of men will fight to have this my body that I am offering you free of charge and you are here pretending to be holier than thou.
See uncle..
**(she went closer to him and started touching his cheeks)".
Samuel: Just get your flirty hands off me. What is it? I can see you were sent to destroy my family but I will not let you.
My dear your mission has just fell through. It won't work! **(he shouted at her)**
Amaya: Oh Uncle just stop pretending, I know you want me as much as I want you or else you Want to die of starvation .
Samuel: You really are evil, more dangerous than you look. green snake in a green grass.
But don't worry, when my wife comes home I will tell her and make sure you leave this house tomorrow".
Amaya: Hahahaha, you really are so funny. My sister can even swear with her life that I am just an innocent virgin. So telling her will just be futile or even give her the impression that you are the one trying to seduce her little innocent sister. But you can give it a try if you want.
Samuel: I really cant believe all these were coming out of your mouth".
Amaya: you've got to believe it Sir and I will do anything to make you sleep with me. Don't ever underestimate what a desperate woman like me can do. You are so cute.
Maybe in your next life you tell God to make you ugly so that another Amaya won't be pestering you about. I am going to my room now to take a nap. take care of yourself for me **kisses**
She headed to her room laughing.
Samuel: God please give me a job so that I will be leaving this house, I don't want to be staying alone with this wolf in sheep clothing.
**he prayed**
*
Lawrence: Kids let's go to school, I am really tired of trying to please you guys. do you know how much effort I put in making this food all you guys do is to complain especially Wally…. please let's go I will buy food for you on the way.
He took them to school, on his way back,
He branched to the market to buy the food stuffs his wife wrote on the list. he packed his car and went ahead.
Lawrence: Madam, I want to buy groundnut oil, how much is this one **(he said pointing at a particular one)**
Seller: it N3000 sir
Lawrence: haaa madam its too much na . this thing they are selling #1500 over there
Seller: Ooh! #1500? okay sir. just go down there. you can even get it for #1000 or free . Abeg commot for my shop make I sell market. na your type dey give their wife #500 to cook better food and still expect her to bring change. move it now before I pour you dirty water
Lawrence: Haaaa madam what did I do to you now? or is it a bad thing to price something again? instead of you to tell me that you won't sell it at that amount you started insulting me.
Seller: Oga carry your bad market commot for here joor.
Lawrence left the woman"s shop and went somewhere else but still the same.
He tried a lot of places before he decided to buy them like that, he went to the next shop bought everything , as he was still pricing the last thing he wants to buy another woman came to buy something as well, the seller gave her what she requested for and she paid.
The woman looked around, when she notice that Lawrence wasn't looking at her side, she switched her bag which was exactly the same with that of Lawrence which was lying beside him and left before anybody notice what she did.
When Lawrence wa
about to put the last thing inside his bag, he opened it to his greatest surprise the bag was filled with all kinds of rubbish, including used baby pampers and used attachment and others.
"Haaa what is this?".
This is not my bag…
The seller went and check what was inside the bag, she shouted and told him that he wasn't careful that was why the woman next to him switched it without him noticing now she is no where to be found.
Seller: Oga your money na #15, 800
Lawrence: What? how do you expect me to pay for the things they just stole at your shop?
Seller: Oga abeg! wetin you dey talk? na me thief your bag? just pay me my money now or I shout and if I do… it will be a story for another day.
Lawrence: Alright. how much? **(he asked trying to bring out his wallet from his back pocket)**
Seller: #15, 800
Lawrence pressed his pocket but couldn't feel anything like wallet
"What! where is my wallet? I am very sure I put it here…
Where is it then?
Seller: Oga wetin again? you dey waste my time ooh abi them don thief that one too?
Lawrence: Patient woman!
**He searched all his pocket that was when he knew that he was in trouble cos he kept all the money he came out with inside that wallet and its obvious someone has taken it from his back pocket when he must have been pricing the stuff…. *
** haaaaaaa see what too much of bargaining has caused me.
I am finished!!!
*
TO BE CONTINUED…….