Magical Twin. Episode 20
6 min read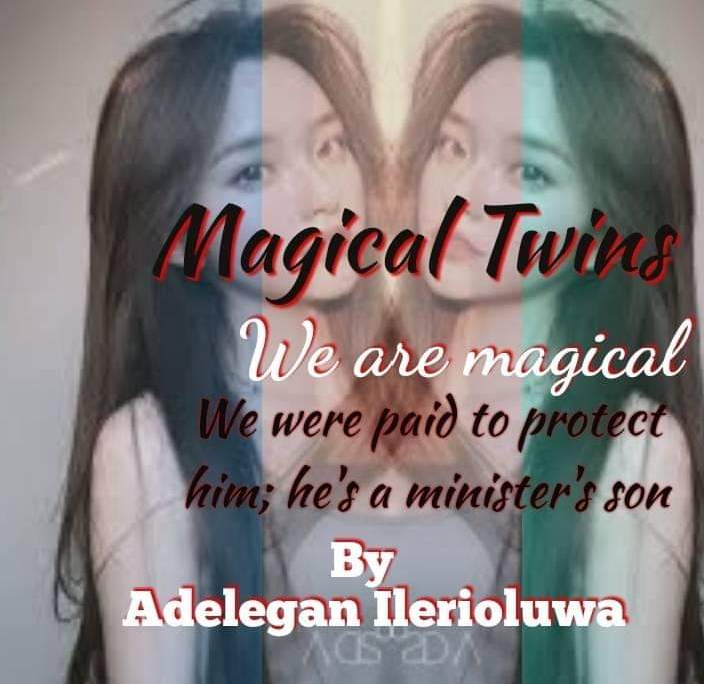 UNLOCKED
???????? Magical Twins ????
We are magical ✨
(We were paid to protect him; he's a Minister's son)????????
Written by MIMMY (ADELEGAN ILERIOLUWA)
???? Episode Twenty????
PRESENT WORLD
HOSPITAL
MINHO'S POV
We stepped out of the Doctor's office, I really don't understand why Beak body turned to that and he couldn't talk
How are we going to get the money, you and I know we have no money. Mum said and I sighed
Don't worry mum, I will…. Do something about it.
Let's go and see him. She said and I followed her
He was asleep
My mum walked to his bed and pecked his cheeks
You will be okay. She said and a tear dropped from her eyes
Mum, stop. I said and cleaned her tears
I'll do something and you need to forget about Dad now, I still havee some cash and if I ask for assistance from my friends, they will help. I said and she cried more
I hope your father sees the truth, Mrs eagle is a devil. She said
Everything will be fine. I said and hugged her, I tried so hard not to cry but didn't know when I joined her
????????????????????????????????
Eloise's POV
You want to help us??? Evie asked with a scoff
Yes, are you ready or I should go. The man said
But…. Since you wrote the book, you know we could get stucked for life. She replied the man
And I can Break the spell. He said
What's if it's a…. He didn't let us complete us speech then he teleported us and we found ourselves in a more civilized year than the other
This is year 2005, you were given birth to five years ago(2000). He said
Why? Why did you teleport us here! I asked less angry
He chuckled
My second friend I am talking about is your father…
Our father?
Dgynal ebbn. He suddenly said
Listen, it doesn't matter whatever you say, just take us back to the 80s.
Now, this map is useful, I wish you well.He said and vanished
But… Evie, do something! I said but she kept quiet
He is right. She said
He and our father did? You can't even remember our father, can you? I asked
I don't know who father is but the words he said mean *We are not magical villians*
He wasn't lying. She said
Gosh! I'm confused! I should also know these things. I said
That's because you don't read the magical book. She said and took my hand
We followed the map and on our way, we met Mr Kim and Mrs Madison again. They've grown older this time but still young though
We saw Uncle.
Uncle? She whispered surprised
We branched at a mask shop and bought one each, we used it and traced uncle jokingly
I really want to know where he is going. I said and giggled
Me too. She replied
We followed every step then he got to a young lady
His wife????
I love you Kristen, be the mother of my kids. He said to her
I held my laughter
Uncle was once a toaster(????)
I told you I will think about it, I'm just been careful about your Brother. She replied and that happened to be our father.i really wish I remember his face
I explained everything to him already, he said I am free to date anyone, it's not compulsory I hate a lady who has magics. He said
A lady who has magics? Uncle also has magics? I asked myself
He's leaving. Evie whispered
We stood up and began to follow him
????????????????????????????
PRESENT WORLD
MINHO'S POV
Immediately we got home, I contacted all my friends, only few of then turned up
I brought out my laptop and then I started receiving alerts from them, I summed up the whole money
It isn't up to half
I thought of what to do then I remembered I was offered a job and I told them I'd get back to them
I tried to log into the company's website but couldn't find it
You've been restricted!
Oh God.
What happened? Mum asked, she shouldn't see this, I closed my laptop and turned to her but she was already at my back
Mum….it's nothing to worry about. I said
I saw it, you've been restricted again. She said
Mum….A tear dropped from her eyes
Maybe….I should go and see dad if he could help. I said
No, leave him alone! He's gonna regret everything he is doing very soon. She said
No mum, I'll go and tell him whatever happens. I said and stood up
I'll be right back. I said and left the house
I entered the jerky car
Few minutes on motion, my car broke down
Damn! I stepped out and opened the bonet, I don't even know what to do
Before I knew it, people had gathered and started taking pictures, I hid my face
They will definitely post it on social media
A car stopped and a lady came out of it
Madia??
Yes, how… are you? Want a ride? She asked
I don't need your stupid help! I half yelled
She chuckled.
I know you are going to my daddy, good luck. She said and turned to leave then she stopped
Call me if you need money. She said and entered
That daughter of a bitch.
????????????????????????
Kim's office
I got to Dad's office and I was told he doesn't want to see me.
Tell him it's his son. I said
With all due respect sir, get out. The secretary said
But…you know i'm.his son right. I said then she picked up her phone
Security, please be upstairs now . She said
What? Are you crazy?
Three hefty men came inside and dragged me out, I hit one of them then a slap landed on my face
They kicked me and beat the hell out of me, they didn't stopp until I vomited blood
Let's go guys. One of them said
You …will…pay…for this. I said within myself
I cleaned my mouth and managed to get up, I got to the gate and went out of his company
Excuse me. Someone said behind me, I looked him, it was a different security
Are you going to beat me again? I asked
No . He came closer and gave me some petty cash and a card
You will know the truth very soon, call me. He said and went inside
What is he saying?
????????????????????
Back In Time
Evie's POV
We've been following him since morning, don't you think it's nice if we just let him go his way? Eloise said
Yes I know but….the map..he is going in the map direction. I said
Oh really? She asked
Yeah. I replied
Finally, he opened the gate to our very old house and entered
What is he doing here? I asked
I don't know. I replied
We opened the gate slowly and entered
Stop you two with mask! Someone said and we freezed
Remove your mask. She said and slowly, we did
Okay, you can go. She said and we let out a breath of relief
We entered the house and we saw our little selves
We looked really cute when we were kids. I said
Yes. She replied
We saw our beautiful mother, so beautiful and the man we saw in the 80s, he has grown a little older than he was
We saw a young boy, our little selves we're playing with him,.maybe he is a neighbor
Is that man mum's concubine? I asked
I don't know but I really wish we could see dad. She replied
Mr Kim and Mrs Madison came in and they exchanged greeting with my mum and the old man that looks like Beak.
Oh my? They know each other?????
????????????????????????
PRESENT WORLD
MINHO'S POV
I got and collapsed on the couch, I felt pain all over my body
Omo! What happened to you?! Mum asked
I shouldn't tell her
I fell into a pit hole. I lied
A pit hole? Or…..did your dad's security do this to you? She asked angrily
No mum just..
Answer me! She yelled
Kim's security did this? She asked, I sighed and nodded
Fine. She muttured and went inside then later on came out with her purse, she stormed out of the house
Mum……