Underground Demons. Chapter 1
7 min read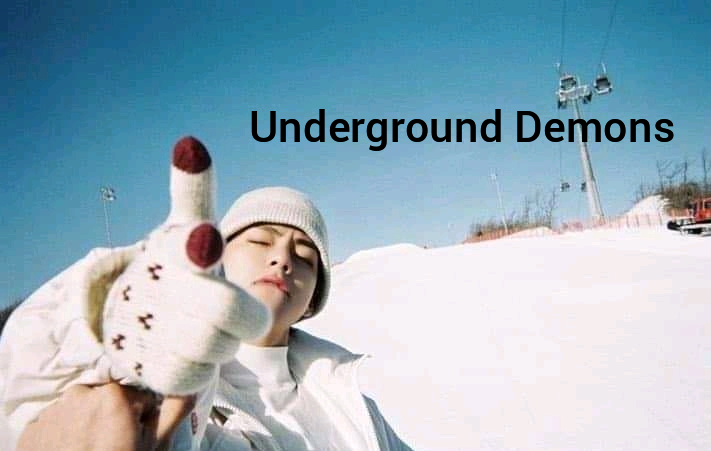 ???????? UNDERGROUNDED DEMONS????????
????
_______???????? The Revenge????????________
????
????????Chapter One????????
Brought by Chris Val ????✨
One of the most popular university in California
The life of the whole students of Stanford University lies in a hand of a guy by name Jack
Stanford University has been in existence for years and it was been managed by a powerful old man by name Mr Smith
Mr Smith who happens to be the owner of the university
Many years ago during his youthful age
He did lots of things just to build up his own name
Lots of atrocities he committed but no one was aware of it
But what could that be?
The university has all it takes to be one
Their teaching
Facilities are incomparable
Over all, they gave scholarship opportunities for brilliant but less privileged students from different countries once in every year
But lately, when Mr Noah was employed to be the principal of the university, things began to change
Most of the result is Death of students who were killed by anonymous
The death of the first student was within that week Mr Noah got into the school
????⚡????⚡???? Jack POV ????⚡????⚡????
In the middle of the night, I found myself before this Stanford University
It wasn't my school but how I got myself there was still confusing to me
From Mexico to California?
That's really strange
The building was just too beautiful
I got inside and began to walk around the compound
The lights were On
One could see everything clearly
I checked my phone time, to know if it was still night
It was exactly as 12 midnight
I got to a point that looks more like a cemetery
"Inside the school?" I asked myself
One of the grave was empty
The coffin was beside it and it was wide open
I didn't know what was pushing me but I found myself walking closer to it
I wasn't scared but I didn't know where I got such courage
I got to where the coffin was, I looked inside it but it was also empty
I exhaled heavily as I raised up my head
I heard some voices from far but it was within the school compound
Following the voice, I got somewhere
A girl of my age was there, reading under a tree
A big building was before her
I wondered why she could stay outside alone
It was clear that the voice wasn't from her because I could still hear that voice not too far from where I found myself
I ignored it and walked to where the girl was
"Hey" I said waving my hand at her
She slowly looked up
"Hey" she responded with a smile
"What are you doing here by this time of the night?" I asked her
"Do you care for a seat?" She asked instead
I was just looking at her to know if I could see any transformation on her body but there wasn't
"I just want to know" I said
"Anyways, I like reading in the midnight but my fan have a problem" she said pointing at a door in that building, opposite her
The door was wide open and no one was inside
"So the heat was too much, I decided to be here" she added
"It could be dangerous here" I said as I sat down
"Maybe, but my door is just opposite me, not far" she replied
"By the way, my name is Kate" she added with a smile as she brought out her hand for handshake
"Am Jack" I responded
"I haven't been seeing you in this school, when did you come in?" She asked
How could I know?
I just found myself there
I was still thinking for an answer when the whole lights went off
"Oh my God!"
"Jack!!!!!" That was the next thing I heard as the light came back
The only thing I could see was lifeless body of Kate
All her eyes were gone
Her head was divided into two
Her chest as well
Bloods filled the whole place
"Jesus!!!" I screamed and wanted to jump up from my bed but my sister held me back with a handkerchief soaked with a warm water
"I know that it is another dream" Jane my sister said
"You have been screaming, so I decided to calm down your temperature" she added
It was all a dream
"Yes but this one is more terrible, I saw a dead body" I replied
????
Oya time for introduction
My name is Jack Lorin
Born into the family of Mr and Mrs Lorin
I was the second born and the only son
Jane was my elder sister not that she was my elder, but they said so, still, we were in the same level in academy and also the same age
She cares for me very much that sometimes, I just wished we weren't related so that I could marry her
I just love her
Things about me were just unbelievable for me
I was born with a special gift
I have been seeing ghosts right from my childhood
They said that I inherited it from birth
How I got it was what I don't know, I do communicate with them and had never encounter a fight with them
Anyway, I was born into a poor family in Mexico
With two siblings
????⚡????⚡????Mira POV ????⚡????⚡????
Being one of the students in Stanford University has been my dream
On the first shot, I got admitted
It was a great pleasure
"That is the real Dream come true" my mother had said
Ok, my name is Mira George
My father's name
A 3rd year student of Stanford University
Should I go deep into the recent misfortune that is trying to scatter our school?
Let's hear it next time ????
I wasn't the only child but I was my parent's favorite
But still, I didn't use that opportunity to get spoiled unlike Axel
Whose his father's wealth had reaped his brain
Talking about Mr Smith's family
Mr Smith and my father had been tight friends right from their childhood
According to my father
We do see ourselves as family
But I prefer chatting with Ajax
????⚡????⚡???? Axel POV ????⚡????⚡????
Life is sometimes sweet when you play it with hardness
I was born into a wealthy family of Mr and Mrs Smith
I was specially created with the talent on how to trouble some people
Under me, I created a gang called
'A Gangs'
We were Aiden, Andrew, Anthony, Alex and me (Axel) as the manager
We were all in 3rd year but still, was well respected
Oh I haven't told you who my father is?
Wow
See this people o
My father was Mr Smith
Hope you all know him?
The owner of Stanford University that you are hearing about
So, why won't they respect us?
????⚡????⚡???? Ajax POV ????⚡????⚡????
Don't be surprised if I tell you that am Axel's twin brother
Surprised that am not among the A gangs?
Smiles,,,,,
I appeared different that people do doubt if am really his twin brother
Am the senior, still the coolest one
Upon the wealth of my father, I chose to ride bike instead of cars like my twin brother
We were three in our family
A girl and two boys
I was just like my sister in character
Oh introduction ????
That's all I have for myself
As for now
????
Aiden
Meet me Aiden
One of A gangs member
Am the second in our group
A very close friend of Axel
I wasn't born with that kind of silver spoon
And I won't say that I was born into an average family
We don't lack what we want but we still can't compare ourselves to Mr Smith's family but what I was sure of
Was that my family was rich
In our gang, after Axel's family, mine will be next in wealth, speaking about how we spent it
We only have rich people in our gang
????
Andrew
The third guy in the gang
I was always the assignment guy
Whenever we want to deal with someone, I was always in charge in getting the person to the trap
We don't kill people but we bully them
????
Anthony
The fourth guy
Gentle but have the most dangerous planning strategy
I was always the one who gives Andrew some tips on how to do some things
????
Alex
The last guy
I was always scared after bullying some people
Still I didn't like to be intimidated
I was the second to the richest but I always remain on low
Making them to think that I was the last one
????
Jane
Nothing much to drop about myself
Due to our poor background, my parents had to accept a proposal to my marriage, after school
⚡
Some secrets about Jack was what I was an expert in
I love him but it will sound strange if anyone hears it
I have every right to love him
I don't see him as my brother who he thinks he was
⚡
So the questions are
What did Mr Smith do in that his youthful age?
Who was Mr Noah?
Jack's dream