Underground Demons. Chapter 5
10 min read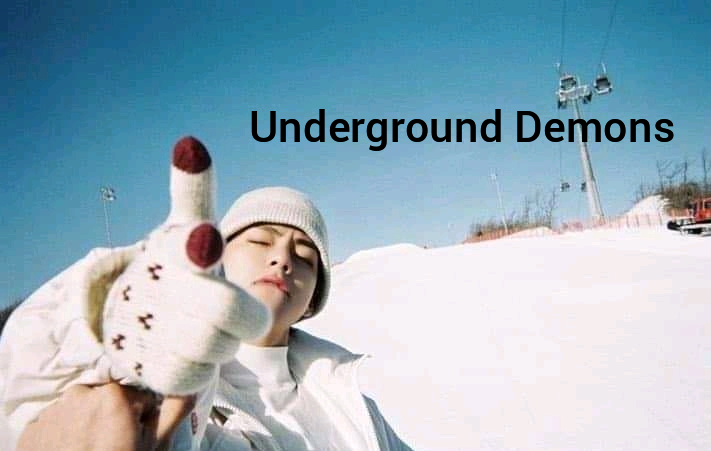 ???????? UNDERGROUNDED DEMONS????????
????
_______???????? The Revenge????????________
????
????????Chapter Five????????
Brought by Chris Val ????✨
????⚡????⚡???? Jack POV ????⚡????⚡????
The following day which was on Sunday, Dan has gone to church while I was in the room alone thinking about what I encountered the previous day
The ghost girl's Uncle must be behind her death
I only needed one thing
Which was how to get the truth
But how?
Another thing was to know the girl's parents but I needed to consult the ghost girl first
That was my thought
"Am always right behind you" that was the ghost girl's voice as she appeared before me
"That was scaring" I said because I almost jumped up from where I was sitting
"Sorry, I didn't mean to" she responded
"I need to know where your parents lives and their current condition" I said
"As for that, I can remember it very well" she replied
"Is it far from here?" I asked while she shook her head negatively
⚡
I sent a message to Dan, telling him that I might not be home when he gets back
????
We arrived at her house 1hr later
I paid the cab driver and we went inside because the gate was open
They aren't that rich but one could tell that they are living fine
No one was outside only two cars were parked at the right hand side of the compound
I recognized one of the cars as the ghost girl's Uncle
"Your Uncle is here" I said to the ghost girl, pointing at his car
"He normally visit us every Sunday" she replied
I was confused on what to do next
I wanted to see her parents but I didn't plan on what I would tell them that brought me there
"Problem" I said as I began to think
"So which level of education were you in?" I asked the ghost girl
"Am in year one, in your school" she replied
How could it be?
It could be possible because I can't tell all the faces that are in 3rd year talk more of new students
"But am sure that they aren't aware of you getting missing" I said
"That day, I was supposed to visit my school for clearance but on the way in a public bus, I remembered some files that I left in the house, I had to stop on the way and took a cab back home but this is where I found myself" she explained
That's another tough time
I guessed I have gotten a new plan
I had to pretend to be one of her schoolmate
"That will be great" the ghost girl said
I looked at her in disbelief
"I can hear your thoughts" she added because she understands the look
"But since he is there, he might see you" I said
"Who?" She asked
"Your Uncle" I replied
"Or don't you know that he is behind this?" I asked
"I always thought about it but several times I appeared before him, he didn't do as if he sees me"
"I even tried scaring him, to see his reaction but he didn't make any move" she added
"Okay then, let's go inside but another thing" I said as I turned to look at her
"How to communicate inside there" I added
"Just be speaking with your mind whenever you want to talk to me" she replied
I remembered that she do hear my thoughts
????
They were all sitting in the sitting room when we walked in
I greeted them and they offered me a seat without asking me who I came to look for
Her mother was there
Her father, senior brother and a junior sister
Her Uncle was also there
"Young man, who are you and how can we help you" the man I assumed as her father asked
"My name is Jack and am your daughter's schoolmate" I replied
"What? Do you see her??!" They all chorused except her Uncle
"Not really, am also here for the same reason" I replied
Looking at them, one after the other
"Before we go into a different cases as if they are the same"
"Please what is her name, young man?" Her Uncle asked
How could I know?
"Sonia" the ghost girl said
She didn't wait for me to ask her first
"Her name is Sonia" I replied
"Sonia haven't spent a day at her school, how do you know her and what is your school name?" Her Uncle asked
"I met her the very day she came for her clearance, I was the one that assisted her" I lied
"That was a good lie" the ghost girl chuckled
"But she didn't go with her complete file, so how did you assist her?" Her Uncle asked again
He was really smart in questioning but he doesn't know what I was made up with
I had to ask the ghost girl
And during the period, I had to look for a way that it wouldn't be suspicious
"Did you call them before turning back?" I asked in my mind as I dipped my hand inside my pocket
Bringing out my phone
"Yes, I called my mother who confirmed that the files is in the house" the ghost girl replied
"I wanted to record the call then but my phone was down" I said showing up my phone
"It was during the process that we discovered that, I was even there when she called one of her family who confirmed it" I lied again
Her Uncle looked at me with somehow look
I had to ignore him
"Actually, since then, she didn't come back again and I forgot to collect her contact" I added
"Too bad because we haven't seen her as well" her senior brother said
"I have reported the case to the police, they are into it" her Uncle said
????⚡????⚡????Axel POV????⚡????⚡????
Our father called us home for what he knows better
His first question he asked was if I and Ajax are safe
Of course, he supposed to be getting updates about what was going on in his school
He wasn't around when we arrived that Saturday
So the following day, which was on Sunday
I was in my room with my game
Having full fun when Ajax knocked
He pushed the door open and walked in
I was troublesome at school but I know my limit when we get home
"Dad asked us to come" he said sitting on my bed
I was sure that it was time for why he asked us to come over
"Where is he?" I asked dropping the game pad
"Study room" he replied
That has been where we do discuss with him
I stood up and he did the same
"I haven't seen Freda since we came back" I said on our way to the study room
Freda was the name of our elder sister
"Have you forgotten that she is in school?" Ajax asked
"I know but I thought Dad might have called her also" I replied
I don't normally chat with her though because of how I do behaves
"I contacted her but she said that she won't be able to come"
"Although she wished to" he added
????
"Straight to the point, I want to know how school has been" our father said as we sat with him
"If care is not taken, this recent killing will spoil the name of that school" Ajax said
That was the truth
Who would want to risk his or her life
"The thing is really strange" our Dad said
"We actually reported to the police and if they don't anything on time, we will handle it" I said
"That's beyond human power" our Dad replied
"That means it requires prayers?" I asked
"If it will work, am worried about you two, most especially" our Dad said
"I observed that the anonymous killer only kill those at the school dormitory" Ajax said
"I actually contacted Mr Noah about this but he said that he is looking into it" our Dad said
"When am suspecting him" Ajax said
I was shocked to hear that
"Ah Ajax" I said looking at him
"Why would you even think of that?" I asked
"You need to be observant not only to find someone to trouble, that killing started ever since he started working as the principal" Ajax replied
"It is just three weeks and three students are already gone" he added
"Three? I thought it is just two?" I asked
"Check your email, school update, someone was killed last night from dorm 2" he replied
I rushed my phone that has always been in my pocket
I checked the update and it was true
My phone has been on silent since morning because I needed to concentrate on my game
I had almost 10missed calls
"Jimmy" I said looking at the picture
Seeing the lifeless 2nd year student on the floor
"Is he in the same level with you guys?" Our Dad asked
"No, he is a 2nd year student" I replied
"Really brilliant" Ajax supported
"Dad, you need to do something about this" Ajax added
"You mean sacking Mr Noah?" Our Dad asked
"It will be better" Ajax replied
"I owe him a lot, that's why I employed him"
"I can't disappoint him" our Dad added
????⚡????⚡???? Jack POV ????⚡????⚡????
I got home that evening really tired
Dan was in the room, operating whatever he knows with his phone
????
"You have been thinking, ever since you came back, what happened there?" Dan asked
That's true but
I couldn't come up with a plan for the mission
"Maybe I should bring you into this" I said relaxing well
"What are you talking about?" He asked
I explained to him everything that has been happening between me and the ghost girl
"I just want to know how to carry out this mission" I said after the explanation
"I even took their pictures" I added showing him the pictures
"Mr Leon" Dan said
"You know him?" I asked in surprise
"Yes, I have met him several times, we do cross paths and he never liked me" he replied
"You mean that same cab driver that normally take Lizzy is working with this man?" He asked
"Exactly" I replied
"This won't be easy, let's try blackmailing him" he suggested
"How? With what?" I asked
"He likes girl a lot, even Lizzy have confirmed it" he started
"Anytime she paid him, the cab driver will either ask her to take it or he will use it to buy something for her, with his own money in addition" he added
"So what exactly is the plan?" I asked
That was the most important thing
"I have a slut that we will use to set him up, once he falls in, as in the slut will take the records of their video having sex" he replied
"Later, we will use it against him" he added
I thought about it for a while
"It is dangerous" I said
"That will only put her life to danger" I added
"True, because he might kill her in the process" he responded
If he could have done those things he did
Killing the slut won't be hard for him
"Let's contact police then" he suggested
"We have no proof, assuming I knew where her body is, it will be easier" I said
"Okay then, I will try something different on my own" Dan said
"Am coming" he added and stood up
I tried calling him but he didn't respond
????⚡????⚡????Dan POV ????⚡????⚡????
When things want to be hard, we need to push it harder
I knew that it be easy but I still had to do it
I do suspect that Mr Leon
His movement was always bad and I normally appears sometime during the process
That's why he hated me
I left the room, my first intention was to meet my baddy who was a cultist
So that they would kidnap him and torture him until he says the truth
But I gave it a second thought
If we get the evidence and report it to the police, it would surely be another problem because the so called cab driver might tell them during the arrest
I had to meet my cousin brother who was a policeman in the district around our school area
He was surprised when he saw in his house by that time
Because it was almost night
He offered me a seat and drink
????
"Things are really happening in this world but how can we get this truth?" He asked me after I told him why I visited
"My suggestion is to arrest him and torture him, he is really soft, so he will say the truth on time" I replied
He exhaled heavily with thoughts
I trust his smartness
He can do it
????⚡????⚡????John POV ????⚡????⚡????
You already know me
John, best friend to Jimmy
The same 2nd year student
His death was really painful
I was even thinking of changing school because of that
I was in my room that night taking my peaceful sleep when my phone began to ring
"Who is that? By this time?" I asked as I reached out for my phone
It was Henry
"It is late dude" I said with my dull voice
"Yes, that's why am calling" he replied
"How do you mean?" I asked
"Am stranded, just coming back from my visit to my parents but I forgot my door key at home" he replied
"I don't know where else to go, that's why I called" he added
"Where exactly are you now?" I asked
"Am standing right before your door" he replied
What could have kept him that he had to come back at that night?
12 midnight
"You know how dangerous this place has been, please open the door" he added