Underground Demons. Chapter 13
13 min read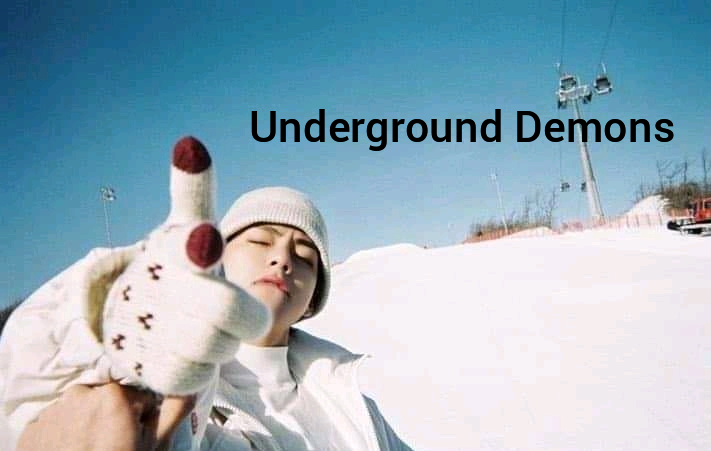 ???????? UNDERGROUNDED DEMONS????????
????
_______???????? The Revenge????????________
????
????????Chapter Thirteen????????
Brought by Chris Val ????✨
????
°°°°°°°°°°°°°°↑→Mexico←↑°°°°°°°°°°°°°°°°°
????⚡????⚡???? Jack POV ????⚡????⚡????
That Sunday, we did the normal which was to go for service
Jen tried her best to avoid me
She refused talking to me even though I tried to engage in a conversation with her but she always ignore and give me a deaf ear
my parents didn't notice that because I didn't make it in a way they would
It was time for breakfast as we all sat in the dining room
My mum and Jane did the sharing of food
"So Jack, how are you going to do about your tomorrow's journey?" My Dad asked
He actually meant my transportation
"I'm still checking on it, Dan told me that he will try his best to see if he can bring the total amount for the transportation" I replied as I positioned my plate very well after it must have gotten the quantity I could consume
"I haven't saved anything yet" I added picking up a spoon
"Actually, I was able to save half of the money and that was the money I was saving to know if I could pay up your school fees before the incident happened" my Dad said
"In case, if Dan couldn't meet up with his own, just let me know so that I will take a loan from my friend which I know that I will pay after some months of working, attached to the one I saved" my Dad added
"This is where Mr Rashid supposed to give a helping hand" my Mom suggested as she sat down because she was done with the sharing of food
"I thought of that as well, why don't we contact him?" My junior sister said as we all turned towards Jane's direction but she was busy looking at her food and was eating it gently
She seems not to be hearing us
"Jane" my Dad called and she raised up her head
"Yes Dad" she replied
My Mom repeated everything we were saying to her
"We should try not to make things more difficult" Jane said
I thought she was actually referring to me
"We know very well that Mr Rashid doesn't support this family, he is only taking the responsibility of what Dad said it is he's" she added as she dropped her spoon
"I thought he might have changed" my Dad said
"Unfortunately, he is still the same" Jane replied
"Please excuse me" she said and stood up
She carried her plate and walked away
"She looks frustrated" my Dad said
"That's the bad thing about marriage, if you ever find yourself in the wrong person's life" my Mom responded
"Why don't we cancel this engagement?" My junior sister suggested
How could it be possible?
"You won't understand" my Dad said instead
"Am fed up with this" my junior sister said almost crying as she stood up and carried away her plate as well
"I think the best thing is to meet Mr Rashid and talk to him" I suggested
"He is not helping matter" I added
????
That afternoon, due to how bored I was becoming, I decided to take a stroll down the street
It might lessen the stress of thoughts
I kept entertaining myself with everything I saw on the way
I came across our street's little field where they normally play evening match after the day's work
They were doing their normal, which was playing football
I was a lover of football but I didn't know how to play
I was only given a gift of brain
My ringing phone distracted me
It was my Dad
I wondered why he was calling
"Dad" I said just as I picked it up
"It is not Dad" that was my little sister's voice
"What is the problem?" I asked politely
"Jane is leaving" she replied
"How? I don't understand" I asked
"I think she is going back to school because I heard her calling her cab driver" she replied
She normally go on Monday, why the sudden change? I asked myself
"You need to come back on time" she added
I checked the time and it was already evening
"I will be there now" I responded and hung up
I turned to Usain bolt
I ran as fast as I could
It is not that I was going to stop her but she don't normally go without seeing me
So I wanted to be sure if she was really going back to school
I pushed the gate opened and the cab was already parking in the compound which means she was still in
I began to walk fast to the door
I was about to push the door open when Jane opened it from inside
She already knows I was the one, so she didn't look up
Rather, she walked pass me
She was with her handbag and a little bag that she normally take with her when coming home or going back to school
"Jane, are you going to school already?" I asked
"Yes"
Wow, she even replied but she didn't stop
She drew the back door opened and puts her bags inside
She closed it back
"But you normally go to school on Monday morning" I said walking closer to her
She didn't say anything, rather she walked to the front side and opened it
She entered and was about to close the door when I held it back
"Jane" I called
She looked at me but withdrew her face immediately
"I don't want to be here when you are leaving" she said
"Excuse me, am late" she added
I had to let go of the door immediately
????⚡????⚡????Dan POV ????⚡????⚡????
Since the email came on Sunday morning and Jack told me about his preparation regarding to the transportation
I forgot that it would be another problem
I had to travel back home that same Sunday
I had to look for a way to convince my parents if they really have some and then I will try my uncle
They were surprised to see me when I get home because I don't normally come home until it is in the middle of the semester or at the end
They were happy as well
I had a big time with my parents that Sunday afternoon as I explain every single thing to them
The have the heart of helping the needy just like me
"Things are really hard here but don't worry I will try my possible best to get the little I can give you" my Dad said
"3,776 peso isn't a small money"
"and you also need to meet your uncle because I heard that he is back to state" my Dad added
That was his normal, every weekend
If they had known what I experienced with him they wouldn't have suggested me going to him again
But as they said there is no harm in trying
I had to try my luck again
It wasn't a big deal taking from my town to my uncle's resident but I still had to use another trick on him
But which trick could that be?
I took a cab to his resident
I paid him off and went inside after the gateman must have opened the door
I met with my Uncle in his living room, according to his gateman
I greeted him with my teeth shining
I needed to be cheering for the conversation to flow well
He offered me a seat and a drink which was his normal
He then sat down on his normal couch
Relaxing properly
"So Uncle, when are we going to see your wife?" I asked because I didn't want to go straight to the reason why I was there
He smiled while I took a sip
"Am not yet married, we only got engaged" he replied shaking his legs
"But I haven't seen her once, I don't even know where she come from" I said
I needed to make the conversation sweet before hitting it
"Don't worry , very soon" he replied
"I know that you must have come for something else" he added while I smiled
It sounds insultive but I had to let it go with a smile
"Yes Uncle " I replied
"Actually, the cupboard am using at school got spoiled"
"Not just like that but my gas cookers caught fire and damaged lots of things in the apartment where am staying, so I want to check if you can help me out in any way" I added
The lie doesn't sound real but I had to
"Really?"
"Did it catch you?" He asked looking around my body
"It wasn't serious, so I was able to stop it with the fire extinguisher we have there" I replied
"I'm actually planning on when to come to your school, and I think this is the right time" he said
"What? Why?" I asked
"At least to see your school and also I needed to see that your friend you wanted to help in his education" he replied
It could possibly mean that he knows that I was lying
That was too bad
????
°°°°°°°°°°°°↑→California←↑°°°°°°°°°°°°°°°
????⚡????⚡????Ajax POV ????⚡????⚡ ????
I was making a little sports with my bike that Sunday evening
Since they said that exercise is part of living
I rode from my apartment to the school compound
Everywhere were somehow dry because it was only few students that you could see
It was unlike them because on other Sundays, students normally come around the school compound
I mean those living in the school dormitory
"Everywhere looks dried today, why?" I asked one of the students I met with
"Firstly is that another dead body was discovered yesterday" he replied
"What?"
"Yes, so some people are trying to get an apartment outside the school"
"So they have left" he added
"You are also living here, right?" I asked him
"Yes" he replied
"Was there a light off?" I asked him
"Actually, I was reading in the middle of the night when I had a sound of a car driving inside the compound"
"Sounds more like a cab, so all of a sudden, the light went off and I heard someone screaming for help but who could have the courage to come out" he explained
I was left with thoughts that I didn't know when he walked out
"Strange" I said as I did a U-turn and rode off
I got to a spot where there a little gallop
I jumped inside it that I almost fell down
I had to stop and use my legs to support it
My eyes caught something
A cab parking at a spot, and Henry was standing beside the driver side
He opened it and entered
"When did he start driving cab?" I asked myself
"It sounds more like a cab" that was what I remembered just as Henry drove off with it
I decided to rode after him but I maintained distance
I followed him until he stopped before our principal's apartment
The gate got opened and he drove inside
I saw Mr Noah as he looked outside before closing the gate
"Something must be fishy" I said to myself
????
°°°°°°°°°°°°°°↑→Mexico←↑°°°°°°°°°°°°°°°°°
????⚡????⚡????Dan POV ????⚡????⚡????
The travel to my town wasn't fruitful
my dad told me that he would see what he could do about it when I reported my conversation with my uncle
I had to go back to school that same Sunday evening
The following day, which was on Monday
I was yet to hear from my father concerning what we discussed about but I wouldn't want to pressure him
I didn't go to lecture that day as well
I wouldn't concentrate
Jack needed to leave that very day unless, he might loose the chance
His call came in and his question was about how far about the money but there wasn't
After the call,
Another email came in
It was a reminder, when I checked it
"Frustrated" I said lying back on the bed
Someone's knock on the door brought me back from almost dozing off
When I opened the door, it was that same girl
"You again" I said
"Things kept changing, you weren't in school, so I decided to check" she replied
I remembered that she asked me to tell Jack about her
I forgot
"People share their problem with others because you don't know how your help would be" she added
"Can't you come in?" I asked as I made a way for her because people might overheard our conversation
She walked in and sat down on the chair
"How about your Uncle?" I asked her closing the door
"He has already faced the court and he is taking his punishment"
"So please, can you tell me what is going on? Where is my savior?" She asked
I explained everything to her since I couldn't hide it anymore
????
"My parents told me that they would be coming this weekend to see both of you"
"Why don't he cancel the idea because I knew that my parents coming to you guys won't be ordinary seeing but in a special way" she suggested
"Jack told me that he is not going there for the school alone but he has so many reasons" I said
"And he will be leaving today" I added
"Oh no, but is he able to get the whole transport?" She asked
"No, but I believe that we will reach up to that" I replied
????⚡????⚡???? Jack POV ????⚡????⚡????
It was already afternoon and the seems to be no hope
That soldier man and his family has vacated from the hotel
So there was no longer disturbance from her daughter
"So when are you planning to leave?" Dad asked when we were taking some rest after the day work
"You are asking as if the money is ready, I don't think I will still go" I replied
"Don't even think of it, I have told you already that I will take a loan"
"Just make every other things available and tell me when you are leaving" he added
"I will be taking night flight because it is just 3hrs 18mins journey" I replied
"Is Dan aware of it?" He asked
"Yes, I told him the time I would be leaving" I replied
"What about your ticket?"
"You need to get that on time" he added
Just then, my phone began to ring
It was Jane
I smiled even though I didn't know why she was calling
"Where are you?" That was her first question immediately I picked up
"At work" I replied
"Aren't you leaving again?" She asked
"I will take night flight but the money isn't complete yet" I replied
"Am in the house now" she said
"What?"
"Yes, can you come home now?" She asked
"Yes" I replied
????
I told my Dad about Jane before leaving the hotel
I got home and surprisedly, she was at home
She stood up when she heard me opening the gate
"Jane" I called as I walked closer to her
"You seriously want to go" she said
"You need to understand me" I responded
"I only understand that you are stubborn" she said while I laughed
She smiled as well
"Come and sit" she added as we walked back to where she was sitting
She took her handbag and opened it
She took out a big envelope
"This can take you a long way for your transportation, feeding and any other important things" she said giving me the envelope ✉️
I couldn't believe it
"I had to leave that yesterday for this" she added
I couldn't help it but to hug her
????
It was getting dark and I was done with everything
I was good to go but was waiting for time when Dan arrived
Though I have already told him that I was good
He said that he only wanted to see me off
Jane called her cab driver
????
We alighted at the airport
It seems a memory as I bids them goodbye
????
°°°°°°°°°°°°↑→California←↑°°°°°°°°°°°°°°°
Jack POV continues
We arrived at California at midnight
We were given a room in the airport to sleep
????
The following morning, I took my bath and dressed up
I took a cab straight to the school
Everywhere were crowded with students
But in a particular place were more crowded
I went and stood in their midst
I followed the direction of their eyes
It was a girl lying dead under a tree
I looked closely and I remembered that face
That dream as well
The dream I had twice
"Kate" I called with my eyes widened
Everyone turned to look at me
"Do you know her?" A guy asked
"He seems to be a new student" another guy said
"Oh my man" another guy from different direction said as he walked and places his hand on my shoulder
"This is not that same Kate you know" he added with a smile
A siren was heard as an ambulance drove inside the compound
The guy who was hanging his hand on my shoulder, held me as we walked out of the crowd
"You need to be checking out before saying something in a public" the guy said as he let go of my shoulder
"They would have taken you as something else, especially that guy that asked you that question" he added
"Do you know me?" I asked
"Not at all but I just decided to save you from them and I noticed that you weren't sure when you called her name"
"Do you know her?" He asked
"No, but I think I have seen that face before" I replied
I wouldn't want to tell him about the dream
"Okay, everyone is now in suspect, so you need to be careful"
"Seems like you are new?" He asked
"Yes, am actually here for the scholarship examination" I replied
"Oh I see"
"Am Ajax" he said stretching out his hand
"What?" I asked, not getting him
"My name is Ajax" he introduced
"Wow" I said taking his hand
"Am Jack" I responded
"I thought Ajax is a football club" I said while he smiled
"Yes" he replied
"That means I will be Juventus" I said jokily while he laughed
Someone walked from the right hand side, walking as if he would hit Ajax but unbelievable, he walked through him without Ajax shaking
"Ghost?" I asked inwardly as the guy turned to look at me
Tbc