Undergrounded Demon. Chapter 26
10 min read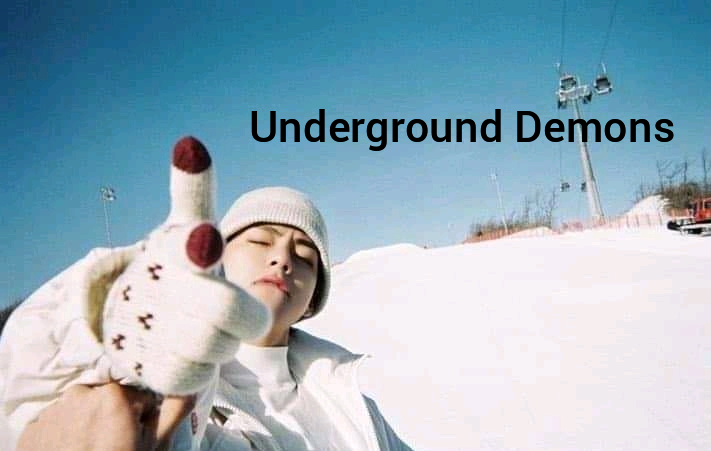 ???????? UNDERGROUNDED DEMONS????????
????
_______???????? The Revenge????????________
????
????????Chapter Twenty-Six
Brought by Chris Val ????✨
→→→→→→→→????
°°°°°°°°°°°°°°° California °°°°°°°°°°°°°°°
????⚡????⚡???? Jack POV ????⚡????⚡????
Later in the day, I was in our normal hall with Ajax
Reading
I didn't know about Stella but I was sure that she was fine
I couldn't concentrate because I didn't know about Mira
I was yet to meet her since Stella arrived
The next thing was a hand that tapped me on my shoulder
"Seriously, you weren't hearing me?" Ajax asked
That was when I knew that I had been thinking and lost focus
"Were you calling me?" I returned the question
He exhaled and adjusted himself on the seat
"I have been telling you something but you weren't responding" he said
What could he be saying that I couldn't hear?
Was I really far with the thought?
"So, what were you saying?" I asked
"About the new girl" he replied
What could it be about her
"Do you like her?" I asked
I just wished he could
That might lessen things
"Come off it, Jack" he said instead and removed his eyes from me
"I was asking if she is your girlfriend" he added
That statement alone was funny but I wasn't in the mood
"How could you even think of it?"
"I was surprised when I saw her, I actually met her at a hotel in Mexico" I added
"Where you lodged?" He asked
It made me smile a little
"No, where my father works" I replied
"Wow, your father works in a hotel?"
"That's not easy, he must be doing good" he added
I didn't want to hide anything from him because I sensed our friendship going far and it would result him visiting me one day
"No, he works as a laundry man" I replied
"Oh" he said
"What could have taken her to a hotel?" He asked
"She was actually with her father, who was a soldier" I replied
"Soldier?" He asked
Guessed he was surprised
"Yes"
"I don't know how am going to do about this, even Mira was surprised" I said
At least I had to let him know
Maybe he could get some idea
Just as he was about to say something, Stella walked into the hall
"Oh, here you are" she said as she walked to where we were
"I was looking for you" she added
"Why?" I asked
"That question hurts" she said as if it caught her
She sat down on an empty seat close
"Well, you know that am new here, so I will like to be going around with someone that knows here" she added
That was crazy
As if she didn't see any girl to make friends with
"Am also new" I said
"It will be better to be two than one" she responded
All this while, Ajax seems to be focused on what he was reading
I just wished he didn't go out
"Am thinking of something" Stella added
"What is that?" I asked
"I want to meet the principal, so that he can make me your roommate" she replied
That was shocking
Even Ajax raised up his head when he heard that
"What? How can you say that?"
"Is it hard to say?" She returned the question
"Big brother" she added shifting her face to Ajax
"Is it bad?" She added
"Big brother?" Ajax asked back
I think that was better
Maybe we could skip that thought of hers
"Oh, I thought you are his senior brother because you guys look alike and you looks like the senior" Stella said
While Ajax smiled
"Am not his brother, we just met here" Ajax responded
"Some people do look alike sometime but it doesn't mean" he added
"Anyway, let me see the principal first" she said standing up from her seat
????⚡????⚡????Ajax POV ????⚡????⚡????
That girl was just full of surprises
Her decision was too far from thought
I had to smile when she said that we looked alike
Another thing was when he asked me about Mira
It was getting clear that he loves her but that would be a big task
Stella
"What do you think?" Jack asked just as Stella left
"About what?" I returned the question looking at him
"Will it be possible for them to put us in one room?" He asked back
"How can it be possible?"
"This school is following simple rules" I added
"That is a relief" he said
We heard another footsteps approaching the hall
We focused at the door
The person later appeared to be Henry
"What's up guys" he cheered, walking closer to us with a broad smile
"Henry" Jack called his name
"You didn't do well" Henry said as he sat down right on the same seat where Stella was sitting
"How?" Jack asked
"You didn't tell me when you were going to your country" Henry replied
"Oh" Jack said with a smile on his face
"I didn't plan it, the call came as an emergency " he added
I remembered that he called me that night
"Anyway, good that you are back" Henry said
"Hey Ajax" he added
I had to use the opportunity to say what I wanted
"I was scared when I saw those dead students" I said
"Because I remembered that you called me on the night he left" I added
"Yes, but I think that the killing was on Sunday night" he replied
"So what were you doing outside by that time in the night?" I asked
That has been what I wanted to ask him
Just waiting for the chance
"Friday night party" he said
Hearing that was just enough answer
I wouldn't want to push any further
????⚡????⚡???? Stella POV ????⚡????⚡????
Was I acting too much?
I do get carried away when it comes to love
I do love with sincerity and I do try my best to get what I want
I just like Jack from the very day I saw him in the hotel when he came for our clothes
He was handsome tho
So don't blame me
When I asked his father about him after not seeing him at the hotel for some days
He told me his movement
Even after the money I dropped for him, so that he could be closer to me
I had to make a way for me to get admitted in that same school
????
I asked and they directed me to the assistant principal because the principal wasn't around
He was around when I came but suddenly became absent
I went to Mrs Zina's office
According to the students who told me her name
I knocked on the door and she ordered me in after some minutes
I sat down and waited for her to finish what she was doing
"You are the new student?" She asked removing her spec while I nodded
"Yes, ma'am" I added
"I see" she said dropping the spec
"I don't know the zeal you have when coming here but I will advise you to be careful" she added
I wondered why she was telling me that
It wasn't as if I had told her the reason why I was there
"As far as you are living in the school dormitory"
"Once it is 10pm in the night, don't move outside because it is dangerous" she added
She could be saying about the killing
I just believed that those victims weren't careful
"That's the first advise I give to new comers" she said
"Okay ma'am" I responded
"So why are you here?" She asked
That has been what I was expecting
"I want to make a request" I said while she nodded
That simply means, okay
And, what's that
"Can you put me and Jack in the same room?" I asked
"That request isn't acceptable" she said as she brought fort her face
Placing her two elbows on the desk
"Why are you requesting for that?" She asked with a lower voice
"I am his girlfriend" I replied
I was proud to say that, even though I wasn't
I just had the feeling that he will like me back
"Oh, I see" Mrs Zina said nodding her head
I thought that everything was getting normal
As planned
"That will only shows that we are supporting immorality"
"Am sorry but unless he is your husband, so we can't put you guys in the same room" she added
????
I walked out of the office when everything was useless
The idea didn't bring anything
????⚡????⚡????Axel POV ????⚡????⚡????
We were in my car chatting and was waiting for the time to go for the next lecture when I saw our beautiful Stella walking out of Mrs Zina's office
I smiled remembering her first approach
"Is that not Stella?" Alex asked
"Of course"
"We get to see something now" I added and began to where she was heading to
I just had to go ahead of her, for me to be able to block her
I was able to block her and turned to face her
"Stella" I called with a smile
All the A gangs walked to stand beside me
"What is the problem?" Stella asked looking at us
One after the other
I laughed and looked at others
"She is asking us" I said while the rest laughed
"But on a serious note, is it really because of Jack that you are here?" I asked
She smiled
"Why are you so much interested in it?" She returned the question
That was a great question tho
If am to target Jack and get him very well, I have to strike with Stella
"Because am interested in you" I said
If it was a lie, I can't tell but I really want to use her against Jack
????⚡????⚡???? Jack POV ????⚡????⚡????
Henry has left after having some times with us
I looked out from the window and sighted Axel and his gangs standing before Stella
It seems like they stopped her
"Ajax" I called
He followed my face and saw them
I didn't know what they were up to but I had to stop it
I rushed out of the hall, leaving Ajax behind
Axel was surprised when he saw me standing between him and Stella
His face later changed to smile
"Are you here to save her?" He asked and laughed
"When you are not able to save yourself" he added
"Anything you have to do with me, have to go with me only"
"Don't cross her, stay away from her" I added
"Interesting" Axel said clapping his hands
"Are you her boyfriend?" He asked stepping a little bit closer
.
"I have warned you" I just said
I didn't know how I would handle it if they attacked but I just feel like defending Stella
I felt that her life was in my hand
"Too bad that someone else is loving who is loving different person" he said
That statement was confusing
I turned to the right hand side and saw Mira
I guessed, that was why he made that statement
????
At night, after taking my dinner
I was dressing my bed when I felt presence of someone behind me
I breaths slowly and turned with a speed only to see the ghost boy standing there
"Why do you like scaring me?" I asked and sat down on the bed
"That's not what I wanted, I don't even know how to appear to you because you are always scared" he replied
"Maybe because I do see spirits" I said.
"I have been thinking on how to see you again, I have some questions to ask" I added
"What's that?" He asked
"I want to know how Mr Noah got his power" I replied
He looked around the room and then back to me
"There is more to know than that" he said
That was quite confusing
"How do you mean?" I asked
"There is this particular book in the teachers library that you need to get" he replied
"It contains lots of secrets about Mr Noah" he added
"What about his power?" I asked
"It is not included"
"You need to meet Ajax and ask him where it is being located" he added
"Don't you know the place?" I asked
"I have told you that I can't walk in that school, I have placed that I can go to" he replied
????
→→→→→→→→????
°°°°°°°°°°°°°°° Mexico °°°°°°°°°°°°°°°
????⚡????⚡???? Jane POV ????⚡????⚡????
Tuesday morning, I woke up alone in the room as usual
Ella hardly sleep in the apartment lately
Where she do go at night was what I couldn't tell
I was still preparing when someone knocked at the door
I went to open it, hoping it was Ella but
It was Mark
"Good morning" he greeted as I shifted for him to come in
"Where is Ella?" He asked
"She is not yet back, I don't know where she went to" I replied
"Am just worried" I added
"Why?"
"Do you feel lonely?" He asked
"Not really" I replied
"I will advise you to cut off your relationship with Ella" he said
If I could remember, it was through Ella that I met him
Why would he suggests such
"Why?"I asked
"Just should in case" he said
That was a somehow reply
I was still confused
????
→→→→→→→→????
°°°°°°°°°°°°°°° California °°°°°°°°°°°°°°°
????⚡????⚡????Jack POV ????⚡????⚡????
That morning, Ajax came as usual when I was still preparing
He had to wait for me
I thought it was the opportunity for me to ask him about what the ghost boy told me
His face was somehow when I mentioned teachers library to him
"Who told you about that?" That was the first thing that came out of his mouth
I was surprised
"I just checked on school stuff, and I want to know about it" I replied
"It is teachers library, so why are you sounding like this?" I asked
"That library is a closed place, no one is allowed to visit there only the teachers who hardly go there except Mr Noah" he replied
"We do go there before until Mr Noah became the principal" he added
How could it be?
It sounds strange
He must have been protecting that place because of that book