The Boss and the Maid. Chapter 7
7 min read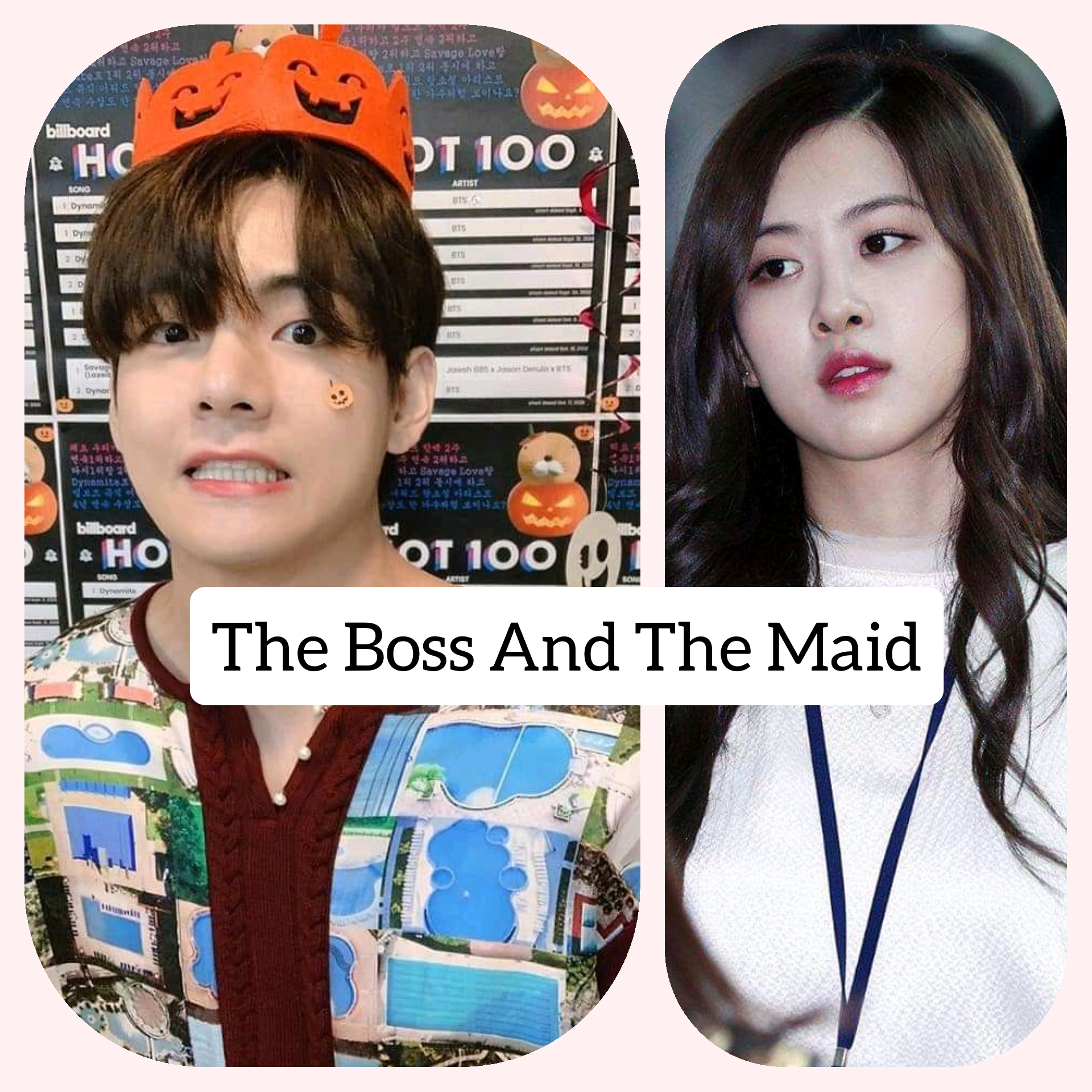 ❣️❣️❣️THE BOSS❣️❣️❣️
&
❣️❣️❣️THE MAID❣️❣️❣️
By: Author Donna
❣️❣️❣️ Chapter 7❣️❣️❣️
..
..
〰️ Miguel's POV 〰️
..
..
By the time I got back to the house, everyone had gone except max. I knew he wouldn't leave,not in this situation.
"How's she?" Violet asked,as I moved briskly to my bedroom. I placed her in the tub….as Mrs Mona ran in with the first aid kit and wash basin.
"She's running temperature,I think she must have slipped into the pool and this dress is too heavy." She said as Violet nodded.
"You'll have to excuse us,we need to get her changed" Violet said as max and I walked out.
..
..
"What's wrong with you?" Yola asked the minute I stepped out of my bedroom.
"What do you mean? You practically embarrassed her,why? For fun?" I asked as she sighed.
"She deserved it babe she was rude to me,I needed to show her who the boss is" she replied as I rolled my eyes.
She's damn lucky I don't hit girls and her dad's got the cash or else I……..
"Miguel she's awake," Violet said, walking out of the room.
..
..
I walked into the room and found her sitted on the bed with her face well scrubbed and pale.
"What do you want?" She asked as I sighed. I knew she has no reason to believe that I cared but……I can't help it,I needed to know if she's okay.
"How did you fall into the pool?" I asked as she scoffed. "I slipped,that's all I have to say….. besides I wanna leave,I don't want to stay any longer" she broke the bombshell as I sank into the chair.
"You can't be serious" I said as she smiled and began to come down from the bed. "Am serious Mr Miguel I can't stay any longer" she said as I frowned. I needed to make her stay,she can't just leave like that.
"So what's your plan after leaving here?" I asked as she furrowed her brows. "I believe that's my business,not yours,if you'll excuse me,I need to pack up" with that,she walked out of my bedroom.
I raked my hands through my hair fraustratedly…..what can I do to make her stay?Gosh am so so confused.
..
..
I walked out of my bedroom and met Violet in the sitting room. "Where's she" Violet asked as I shrugged.
"She said she can't stay any longer so she's leaving,but I don't know what to do anymore,I don't want her to leave" I admitted as she smiled.
"Then do something,am not gonna tell you just use your brain and think of what she needs, I'll be in my bedroom" with that,she left me standing there as I sank into the chair.
..
..
〰️ Morena's POV 〰️
..
..
I looked around for the last time before walking out of the bedroom.no one wanted me here. I need to sort my life out. I can't remain dependent on others.
I carried the bag and decided to use the maid quarters exit.i don't want any disturbance,am also very sure that no one will be bothered.
..
..
"Uhm…miss, Mr Sanchez gave a strict order not to let you leave" a guard said as I frowned. But why,why doesn't he wants me to leave?
I walked blearily back to his office and without knocking,I pushed the door in. "Why am I not allowed to leave?" I asked, standing akimbo as he stood up from his chair.
"Because I know you have nowhere to go….. and again I have another offer for you" he said as I frowned. Does he think he can win me with money?
Well am about to prove him wrong. "What's the offer?" I asked angrily, running out of patience.
"You'll work for me…… and I'll send you to school….. what's your say about it?" He asked as my eyes grew wide.
Like for real,I'll get to attend school again? Oh my gosh this is fantastic. But why does he want me here,why doesn't he want me to leave?
"Why don't you want me to leave?" I asked as he frowned. "Remember my rules dear girl…… I've not changed" that shut me up as I nodded.
"I'll take the deal" I said as he smiled.
..
..
I rubbed my eyes continuously, cursing the person who raised the curtains. I was really enjoying the sleep.
I padded barefoot to the bathroom to brush my teeth and take my bath after which I wore my working uniform.
"Oh you're up" Mrs Mona said but I noticed Brenda's frown. Maybe she wanted me to leave,but why?
Does she see me as a threat to her fling with our boss?? I began my cleaning and noticed that I haven't seen Mr Miguel or miss Violet.
Or have they gone to work? I shrugged the thought off and continued with my job.
..
..
〰️ Violet's POV 〰️
..
..
The car stopped and Miguel and I alighted it. His face was moody and he has every reason to feel this way.
We walked into the graveyard owned by our descendants. Our parents were burried here.
"I don't really know what to say" Miguel said as I shook my head. I understood what he's going through.
I sometimes blame myself for spoiling him too much but it's not really my fault,I felt that showering him with money is the only way I can show him love.
When we lost our parents to a plane crash,I was six,he was four……so all our life we lived it with Mrs Mona.
I practically became his mom……. and that's why he's really scared of me.
Actually today is their remembrance,the day they died. It's all mom's fault why Miguel mistreat women…..he sees them as cheaters and gold diggers but am trying to change him.
He sat on dad's grave,as little tears rolled down his cheeks. Our mom was actually cheating on dad with his best friend and when dad heard about it,he had an heart attack.
The doctors said there's nothing they could do for him,that he'll definitely die but mom decided to play the good wife role by Traveling with him…..to India,thats how they met their doom.
..
..
"Are you ready to go home?" I asked as he nodded. "Yeah but I have to speak with the school principal….. remember the offer I gave to her" he replied as I nodded.
"Why do you want her to stay? Why did you stand up for her last night?" I asked as he shrugged.
"That was the best thing to do" he replied as I scoffed. I know my brother and if there's one thing you should know,it's that he can never stand up for someone below his social status.
"Miguel that's not a reply,I know there's something behind it"
..
..
〰️ Morena's POV 〰️
..
..
"Are you miss Morena Dela Cruz?" The Chubby woman asked as I nodded. "Yeah……I am" I replied as she smiled.
"Alright,I want you to fill this form and when coming to school tomorrow,bring it besides your uniform is in this bag, including other materials" she said as my smile grew wide.
"Thanks miss,I really appreciate it" I replied and turned to go in but bumped into Brenda.
"Hmm….so you're finally going to school,how did you do it? Did you sleep with him? Did you give him a heads job?" She asked angrily as I scoffed.
Should have known she wasn't sincere right from the start. I bluffed her and walked to my bedroom where i arranged the things and filled the form.
I wonder where Mr Miguel and Miss Violet went to.
It's already getting late……
..
..
〰️ Miguel's POV〰️
..
..
"Am glad you made it" uncle Cole said as I and violet smiled. "We can't miss it,it's our parents remembrance" Violet said as he nodded.
"I really wished I got to you kids on time,I didn't know your parents were dead until five years ago…… and that's because your mom cut all ties with her family before running away with your dad" he replied as I flinched.
I don't want to hate my mom…..but everything I hear about her makes me want to despise her,too bad she's dead, I'd have disowned her,she doesn't deserve to be a mother.
..
..
➰ Morning ➰
..
..
〰️ Morena's POV 〰️
..
..
Am sure they didn't come back last night,but am really glad I've gotten an opportunity to go to school.
I quickly had my bath,changed into my uniform which consisted of a short mid thighs skirt,a long sleeved shirt and a blazer.
I pulled the form out as I heard a knock on the door. "Come in" I yelled, trying to pull my hair into a messy bun.
"Oh you're ready….. take this Mr Miguel wants you to have this" Mrs Mona said, handing me a phone and a school bag.
"Thanks,did he come home?" I asked as she smiled. "Yeah……but he went out again, hurry up, you don't want to be late" with that,she walked out of my bedroom and jammed the door.
..
..