In Love With An Hijabite. Episode 12
6 min read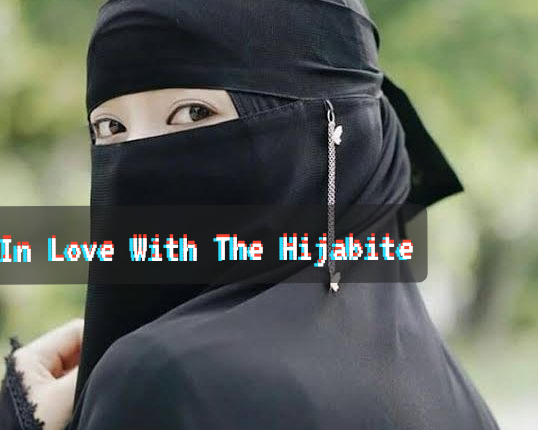 IN LOVE WITH THE HIJABITE(She is a Muslimah…. He is a playboy )
© Solely written by Authoress Adesewa
EPISODE TWELVE
THEME : I LOVE YOU. ..
KIYAH
I wake up when the rays of the sun was getting into my eyes. I checked my phone and I'm alarmed to see that it is already 11:20am.
I didn't get to sleep last night as I was busy thinking about everything that has been happening in my life lately. I just got to sleep in the morning after the morning prayer. I thought I was only going to sleep for two hours but nature can't be cheated so here I am, just getting out of bed.
Thank God I've already taken my bath before praying so all I have to do is to fix my breakfast.
I made my way to the kitchen and I was surprised to see Khaleed frying plantain and eggs.
Wow, this guy really made himself feel at home.
"Salam alaykum" he said jolting me out of my thoughts.
" Walaykum salam" I replied.
I don't know what to say anymore, although there was a time back in Nigeria when we used to be very close. He usually protect me like an elder brother.
" I didn't know you've not had your breakfast also" he said to me.
" I didn't sleep yesterday night that's why I'm just waking up" I explained.
" Same here. Just go to the sitting room, I'd bring your food soon" he said.
I think I should be the one telling him that since he's a guest here but I can't complain because we might be getting married soon and moreover he's a restaurateur so his meals will be very delicious.
I walked out of the kitchen and went into the sitting room. I met Jamal watching a cartoon movie.
Joel let out a breathe, they were finally close to their destination according to the GPS in his car, he turned to stare at Melody, she had her eyes fixed on her phone, Joel hissed, what was she even pressing on her phone that she hadn't said anything aside from the brief introduction she had done with the detective.
"Are we there yet?" the detective asked poking his head from the backseat to study the GPS.
"Yea, i think it is the red zink am seeing from here" Joel said looking at the GPS.
"He said the name of the hospital is written bodly on the building" the detective said fishing his phone out from his pocket. "Audrey Hospital and Health center, that is the name" he added.
"Bingo, we are here" Joel exclaimed honking loudly, the gate flew open and he drove in towards the car park, he parked beside a gold Toyota Camry. They got down from the car, The detective called someone on the phone and after a small conversation, a young man came out from the hospital to meet them, he walked with fear in his eyes and when he got to them, he stared at the detective and then asked,
"You brought people?" he nodded towards Joel and Melody.
"Oh yeah, this is Captain Joel, his ex fiance was the last lady that died, and the lady over there is Melody, the new victim, you don't have anything to worry about, we are with you and none of us is a snitch" the detective said with a smile.
"Okay then, let's go in, but she will have to wait for you in the car, it's a private male ward and females are not allowed in there" the young man said pointing at Melody.
"How can she stay in the car till we come out?, isn't there a lobby or somewhere she can comfortably stay aside the car" Joel said looking at Melody with concern.
"Don't worry i will be fine, just go and do your thing, i will be waiting for you here" Melody said with a smile.
"Are you sure?" Joel asked softly
"Yes, i am, just go" she smiled again.
Joel left with the detective and the young man, he led them into the building, Joel turned back to look at Melody, he felt like taking her along with him.
"Few minutes of you not seeing her will not kill you, relax bro" the detective chuckled.
"I don't know what you are talking about" Joel said coldly.
"I just saw the way you looked at her, you didn't want to stay away from her" the detective chuckled again.
"I still don't know what you are talking about" Joel shrugged.
"Okay then" the detective replied with a grin. The young man led them down the hallway, they passed the reception and five wards and on the sixth door, the young man stopped and opened the door, Joel entered as well followed by the detective. They saw an elderly man sitting on the bed with food placed on a tray but he wasn't eating.
"Sir, you have visitors" the young man said.
"I thought you said you were going to send for Okenwa soon? why is he not here yet?" the elderly man asked.
"Sir, Okenwa will soon be here, but for now, you need to talk to these two men here, they will help bring Okenwa" the young man replied.
"Who is this Okenwa?" the detective asked bringing out a jotter and a pen.
"His other son, the one i told you about that is at the asylum" The young man whispered to the detective, he didn't want the old man to hear.
"Okay" the detective said shifting towards the elderly man, "sir, i need your help right now, we are having a feeling that your first son is a murderer, he has killed five ladies already, i just want you to tell me what you know" the detective pleaded.
"If you are talking about Ezenwa? then just know that he is a murderer, you don't need to have the feeling. He killed Ego, and when i threatened to tell the authorities, he tampered with the brake of my car, i would have died, if not for Udoka here" the elderly man explained nodding at the young man.
Joel tapped his foot uncomfortably on the floor, he shook his head, brought out his phone and texted "Hey, are you okay? any problem?" to Melody, he waited but got no reply. He tapped the detective on the back and said "I will be right back" he left the room. He traced back his way down to the hallway, he got to the lobby and then passed through the reception, he left the building and went straight to where he parked his car, but then Melody had gone missing. His heart started beating in fear, he dialed Melody's phone number and "You are the treasure that i seeked, you were close to me yet i did not know" the ringtone of Melody's phone played back inside his car. He moved towards the gate man's house in fear.
"Oga well done ooo, abeg you help me see one beautiful aunty wey wear red gown?" he asked the gate man.
"Okay, that aunty wey fair like oyibo pepper? I see am na, when she been dey talk to one brother like that and e no tey the brother come drive comm……" he wanted to continue talking when Joel shouted.
"No no no, not right under my nose, no, Melody please stop joking with me and come out" he felt his heartbeat increase, at that rate, his heart might explode. He dialed the detective's number and when he answered, with shaking hands, Joel said "Melody has been abducted" tears dropped down his cheeks.