Confused Boyfriend. Chapter 2
4 min read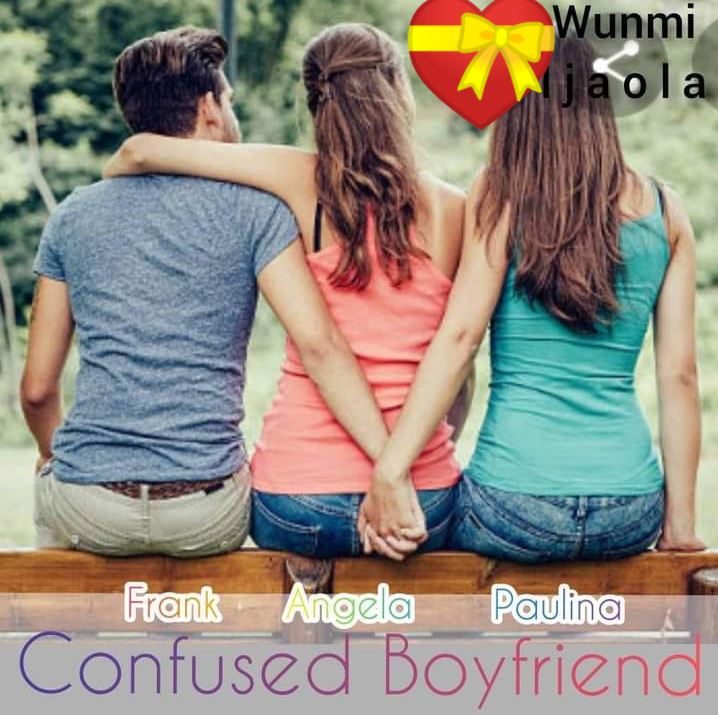 CONFUSED BOYFRIEND ‍‍
(He's in love with two girls)
Written BY Wunmi Ijaola
Chapter 2
Frank's POV
"AAhhhi…..Hi" I said to the very pretty girl but it came in a stammer and she ignored me.
I felt.. embarrassed.
"How has your day been Frank? " The principal, Mrs Megan asked me.
"Very good ma'am" I replied with my gaze-focused on the pretty girl.
"Meet Paulina Brown" Mrs Megan briefly began the introduction.
"Hi" Now the Paulina girl said to me.
She stood up from the chair she was sitting on, faced me and stretched her right hand for an handshake.
I smiled and received it willingly. Oh My Goodness, I swallowed my saliva if not, it would drop.
She is extremely beautiful and touching her soft skin, it's heart chilling.
"Paulina, meet the school senior prefect, his name is Frank " The principal told her.
Paulina took a good look at me and smiled again. Whao! The smile, it reminds me of Angela. Whata Beautiful smile.
"Take her around the school and tell her everything you think she needs to know" Mrs Megan is actually giving me a permission to be alone with her, this tailless marmaid. I just hope I won't collapse?
"Al….Alright ma'am" I responded trying not to stammer then I led her out of the office.
I felt somehow. Should I use the word shy?
So I walked ahead of her but the over beautiful Paulina walked and caught up with me then she held my hand.
I felt cold shiver run down my spine and the hand she held (my hand) vibrated as if electric current passed through it.
It made me stop walking.. She looked at me and smiled: "What is it? " She asked.
Oh My God, her voice.. So sweet and angelic.
What has she done to me?
What did Tyler and George do to me?
What has Mrs Megan done to me?
And what have I done to myself?
She doesn't only look like a marmaid, she looks like an angel too..
No, an angelic marmaid.
"What is it? " She asked me again.
"I.. a..m..fi..ne" I stammered.
"Okay! So where are you taking me to? " She asked me.
"The.. The music-house, so so let's.. go" I continued to stammer.
"Are, are you a stammerer? " She asked.
"No" I blurted.
"Oh Okay! " She said: "Let's talk about random things, well it could be an introduction for a start but let's just talk while you lead the way to the music house and other classes and buildings" She said and I was quiet throughout.
"Just like the principal told you earlier, I am Paulina Brown. I'm a transferred student from Dream High" She said.
"Dream High? That school is far away from here" I exclaimed.
"Yeah, I just moved here with my aunt, so I had to change schools too" Paulina said.
Aw! She's so sweet and Jovial.
"Oh I see" I remarked speechlessly.
"Staring at these tall buildings and the students roaming around, I do hope I'll love your school" She said.
"Of course, you will" I told her.
"Tell me about yourself" She suddenly asked.
"Mmme? " I stammered.
"Yeah, I mean the only thing I know about you is your name, Francis right? "
"No, It's Frank"
"See, I don't even recall your name. Why don't you tell me more about yourself?" She asked me.
I tucked in my hands into my trouser pockets and cleared my throat, then resumed;
"My name is Frank Collins, I am the school senior prefect "
"Then definitely, you are a nerd" She said smiling.
"You can say that again" I said:" We are in the same class" I added not knowing what else to say – this moment.
"Yeah, I know" She bit her lips.
"Here we are, the music house or room, which ever way you prefer to call it" I announced.
"Whao! Beautiful infrastructure and facilities" She commented.
Lol
"The field we passed through earlier before we got here is for gymnastics" I told her.
"I thought as much. Oh My! I love your school already " She weened.
"The painting alone is so attractive"
"I heard the school has been existing since eight years ago and it's being repainted annually" I told her.
"Whao! Whao! "
I stared at her with so much interest, she is more beautiful when she smiles. I hope she will see me too as handsome?
"Show me the library please? " She requested almost pleading.
"Sure, let's go" I said and this time, I held her hand and walked out of the music building.
Oh I so love the touch from her skin.
"My former school, I was the school Liberian" She said and I nodded like a lizard with bone hooked in it throat.
"I love reading books so much but I won't call myself a nerd like you" She said and we laughed as we headed towards the library.
"We are almost there" I announced.
"Less I forget, you are not done telling me about yourself" Paulina reminded.
That's true but I don't know what else to say..
"I… Yeah, what else should I tell you about myself? " I asked her.
"Do you have a girlfriend? " She asked and my eyes widened and almost bulged out.
This angel here is asking me if I have a girlfriend. What should I say? Yes or no?
*********
*****