Dirty Housewife. Episode 1
3 min read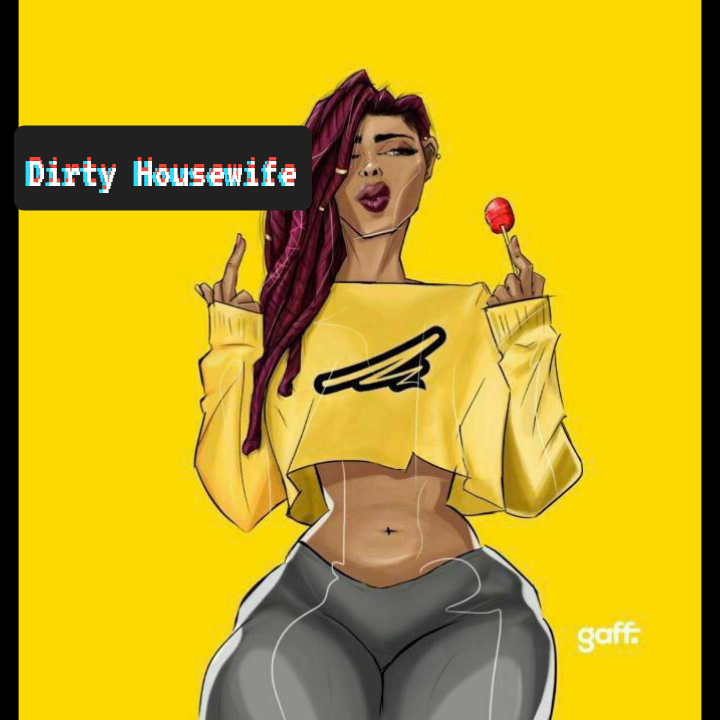 ???????? Dirty Housewife ????????
Episode one
???? Nancy ????
The bang on the door brought me out of my cool beautiful sleep that morning and I felt like killing that person who just disturbed my sleep.
I rolled off the bed and fell on the ground.
"Go away!" I groaned and tried closing my eyes but the 'kill joy' outside kept on banging at the door!
I already knew who it was. Who else if not Kachi!
I stood up and dragged myself to the door.
My humble name is Nancy Philips. I'm twenty three and beautiful enough.
Well… I don't really care how I look.
I yawned and opened the door at the same time.
"Hmmm!!" Kachi covered her nose and I wondered if my mouth smelled that bad. It was just an innocent yawn ????
Ogini??
???? Kachi ????
The smell that hit me right in the face almost made me have a stomachache. How could a girl's mouth smell so badly!
"Nancy….! Did you even brush at all yesterday?"I asked her and shook my head as she fell back into bed.
It was almost twelve noon and the baboon is still sleeping.
"Nancy!" I yelled hitting her bum.
"Oh chineke! Chineke!! Bikonu, leave me alone!!" Nancy groaned.
I looked at the one room apartment and shook my head.
Nancy's room smelled badly of rotten food and everywhere looked so dusty.
Just this last weekend, I helped her in cleaning up the room now look at the way she's destroyed the whole place again.
"Nancy…. Have you washed that used plate since Wednesday?" I asked.
"Just this last Wednesday? No…. It's too early na. " She replied and yawned again.
" Jesus Christ,Nancy! Last Wednesday dish! What the hell is wrong with you?" I asked amazed.
Nancy stood up fully awake and looked at me. " Look…you can't be coming here to disturb my sleep oh. What's that?" She asked and hissed.
" Tufiakwa!" I spat and shook my head. I looked at her hair and saw a cockroach crawling out.
"Jesus!" I yelled and got a broom wiping it at her head.
Nancy ran around the room, wondering why I was chasing her with a broom until the cockroach fell off.
Before my very eyes, she killed the cockroach with her bare hands.
She picked it up and threw it outside the window. I watched her…. unable to believe what she just did.
???? Nancy ????
"What?" I asked wondering why she stood looking at me like that.
"Nancy….a cockroach…with your hands?" She gasped.
" And so?" I asked again,not really seeing her point.
"You just killed that disgusting thing with your hands! Nancy!" She shouted.
I hissed and sat on the bed, looking at her. " Abeg…na wettin carry you come my house this early morning?"
Kachi shrugged her shoulders and snapped her fingers. "Have you forgotten about where we are supposed to go today? It's Saturday."
" I Know it's Saturday. Where are we going?"
" To the anniversary now. The one I told you about last week. We are even running late." She said.
"Oh…the anniversary. I totally forgot. Okay,let me throw my clothes on so we can move already." I said getting up.
Kachi glared dangerously at me. " Throw your clothes on? Aren't you going to bath?" She asked.
" Ahn ahn….the one I bath a day before yesterday nko? Is that one not bath? You have started."
Kachi threw her arms on her head and looked into heaven. "Jesus Christ,this girl has killed me." She cried.
"Who killed you? Bia…I haven't killed anyone in my entire life oh.
Watch your tongue." I replied and hissed before pulling out my ghana must go bag.
???? Kachi ????
I watched her as she pulled out clothes from the bag and an irritating horrible smell filled the whole room.
I covered my nose as I watched her pull out different types of smelly clothes and used underwear.
I almost suffocated. Infact… I couldn't sit still.
The smell was murderous!
I hastily stood up and ran outside the house for some fresh air.
????????????????
Nancy……which planet are you from?