Devil's Proposal. Episode 3
5 min read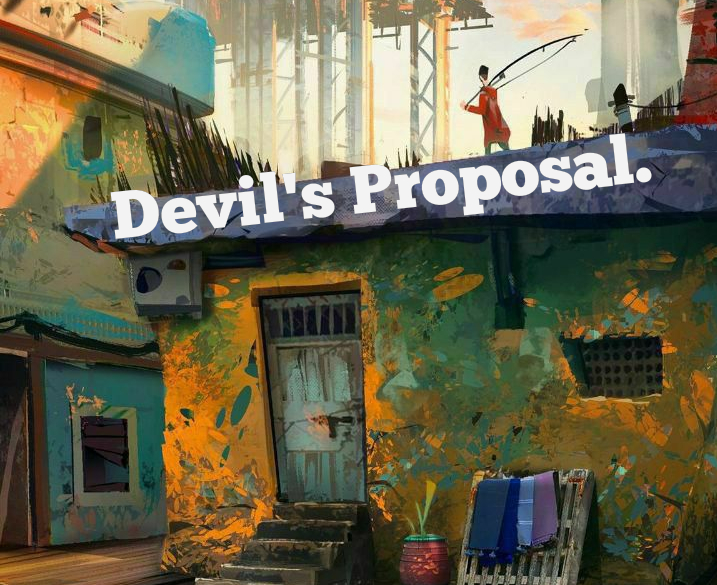 Devil's Proposal – episode 3
THE BENSON'S RESIDENCE
This is real!
This is me!!
I'm exactly where I'm supposed to be now
Gonna let the light shine on me, now I've found,
Who I am, there's no way to hold it in
No more hiding who I wanna be
This is me!
Zoe sang Camp Rock's 'This is me' so beautifully with her chubby right 'paw' as the microphone coupled with correct and thrilling gesticulations.
Few minutes ago, I had hurt my finger with the cabinet door in a bid to hurriedly prepare my mother-in-law's pounded yam.
I screamed in pain as I felt the pain deeply in my bones, quickly applied first aid before settling down in the sitting room to allow the air condition calm my sudden perspiration down.
Feeling my pain as if it was hers, Zoe decided to mimic Demi Lovato in that high school musical to entertain me and I really enjoyed watching her sing without mincing words forgetting my pain for some minutes.
'But for goodness' sake, where is mama? She said she was at the bus stop already and its past two hours now. Na wa o' I thought to myself as I blew air on the hurt finger.
'Mummy, lemme quickly rush in, have a forty winks, then I will be back. I need to calm this brain. Its overworked and I still have more essays to write today' she said, pecked me on the forehead and scurried inside as if being pursued.
'I wish I could just have one more child but what about my unfortunate husband's low Pour count?' I thought allowed and hissed very loudly despising my husband the more.
As I started drifting into sleep, the honking of his car woke me up. I heard the gate opened and his car drove in as the 'Welcome Oga' greeting from Yakubu rang loud and clear.
I adjusted on the settee again, clutching the pillows to myself and pretending to be asleep. The door opened and I heard his footsteps. I slightly opened the windows of my eyes as I beheld him. I shook my head with great sadness as he knelt down before the centre table to pray.
'Filthy prayers. Foolish unfortunate man' I muttered.
Many people had told me to stop cursing or insulting this miserable being but I couldn't no matter how hard I tried.
It got worse and worse!
He stood up from his kneeling position, glanced over me briefly and he glided over to the dining room. I heard him pull the chair, sit down and opening the dishes before I sprung up suddenly.
'You can't touch that food' I shouted as I walked with speed to the dining room to prevent him.
'I thought you were sleeping' he said, laughing mischievously
'That's your cup of tea! You cannot eat this food and that is final!' I screamed and he started washing his hands in preparation to start eating.
'Zack, are you deaf? What exactly is your problem? You cant eat this food because…'
'You made it for my mother' he said in a very confident way that I felt like killing him!
'Can someone tell me what this mean please?' I asked no one in particular.
'I realised that you fear your mother-in-law more than your husband and since I have missed home-made food made by my proud and haughty wife, I told the person you feared to help me scare you into preparing the food for me. So, it's mine, not anybody's' he said, scoffing and my sight went blur.
I took some steps backward and fell into the chair and stared at the man before me as he swallowed the pounded yam.
What accursed mother and son!
Cursed be the day our paths crossed !
You both played this prank and allowed me hurt my finger?
What kind of revenge can I give to this man so that he would know that I might be a Christian but I know my right and I fight for it.
Suggestions started flowing
Strangle his neck so that the pounded yam in his throat would come out through his nose
Just slap him and leave him with a starry vision and a hot feeling
Lock up his shirt and start a fight
Drag the dish from his presence and break in on the floor.
And I said yes to the latter proposal because immediately, as if controlled by some forces, I carried the dishes at the same time and down they went, shattering to pieces.
'You are a fool to ever think that I would just stay back and not fight back. Stupid fool!' I exclaimed, giving him a dangerous look. His eyes, nose and mouth were widened as he was so shocked.
Even I was shocked at my behaviour.
I didn't love him nor respect him but one thing I couldn't do was look into his face when he argued with me, insulted me or even beat me. I always respected God! But no more!
'I am awaken!' I exclaimed very weirdly, looking for a broken piece of the dish on the floor. Zack saw that and hurriedly shifted his chair and off he ran out of the house.
I took few deep breaths before I sat on one of the chairs and cried bitterly.
'Mum, you just said 'yes' to the devil's proposal' Zoe's voice came but I could not look into her face because 'yes' was what I was determined to continue saying for a while.
But I cried on bitterly yet!
_________________
Zoe was beautifully clad in a floral A-shaped gown. Her hair was combed and plaited into a pony tail. She looked expectant as she fumbled with her Barbie doll.
'Are you scared?' I asked her. She smiled and shook her head
'No mum. Scared? Not at all' she emphasised and that alone confirmed that my baby girl was scared or shy!
'You said his mum would be bringing him?' I asked and she nodded.
I sighed and shook my head.
'God knows what kind of parents we have these days. Coming to drop your son at a girl's place just because he likes her. Nawa o' I thought.
It Continues Still…