Devil's Proposal. Episode 7
5 min read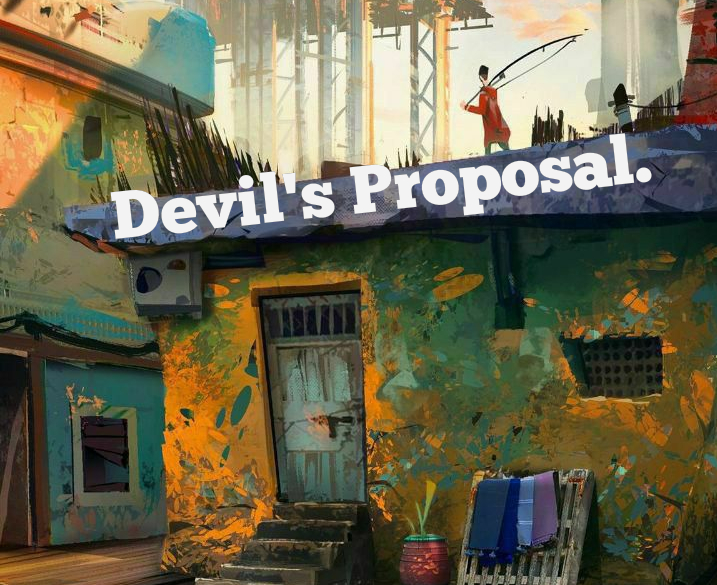 episode 7
I didn't know what spurred me up to stand from my bed that morning!
I had come back from work very tired and I had to do some laundries. I also made Blossom's hair and made sure Sam was well shaved.
By the time I was done with all these activities, I was sleep drunk and was grateful to God that Dave had to attend the leaders' meeting so I had enough time to rest.
I had not slept up to thirty minutes when I opened my eyes suddenly.
What woke me? I asked solemnly, very alert
'Go to Nita's house now!' I heard so resoundingly.
I sat up with a start.
'My God! What has happened to her?' I said to myself as I wore my clothes hurriedly.
As I got to the door, I realized I was wearing the other side of my clothes
'Oh my God!' I exclaimed as I pulled it off and wore it well.
>>>>>>>>>>>>
The traffic on the way was maddening.
I picked up my phone and scrolled through.
I clicked Nita's number and dialed it. It rang for a couple of time before it hung up.
Different thoughts ran through my mind;
Has Nita killed her husband?
Or her child?
Or herself?
Or all of them as a whole?
I shuddered at the thought and quickly started praying.
As an intercessor, I really hadn't been doing well for some days now. Even the prayer list which contained the names of the people I prayed for every Wednesdays and Fridays was under my pillow. It's been long since I remembered them in my prayers!
Holy Father! I hadn't stood in the gap at all! Forgive me Lord!
I knew the Lord had called me into a ministry of intercession and reconciliation and I had discharged all my duties well until the Holy Spirit connected Sam and Zoe together thereby bringing me close to the Al-Makura family once again.
I had not been praying for her again since we lost contact years back and she had really strayed! She had yielded to the Devil's Proposal since the conception and inception of her family that I didn't know what to do!
I am so sorry Lord.
''Take care of the situation in her home now and preserve their lives'' I prayed as my car swerved into their compound.
'Good afternoon madam' the gateman greeted me, bowing slightly
'Good afternoon, where is your madam?' I asked as I closed the car door with a bang. He cleared his throat and placed his two hands on his hips. I watched on in anxiety.
'The battle has been tough ma. My madam just sent her mother-in-law and husband out of the….'' He kept on with the gossip and I lost interest as I realized that something bad had happened and if care was not taken, it would be worse!
As I looked up at the window upstairs, a bit scared of going inside, I heard that distinct voice from up there.
'Anybody there?' she asked with a shaky voice. It was Zoe!
'Yes dearie. Mummy Sam is here.' I said
'Please come up here. My mum has died!' she screamed and I was shocked and confused.
What should I do now?
Thank God I was on duty today. I said to myself as I opened my boot and picked certain materials and inside I ran, leaving the talkative gateman to his wailings – 'My madam o'
>>>>>>>>>>>
'Where are you now Mr. Al-Makura?' I asked as I placed the phone close to my ears
'Who is this?' I heard from the other side
'This Lizzy, Nita's friend from the campus' I replied
'Oh! The one who married one Bro Dave?' he asked and I smiled.
Nita must have really had a crush on my husband to have told her husband about him!
'Yes. Please I need you to be around now please. Nita is in a critical condition' I said and there was a chuckle at the other end.
'What a joke! Do you mean the person that just drove us away from her house? Abeg, leave that story madam. Ba na so!' he said in Hausa implying he didn't like it.
What was he saying?
Drove who from whose house?
That was when I realized what the gateman was trying to tell me.
I looked at Nita on the bed. Even in her unconsciousness, she looked hurt. Her face was long and worn. My eyes strode to the petite hands holding her hands tightly. She was dozing.
I had found Nita lifeless on the bed with Zoe holding her tightly and beating her so she could wake up from her slumber. I had checked her vital signs and I realized weak pulse which I quickly adapted.
After searching in vain for even a single vein in her hands, I found one in her leg and I quickly connected the already injected saline drip I had taken from the car intravenously.
'Please, I would need you to be around any time from now. No matter what had happened between you both, it's time to let go and face reality. She was lifeless when I saw her' I told Zack on the phone and the line dropped.
I sighed heavily as I observed her again.
Her pulse was beginning to come up again and I smiled. I went closer to her, placed my hands on her chest and prayed for her.
'May God heal your hurt. May he calm your storm. May he be your comforter' on and on I prayed
I picked up a bible and stood up. I walked from one end of the room to another. I saw their lovely traditional wedding picture frame and I shook my head.
'This is an example of people who had a very great wedding but a very bad marriage.' I thought to myself.
I knelt down beside my bed and started praying, quoting scriptural references. I soaked their room with the blood of Jesus, I prayed for their marriage and all and then as I prayed on, the door of the room opened and there and then I saw Zack. I smiled
'He still loves her' I said to myself
'Well done' he said shortly, went to the bed, pushed Nita gently, waved his hand before her face probably to ensure that she wasn't really conscious, smiled widely and moved to the wardrobe.
My smile disappeared.
'Mr. Zack, your wife is unconscious. Won't you say anything about it?' I looked at him as he picked up a file and quickly went through it.
Jesus, what should I do now?
I stood up from my bed and heaved a deep sigh.
There was really something horrible wrong with this family. It had a serious cancer that had eaten deep into its bones!