Girls In The Boys Dormitory. Episode 17-20
14 min read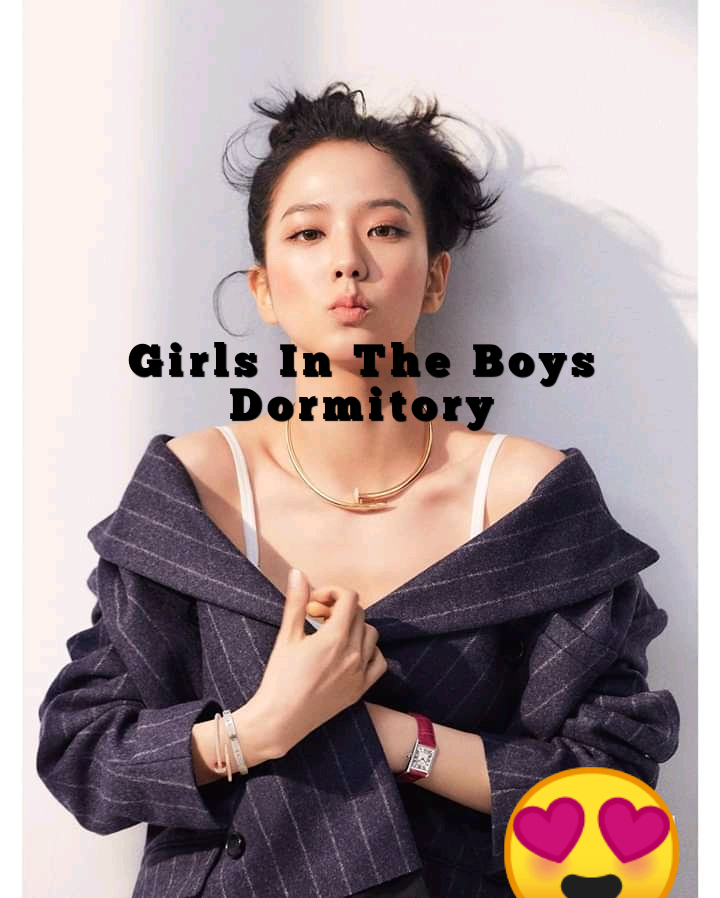 GIRLS IN THE BOYS DORMITORY*
*By: Papa Jay*
*==========*
*Episode 17*
*=========*
Tracy: Continue kissing him and rob your b00bs against him.
She did as directed and oh my God. My innocent d–k started nodding to the music. What should I do? Oh God save your servant.
Agi: Don't you think they might be feeling shy? Let switch off the light and leave them alone.
Zogaroo: yeah. But where are Zygote and Adonko too?
Agi: They are waiting for the security man at the bamboo tree to bring the others.
Zogaroo: oh ok.
Kingso: Jake jump on your bed.
Me: *I did not want to stand up because my d–k was too stiff by then which will surely shoot up and the light too was not yet off.*
Kingso: I hope you heard me.
Me: I turned to see Benita smelling at me and I did not know the reason, just then she moved straight to the switch and put off the light and then ask me to go to my bed and I did without delay.
She switched on the light again afterwards and Kingso asked Shantel to join me on the bed of which she did without delay. She quickly removed her uniform and lied beside me.
I wanted to remove my uniform too but that will make the situation more dangerous since she can get contact with my body easily which she will drove me crazy with her smooth skin but I have vowed to never touch her.
By two minutes time the rest and the other girls joined us in the dormitory and they finally switched off the light and started romancing and f—–g any how and this their m0ans and so on gingered Shantel and she became more hungry for s£x.
Shantel jumped on me and began to fondle me like her pillow and I wanted to push her aside and remembered the warning from the seniors that if I don't know and play stupid , they will kill me that night.
Shantel became more crazy after she heard the sound of f—–g and m0aning.
She grabbed my stiff d–k inside my trousers and began to go to and fro and it became more stiff.
She tried opening my zip and I refused, she stopped and started kissing me all over again then in no time she removed her vest leaving her firm protruding b00bs and began robbing them against my body and I confessed in my heart that finally I can't protect my virginity anymore, I have to give it to her because the situation was beyond control. I responded to her kiss finally and this made her realized I have given in so she opened my zib and put her hand inside my boxers and oh my God my fellow readers I have no words to describe how I was feeling here.
I became crazy to her romance and grabbed her heavy buttocks and it was shaking in my hands, I drew her closer and gave her a deep kiss and she was breathing very fast this time.
I slight my hand to her p—y and when I touched the area of her p—y I realized Shantel was totally w€t and I started robbing her p—y gently and Shantel could not control herself and started m0aning loudly and even to the extent of screaming aaah, mmm, awww, Jake! then someone switched on the light.
I quickly pushed Shantel aside and turned to see Benita standing there with a frowned face.
Benita: Why all this stupid noise? *referring to Shantel with a frowned face*
Agi: So Benita what at all is your problem?
Tracy: Is it the first time you are hearing this noise? Hypocrisy at the highest level. I think there is something behind this your strange behavior this evening.
Benita: You must be very careful with the stupid words you are using on me ok,what kind of nonsense is this?
Zygote: Hey! girls stop all this ok. The more you argue here the more danger you are creating for yourselves.
Adonko: Is ok, Beni please just switch off the light and go to your bed.
Benita switched off the light but by this time my d–k has calmed down already and Shantel started her thing afresh trying hard to bring it back to life and I reused to give her the chance after remembering Miss Nana Konadu preaching" Don't follow them to hell because they have booked their seat in hell already " so I asked myself. "So am I part of those who have booked their seat in the hell? "
No am not ready to go to hell, I will not do it , am different, I was created for a purpose as Madam said.
I will never do it because they are doing it, this is just a test for my promotion in life and I must pass this test.
I had all these thoughts and Shantel too was busily trying to wake my feelings but my mind was not there again.
I continued with all these thought and before I realize Shantel was snoring after failing to arose me.I turned to look at her and thanked God for coming into my rescue.
I slept off after a few minutes and woke up and realise there is no girl in the den not even Shantel. We prepared for school.
Episode 18*
*=========*
I slept off after a few minutes and woke up and realise there is no girl in the den not even Shantel. We prepared for school.
We reached the assembly hall and had our seats.
The assembly started in no time and after the assembly the seniors went back to their various classes as usual.
I was left alone on my chair wondering on my thought since Richard is at one corner with Sirina, Sandra's friend. I did not even border to look for Sandra because of the introduction of Shantel, is not that I love her but am thinking of a way to get her out of my way so that she will not conflict in our relationship.
So at first I thought of seeking advice from Miss Nana Konadu but I did not stand on this thought because I did not know how am going to seek her advise without letting her know the bone of contention. Before she can give the solution to my problem , it means I have to let the cat out of the bag and that can't be possible for now because it was too early for action.
As I was still thinking deeply, I felt the presence of someone and I turned and saw Sandra seated beside me.
Sandra: Sweetheart, how are you?
Me: Am fine by His grace and you?
Sandra: Am fine too but I could not sleep yester night.
Me: Why?
Sandra: I was thinking of you.
Me: Thinking of me? As how?
Sandra: I was asking myself like " so is Jake going to fulfill his promise to me in the den?, what ? If he sleeps with any girl will he still maintain that love he has for me now?, if those girls get to realise am the reason Jake is refusing them want they come after me?" . These and many questions passed through my mind and in fact I could not close my eyes for hours.
Me: Sandra, as we have decided not to involve ourselves in any immoral practices you know the devil will not just give up on us, he is foolishly going to try his best to see to it that we shall not succeed in our promise to God but I stand here today to declare to you that he is definitely going to fail in JESUS name!.
Sandra: Amen!!! *at the top of her voice and everyone turned to our direction*
These Sandra's shout of amen helped Shantel to locate me easily because immediately she heard amen and turned to see me, she quickly stood up and headed towards us and her reaction showed she was looking for me.
As I saw her approaching, I intentionally pounded more on the preaching I started.
Me: Sometimes in life, you want to do something and you see temptations approaching from different angles, my sister take heart for you are on the right direction, others will be send to stop you by putting you through various temptations but never give up on your decision, refuse to be directed by fingers. Be bold and stand firm. The devil wants me to perform a task for him but I have no time to help him because I have already started with Jesus and my master is a good leader not a boss.
Sandra: Hahaha! I like that but what is the difference between a leader and a boss?
Me: A leader is someone who ask" HOW ARE YOU? " and a boss is someone who ask" WHO ARE YOU?", a leader prays" GOD ME AND MY FOLLOWERS" and a boss prays" GOD ME, MYSELF AND I"
A leader is not a leader because of his office but his attitude. You don't need to be the head of an institution, a country ,organization or a group of people before you can be a leader that means you can be a leader now by your attitude towards others.
Sandra: *clapping* infact am proud for my future children, they have got a good father.
Me: Thank you.
All this while Sandra was standing right beside us and I stole to look at her and you need to see the jealousy in her eyes about Sandra's remarks on me. She gazed at Sandra and I could smell danger . Sandra who did not know she has a new rival now beside her continued to talk more on our relationship and Shantel became angry and shouted at Sandra.
Shantel: Shut up you stupid girl. We shall see. *She turned and walked away*
Sandra: Jake, who is she?
Episode 19*
*=========*
Shantel: Shut up you stupid girl. We shall see. *She turned and walked away*
Sandra: Jake who is she?
Me: *Silent*
Sandra: I hope you can hear me, who is that girl?
Me: *Stammering* she, she, she is one of those girls in the den.
Sandra: Jake I hate lies, when did you tell me there is a form one girl in the den?
Me: Oh is true, she is one of those girls school daughter.
Sandra: So tell me, what is the relationship between the two of you?
Me: Please Sandra, there is no any relationship between us.
Sandra: so why is she jealous now? and if I may ask, who sleeps with her in the den? or if you can't get me clear, whose girlfriend is she?
Me: I don't know.
Sandra: So she only come there to sing for you guys?
Me: Sandra, will you stop all these questions?
Sandra: No unless you tell me the truth. She can't just be jealous for nothing, there is something you are hiding from me, is either you tell me or I go my way that's all.
Me: Please Sandra, keep calm and listen to me.
She was brought there by her school mother and the purpose was to sleep with me but I refused her after all her attempt, in fact I did all I could to deny her and I think you should applaud me not to be angry.
Sandra: Ok so why didn't you ever talk about her to me?
Me: I never know her, she only came there yesterday.
Sandra: Oh ok, now what are you going to do to deny her forever? because everything indicates she is never going to stop chasing you.
Me: These are the questions am expecting from you. See, as am talking to you right now, I have no alternative plan to get her out of my way, this is what I was thinking about before you joined me here.
Sandra: Something must be done or else things will turn upside down because she is a hot girl too and I don't believe you can deny her the second time if she attempt.
Me: I don't deny them by my own power but by the grace of God.
Sandra: Hmmm ok but still something has to be done.
Me: That is why I need your help. Do you have any plan?
Sandra: Not yet.
Me: You see according to her school mum that girl is the daughter of a very powerful woman.
Sandra: Her mother is a spiritualist or what do you mean?
Me: No, she is the daughter of foreign affairs minister.
Sandra : Hahahaaaa!! and that makes her mum powerful?
Me: Sure but why are you laughing?
Sandra: Is just funny.
Richard and Sirina later joined us and from every indication, I knew Richard has won the battle.
Richard: What sup Tom and Jerry?
Sandra: Ah! you paa, you and Sirina are rather Tom and Jerry .
Richard: *Turned to Sirina* is it true?
Sirina: *Smiled over their jokes*
Richard: Jake what is wrong? it seem you are worried about something.
Me: Man life in the den is becoming too hotter for me day in day out.
Richard: Why? is there a new development?
Me: Yes o I even forgot to tell you.
Richard: Can we discuss it now?
Me: Make it later ok.
Richard :ummm
We continued with the chat till school was over and we went to the dorm side.
I went into the Lions Den and no one was in so I quickly removed my school uniform and jumped into my bed for siesta, I later awoke but still lying on my bed and overhead the seniors conversation.
Kingso: Guys so what do think we should do now?
Zogaroo: This security man they bore too much. How can you be increasing your salary every month?
Adonko: The question is, even if he want to increase it, why should he increase it above fifty percent?
Zygote: I think he just don't want to work with us anymore.
Abortion: So can't we have an alternative way to bring the girls in?
Zogaroo: There must be but it want be easy as this our plan, remember we inherited this plan from our seniors o meaning is the only best way to get the girls here.
Adonko : We shouldn't even think of looking for another method or else this security man will expose us within a day.
Kingso: Am thinking of something.
Zygote: And what is that?
Kingso: Don't you think we should get back to scamming?
Abortion: That is a very good plan my man.
Zogaroo: I second you too because ever since we stopped this thing, we have been broke.
Zygote: Going back to scamming will not only help us get money to pay this stupid security guard but will also help us get money into our pocket.
Kingso: So how are we going to get the laptops?
Zygote: That isn't a big deal, all I need is to just go home.
Abortion: What? if Teacher Akoto becomes an intruder this?
Adonko: Man, don't forget we still have his tape with us, he better stay calm or we expose him.
Zogaroo: I was even thinking we should force him to be bringing in the girls with the thread of exposing him.
Zygote: No that will be too wicked of us. Remember he is a well respected man. We only got him by blackmailing so we should just be content by the way he has accepted defeat.
Zogaroo: What of this guy?
*pointing to me on the bed and I closed my eyes like am still sleeping*
Kingso: We will teach him and he dare refuses to cooperate with us.
Adonko: Forget him, he is already a scammer by joining us here.
Abortion: If he belongs to heaven, what at all does he need in hell?
Zygote: May be he came for an excursion.
And all of them burst into laughter.
I stood up on my bed, pretending like I just woke up and they all starred at me in a questionable manner.
Episode 20*
*=========*
I stood up on my bed, pretending like I just woke up and they all starred at me in a questionable manner.
Adonko: Boy come down, we want to discuss something small with you.
I quickly jumped down as if I didn't know what the discussion is about.
Zogaroo: Boy, you have nothing to do than to just adhere to whatever we tell you here.
Kingso: Let me just go straight to the point. We want to go back to scamming and you have to join us so that you will not ask your parents for money again. What do you think?
Zygote: He don't even have that option to think about this matter, is simple, whether he likes it or not he has to join us.
Adonko: May be he don't understand us, we mean we are going to do fraud job here, 419 job and you are going to partake and that is final. No question from you is accepted but you can suggest.
I just kept calm on this because I had no excuse but I knew it in my heart that even if I learn how to do it, I will not scam anyone.
I was asked to go on my way and I went out to look for Richard since siesta was over.
We prepared for dining,
Before we get into the dining hall, we always have about fouty five to one hour to chat with our friends and love ones and this is what we term in the school as "parlon" . "Parlon" is a French word which simply means a guy in s£xy conversation with a lady.
So it was during this
"parlon" time that I was chatting with Sandra with Richard and Sirina just closer to us then suddenly I saw Tracy, Agi and Shantel approaching us with more vigor. They reached us.
Shantel: This is the stupid girl am talking about.
Tracy: Hey! you shallow grill, what is the relationship between you and Jake?
*referring to Sandra*
Sandra: *Silent*
Agi: I hope you heard her clearly? *asking Sandra*
Sandra : He is my boyfriend. Just then Tracy raised up her hand to give Sandra a slap and Sandra quickly grabbed her hand in the air.
Sandra: See, don't ever try this next time. Am not just any girl but am someone you must respect, Jake is my boyfriend and even if the headmaster ask me about it, I will say same.
Agi: Hey! you this girl, you have putting yourself into trouble. Do you want to stop schooling here?
Tracy: Haha I like your moral. You seem to be very bold, we shall see where that your so called boldness will land you.
Agi: See, this girl is the only girlfriend of Jake and you must stay away or else we will slaughter you and if you don't know, Sandra is the daughter of minister of foreign affairs.
Sandra: That is why she needs to be very careful with me or else?
Tracy: See this foolish girl, a whole foreign affairs minister daughter should becareful with you? Who are you? or who are your parents?
Shantel: Am warning you for the last, you better stay away from my boy or else you will smell pepper.
Sandra: Ok we shall see who will smell pepper at the end.
They turned and moved away leaving me, Sandra, Richard and Sirina who came close to listen to what was conspiring.
Richard: In fact Sandra I like the way you faced them. You did well.
Me: I like Sandra boldness but I don't really know the source of her boldness, to be honest, am afraid.
Richard: Man, as a man, you need to be bold to face some certain things, after all no one remembers a coward and cowards die many times before their death but the valiant never taste of death but ones, Never regret fearless my man.
Sandra: Non of them can do anything stupid to me or you. All I need is your faithfulness and the rest is history.
Me: Sandra, what is the secret of your boldness?
Sandra: That is not important for now.
Sirina: I know they will come after her in the dorm and that is my worry for now.
Sandra: Don't worry my friend, just be calm.
The dining bell finally rung and we went for dining and after that we headed to preps.