Heiress. Episode 3
5 min read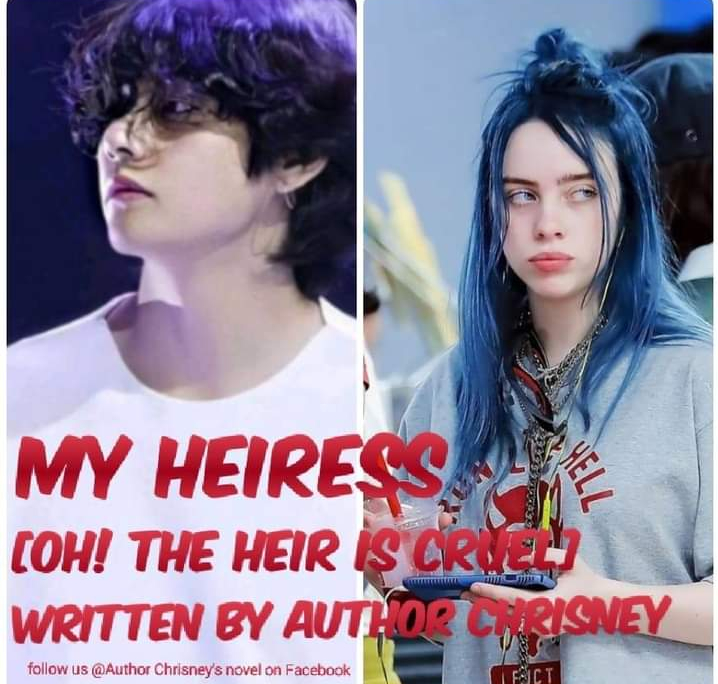 ❣️My Heiress ????
[Oh! The heir is cruel]
Written by????️ Chrisney (Adewale Christian)????
????Episode 3❣️????
(The familiar heir)
❤️❤️❤️
❣️ Chloe's pov ❣️
The ma'am agreed to pay me 200,000$, that's huge money, I'm damn happy ..Rosa will be happy as well..
I quickly stood up ,and bade them good bye..
"I'll resume tomorrow ma'am"
I said about to leave ..
"Okay, you have to be early"
she said as I stood up and left..
Zayne's Pov ????
I rushed down stairs with the batton in my hands , and I couldn't see her , mom was staring at my face with a surprise look..
"Mom!, Where's the girl that sat here some minutes ago?"
I asked pointing at where she sat…
"Don't tell me you're going to hit that ,on her "
My mom asked pointing at the batton in my hands ignoring my question,..
"She cursed me , she called me a killer, a murderer , she aslo asked that " how dares me" mom can you imagine??"
I listed and asked..
" Are you for real? , The girl that haven't even seen you , when have you started lying zayne , you never lied to me ..when !!! Why!!!"
My mom shouted angrily at me ..
"Mom I didn't tell a lie , you can ask Ella "
As I pointed at her ..
" Did she, Ella ??"
My mom asked Ella..
"Actually ,…. She didn't meant to say that , she doesn't even know what Zayne looks like, she only sided by me and it caused a misunderstanding" ..
Ella explained,
"Not a misunderstanding she purposely did "
I said …
"You mean.."
" She said I looks pretty like and angel, I said zayne said I looks like a fish , she replied that ,who dares say such ..
I covered her mouth ,and I said zayne will kill her because zayne hates female , she asked not knowing who he was that "is a killer?" She didn't mention a murder..
She explained …
" And what's the difference between killer and murderer ??"
I asked with a frowned face …
" I'm beginning to hate you????, I'm also a moman , hating my fellow women hurts me alot."
She said with a teary face …
My heart stinged looking at her face , I quickly grabbed her and warmed her with my embrace ,and petted her ..
"I'm so sorry Ella , you're not looking like a fish , you beautiful like she said "
I said pretendingly , with the word "like she said " just to close the part , "I'm also a woman " ….
" Zayne , the girl will be working for Ella , I must not hear you raise a hand on her , or else I'm gonna disown you and sue you As well""
My mom said ..
"Mom ??, You wanna disown me because of that crap , do you still remember I hates fema…."
I wanted to say female , and I stopped because of Ella ,..
" Okay mum, I said ,
As I dropped Ella as I climbed upstairs…
That witch , she haven't even started the work , she had caused a huge misunderstanding.
She won't use up to a before I'll sack her…
Chloe's pov ❣️
I happily walked out to the compound the cleaner already done , the securities guards are standby in there post with taxer guns to shoot Intruders,the intruder will collapse and sleep for two hours ,by the time they wakes up they will be already handcuffed …
Wow!.. amazing house ,the security is tight because the properties in the house are so expensive , thieves may try to rubb the house. ..
I reached the gate ,,
"Good bye sire" I bade the gate keeper,
"have you been given the job?" He asked ,with a smilling face ,
"Ofcourse" I answered ..
Smilling at him , he opened the gate , and I made my way out…
"Ooooh ,I finally got a well paid job " I rejoiced as I ran home…
❣️At Chloe's house❣️
I opened the door and made my way in ..
"What took you so long ?" My sis asked "
"I got a job and I'll be resuming tommorow!!" I screamed happily as I jumped on the cushion ..
" Do you realized , you will be starting your high school ??"
She asked ," yes I'll go from there , it's a teaching job and babysitting, she's just a 11 years old girl , I'll excort her to school and go to my one school"….
I explained ,
"That's nice",
She commented..
"Your uniform is already in your room"
Rosa said .
"Wow ,so fast ?"
"Yes!, You're already admitted "
She gave out the good news ..
"Ahhh, ????????????????"
I danced merrily to unheard music????.
"The heaven is behind me, good things falling on good things ????????"..
I shouted joyfully…
"But , do not tell the school owner's son your indentity ,neither will you let him notice your existence , because you're addmited in his class"
My sister Rosa ,said with her face squeezed and serious one…
"What did she mean?"
I asked looking at Nicki ..
As she walked away.
"Why are you staring at me ?, I think you heard her right "
She said as she was eating some prawn crackers and changing the TV channel ,while she sat comfortably her leg on the center table like she owns the world…
"Huhh !! Shhg"
I made a beast gesture like I'm gonna eats her up.
Nicki was a goofy girl , who has been living with us , since she lost her parents, according to how I was told by Rosa my sister ,she told me she has been my personal servant since 5 years old ..
I felt it to.. she's more like younger sister to me cause she has never for once be treated like a servant by me…
We lived more like a friend to others..
????????????????????????
Who will that guy be, I haven't even known him, why I'm I suppose hide myself from him, is he a god?,I'll definitely show existence ,cause everyone has right to live …
Not necessary for him to know my identity though…
I said as I walked stylishly to my room , just to mimick Nicki..
She looked at me and pretended she was paying attention to her movie…
Hello christianaries ⚜️❣️..
How has been your day??..
Why do you think Chloe should hide her identity ?
How did Rosa know the heir ,and why she said that ?.
What are suspicious about , Nicki and Rosa ?..