Heiress. Episode 23
8 min read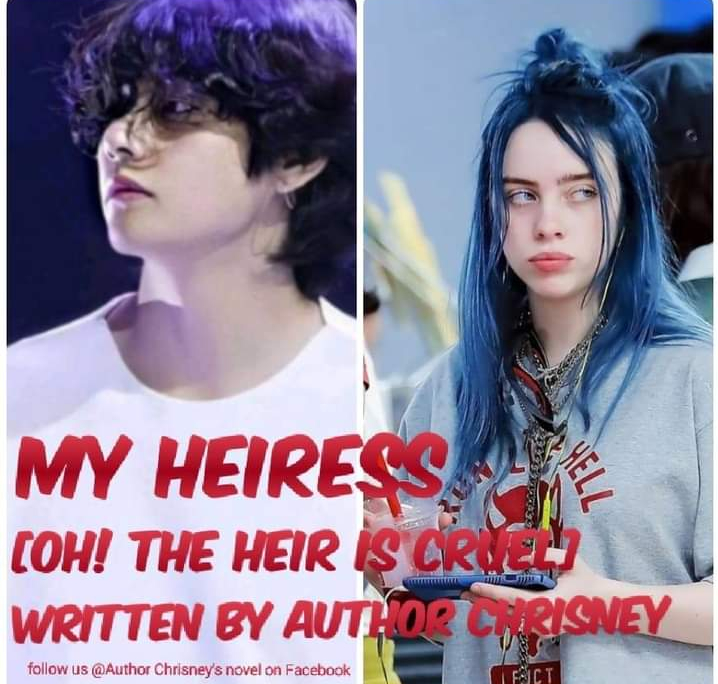 ????My Heiress????
[???? Melting His Cold Heart❣️]
???? Written by Chrisney????
Adewale Christian ????
FB : @Author chrisney's novels
???? Episode 23 ????
???? Brent's pov????
Zayne was very angry the moment I humiliated him and dad , I've never been this mean to him , even after I was stripped from my title due to me being an illegitimate , my mother wasn't married to my father ,but he took my mom as his concubine in desperation to have an heir , My mom was a peasant when he took her in , planning to adopt me for his first wife because his first wife is a noble woman ..
The laws of my dad's family , is that any heir from our generation must marry a girl from either Louis or Ruby , my dad married his first wife which is Mrs Vera from the Louis family , and now zayne wants to marry from the Louis family that's the reason Minister Ruby wants to put his lineage to the game again , and he killed minister Louis's daughter ivory in order to make "riele ruby" the heiress and continue ruby family to be Ronald's bride continuously like ages when my grandfather married from the Ruby family ,and my dad was the heir when my dad married my step mom Mrs Louis Vera …
We reached upstairs as my attentdants carried her on there way to her room..
"Do not take her to that room , she's still unconscious ,and also she's not safe in this compound anymore , she's gotten lot of enemies"
I said to my attendants,
"Where should we take her to my Lord !"
Attendant jollie asked ,
"Take her to my room , bath her in my bathtube , change her dress with new ones , then lay her on my bed , and also buy some drugs for her to take "
I ordered ,
"Do you understand "?
I asked.
"Yes sir "
Attendant jollie replied "
And I gave I transferred her some amounts for Chloe ,as she sent the maids to provide everything…
"I'm sorry my Lord You have to stay outside, I have to take care of her like you said ..
Attendant jollie said ,
She's been my loyal attendant since my childhood ..
"Ok I will "
I walked downstairs to the sitting room worried of her health..
The door opened and I saw Felix coming in with a pale face ,
"What's wrong Felix??"
I asked ,
"Brent you have to beg the minister , stay by his side until he's concious , so his anger will reduce towards you"
Felix said ..
"Me?
You mean I should beg my dad ?, "
I asked ,
"Yes son!!" , My mom entered as two attendants followed her behind..
"Why would I ?, Do you to make your dad resent you finally because of a mere girl?"
She said ,
"Mom!!"
I called ,
"Please know your stand in his house , even though you're his first born , bear it for some while when you're full independent, son, do not abuse your power towards your father"
She said these words to me and turned back to go as her attendants followed her behind..
"You can hear that?, You should put it in mind , until you become a Minister, so you could gain a spot in your father's group,and in government..
"If I can have the person I love with me ,then no need of any position or spot"
I said carelessly,
"What!!?, The person you love ??, Do you mean.."
He tried ,
"Okay!, Do not worry ,I will go and meet him"
I said after he wanted to ask that I love Chloe.
Ella really also insulted father unbelievably , that she couldn't control her temper ,
Dad already gave an order to arrest her in her room for 5 months , I'm gonna make her follow me to seek atonement from father ..
I walked upstairs to Ella's room , until I met two security men standing outdoor..
"Can I talk to my sister?"
I asked ,
"Yes !,"
They replied and i entered ..
"Brother !!, How is Chloe ?"
She quickly jumped away from her bed ,and ran to hastly ,.
"Do not worry she is in a good condition "
I relieved her as she sat back on her bed as I sat on getting stray stood bside her..
"Thanks for saving Chloe , you couldn't even control your temper , you didn't even care about the outcome and you insulted dad in that manner??"
I asked ,
"There's isn't something I can do , if I haven't insulted him unbelievably ,he wouldn't change his order , that why I have to buy time for Chloe"
She said ..
"Do you mean you know father will became unconscious ,
" I don't know , I he would at least postponed his judgement , by then we will make Chloe excape"
Ella said,
"You have to come with me to seek atonement from father "
I said ..
Zayne's pov ????
Father was laid on his bed after his personal already treated him and left.
"Zayne !!"
My dad called with a blurry face ,
"Dad!!, Please rest some little bit and gain more energy"
I said to him ,
"Son !!, Your brother might have resented me so much , this is because of how I treated him since when he was still young , i've never shown him love , because he came from the wrong woman , there's nothing I can do because he's still my son, he once came to me 7 years ago , that I should make Ivory louis bethroted to him ,he also mentioned a world that touched me, he said even if this is the first and last time you will show love to me , but I shouted at him ,and I ordered him to be brought out of my quarter ,, just because I noticed you love ivory and have the plan to make her My Heiress ,I told him never to stay near the little girl or think of showing her his heart , he obliged to my order with a very heavy heart , he loved you so much as his little brother , he never for once did anything to hurt you and he let go the person he truly loved to you , I'm telling you this to show you his true intentions son"
My dad said all this long words , summarizing Brent true intentions.
"My Lord !!, Young master Brent and Young Miss Cinderella is here "
My dad attendant annouced ,
"I don't want to see any of them "
My dad
Said to the attendant ,and she turned back..
"Due to my poor health now , is will be your turn to handle the group , you're no longer a kid to live in that house , you have to relocate to your new quarter ,you need attendants to provide your needs , and also securities to ensure your insecurities, I do not want any complaint , you've rejected them all 7 years ago , and I won't allow it now"
Dad said,
"Okay dad "
I replied..
I replied and stood up..
I walked out of his chamber ,
I saw Brent and Ella as they knelt down outside my dad's vicinity…
They didn't look at me , they faced what they came to do instead..
And I walked to our quarter , I entered my bathtube, I finished bathing and laid on my bed and slept off..
Riele's pov????
"Mistress riele , minister ruby is here"
A maid came to inform me about my dad present,
"Really ??"
I asked with surprise…
"Yes !, He's waiting in the guest sitting room"
She said ,
"You can go "
I said with a eager look..
And quickly ran to the guest sitting room ,I opened the door he was already served refreshments, ..
"Daughter!!"
He called when he saw me !,
"Dad !!",
I called and ran to him and gave him a slight hug ..
"How have you been doing ?"
He asked ..
"I have been having a hard time , in this house , it's not really easy to gain Zayne's heart dad "
I explained,
"What !!??, You've been living here for 4 months you still haven't gain a man's heart ??"
He scolded,
"Dad he's not that easy , he lost the person he love , do you think it will be easy to gain his heart like that ?"
I said,
"That's 7 years ago
"
He said,
"I'm already having his favour with me ,so dad you have to be less worried ,in no time , I will grasp his heart in my hands "
I said .
"I hope there's no obstacles in your way ?"
My dad asked ,
"There're many obstacles , a girl who gained everyones trust before me in this house "
I said ..
"A girl ?, What do you mean by that ??, Why haven't you taken her down these days "
My dad asked ,
"Dad I found her still useful that I also want to use her to take Brent down and make him loose the little favour he had in minister side"
I said ,
"Do you mean , minister Ronald's illegeminate son ?"
My dad asked,
"Yes he's also an obstacle , after i've take him down , I will then get rid of the minister Jackie's son Sebastian ,and Felix "
I explained ,
"What a smart girl you're , take all obstacles down no matter who they are , most of it all the girl you talked about "
He said ,
"Yes dad , I will heed your advice,
"I've gave my greetings to the minister so I will be on my way now"
My dad said…
Rosa's pov ????️
I and nicki witnessed all what Happened , how Chloe was saved by the little miss , we were accommodated to the living room ,after chloe was taken to master Brent room and taken cared for"
I heard footsteps as I saw minister ruby coming downstairs ,with his daughter , I wanted to hid my face ,and I noticed he doesn't recognize me ,
"Hello !"
He called ,
"My Lord!!"
I greeted with a bow ,
"Who are you ?"
He asked ,
"Oh nevermind , you looks so familiar "
He said ,
I bowed my head to prevent him seeing my face properly..
"No sir , I haven't seen you before sir"
I said ,
"Do you know bel…"
"I'm Rosa "
I said quickly as he wanted to mention bella, as my head was still bowed , he didn't finally see my face ..
"Okay !!, He he said as he was about to leave ,
"Wait!!, what do you wants here ?"
He said again ,after he turned back ..
"She's the girl I told you about elder sister !"
His daughter said with a smirk …