Heiress. Episode 24
7 min read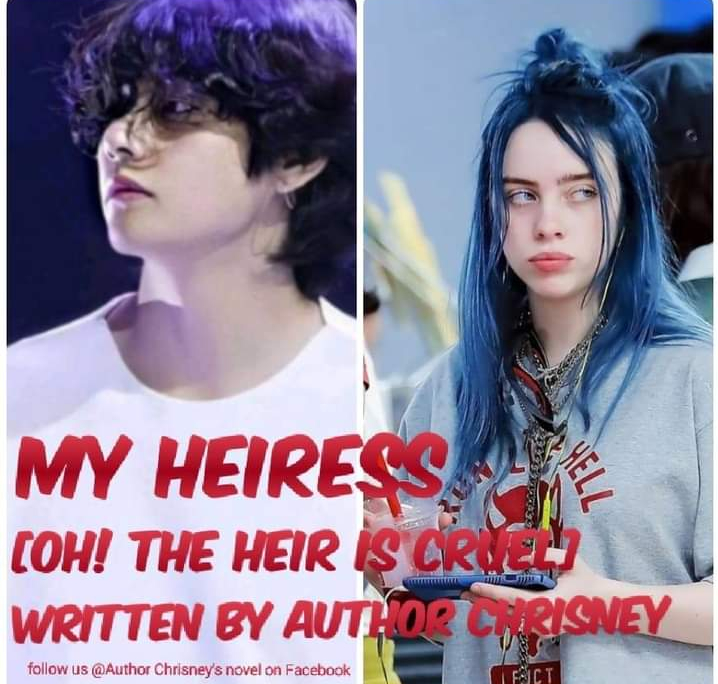 ????My Heiress????
[???? Melting His Cold Heart❣️]
???? Written by Chrisney????
Adewale Christian ????
FB : @Author chrisney's novels
???? Episode 24 ????
Chloe's pov ????
I laid on a bed ,with a weak body , while my temperature is high due to the purnishment ,it was unesay to open my eye like other time I lost conciousness, I think I've been a burden in this home ,I think I should just stop this work , to make peace reign again..
I opened my eyes ,and it was so blur while staring at the white ceiling ,and the fan rolling clockwisely and gently , and sent cool breezes to me , it feels so cool and refreshing , and cool fragrance blowing through my nostrils as , my stares was still blur , and it finally clears authomatically…
I moved my body on the soft classy bed with blue bedsheet , and a comzy deep blue duvet , I wasn't familiar with this room ..
"Where I'm I "
I shouted without the knowledge of where I was ..
"Be calm , you're in a safe hand as usual as long as I live "
Brent stepped in and replied my question coincidentally ,
"What!!, I'm I in your room?"
I ask exthuastically,
"Chill , like I said earlier you're in a safe hand as usual and as long as I live "
Brent said with a calm tone ..
I'm utterly confuse right now , how did I get to his room ?, I'm I suppose to be in his room ?, I think they gave me different room last time , why wasn't I there, furthermore Brent was always the one who usually save me from danger , also he's always been the first person I usually see whenever I open my eye.
I thought ,,
"Perhaps….the ma'am gave me a room , but why I'm I in your room"
I asked with a polite smiling face ,
"I don't think this is the time to ask questions , be glad you're in a safe hand "
He corrected,
"Oh!! My manners"
I lamented,
"I'm so sorry my Lord , thanks for saving my life , I'm greatly honoured by generosity My Lord!!"
I appreciated ,
"Hmm!, Do not be to worried Chloe , Obviously…, I saw you're furious to know why you're in a male room , I thought you should by known you've gotten powerful foes in this house , there must surely be an attempt on your life again , so I have to accommodate you in my room , so you will be safe , do you not like the room , or you find here to inferior ?"
He said with a cheap smile,
"What!?, How dare me say such thing?, I'm so sorry for my Impertinency my lord!?"
I apologized for my disrespectful word,
"Hahaha, nevermind I should apologized for putting words to your mouth"
He said with a smile ,
He's putting on a long grey sweat pant (trousers) , which shows of his dick print faintly , and he puts on a black armless shirt showing off his shoulder and sexy armpit , he looks so hot , "ohh no chloe! why's your mind thinking too dirty"
I thought ,
"How are you feeling now ?"
He asked caringly with a broad smile,
"I'm felt much better due to your graciousness"
I said,
"Gracious? ,Was I being gracious or I did what I was supposed to do , let's get off this matter , and think how you'll eat, what are you gonna eat ? , Do you care sushis, omelette ? , stakes? , fried rice ? , Scrambled eggs , or patched rice ? , I'm gonna serve you any myself"
He asked like a waiter , whose working in a restaurant ,
"How can I make you cook for me , when I'm healthy ?, I'm gonna cook myself my Lord !"
I objected,
"Then we would rather cook together "
He said ,
"I won't mind if we do "
I said politely with a smile and I stood up from the bed and I walked to the door as he followed me behind"
He cracks lot of jokes as we both were laughing hysterically ..
???? Zayne's pov????
I'm so angry at how ,Chloe made Ella offended father that I've wanted to sack her from our home , she was just to chaotic and disastrous ,I walked angrily untill I heard histeric laughters , until I saw chloe and Brent coming from his room , while Brent held her wrist , my head sparked, while goosebumps appears all over my body , my head keep ringing as my hands turned into a fist , what wrong with me ??, What's feelings I'm feeling right now ?",I thought as they entered the kitchen like a lover bird , I ran towards the kitchen door in Hope of separating them , but I couldn't the twos were having a good time , that it will look to Immature to intervene , my whole body was boiling , in sight of seeing Chloe lightening the gas and to cook and Brent helping like already Happy family , that it sent shiver into my heart ..
I vowed to never fall in love again, that the love of ivy was still dorminant in my heart ,I feel so emptied without ivy , I was driven crazy at the moment but of them smiled at each other , and Brent playing lovey – dovey with Chloe , he was faking some prawn crackers in Chloe mouth , as Chloe tried to eat it from his hands ,and it takes it away furtherly, and they but bursted into laughter , in excitements of there moments,, I witnessed all this scenes with jeaslousy and desperation , That I could commit suicide at the moment..
Tears was dropping down my cheeks as I ran towards my musical room , and sat on my keyboard stood , and placed my fingers on the keyboards to clear my mind away from the dreadest thoughts and jealousy I was filled in in that Moment..
I placed my fingers on the keyboards , ready to play soledad by westlife????????..
????Soledad/ Westlife????
If only you could see the tears????
In the world you left behinds????
If only you could heal my heart????
Just one more time????
Even when I close my eyes????
There's an image of your face????️????
And once again I come to realise
You're a loss I cant replace????????????
Soledad!!????️
(soledad)
It's a keeping for the lonely????️????
Since the day that you were gone????️????
Why did you leave me
Soledad????️????
In my heart you were the only????
And your memory lives on
Why did you leave me????????
Soledad!!!????????
Walking down the streets????
Of Nothingville????️
Where our love was young and free????
Cant believe just what an empty place????????
It has come to be????????
I would give my life away????????
If it could only be the same????????
Cause I can't still the voice inside of
me????????️
That is calling out your name!!!!!????????????????????
Time will never change the things you
told me????????
After all we're meant to be????????
Love will bring us back to you and me????????????
If only you could seee????????????????????????????…
I sang with zeals as tears rolled down my cheeks ,
And going back to the lyric
"Love will bring us back to you and me ????????"
It gave me some hope????..
Rosa's pov ????
We were serve refreshments , and we wait eaderly for Chloe ..
It's 2 hours now after Ruby has left ,
"Should we not go and check for Chloe?"
I asked,
"What do you mean to enter master brent's bedroom ?, That would be too bad"
Nicki said ,
"Really !, I can't bear it anymore , I wants to see her "
I replied ,
"Same here sis "
Nicki said ..
"She must be safe ,so she would be able to revenge her father's death and all her loyal servant who died , she must also purnish them all who sent assassins to kill her "
I said ,
"But sis , what if she realizes she's Ivory louis, she won't be pleasant with you sis"
Nicki said ,
"Watch how you talk Nicki"
I warned ,
"She must discover herself , although she have great resentment for me ,I will take responsibility too , but do not alter anything to her if you're truly her loyal servant ,do you hear me "
I warned ,as she puts on a clouded face , tearing up already,
"She took me from the pit to the palace , she treated me like an human , she even taught how to read and write and sent me to a private school , she woree beautiful dresses , she never treated me like a servant , she always share whatever she has with me , why? , Why has fate made disloyal to her "
Nicki said crying heavily ..
Brent's pov ????️
We finished cooking the food as Chloe packed ours to my room ,and I carried her older sister and her friend's own on a tray as well ,I'm so excited I have this lovely time with Chloe , this is the most interesting day of my life , that I couldn't even make the servant serve the food , I carried it myself ..
I walked downstairs , but they didn't notice I was around , they were distracted with there disscussion ..
I wanted to call them until I heard the most shocking revelation of my life , from her friends , as she how they conserved , ivory was truly Chloe , the friend was ivory servant , this can't be possible , never this isn't happening , I saw when she was buried ,she was taken into the coffin right in front of me , how could she possibly survived ?, I was traumatized that the tray fell off my hands …