Heiress. Episode 28
5 min read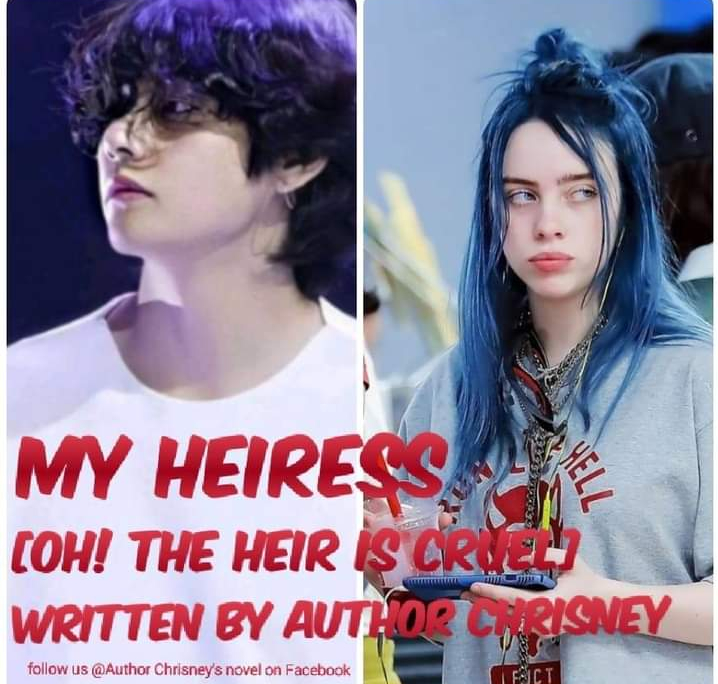 ????My Heiress????
[???? Melting His Cold Heart❣️]
???? Written by Chrisney????
Adewale Christian ????
FB : @Author chrisney's novels
???? Episode 28 ????
Chloe's pov ????
I finished the stressful but susesfull media and press , my eye was almost watering after the hundreds of camera flash light used to video me..
And an attendant came to me ,
"I'm attendant Jenner , I'll be your attendant for anything you want , just give your orders"
She said ,
"My attendant? "
I asked in surprise..
" Yes !! , Congratulations chloe , that's my little gift , an attendant to keep your company , help you with any stuffs "
Sebastian said as he was coming further with Felix,
"Ohh that , I think I'm strong enough to do whatever I need , thanks so much my Lord "
I appreciated politely and bowed …
"Congratulations too"
Felix felicitated me while riele walked towards me with her attendant following her behind…
"Congratulations ?, Hahahaah"
She said and and laughed histerically like a old witch ,
"You must have just gotten a fame , and completed what you've ever wished ,you must have thought you've seduced zayne ,hahah"
She said and laughed histerically again ,
"Gurl!!, Your Fame is gonna last for 4hrs , Anticipate my congratulations after your doposition hahaha"
She said and laughed hypocritly, as she left with her two attendants following her .
"I could sense jealousy speaking "
Sebastian said,
"Why won't she be jealous ?she among the minister daughter who's submitted application to be signed in zayne record label"
Felix explained ,
"Really??, She submitted and wasn't signed ?, But why was I signed ?, I ain't a governor or minister's daughter?"
I asked with a very confused face,
"Do not worry we are friends !"
Sebastian said ,and it makes me happy , being a friend with a whole minister Jackie's son !"
"I'm a whole minister Jackie's son?? , I'm damn happy "
I bloated..
"Haha !!"
We all laughed ,
"Hey Chloe "cinfrats
Charly called, from distance ,as she congratulatedme,
"Charly how youi doing I'm good "
I
I asked
Charly has been a good friend ever since I've met her we both used to speak about ideas on message,
"I'm Charly ,my lords"
Charly greeted zayne and Sebastian with a light bow ..
"You must be
Chloe's friend right "
Sebastian asked with a smile ,
" Yes I am my Lord !"
Charly replied ,
"Okay can we all go for lunch ?"
Sebastian asked as we all headed to the School cafeteria.
Unknown's pov????
My boss ordered the creeds to tie him up , for him to consider his judgement..
My boss was worried as he walked to his personal office the the building , as I followed him behind…
"What do you think about that guy?"
My boss asked as he he rolled a rizzla and lighted it's tip , and started smoking,
"He's unbelievable my Lord "
I said ,
"Really ??, You heard what he said right?"
My boss said ..
"It's unusual thou , how can a certified person wants to be an assassin ?"
I said confused ,
"His fighting skills though , it makes me greedy for him,,but I think he's suspicious "
My boss sad ,
"There're many reasons why people join an assassin Creed , might be for protection, for revenge , for money , he might have wanted it for revenge ""
I guessed..
"Follow him secretly for some times without him noticing "
My boss said ,
Blindfold him and take him out of our vicinity don't let him know where it is exact ,okay?"
He Said,.
"Yes my Lord !"
I answered and carried out his orders ,as he was taken out blindfolded ,
"When should I come again "
He asked , while he was still blindfold,
"Come again ?, How do you Know we're gonna make you come again ?"
I asked ,.
"You're gonna use watch me secretly for some days first before you make me join the creed "
He said as crazily,
"I don't know what you'll be thinking, but if we need you we will come and take you like we did today ,so mind your speech , take him away "
I said and ordered the creeds …
Zayne's pov????
The school closed already , as we all went home as usual ..
My make up artists and stylists , fashionista we're already waiting for me i went in and took my bath..
Until my phone rang ,
???? Hello dad!
???? I just saw the headlines now , and the news was you signed that girl?
???? Dad , she's qualified ,she got the perfect feminine voice I've needed for my upcoming album, I'm gonna make her perform in the president's daughter birthday today , so it will make her popular now , that people she would gain lot of fans , so it won't looks like I chose one random cheap person to feauture in my upcoming album..
???? Isn't riele having the voice you needed ?..
????I've never tested her dad after I'm done with the birthday ..
???? Why would you test her ? Then ? , She's My heiress boy !!, she's capable !!
????I will do that later dad !
☎️call ends☎️
My dad keep pestering me about riele, the girl is to manipulative..
Chloe's pov ????
The make up artists did her work ,after she's finished applying different types of make over , and she wore me a golden earings . and I saw a very long bridal sky- blue dress it was so mysterious , crytals were seen glittering all over the dress ..
"Who bought this majestic gown fore ??"
I asked with a surprised look ..
Lord Brent bought the dress, while Lord zayne bought this gold necklace "
She said as she pointed a real gold necklace inside a transparent box placed on a coxy white cotton ,I quickly grabbed it from there ,
" you mean he bought this for me ??"
I asked ,
"Yes my lady !"
She replied ,
"Zayne bought this for me ??, I can't believe this !!"
I carried the neclace puts it on , and danced like I'm in a ballroom dancing with a prince exitedly, not because of the gold , but I was so happy he gave me something ….
Brent's pov????
I could see how Chloe was dressed gorgeously ,like a goddess and her face looks so so beautiful like any other girls I've ever seen ..
She's always loved zayne ,and will never understand my feelings, Zayne bought her a common necklace but she cherished it so much ,than even the magical dress I imported from morroco with a very high cost which can't even be found in USA , because of it rearness and costy more cost than gold , I realise money or cost things does not buy love , h live zayne that she chose his necklace over the dress I don't blame her , I'll wait for when she finally understood my feeling s for her "
At The Birthday
Riele's pov ????????
I left the house quickly to the birthday to carry out my plan,…
As I walked to the caterers , I introduced myselve ,
"Take this voice neutrilizer , put that on the artists tea ,the female artists"
I said ,as I gave her the voice destroyer powder , and she quickly sprinkled it into her tea ….