Magical Twin. Season 2 Episode 5
6 min read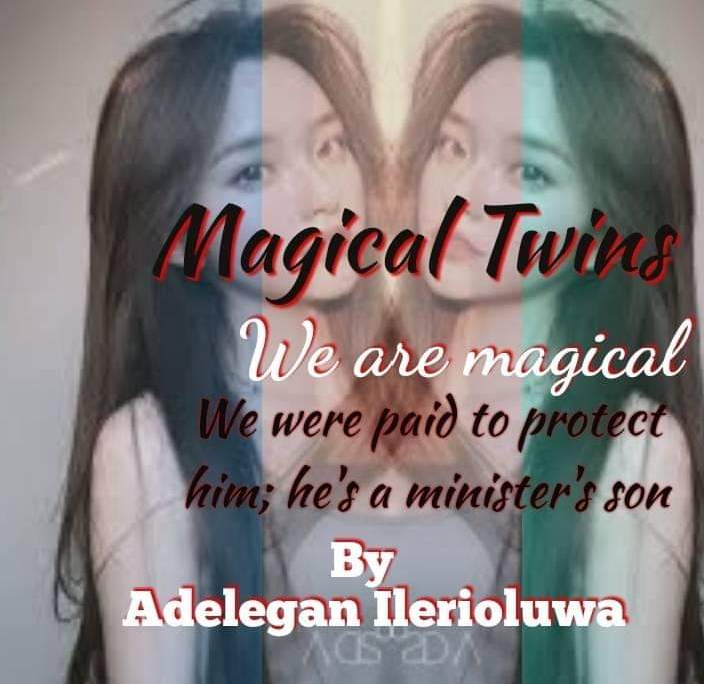 ????????RETURN OF THE
MAGICAL TWINS????????
????????SEASON 2
Their revenge…????????
By Mimmy Love????????
Previously on magical twins
.
.
Who told you~You are powerless? He asked
Our wicked uncle took them. Evie replied then he scoffed
Your powers are still intact ~
Huh?
I am sure, try to use them~ He said
I and Evie looked at ourselves then I tried mine
O…..M……G! It worked Eloise! We hugged ourselves, she tried hers
It worked perfectly
But…..if he didn't take them, what then did he do to us..
It has been restored but……
But what? We asked
You can't use them in public now. He said
Why? We asked and he sighed
I have to see a friend now. He said and left
But why can't we use them in public? I tried to ask but he was gone
Let him come back here.
Beware uncle, this is really the return of us!
………………………………………………………………………..
Episode Five????????
Jamie's POV
I walked towards Nana's house. The twins are funny, just too funny
They want to go back?
I scoffed.
I got into Nana's house and knocked at the door but nobody answered
I went to her backyard and knocked on the window
She yanked up immediately
Jamie, shussshhhh. She said inside and opened the window gently which I entered through it
What? I whispered
I am trying to hear something from dad and mum….seems they are planning something for me. She replied happily and leaned her ear on the door. I tried to know what her parents were trying to do with my powers but it didn't work.
And that reminds me, we are still fighting. She said
Okay. I replied simply
Okay? And that's all you have to say? She asked incredulously
Yap! I replied and sat in her bed then the door opened revealing her father
Oh prince! He said
Good afternoon. I replied
Nana, I and your mum have something to tell you. He said and she followed him gladly
I can't stay here alone, I have to leave now. I said to myself and climbed down from the bed, I opened the window and went out
Now, its time for Evie and Eloise.
.
.
.
Minho's POV
We got home…
Bye guys. Kane and jane said to them and they left. They look good when in human form. I don't know why I still feel guity about what happened
I killed my dad~ Yeah, He deserves it but why do I feel guilty
Sup. Jane said and offered me a drink.
Thanks. I said and collected it from her. I zipped out of it
Just wanna ask again….
Are you sure you are interested in the type of job we do? She asked
I think so. I decided to join you guys. I replied
But….I noticed you have been acting so uneasy. Is it because you killed the minister? Its nothing. She said while I gave her no reply
Can I ask you a question? She askes
Yeah. I replied
Who are the most important people in your life? She asked
….
My mum~ supposed brother and…..Late girlfriend. I replied
Oh…so, do you plan to have a new girlfriend? She asked
Of course but not now. I replied
I hope so. She muttered looking at me lustfully?
Nah…I don't think so.
.
.
.
.
Seoul….
Helen's POV
His condition is kinda confusing cos I have tried all the equipments and medication I brought. She said
So, are you quitting again? I asked
Of course not, I won't do that. I am not a failure. She replied
Okay, so…what do you want now? I asked
I don't need anything now but I have to go home. She said taking her bag
What about him? I asked
I have injected him, he won't wake up not until tomorrow.
Okay, do have a safe journey. I said
Bye. She replied and left
I took my bag and also walked out ……
Can't miss the meeting…
.
.
Dona's POV(Doctor)
Few minutes later, I got home. My sister was sittingbin a couch reading a novel
What's that? I asked and sat on the couch
Welcome…its a magical novel and its kinda fun. I love it…try to read it. Its interesting. She said
I am not interested. I said and took off my shoes tiredly
I will get you a cup of water. She said and dropped the novel on the table before me
"KNOW MORE ABOUT MAGICS". I read the title silently
I took the book and flipped to the first page…
"Magic"
I started reading, she came out with a glass of water
I dropped the book and collected the water from her..
Oh..I am so tired. Beak's issue is critical and tiring…
.
.
.
.
Freddy's POV
You know what bro,just forget about her…who knows if she has eloped with a guy. My little sis said
That's true but Evie isn't that type of being….
Forget about her. I can arrange some ladies for you. She said jokingly
What do you know?! We are traveling tomorrow, better start packing. I said and got up from the couch
The door bell rang
I will get that. She said and walked to the door, I made to go to my room then I heard
Madia!
What Madia? I turned
It was her hugging my sister…
Mara, stay away from her, she is a monster. I said and withdrew my sister from her
What do you want? Are you here to claim what doesn't belong to you again? I asked and she chuckled
You should be happy I came to check on you. How are you doing? She asked
My welfare is non of your business now get out of my house. I said furiously
Okay, I will leave…. She said and slowly cat walked out of my house
Is she really a monster? Mara asked
Yes. I replied
.
.
.
Eagle's Mansion
Madia's POV
Hey mum. I said and hugged her
My baby is back. She said and pecked me
Yeah ~
Guess what mum?
You know I am not good at guessing…
Okay, I was on my way to see Xavier so I decided to branch at Freddy's house today. I said
So…any big deal? She asked
Wait… She stopped me
Don't you think he is a threat to us? She asked
How?
He could be an obstacle, he might want to stop us from claiming Kim's properties…fully. She said
I don't think he is, even the guy we thought would be is nowhere to be found. I replied
Even the lawyer. I added
I think we should kill him…that will make everything clear. She said and I gasped
Your sister's son????
Yeah baby~ don't care
.
.
.
.
.
Village……..
Jamie's POV
I walked into the palace and went straight to my room.
What took you so long? We've been waiting. Eloise sid
I'm sorry. I replied
Now…tell us the reason why we can't use our powers publicly. Eloise said
Okay….its because your uncle knows each time you use your powers. I replied
How?
Okay….now listen……try to remember the last time you saw him, he collected your powers with some kind of…
Yeah! The magicundjhan. Evei replied
So, each time you use your powers…there is an organ that blinks red….which means you are alive. He is going to know you are alive, he will find you and kill you. He said
What if he has given our powers to his kids? Eloise asked
It won't walk for them, it will only add to their problem.s
Oh…
Evie's POV
But we can't stay here doing nothing. I said
Yeah I know. He replied
Will you find us a job then? Eloise asked
Be my guards….protect me and I will protect you. He said
.
.
.
.
.