Underground Demons. Chapter 12
9 min read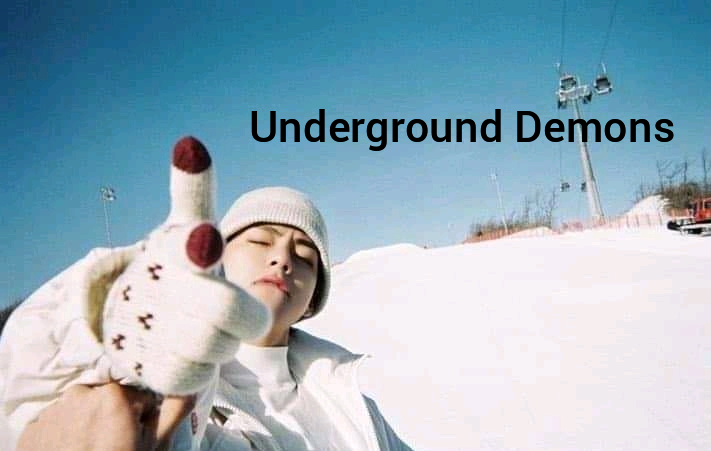 ???????? UNDERGROUNDED DEMONS????????
????
_______???????? The Revenge????????________
????
????????Chapter Twelve????????
Brought by Chris Val ????✨
????
°°°°°°°°°°°°°°↑→Mexico←↑°°°°°°°°°°°°°°°°°
????⚡????⚡????Dan POV ????⚡???? ⚡????
Jack told me about his dream so far concerning the school
When I got back to school,
I had to make some research and enquiry about what has been going on in the school lately but only got an information about some students being killed by anonymous beast
According to the information, it says that the police are into it and the students seems to be safe at the moment
It wasn't bad anymore
I am from Jack about information and he said that he will go with the opportunity because he had no other option
Although I was somehow scared that I had to keep researching for the school update all the time, just to know when things like that happens again
????
You know things about scholarship, we still had to make some payment
Jack said that he was able to save some little amount of money
So I have to give a helping hand
I helped Jack in making some arrangement and some payments
He did the supposed test that very day
As in filling his forms
????⚡????⚡???? Jack POV ????⚡????⚡????
When I informed my parents that night about the scholarship opportunities, they were so happy that they couldn't stop thanking Dan even though he has left before they arrive
He was indeed a good friend
????????
The following day, Friday
????
°°°°°°°°°°°°°↑→ California←↑°°°°°°°°°°°°°°°
????⚡????⚡???? Henry POV ????⚡????⚡????
For almost two weeks, there was no record about any death of a student
Everyone was mentioning the simple instruction the teacher gave the other day
You could hardly see or hear someone's voice immediately it is 8 p.m.
It sounds funny but it was helping
Everyone was also talking about it
It was Friday evening when Mr Noah called me on phone
He said I should come to his house that minute
I wasn't busy that day so I went there immediately
I got to his house and called him to let him know that I am standing before his gate
He didn't take long to open the gate for me
We walked inside and he offered me a seat
He gave me some drinks but I didn't take it immediately because I wasn't really thirsty
He sat down on couch opposite me
"It has been long time we discuss" he said with a little smile on his face
"actually I don't like disturbing you because I know what the position of a principal is, so I have to let you work and also concerning what is going on in the school" I replied
"That's exactly why I called you here" he said
Okay now, I didn't get him
"I don't understand like how do you mean?" I asked
"We need sacrifices every week but it's now two weeks and there was no sacrifice" he said
I became confused even more
What do he mean by sacrifices every week
"I still don't understand" I said
"Ok now, I know that your brain is still hot"
"So take a little drink first before we continue" he said
I exhaled and gulped in a little drink
Just after I took the little drink, my brain began to itch me
I couldn't figure out what was going on but all I know is that my brain seems to be rotating
I was like that for some minutes before it comes down a little
Mr Noel was busy smiling but I don't know why
"So can we continue?" He asked
I could have feel my former self before
Like I was gradually turning into something else
"Yes please what were we saying?" I asked
"Good" he said as he sat properly on the couch
"We need soul every single week" he added
I couldn't feel myself but there was something inside me that has taken over and it was doing every single thing for me
"Sure I understand"
"That's what we will look into next" I added
He smiled
"We need mostly students from final year" he said
"Just remember one in every week" he added
That couldn't leave my mind again
????
°°°°°°°°°°°°°°↑→Mexico←↑°°°°°°°°°°°°°°°°°
????⚡????⚡???? Jack POV ????⚡????⚡????
I didn't know how it happened but I found myself again before Sanford university's gate
It was dark but the lights were too bright that one could see a pin
I walked in with no fear
"Why is it that no one is here?" I asked myself looking around the compound
I walked almost around the whole compound still I couldn't see a single being
Soon, everywhere began to shake
It's looks as if me and the whole building would sink in some minute
I couldn't find myself becoming scared because I was seriously looking for where the thing was coming from
Just then, the ground became open and a coffin bump out from it
A gasped but covering my mouth with my hand and waited for the body in that coffin to come out
It was like 5 minutes but nothing else happened
I took the courage to move closer to the coffin
I exhaled and looked inside it but it was empty
The wind became heavy
I started hearing noises from a far distance
It sounds like where spirits are having some conversation
I looked at that direction
Those noise seems to be coming closer
I turned properly to take a clear look of it when it comes
Then, the whole lights went off
I brought out my phone for torch lighter but it was off
I could still see a little tho
I saw someone running from that direction
"Please help!!!" He was screaming
Continuously
"Help!"
I couldn't figure out his face because it was really dark but I could see his stray
His voice confirmed it
Just as he got closer to me, the next thing I felt was a hot water that splashed on my face
The guy screamed and his voice went down as he fell on my hands
He was heavy but I still carried him
I could see some other shadows walking back
Just then, the whole lights came back
The guy wasn't making any move
I managed to placed him on the floor and turned his face towards me
To my greatest surprise, I saw his intestine dropping from his stomach
One by one
It was sliced into many sizes
But how come?
I remembered the hot water water that splashed on my face
I touched it and I noticed that it was a blood
"Oh my God!" I shouted and woke up from the dream but I couldn't open my eyes
I just wished that the blood didn't get me blind
My head was having something on it
It feels wet and a little heavy
"Jack" I heard a female voice calling me
I slowly opened my eyes and saw Jane sitting close to me
Her hand on my head
"Jane" I called slowly
She removed her hand and the wet clothes on my forehead
"The temperature is now low" she said
"When did you come back?" I asked
"Yesterday night but you were sleeping" she replied
I remembered the dream and rushed to my phone
It was 1am
"Another killing" I said to myself
"He kept having this kind dream" Jane said
Looks like she was talking to herself but I could hear her
"Can you still sleep?" She asked
"Yes, I only have the dream once in night" I replied
????
°°°°°°°°°°°°°↑→ California←↑°°°°°°°°°°°°°°°
????⚡????⚡???? Henry POV ????⚡????⚡????
That night, Mr Noah called me exactly at 11 p.m.
I picked it up immediately
"Someone is stranded and he is going to the school dormitory"
"You need to act as a cab driver and take him to school dormitory" he added
"By this time?" I asked
"That's our time of sacrifice" he replied
"Use that taxi that I give you earlier today" he added
????
I drove to the direction he gave me
I saw a guy walking gently with his bag
I alighted beside him
"You looks stranded" I said looking out from the window
"Yes, am actually a transferred student to Stanford University but on my way, the cab I took parked and asked me to get down, because his car couldn't start again"
"He told me that where I was going to, wasn't far from there but I have been walking, and I seems lost"
"Please do you know the place?" He asked
I wanted to ask him what he was doing until this late hour but something inside me knocked it out
"Sure, hop in" I replied
He thanked me and get inside
One thing that was still confusing was that in the night, the whole securities would be nowhere to found but no one has ever talked about it
I took him inside the school compound and stopped
????
°°°°°°°°°°°°°↑→ Mexico←↑°°°°°°°°°°°°°°°
????⚡????⚡????Dan POV ????⚡????⚡????
Saturday morning, we were yet to get email from the University
We were supposed to get message from them for more information
I was even becoming scared if we were scammed
????
After I was done with what I was supposed to do that morning, I sat down in my room and began to surf the net
I needed to keep myself busy with anything I found there
I even tried chatting with the board that was in charge of the scholarship
In few minutes later, someone knocked on the door
I wasn't expecting anyone
I wasn't the type that flit with girls
The knock came again and I stood up
I opened it and saw a girl standing there
"Is Jack inside?" She asked
I remembered her face immediately
"Oh, the girl that was almost killed?" I asked
"Yes, thanks to you guys" she replied
"I haven't been seeing Jack ever since I resumed for school, I hope all is well?" She asked
I wouldn't want to disclose his life to her
"He travelled to see his parents" I lied
I had to
"I hope all is well?"
"Oh, there's no problem" I replied
"Okay, in case if you get to reach him, don't forget"
"My regards to him"
????⚡????⚡???? Jack POV ????⚡????⚡????
????
Just as the same like my first dream about Stanford University
I found myself in their compound
Just like that dream, I saw that same girl, sitting under a tree with her book
Exactly like it
Introduction follows
Going off the lights and the screaming Kate made
The lights came back and it was only left with her dead body
????
As usual, Jane was sitting on the edge of my bed with the wet clothes on my forehead
It was already morning this time around
I was sweating like seriously
I explained the dream to her
"This is a sign that you aren't safe in that school" Jane said
"I have read about that school and it is sure"
"Four straight dead bodies were confirmed in that school" she added
"This can also mean a way for them to be freed" I said
"I have three different dreams about the school but they didn't attack me in any of them" I added
"Jack, am ready to help you with your school over here but please don't go to that school" Jane said
"Where will get such money?"
"Have you ever thought how Dad managed to pay for your fees?" She asked back
I have thought of that before
"Mr Rashid is stingy when it comes to something that would benefit others"
"He is taking responsibility for my school because am engaged to him"
"So, I do use my tricks on him to get this money for you and the rest" she added
"It is not like am sure because I haven't received any update from them and I also need to take their exam"
"Then after that, I will know if am qualified" I replied
"You and I know how brilliant you are, right from time, so it is sure" she said
"Jane, this is an opportunity, and I will suggest if you use those money to help others in the house while am out"
I was trying to make her understand life
The ringing tone from my phone distracted us
It was Dan
"Hey dude, check your email" he said just as I picked it up
"Really?"
"They sent it yesterday evening, I confirmed it from the board, you need to act fast before it will be late" he replied
????
I checked my email and it was true
I couldn't believe that I forget to check it, when am waiting for it
"What is it saying?" Jane asked
"I have to be at Stanford University before Tuesday morning" I replied
"You are seriously going?" She asked
As if she would cry very soon
"Jane, you need to understand" I said as I placed my hand on her shoulder but she pushed it away
"Don't touch me" she said and angrily went out of my room
I wished she could understand
My family and the life of those at Stanford University