Undergounded Demons. Chapter 22
9 min read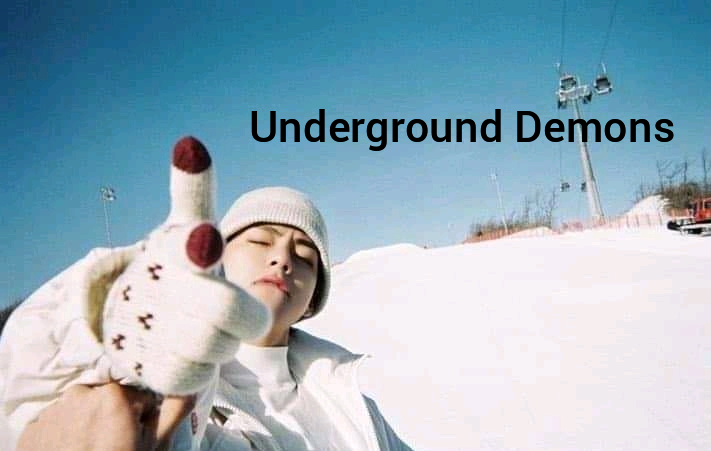 ???????? UNDERGROUNDED DEMONS????????
????
_______???????? The Revenge????????________
????
????????Chapter Twenty-Two
Brought by Chris Val ????✨
→→→→→→→→????
°°°°°°°°°°°°°°° California °°°°°°°°°°°°°°°
????⚡????⚡????Ajax POV ????⚡????⚡????
I woke up as usual
I did my normal, which was to do a little push up
To my bathroom, I brushed my teeth and took my bath
"Today should be good to me" I said drying my hair with a towel
Walking out of the bathroom
I went to my closet and select out a white shirt and an ash trouser
Soon, I was ready for school
????
I arrived on my bike and rode to Jack's room
I saw some groups of people standing before his door
Round
I wondered why
I managed to find my way in between them and to my surprise, I saw Jack lying on the floor with bloods filled his mouth
I first rushed to carry him up, but he wasn't making any move
I dropped him gently and ran to his room
His phone was what I first saw
I didn't know what to do because I was confused
Who would I even call with his phone
????⚡????⚡???? Mira POV ????⚡????⚡????
Unlike before, I woke up pretty late that morning
Lilly went to visit her parents and haven't come back since then
Just as I finished bathing, I heard my phone ringing
I went to check
It was Ajax
"Mira where are you?" That was what I first heard from Ajax
"Am at home" I replied
"Jack" he said
"Jack?"
"What about him?" I asked
"Jack is dying, I can't carry him with my bike"
"Where are you guys?" I asked
"In front of his room, just follow the second gate" he replied
"I will be right there" I said and hung up
I didn't know if I was good to go but I won't stand to hear that he is dead
Not even up to two weeks he came to our school
I picked my car keys, my phone and rushed out
I locked my door and straight to my car
Thank God that my apartment wasn't far from the school
In less than five minutes, I was already there
"Oh my God" I said rushing down from my car
I helped Ajax to carry Jack to my car
????
→→→→→→→→????
°°°°°°°°°°°°°°° Mexico °°°°°°°°°°°°°°°
????⚡????⚡???? Jane POV ????⚡????⚡????
I didn't know why but my heart feels so heavy that morning
I felt weak
So lazy to wake up and Ella wasn't home
She slept outside
I was worried because anytime I experienced such thing, it always comes out bad
Maybe Jack wasn't good
Immediately the thought came into my mind, I rushed to my phone
I called his line but it wasn't going through
"Oh no" I said and tried it for the second time
Fortunately, it went through
"Jack" I called immediately he picked up
"Sorry but please, who is this?" A different voice asked
It was a male voice
"Am Jane, his sister" I replied
"Oh" the guy paused
"Jack is not feeling fine"
"What?" I asked jumping up from the bed
"What happened to him?" I asked
I knew that he must have been in a problem
"Sincerely speaking, I don't know, but we found him lifeless just right before his door this morning" the guy replied
"Oh my God"
"I warned him against this school" I said
"So?" I asked
He supposed to understand that
"Am actually on my way to the hospital"
"I will get back to you when we are done" the guy said
"Please am hanging up and please don't call back now" he added and hung up
I couldn't believe it
My body was loosing it
I didn't know what to think of, next
I dropped my phone on the bed and began to walk around my room
Scratching my head
I just hoped nothing serious happens to him
A knock came to my door and I went to open it
It was Mark
"Good morning" he greeted
I didn't know if I should reply him or not
"Why are you sweating this early morning?" He asked looking inside my room
I touched my forehead
I was seriously sweating
I turned and walked back to the room
Mark followed
"What happened?" Mark asked
I explained to him everything that happened
The information I got
"Too bad"
????
→→→→→→→→????
°°°°°°°°°°°°°°° California °°°°°°°°°°°°°°°
????⚡????⚡???? Ajax POV ????⚡????⚡????
We arrived at the hospital
Mira was a good driver tho
The nurses rushed to us and carried Jack with a rolling table
While we ran after them
They took him inside a room but blocked us from entering
"Jack please don't die" Mira said
She was already crying
"Let's sit down here" I suggested
Mira comported herself and sat
"Or should we go back to school?" I asked
"For what?"
"Am not going anywhere if I don't hear from the doctor" Mira said
????
After some minutes, the doctor came out of the room where Jack was
Mira was the first to rush, meeting him
I followed from behind
"How is he, doctor?" Mira asked
The doctor looked at us for a while
He was probably thinking
"Please, tell us" Mira added while the doctor exhaled first
"Actually, this is really difficult"
"As in, we haven't experienced this since medical records"
"I think we just need to pray for him" the doctor said
"I don't understand doctor, what exactly does it look like?" I asked
"His heart looks so weak, his liver as well"
"Let's just pray he survive it and also he shouldn't develop additional problem later" the doctor replied
"So, what are we going to do now?" Mira asked
"Like I said, we need to pray"
"You guys can go back to school and come back later" the doctor added
"I don't feel like going to school again" Mira said
She looks weak already
I had to drive
????⚡????⚡????Alex POV ????⚡????⚡????
We arrived at school
Everywhere looks like something happened
We got down and stopped behind the car
"Something happened here" Anthony said
"Even Mira isn't in school yet" Axel supported
We all looked at the direction where Mira do park her car
It wasn't there
"Andrew, you supposed know" Axel added
Which means that he should go and ask
He was the assignment guy
"Sure" Andrew said as he jogged towards some students
????
Andrew jogged back
"It is the new guy" Andrew said
"Jack?" Anthony asked
"You know his name?" I asked turning to Anthony
"What about him?" Axel asked
"Is he dead?" He added
"I don't know but they said that Ajax took him away with Mira" Andrew replied
"Oh that's why her car isn't here" Anthony said looking at that direction for the second time
"What did they say about him?" I asked
"They said that they found him lying before his door with bloods filled his mouth" Andrew replied
"Did they poisoned him?" Axel asked
He doesn't look shocked
He was smiling somehow
"I can't tell" Andrew replied
"I warned Ajax"
"It is better for him" Axel added
????⚡????⚡????Ajax POV ????⚡????⚡????
We came back to school after having some conversation with the doctor
My hope was for Jack to survive it
It was clear that he came out in the middle of the night
Although I haven't asked if there was a light off the previous night
Of course, there would but the killer didn't place a hand on him
I parked and got down
She didn't make any move
I had to bend down to ask her why
"I can't concentrate in that lecture" she replied breathing heavily
????
I took permission and walked inside the lecture hall
Not too long after I got in, the principal came inside the hall
He raised his hand which means that he was taking a permission from the lecturer
"Ajax" he called while my mouth got opened
"See me in my office" he said and walked out of the class
I stood up and walked out
Just as I walked out, I met him before the door
"I heard that you went out with Mira also"
"So, come with her" he added and walked away
I was just looking at him as he walked to his office
I went to call Mira
????
"Actually, Jack is supposed to report today about something"
"But I haven't seen him since morning" the principal said when we got to his office
"I heard that you are his close friend, Ajax, do you have any idea" he added
"Actually, we met him right in front of his door this morning" I paused
"Dead?" He asked pushing his face forward to me
He looked shocked
I couldn't think straight again
I used to think it was him
"I don't know if he is dead or not but the doctor said that we should come back tomorrow morning" I replied withdrawing my face
"Which hospital?" He asked
"General Hospital" I replied
"Bad" he said relaxing back on his seat
"I will see him before going" he added
"But sir, how did you know that I went out with Mira?" I asked
Since he wasn't aware of what happened
That means he doesn't suppose to know that
????⚡????⚡????Jack POV ????⚡????⚡????
I found myself in a middle of nowhere
I didn't know how but that's what I was seeing
There is no tree, house, road or even human being
Only smokes
I couldn't see my legs because smokes were covering it
Even where I was standing, I didn't know how it looks like
I began to walk around
Maybe I could see people like me there
As I was walking, the whole thing that happened that night before I passed out, began to flash back in my memory
Mr Noah wasn't human
How could he posses such power
I remembered how I was struggling with the thing he threw inside my heart
How it was eating up my heart
I thought I was going to die but I don't know what later happened
I wondered where I entered
Will I die?
I came across someone
His face wasn't clear until he comes closer
It was Xander
The ghost boy
"Jack" he called
I couldn't tell if he was smiling or not
His voice sounded cool but his face wasn't bright
"Xander" I called back as I walked closer to him
"Where am I?" I asked looking closer to his face
"This place is land of dead" he replied
"What??" I asked with my eyes wide open
"This is where all this students arrived before vanishing, finally" he said
I couldn't believe it
How could I just die?
I thought I was to help the school?
"Is there no other way out?" I asked him
"Am afraid, I don't know if you will be able to go back" he replied
I opened my mouth to say something but nothing was coming out
"Where were you when he was trying to kill me?" I finally found my voice and it came out with question
"I can't stand him, I don't have any power, he controls us" he replied
That means there was a greater problem
Small time, his body began to turn into ash and in a twinkle of an eye, he was gone
Leaving me again
I looked around and continued walking
The place looks like it doesn't have any end
I wondered what my parents would do
I was the only son and Jane had warned me against the school
Could it be that she saw this?
I would have listened to her
How will she feels to hear that I am dead?
I got to a spot where I saw someone standing
But was backing me
I just hoped he was there to help me
"Hey" I said from where I was
I didn't know why I was scared to go closer to him
I stood there looking at him
I looked at the right hand side and then to the left hand side
I exhaled but I couldn't take off my eyes from him
He turned immediately to face me
It was Mr Noah
He was there? I gasped
"Am here to kill you entirely" he said and the next thing was that he was already holding my neck
Strangling me