Undergrounded Demons. Chapter 21
9 min read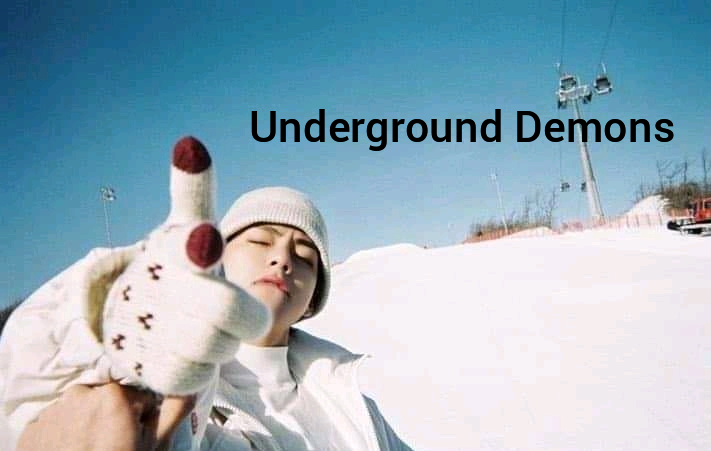 ???????? UNDERGROUNDED DEMONS????????
????
_______???????? The Revenge????????________
????
????????Chapter Twenty-One
Brought by Chris Val ????✨
→→→→→→→→????
°°°°°°°°°°°°°°° California °°°°°°°°°°°°°°°
↑↓→←↓↑ Author's Note ????????????↑↓→←↓↑
#Still_On_Flashback
Mr Smiths hasn't been himself ever since he received such embarrassment from Mr Noah
To the extent that his parents noticed what was going on and decided to ask him why
He explained everything to them without leaving any single word
"That has been their life, even his parents was like that the time they were still alive" his Dad had said
"What is something that looks like it is in their blood" he added
Those words couldn't help Mr Smith's because it can not change the fact that Mr Noah has turned him down
"You only have one thing to do" his mother had said
"Just hustle and surprise him" she added
That was another statement that brought a lot of thoughts
Mr Smith couldn't think of anything but on how to make the money according to his mother
But which way could he do this?
The only idea he could get was to travel
He believed that he could get a job that he could be doing outside the country since there was no opportunity for job employment in his own country
But before travelling, he still need some money
One Sunday, he got himself prepared for the journey to no destination
He still went to meet Mr Noah because he believed that he might help him with that one
Mr Noah was having some fun with his family, outside the compound when Mr Smith came in
Mr Smith was happy, thinking that it was a perfect time
Since his family was present, he thought that there might be change of mind because many fathers do respect themselves before their family
Gina was so happy when she saw Mr Smith in their house because ever since she got married to Mr Noah, she hasn't seen Mr Smith unlike before
But Mr Noah's mood changes when he saw Mr Smith
His motive towards Mr Smith's was just like as if Mr Smith had suddenly turned into a devil
Do you know why?
????
It was just the day of their final year in secondary school level,
Mr Smith has been a very intelligent guy right from time
During the final exam, Mr Smith was to help Mr Noah out with some questions that was hard for Mr Noah but unfortunately, that day Mr Smith came late and had to be in another position since someone has already taken his normal position
Even though Mr Noah gave him lots of signs to claim his position but not to distract the whole class, Mr Smith turned him down
Since then, Mr Noah swear to pay him back
Isn't that childish?
????
The only thing that was offered to Mr Smith was a sit
And that was Gina's doing
She offered her drinks
Which was normal
After the whole thing, Mr Smith decided to say out what he really came for
Mr Noah smiled when he heard that
"I have already knew that it is begging when I saw you" Mr Noah said smiling wickedly
That statement shocked Mr Smith
It was clear that he was insulting him
"Dad" Xander called
He felt pitied for Mr Smith
Mr Noah just looked at Xander and stood up
"I want to take a rest" he said instead and walked in
"I will keep paying you back until I die" he said to himself
Mr Smith had no other option than to leave
Gina who understands life, gave him a little she has
It was enough for Mr Smith to travel, at least, out of their town
With a word
"I must make this money, no matter what"
As life may have it, Mr Smith met with a man at Los Angeles
He was one of the richest man their by name Mr Luke
Although it wasn't easy for him to meet Mr Luke but he tried so many tactics just to meet him
When Mr Smith explained his whole life to Mr Luke and concluded it with
"I have made up my mind to do anything, just to get rich"
From the look of things, Mr Smith believed that Mr Luke's wealth wasn't ordinary
That was why he made such statement
Mr Luke laughed when he heard his last statement
"Why did you say so?" He had asked
Mr Smith being a smart man right from time, he had to use another way to put it
So that he wouldn't be a victim
"I just believe that we must give away, just to get" Mr Smith had said
That statement alone made Mr Luke to have faith in Mr Smith because their secret was what they can never leaked
????
Mr Luke later took Mr Smith in that day since he had nowhere to go
They went to a private room that was well respected by any member of his family
Even if you visit the room without his consent, you won't meet anything because there was a special wardrobe for his equipment
"This is my life" Mr Luke said as he opened the wardrobe
Mr Smith wasn't surprised because he expected more than that
He do predict people from looking on things around them
"Am showing you this because I trust you" Mr Luke added
"Are you ready?" He asked
"Fully ready"
"Ok, it has to do with a lot of killings if only you have the heart to do so"
"I sacrificed a lot just for this company you are hearing about that is owned by me"
"It is just at this stage and you will enjoy it for the rest of your life if only you are lucky enough not get involved with bad omen"
????
Mr Smith was taken to the fetish cult leader who gave him what to do
"You just need a little money to start building, so that they won't suspect it" Mr Luke had said
????
One year later, Mr Smith returned to California on new dimension
He met with Mr Noah who was so shocked, seeing him
????
Two weeks later, he bought a land for his building
Employed lots of worker for the building to go faster
There was a liquid medicine which was given to him by the fetish cult leader
He used the liquid into their foods that makes them to be obeying his orders
Because they were no longer themselves
He met with a driver who was working in Mr Noah's school as the school bus driver
One Sunday, He invited him over to his place for lunch
He introduced himself as a friend to Mr Noah which was confirmed by Gina
????
Mr Smith also used the liquid medicine in his food before telling him why he invited him
He just wanted to punish Mr Noah for what he did to him
He made an agreement with the driver on how much he would collect, just to get him students from that school
"Take this" Mr Smith said giving him something in a container
It looks like a powder but it is not a powder
"Spread this on the mouth of the air conditioner, so that when you reach to their destination, you just have to turn on the air conditioner"
"It will blow out this, which will turn them and they will all fall asleep"
"Don't forget to wear a nose mask" he added
????
On the appointed day, the driver was taking the students back from school when they came across a vehicle which was Xander's school bus
They were also coming back from school but their bus had a problem
Stopping them on the road
Immediately Xander saw the bus, he rushed and stopped them because the driver always report home after dropping the students home
The driver wanted to stop him but he has no reason
????
After when they were almost at the first bus stop, the driver turned On the air conditioner
Him and his co worker was the only one on nose mask
They powerful powder turned off the whole students
????
Xander was just lucky enough, due to how strong his body system was, he was able to wake up before others
They were still on the road
But in a very deserted area
He became scared and wanted to shout but unfortunately, the driver's co worker used a cutlass to separate his head from his shoulder
He died instantly
????
When they arrived at where Mr Smith was building his house
He was shocked seeing Xander but it was already late because he was dead
He instructed them to take the whole students and cuts off their heads
They puts them inside the already digged area
He also had the driver killed
With some of the workers, after they had cleared any single clue about what happened
????
Two days later, parents began to report about their children
Lots of them
Which led to the arrest of Mr Noah
#End_of_flashback
????⚡????⚡????Jack POV ????⚡????⚡????
That was really a bed throwback
"But why must he bury them?" I asked
"If he didn't, he won't be able to finish the building and he won't get rich like he is, that's their rules" the ghost boy replied
"So, Mr Noah was taken as the principal of this school because Mr Smith chose to use it to pay him for the lost of his son not knowing that Mr Noah is already aware of what happened" the ghost boy said
"Each pillars of this building contains two heads of students" the ghost boy added
That was close
I was already getting scared
"Too bad, but how did Mr Noah got all his power, what about after getting arrested?"
"And also how did he know what happened?" I asked
"That's the throwback of another day and that same thing is responsible for the power he used on the students for not to think about going out of the school and also no net is talking about it" the ghost boy said
"Don't be surprised if I tell you that am Mr Noah's son" he added
I gasped on hearing it
I remembered how Xander was killed and also when the ghost boy shows me how he got killed
It was just exactly like that
"You mean that you are Xander?" I asked
"Yes" he replied
"So, why do you choose to tell me this and you are also against what your father is doing?" I asked while he smiled
"That's not the best option"
"Killing additional innocent people for what a particular man did"
"It is better to just kill him than this" he replied
That was really nice
Even after the hard death he experienced
He still has good heart
"It is time for bed" he added
I checked my time and it was 12 midnight
I remembered what Ajax told me about not going out
"Wait" I said
"The light off that normally take place before the killing, does it happen when they see the person or when they want to force them out?" I asked
"Every week needs sacrifice, it actually take off when they saw a victim"
"Mr Noah always come here every night for his service to his power"
"That was when he will summon all the whole dead students who were buried under this building and if you fall a victim, then you will be taken" he explained
"He is around" he added
I began to hear some laughter that sounds more like a ghost
"Who?" I asked
"My father" he replied and disappeared immediately
"Once it is 12 midnight, don't come out" Ajax's word kept repeating itself
But I still needed to safe someone that night
I exhaled and stood up from my bed
I used my left hand to hold my chest while I used the right one to open the door
Not too far from my door, I saw Mr Noah
I walked out properly to take a good look
He was backing me
His two hands were raised up and he was saying something that I couldn't hear
He was transforming
That horn I saw him with,, in my dream
Lots of ghost were bumping out of the ground
"Underground demons" I said, closing my mouth with my hands
They began to walk around Mr Noah
Suddenly, my door was shut closed
I turned and pushed it but it wasn't making any move
I returned my face to where Mr Noah was
He was already looking at me
Before I could say anything, he stretched out his hand towards me as something that looks like a stone flew out of his hand and hits me on my chest
I fell down, vomiting bloods
The thing was reaping my heart
I managed to open my eyes and saw Mr Noah walking closer to me
I couldn't feel myself
I couldn't shout
Xander was nowhere to be found
Everywhere began to turn into dark
Even though the lights were still On
I didn't know if I was going to die or not