Undergrounded Demons. Chapter 23
10 min read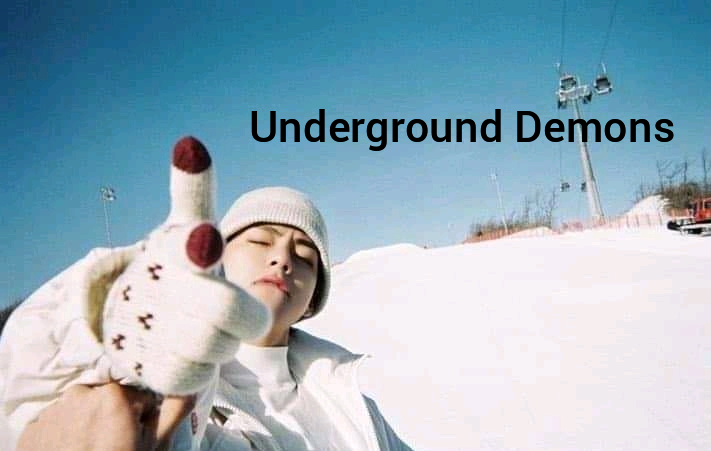 ???????? UNDERGROUNDED DEMONS????????
????
_______???????? The Revenge????????________
????
????????Chapter Twenty-Three
Brought by Chris Val ????✨
→→→→→→→→????
°°°°°°°°°°°°°°° California °°°°°°°°°°°°°°°
????⚡????⚡???? Mira POV ????⚡????⚡????
The following day, I woke up really earlier than before
You don't have to ask me why because you already know
I quicked my bathing
For the first time
Lilly was yet to come back from her visit
I couldn't tell if she really run because of the killing
Soon, I was good to go
I picked my car key, phone and my books
I locked the door
????
I drove straight to the hospital
Luckily, the doctor wasn't with anyone when I got to his office
He ordered me in after knocking
I greeted him while
He gestured me to seat
I sat down and waited for him to be through with what he was checking in the file that lies before him
"Sorry but the information is really important, that's why my whole attention was in it" the doctor said as he closed the file, shifting it to the left hand side of the desk
"No problem, am actually here to check on the guy we brought here yesterday" I said
I actually went there with Ajax at the evening time, the previous day
"Oh"
"He seems not to be making any move yet" he said
"But can I see him now?" I asked because they couldn't allow us to see him that evening as well
"Oh, sure, I was actually checking something, that's why you didn't allow you to see him yesterday" he replied..
He stood
I did as well
????
We got inside Jack's ward
He was still on machine
He wore oxygen connected to ventilator
I checked at heart rating computer
It stood still
We stood just right before the door
"For how long will he stay like this?" I asked as I turned to look at the doctor
"It actually depends on his system" he replied
"This looks like a coma" I said looking at the doctor
"That's it" he replied while my eyes widened a little
"Coma" I repeated
Just then, my phone began to ring
It was Ajax when I checked it
"Hey" he said
"Hi" I responded shifting a little bit from where the doctor was
"Where are you?"
"Aren't you going to see Jack?" Ajax asked while I smiled
"Am already there" I replied
"Oh, I see"
"Am coming with the principal" he added
That means the principal was serious with what he said the previous day
"Okay then, am here" I responded as the call went down
"The principal is coming with the other guy, so I will like to wait for them here" I said, looking at the doctor
"Hope there won't be a problem if I stay in here?" I asked
"Oh, not at all but you just have to keep calm"
"Don't disturb him" the doctor said
"Sure" I responded with a smile
He opened the door and walked out of the room, closing it from behind
I turned to face the handsome face of Jack
I walked closer to him and sat down on the bed and took his hand
Putting my finger in between his palm
"Jack"
"I don't know if you can hear me or not but please don't just die" I added
I didn't know when tears began to form in my eyes
After some seconds, his chest began to push up
I became scared that I had to follow the first push up to jump up from the bed but his hand has already grabbed my fingers which makes me to fall back on the bed but I managed to use the other hand to hold the other side of the bed, preventing me from falling on him
I looked closely at him
He was blinking but his eyes refused to open
The push up continues
Continuously
"Doctor!!!" I shouted, freeing myself from his body but my fingers were still held
"Help!!!" I shouted again
"Doctor, the patient is coming!!" I added
The door was pushed opened and the doctor rushed in with some nurses
"Shift a little" the doctor said as he went to face the system
I knew that he was referring to me
"He is holding my fingers" I replied
He turned to look at me
Other nurses stood in circle form, around the bed
About three of them
One was pushing him on his chest while one fixed an oxygen bladder and was pressing it
The other one was holding other equipment that can be used
The doctor then returned with something that looks like an electric iron
It was also connected with the ventilator
He hits both of them together and then pressed it on Jack's chest and he jacked up again
"Please Jack don't die" I said
Tears were still flowing down
????⚡????⚡????Jack POV ????⚡????⚡????
Just as Mr Noah held me on my neck, I held him with my hands
He was trying to strangle me and his hands were really strong
Even my hands couldn't shift his own
Talk more of removing it entirely
I was still struggling with him when I felt something heavy that hits my chest
I suddenly felt energized and was able to push Mr Noah aware
His scary face was looking at me with so much anger while I was breathing heavily
I almost died
Even in the land of dead?
"I must kill you" he said
Something looks like a vision was shown at my right hand side
I turned to look at it
It was me
Lying on a bed, Mira was beside me but was squatting and I held her finger
Doctor and his nurse were performing some tasks on my body
The doctor raised up something that looks like an electric iron, hitting them together
"What's that?" I asked myself
As he was bringing it closer to my chest, I heard Mr Noah roaring as he ran towards me
I turned to see him very well
Just as he got closer and was about to hold my neck as usual, I felt that same strength I had before and pushed him again
He fell down
"Wow, that's working" I said smiling and the next thing was for me to start floating on the air
I wondered when it started
The breeze began to draw me out of that place
????
I gently opened my eyes and found myself on the hospital bed
Just like I saw in the vision
"He has opened his eyes" Mira said out of joy
I was still holding her hand and I didn't know if I would let it go
I was still dumbfounded, looking at all of them
"Welcome back Jack" Mira added while I smiled
"How did I end up here?" I asked
"You were found lying before your door yesterday" she replied while I gasped
"Yesterday?'
"That means I have spent a day here ?" I asked
"Exactly" she replied
????⚡????⚡????Ajax POV ????⚡????⚡????
I and the principal drove in his car to the hospital
He asked me to drive because he won't be able to focus
I understand what it means for someone's life to be under your care
Another great thing was that if Jack survives, he will be able to tell us what was behind the killing
If it was a beast , then we would look for the solution
It didn't take us time to get to the hospital
I parked and turned to look at the principal
He was sweating really serious
I didn't know why but I thought maybe it was due to many thoughts concerning the life that was about to leave us
"You are sweating sir" I said bringing my face closer to him
"Oh, thanks" he said and took a handkerchief
I waved it off and get down from the car
The principal did as well
As we were walking inside, we met the doctor coming out from the direction leading to his office
"Doctor" I called walking to stand on his way
That simply means that I was blocking him
"This is our principal" I said stretching out my hand to Mr Noah's direction while the doctor nodded and they shakes their hands
"Nice meeting you" Mr Noah said
"So, How is he?" I asked
That was the main thing why we were there
"Oh, he just woke up"
"Am actually heading there" the doctor replied
"Follow me" he added and took the lead
I didn't care if the principal follows or not
So I followed the doctor without wasting time
????
Jack was smiling with Mira when we walked
They all turned to look at us just as we opened the door
Jack looked surprised to see us
His eyes focused on the principal, making me to turn to look at the principal
Maybe I could see what he was looking at
The doctor went to test him out with his stethoscope
"He needs to stay here for today" the doctor said
"He will be discharged by tomorrow" he added and walked out of the room
"Ajax, thank you" Jack said while I smiled
"Don't mention" I responded
"How are you feeling now, Jack?" Mr Noah asked as he walked closer to him
"Good, am feeling better" Jack replied
Mr Noah drew a chair close to the bed and sat down
"At least, Jane's mind will be at rest" I said
"Oh, did she call?" Jack asked
"Yes"
"Who is Jane?" Mira asked
I could sense that
You already know
"Don't conclude yet, she is his sister" I replied
"Oh, I see"
"I will like to meet her" Mira said while Jack smiled
"Distance" Jack said
"I don't mind" Mira responded
????
"So, guys, I think you people can now return to school" Mr Noah said as he turned to look at me and then back to Mira who was just right in front of him
"Yes, I think so" Mira replied
That can tell that she respects him a lot
"So, Jack can you tell us what happened?" I asked
I really want to know it
"Not now, he is not feeling good yet" Mr Noah interrupted
"Don't worry, I will tell you everything, later" Jack said
That was what I bought
I wouldn't mind ignoring the principal if Jack was ready to tell me what really happened
????⚡????⚡???? Jack POV ????⚡????⚡????
Just as Ajax and Mira left, Mr Noah brought his face more closer to me
I knew that he wouldn't try anything stupid at that spot
"Better keep that as a secret, don't even think of telling them what happened" Mr Noah said
"You better leave this school" he added
"Why don't you change your mind?" I asked instead
I wasn't scared of him
Even after what he did to me
"You are still far"
"Better stay out of this, to avoid being in problem" he said and stood up
"I might not spare you" he added
Just as he walked to the door, opening it was the same as the doctor did
"Oh, are you leaving?" The doctor asked
"Yes, I need to be in the school now" Mr Noah replied
They nodded at themselves before Mr Noah walked out while the doctor walked in
"I just want to be sure that you are fine" the doctor said
He checked my body state on the computer there
That's why it is good to have a quality hospital with quality equipments
"Hope am safe here?" I asked
I needed to be sure because I don't know what Mr Noah would be planning
????
In the evening time, Ajax and Mira came to visit me with some food stuffs
I was really happy seeing them
It makes me feel so special
"I think am getting discharged this evening" I said after eating
"But that's not what the doctor said" Ajax said
"Just that am not use in staying in the hospital" I responded
"So, will you still stay in that dorm?" Mira asked
"I have to"
"Oh no, it is dangerous" she said
"I will just have to be staying inside in the night, that's it" I replied
"So can you tell us what happened?" Ajax asked
I knew that he couldn't forget that and I wasn't ready to say it because it will still be more problem
Ajax will just want to take it on himself and Mr Noah might end up killing him
That's what I never want
"I will but am not strong to think now" I lied
That's the only way out
"So, you said that Jane called?"
"Yes" Ajax replied
"So, where is my phone?"
"I need to call her" I added
He was even with it
"I forget that it is on lock and I told her that I will call her back" he said while I smiled
I unlocked the phone and rushed to dial Jane's number
Unfortunately, it was switched off
????⚡????⚡???? Henry POV ????⚡????⚡????
It was another day
Bright ful day, I hoped
Just as I got to school, the principal send a student to ca me
It has been long time we talked since he always travel
I got to his office and knocked
He ordered me in and gestured me to sit
I greeted him before sitting down
"Almost one weeks now since we talked" he said while I nodded
"You are always busy" I responded
"Not really"
"Do you have anyone in mind?" He asked
I understand that but I didn't have
"Am, sorry" I said
"Don't worry, I have someone to hunt down" he said
"Who?" I asked
"Perfect timing" he said instead looking at something at my back
"I don't understand" I said
"Right behind you" he said and I turned
It was a window that was behind me
Which means that the person must be outside
I looked closely
"He is on blue" Mr Noah said
My eyes caught the new guy that I heard that was attacked some days ago
"What? I thought he is dead?" I indirectly asked
"He is just coming back from the hospital now" he replied
"Didn't you kill him?" I asked
"I didn't know how it happened but I couldn't slide my claw into his stomach that night" he said
"His name is Jack"
"I wanted you to handle him for me" he added
That would be another task
I just had to plan an easy way