Undergrounded Demons. Chapter 27
11 min read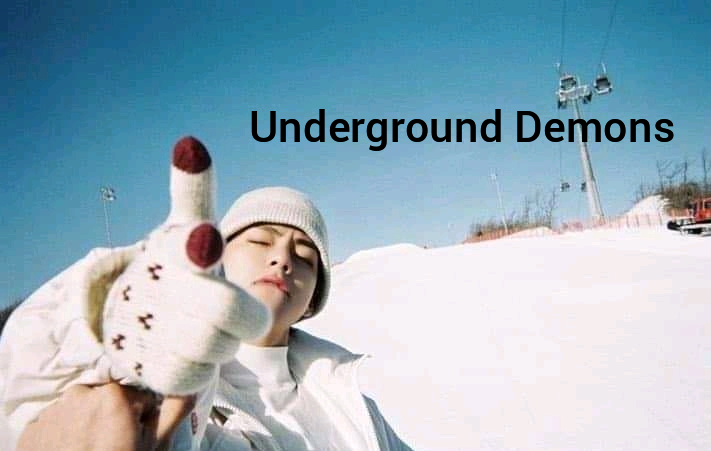 ???????? UNDERGROUNDED DEMONS????????
????
_______???????? The Revenge????????________
????
????????Chapter Twenty-Seven
Brought by Chris Val ????✨
→→→→→→→→????
°°°°°°°°°°°°°°° California °°°°°°°°°°°°°°°
????⚡????⚡????Ajax POV ????⚡????⚡????
I didn't know why Jack was asking for the teachers library because no one was allowed to visit there which makes students not to know about it even though it was inside the school compound
but I still had to show him the room
"We have only one way to get there without being caught" I said
"Why such statement?"
"What is bad in it for a student to visit the teachers library?" Jack asked
He seems to be far
"It is against Mr Noah, that is the principal"
"It will just show that you disobeyed him" I said
I remembered the last person that went against it
How he punished the victim
"But why?" He asked
I thought he had asked me that before
"Nobody knows"
"Mr Noah said that it doesn't show respect for students to be going into the teachers library" I replied
"Incredible" he said
We planned on it before leaving his room
It was already late
Maybe our conversation took us out of realization
The lecture has already begun when we got to the department
"I think we should just use this opportunity" Jack suggested
That would make sense though
I nodded but we first of all looked around the area to be sure that no one was looking at us
Or was even around the area
Every student were in
"It is not that we are going inside there, we will just go around there and come out" Jack said
"It is not about that"
"That building is built in a different place, so if you are going to that direction, it must be that library" I explained
He shrugged before we walked towards the direction
"I didn't see Stella in your room" I said as we were walking
The thought just hit me
"How do you mean?" He asked
That question was confusing
"Aren't you guys friends, or will I say, dating" I replied
"Of course no, I thought you understand everything" he said
by then, we have already gotten to the place where we were going to
So I had to skip the conversation for another time
"That's the house" I said pointing at it
It was built like a house but just little
Before medical department
"Why is it built in a different house?" Jack asked
That was Mr Noah's suggestion
"I don't know his reason" I replied
"It is my first time hearing teachers library, as in it is not in my former school" Jack said
We didn't actually had it but Mr Noah brought out the idea
"That's normal, it just take people to create another thing" I simply said
"Let's go closer" Jack suggested
"Don't even think of it"
"Why?"
"Every teacher's office has a window facing this building" I replied
"Are they supporting him also?" He asked
"I can't tell but I just discovered about those windows" I replied
"Another thing is that the door has never been locked before" I added
"Seriously" he said
????⚡????⚡???? Andrew POV????⚡????⚡????
I was in the class, sitting close to the window
paying attention like others when my eyes caught some movement from outside
It was Ajax riding on his bike with Jack
He parked at the parking spot but stood there discussing
I wondered what they could be discussing that they hadn't finished
I cared less and looked back at the teacher
The new girl was present
Sitting at Jack's position
Probably waiting for him
Mira was just unpredictable
Axel said that she has interest in Jack
Meanwhile she was my crush which makes Jack to be in hot soup
I looked out of the window but Jack and Ajax were gone
I didn't see them anywhere around our hall which means they won't be coming in
I looked around and sighted them at the medical department
I wondered what they were doing there
Get to find out
I took permission from the lecturer without letting the A gangs to be aware of what I was up to
I went downstairs because the hall was at the top
I followed Ajax and Jack immediately
I couldn't find them but I still had to follow the direction they took
I got closer to the back of the medical department and began to hear some voices
Which could be them
I followed it and saw them standing there starring at the teachers library
My heart skipped remembering what Mr Noah said about that building
What if someone has seen us
Just then, Ajax turned around and saw me
Jack did the same and they began to walk to where I stood
I had to maintain as if I had caught them
"Do you come alone?" Ajax asked as they got to where I was
He doesn't seem to be scared
"I want to speak with Jack" I said instead
"Okay, but you guys have to come out from this risky place first" Ajax said
I understand why
So I nodded
I didn't plan on having any conversation with Jack but I had to use the opportunity to talk about Mira
"You have to fasten up because I have something to take care of" Jack said when we got to a safer place
Meanwhile Ajax left to the hall
"It is about Mira" I said
The look that I saw on his face shows that things won't be going easily
"What about her? What happened to her?" He asked
He looked scared
"Nothing " I replied and he exhaled
"What are you saying?" He asked
"I want you to stay away from her" I replied while he hissed
"I thought it was something serious" he said and walked away
What I had to do was to plan something with the A gangs
????⚡????⚡????Jack POV ????⚡????⚡????
After my lecture for the day, I left to my dormitory
Meanwhile Ajax and some other students who still has their remaining lecture had to wait behind
Just as I opened my door, I saw the ghost boy standing in the center of my room
"Welcome back" he said while I smiled, closing the door from behind
"I didn't expect this visit tho" I said as I dropped my bag on the bed
I sat down also for a little rest
"You don't invite me"
"So, I just choose when to come" he added while I smiled
"So, were you able to see the library?" He asked
I was even thinking about it
Just wanted to ask him
"Yes but I didn't go inside" I replied
"But why is it that you can't go there?" I asked
That has been bothering me
"Mr Noah places a strong power there that no spirit would cross there" he replied
I wondered the kind of power he possessed
"So how do I know the book?" I asked him
"When you get in there, just look around very well"
"Then we will discuss about it when you come back" he replied
That was confusing
If he can't see the place, how then are we going to talk about it
"The problem is how to go inside because the principal have a strict rules guiding that house" I said
"I trust your planning, just do it" he said
That doesn't make sense
What kind of statement could that be
"You just need time to think" he added and disappeared
Just then, I heard a sound of a bike that stopped before my door
It must be Ajax
The next thing was a knock on my door
I went to open it, only to see Ajax and Stella standing before my door
"Wow Jack" Stella said walking inside meanwhile Ajax stood outside
"I think I will be going" Ajax said and turned to go but I followed him immediately
"Why did you bring her here?" I asked but in a lower voice
"After the lecture, she didn't allow me to rest, she kept disturbing me that she wants to see your room"
"She said that she is living in the school dormitory but still she didn't know your room" Ajax replied
"Was it not yesterday that she came?"
"How would she know a if a sudden?" I asked
I was just pissed off
Not that I hated her but
I wasn't ready to discuss anything with anybody
I needed time
"Am sorry but she insisted, I couldn't rest because of her"
????⚡????⚡????Axel POV ????⚡????⚡????
We were in my parlor that evening having some fun
Chatting about some funny things that we have come across but Andrew wasn't contributing
He seems to be lost in thought and I noticed it
He stood up and went inside the kitchen
Only him knows what was going on around him
I waved it off and focused on my phone as the conversation keep going on
Soon, Andrew came out with a glass of water
Meanwhile there was a fridge in the parlor which has chilled water in it
"Andrew what is going on?" Anthony asked
It seems like he observed it also
Everyone turned to look at Andrew
"I have been thinking on how to deal with someone but it isn't coming" Andrew replied and sat
"Who is that?" Anthony asked
"What did the person do?" Aiden asked but they all came at the same time
"Jack" Andrew replied
It was already certain that we want to deal with him but he must've done something additional, for Andrew to be thinking about it
"What did he do?" I asked because the response caught me
"You guys know very well that I had crush on Mira" he said
I didn't know that he still likes Mira
"Too bad" Alex said
"But Jack doesn't seem to have interest in Mira" Aiden said
That sounds supportive but true
"As long as he is in this school, Andrew won't have his chances" Anthony said
"Exactly" Alex supported
I was short of words
"So what are you guys planning?" Aiden asked
"That's why we are together" Andrew said instead
"Anthony, hope you will help?" He asked
Anthony was just looking at him
He didn't say anything
"Am just confused" Andrew added
"What exactly do you want me to plan?" Anthony asked
"How to teach him a lesson" Andrew replied
That forced me to smile
????⚡????⚡???? Jack POV ????⚡????⚡????
It was 9pm and I was busy surfing the net
Attached with thinking
How I would go about getting into that room
"12 midnight" I said remembering that they said
We shouldn't go out by that time
I stood up and went to my closet
I took a jacket and a cap
"Let me try it before the time" I said to myself
I walked to the door and opened it
Everywhere were bright but lots of spirits were roaming around the compound
They looks like human but I discovered that they weren't one because their legs weren't touching the ground
Floating on the air
One turned to look at me and closed the door immediately
Locking it as well
Holding my chest
I sat down on my bed wondering what they could do next
After some minutes, I heard a knock on my door
I didn't say anything
I was just looking at the door with fear
"Jack!" I heard a female voice calling
She repeated it again that I had to go closer to the door
"Who is that?" I asked as I waited for her response
"It is me Stella" she replied and my eyes widened
What could she be doing outside by that time
I first looked at my phone, it was almost 11pm
I remembered that 12 midnight will be dangerous
→→→→→→→→????
°°°°°°°°°°°°°°° Mexico °°°°°°°°°°°°°°°
????⚡????⚡???? Jane POV ????⚡????⚡????
That evening, I was coming back from shopping when my cab got broke down on the way
I didn't have much on me anymore, so I had to wait for him to repair his car
The little i had couldn't take me home if I should take another cab
I had to wait for him
It was getting late and I was worried
"Ma'am, am sorry but the car won't work again today" the cab driver finally announced after some trial
It was disappointing
I had to change my plan which was to go to go to Mr Rashid's house since it was close
And my money could take me there
Luckily there was a cab coming
I stopped it
His charge was exactly what I had
I hopped in and he drove off
????
He dropped me before Mr Rashid's gate
I paid him before getting down with my loads
I knocked at the gate and waited patiently
After some minutes, the gate was opened by the gateman
"Oh ma'am" he said
He was surprised because I barely come
Not to talk of in the night
"How are you?" I asked trying to be cool even though I was frustrated
I stood there smiling
"Am good but why?" He asked and I understand what the question meant
"It is a long story please" I said and meant to walk in
"Let me help you with this" he said, holding those things I bought
I smiled and let go of it
I walked ahead of him
He was saying something but I couldn't pay attention
I pushed the entrance door open which the living room was the next thing to meet and met with the greatest shock of my life
Mr Rashid and Ella
They were kissing and romancing themselves to the extent that they didn't notice my present in the living room
"Ella!!" I shouted and she pushed herself backwards
They all turned to look at me
"Jane" Ella called me back with her hand on her mouth and my eyes were on her
"What?" Mr Rashid asked drawing Ella back to himself
I was surprised
I couldn't believe it
I shifted my look to him
"Don't you know when to visit?"
"Don't you have my number?" Mr Rashid asked in an angry tone
"That means you never loved me" I said
"So Ella, is this where you do go all the night?" I asked
"Who doesn't like good thing?"
"I thought you didn't want Mr Rashid?" She asked blinking her eyes on me
I was dumbfounded
"It is not a big deal, after all you have someone else" she said
I remembered that it was through her that Mark knew me
"So, this is why you pushed Mark to my way?" I asked
"In case if you don't know, Mark is also in this game"
"I told Mr Rashid that you aren't faithful, so he said that we should put it in trial"
"I involved Mark and he is receiving his charge for it, so you don't have anyone now" she added smiling
"What?"
I couldn't believe that a friend could do such
"Take a look" she said as she operated something in her phone and a message bumped into my phone
I checked and it was a video of their gathering
Mr Rashid, Jane and Mark were sitting in that same living room
That was where they discussed about the whole thing
Even Mark was a lie