Heiress. Episode 47
5 min read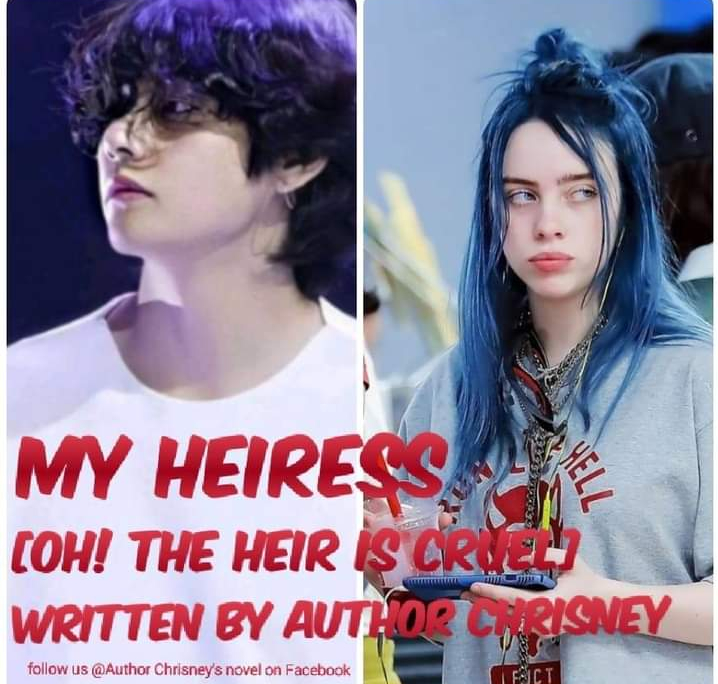 ????My Heiress ????
[I don't want no other body]????
Written by Author Chrisney ????
Adewale Christian ????
i.g: @theechriso_
Episode 47????
Ruby's pov
"My Lord how much can you trust him "
One of my guard said after I've signed the approval of Zayne assassination,
"If he wasn't to be trusted he wouldn't have revealed the person I thought I killed 8 years ago is back to take back her sit ,and you still expected to raise my ego and not obliged to a revolt from Brent ?, That's the only option left now "
I said down..
"He's also having evidences against me"
I said wearily,
"It's true a sinner is slave under who found out his sins, how sure are you he is with an evidence?, You should be strong the way you started to be , since the assassins could'nt take her down ,then slice her throat right in your eye before she grows wing "
Ms.choi said,
Zayne's pov????
"Are you gonna follow me home ?, I'll have to prove that I Ain't responsible for riele's pregnancy "
I said ,
"But how will you prove it my Lord?"
Chloe asked ,
After she'd alligthed to where she insisted to stop not wanting me to know her house, but I still wants her to get close to me..
"I don't have any evidence yet,but you been close to me would make me courageous "
I said ,
"Is this possibly a way to stay close to you the whole day "
She asked ,
"If you think that way let it be"
I said ,
As she entered my car again ,I was glad and I drove off..
"Do you think I'm responsible for her pregnancy?"
I asked as she glanced at me ,
"I don't since I still believes what your mum said that you don't told lies"
Chloe said ,as my heart skips ,
"So you still believes that ?"
I asked
"Yes my Lord "
She replied ,
"You can address me by my name now or you gotta give me a nick-name or rather love – name "
I asked her smiling broadly ,
"Hmmmm!, I will think of one , then I'll call you by that at the right time "
She said Lovingly …
????At Minister Ronald mansion????
We reached our mansion, ???? and we walked inside surprisingly everyone is sitted to know what I'll prove ,
"I still can't understand ,how can someone still wants to prove himself innocent after the evidence is so open "
Riele said ,
"Can you allow me enter first "
I said after she stood at our front on our way inside .
"Why would you bring a slave along to a family business?"
She said rudely reffering to Chloe ..
"You lack a woman courtesy even as little as it may be , a woman should respect who ever her husband brings as visitor if it's an animal, woman , even a slave for the first time even if there's soon gonna be a brawls between you and the visitor , HIDE your bitterness , egos, depression,lack of manners, uncourteousness, toxicity and jealousy behaviors from your husband presensce before he introduces the visitor , learn some Noble courtesy before u call an heir your husband woman!"
Chloe blasted,as the whole family was traumatized the whole workers opened the mouths wide in surprise for her boldness ,
"What!?, Do you just talk to me ?, I'm I dreaming ?,a lowly crap like you just open that stinky mouth of yours !"
Riele said ,
"I have known this girl for her impertinency and a manipulative nature ,how dares you open such crappy mouth here? You lowly babysitter?".
My dad said ,
"I brought her here to prove my innocence from that trash she called the unborn heir"
I said blurterly without asking if she could ,and later realiases I shouldn't have ,but it's to late ,
"Hmm ,if she can prove the innocence I'll free her ,but if she doesn't , she's gonna die from my wrath" my dad declared..
"I will!!"
Chloe said as the whole sitting room went silent ,
I quickly ran to her ,
"I'm sorry I blurterly called you my lawyer Chloe just decline this "
I said but she ignored and took 8 steps to the front of the sitting room at the front the big television for better view of the family ,
"I will list what the both the opponents explanations first "..
She said as she stood properly and everyone went silent listening to the so called lowly girl..
"Lady riele said , she's got a baby with his Heirship Zayne , she said she knew he would decline if possible she eventually conceive ,and become impregnated , and the people won't believe she was having the baby with his Heirship if he denies the pregnancy ,so she was brilliant as well as she said she took a video of themselves while making Love, and"
I explained
if I may ask you lady riele "
I asked facing her , was that night the only night his Heirship made love with you ?"
She asked trying to make the point clear,
"Why do you need to know a private issue?"
Riele said with ego,
"Since this is a deal with my life on line so please follow me , if you think I can't make your accusations wrong" ..
Chloe said wisely ,
"Yes that was the only night we had sex and that was 3 months ago and same night I made the video , I'll corporate since you're gonna die soon,
"Now I hope lady riele explanations is clear she made the video for the first time his Heirship had fun with her and it was 3 months ago and he never had sex with her again …
That's lady riele explanations ,
"His Heirship said the whole things lady riele said was all wrong and lies , it was only the night 4 days ago lady riele took advantage of him ,that he wasn't in his right sense so they romanced and he slept off without having sex with her "
Chloe said ,
"Is that true lady riele?"
No ..
Riels replied ,
Now we're all confused who's saying the truth…
Now I'm gonna make everything clear,
"I need to have the phone for the video ?"
Chloe said as she collected the phone ,
And connected it with the television for better view for everyone .
This is the video , now we gonna click the details of the video ,
She said ,as she clicked the details and it brought out the file type , the video storage ,time , date and year the video was made ,
"According to the time, date the video was made was also same to the day lady riele took advantage of his Heirship , even if his Heirship had the baby with her she shouldn't have conceived a fertility till now talkless of having 3 month pregnancy so the unborn child is a BASTARD!!"