Undergrounded Demons. Chapter 36
11 min read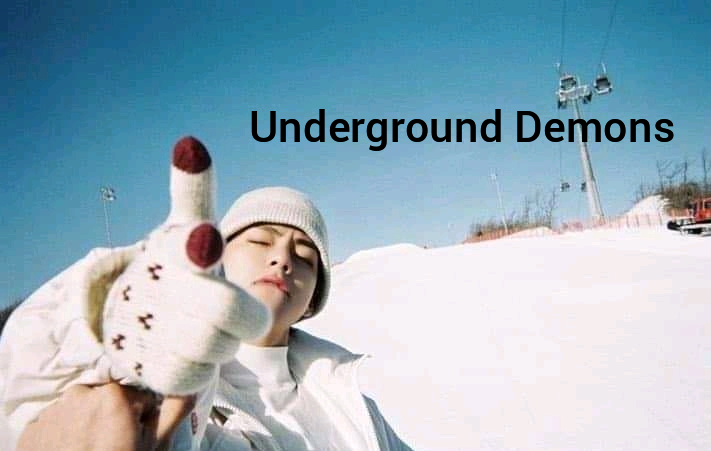 ???????? UNDERGROUNDED DEMONS????????
????
_______???????? The Revenge????????________
????
????????Chapter Thirty-Six
Brought by Chris Val ????✨
→→→→→→→→????
°°°°°°°°°°°°°°° Mexico °°°°°°°°°°°°°°°
????⚡????⚡???? Jack POV ????⚡????⚡????
Continuation
I had to keep calm and listen to how I got to their living
"Can you tell me how I got here?" I asked
#Flashback
???????????? Author's Note ????????????????️????????????
16years ago
Mr Lorin
Then, when he was still the wealthy Lorin
He was having a sight problem, which he normally go to hospital for checking
One day, during his visit, as he was sitting down for his turn since the doctor was attending some
he met a scene that touched his heart
An old man pleading with the security men who were dragging him out of the office
They ignored him and left him outside the building
The old man stood there, thinking about his life
Instead of Mr Lorin to go inside for his turn, he went outside to meet the old man
"If you don't mind, can I share your problem with you?" Mr Lorin asked placing hand on the old man's shoulder
"Yes, please, you might be my savior" the old man replied
"Can I take you to the ward where the little boy is?" The old man asked
"Sure" Mr Lorin replied
The old man took the lead while Mr Lorin followed
They got to a ward where a little boy was lying with a bandage on his eyes
"What happened to him?" Mr Lorin asked sitting down on the bed, touching the boy's forehead
"Let me start with introduction" the old man said
"My name is Vickie, am a hunter"
"He was playing with my gun yesterday when he mistakenly pulled the trigger and the bullet nearly take his eyes"
"Both his forehead were caught but luckily, I was at home" the old man added
"Why would you leave a bullet in a gun when you have a child in your house?"
"Where are his parents because am sure that he is not your son?" Mr Lorin asked
"I found him before a river a year ago, lying on the floor, so I don't know about his parents"
"I had to take him in and take care of him, but that morning, I was ready for hunting when this happened" the old man replied
"So, what is the doctor saying about his wound?" Mr Lorin asked
"He said that he needs some money for surgery unless the wound will affect the eyes which will definitely result to blind" the old man replied
Just then, the doctor walked inside the ward
"Mr Lorin, I heard that you were waiting for me" he said
"Yes"
"That's why am looking for you" the doctor said
"We have more important things here now" Mr Lorin said
????
Three days later,
Mr Lorin came back from work
Their only child, Jane who was two years old rushed out from the house as a way of welcoming him
He carried her and went inside
It was already time for dinner
His wife served his dinner as usual after freshening up
They sat down around the dinning table
"I have something very important to discuss with you" Mr Lorin said during the dinner
He was referring to Rita (his wife)
"Really? Am always here to listen" Rita replied paying attention
"I went to hospital for my health as usual three days ago"
"when I met a man pleading with the doctor concerning a boy whose his gun almost killed"
"He needed to do some surgery on him but he wasn't having enough money with him, so I helped him out"
"So, I went to the hospital today for the normal checkup only to be told that the old man is dead and they have performed the surgery on the boy but the doctor said that he lost his memory and he won't be able to remember anything"
"Even up to now, that his brain will be like a new born baby, so if we take him in, he will be seeing us as his parents and he won't even have a mind of thinking much" Mr Lorin explained
#End_Of_Flashback
????⚡????⚡????Jane POV ????⚡????⚡????
"That's how you get to live with us" I said after explaining to him his past
He nodded making his face as if he was thinking
"And if you can remember, we weren't in the same level in class until they promoted you due to your smartness" I added
"But didn't you people try checking on my background?" He asked
Dad tried doing it but he wasn't able to do so
"There was no information" I replied
"Every hope was lost when the old man died" I added
His phone interrupted us with a call
"Dan" Jack said before picking up
????
After the call, he dropped his phone
"I don't know why all of this is happening" Jack said
"What happened?"
"Dan's Uncle is dead and his burial was yesterday" he replied
I remembered him telling me about him
He was his best friend at his former school
That same yesterday was Mr Rashid burial and that was where I came from before coming home
"What is his Uncle's name?" I asked
"I don't know because I never asked him" he replied
"So how is your fiance, Mr Rashid?" He asked…….
????⚡????⚡???? Jack POV ????⚡????⚡????
After hearing about my life that I didn't know about, I was just speechless
I couldn't believe it
Even Mr Rashid death surprised me as well
????
On Sunday evening, it was time for both me and Jane to leave for school but I wouldn't go early because of how dangerous the school dormitory would be
I met with my Dad and thanked him for saving my life
For the life he gave me
I only thanked my Mom for letting me in, for the first time
And also giving me light to see the truth about my life
Our last born was crying because she knew that I have been separated from them
And I would barely visit them
I also told them that I had a gift for the unborn baby
I presented it to them and informed that it was from a friend before they would give the glory to me
????
We took a cab to the airport where Jane would take her flight
Meanwhile mine would be around 2am
She booked her emergency ticket as we waited for the time it would be taking off
"I have been calm because I felt that your mood might be bad before" Jane said
I had to wait for her to finish what she has to say
"Hope you are not planning to stop visiting us?" She asked while I smiled
I still had lots of reasons to visit them
Even though Mom will not be comfortable with it but I will still
"I can't leave the family that gave me life" I replied
"Beside, I don't know if my real parents are still living since I was found in a sea port" I added
????
→→→→→→→→????
°°°°°°°°°°°°°°° California °°°°°°°°°°°°°°°
????⚡????⚡???? Jack POV ????⚡????⚡????
I arrived around 5am in the morning and took a cab to the school dormitory
I was sure that those demons must have gone
I paid the cab driver and walked to my door
"Oh shit" I said remembering that I haven't eaten that morning
"That means I will have to buy from the school cafeteria" I concluded
I opened the door, only to see the ghost boy standing there
"Welcome" he said smiling
I checked around before walking inside
Closing the door immediately
"I thought you type have gone to sleep" I said while he laughed
"Spirit doesn't sleep" he said
My mind ran to the latest that was in my mind
"Do you see future and also past?" I asked
"Kind of, but if it is about what you have in mind now, I don't know" he replied
He disappeared before I could say another thing
That minute, someone knocked at the door
Maybe that was why he disappeared
I went to open it and saw Stella standing there
I thought she had left me all this while she never disturbed
"I just saw you coming back, so I decided to come and say welcome" she said
With a smile on her face
"Oh thanks" I responded with a forced smile
"Although you didn't tell me when you were leaving" she said
I felt bad for that
It wasn't my fault because I was only trying to avoid problem………
????⚡????⚡????Mira POV ????⚡????⚡????
I was sure that Jack must have arrived, so I drove straight, following the second gate which was for the school dormitory
I parked and got down from my car with a food flask
I was just thinking that he might not have anything to eat since he just arrived
Even if he has, he might keep mine for lunch
It was in a poly bag that one could hardly say what was inside
I knocked on Jack's door and waited for some minutes before he opened
"Sorry I kept long, I was actually taking my shower" he apologized
I wasn't angry
He was already wearing his trouser and a singlet
"No problem" I said and walked in
I closed the door with my left hand, since my right was already carrying the food flask
"Have you eaten this morning?" I asked
"No, I just arrived but am planning to buy from the school cafeteria" he replied
"Anytime you come back by this time, just call me, do that I can come early with your food" I said
"Please have this one" I added, stretching out the bag
He smiled and collected
????
I was still waiting for him to eat, when my phone began to ring
It was the teacher in charge of the science section in the school
Mrs Anita
"Where are you Mira?" She asked
I wondered what the problem would be
"Am around the school" I replied
That was true though
"See me in my office now" she said
"Okay ma" I responded as the call went down
I wondered how I would let Jack trek down to the school when I was already there
I was still checking it out when someone knocked at the door
"Please help me and check" Jack said
I just wished it was Ajax
Just as I thought, it was him
I smiled and let him in
"Good to see this" he said walking in
????
I explained to them and left to the office
I met with Mrs Anita who was busy with some files
I greeted her and sat down
"We are making some arrangements for you guys, the science" she said
"We have some projects to take care of" she added
"Like when are we expecting it?" I asked
"I can't tell but it won't be more than this semester" she replied
"So, I want you to let your fellow science students about it, so that they can be preparing for my call" she added
????
After the meeting up with Mrs Anita, I walked straight to the supposed hall for the general lesson we would have
Just as I got inside the hall, Stella was actually walking out to the door post
I made a chance for her to walk out but she walked straight and stood before me
I was just confused, wondering what she might be thinking
"We have some talk to do" she said
"Let's wait until after the lecture" I suggested
"No"……..
????⚡????⚡????Axel POV ????⚡????⚡????
I was in the hall when everything wanted to start
Mira was trying to make her way to the class but Stella kept blocking her
"Stella please get out of my way!" That was the first time I heard Mira's voice since the thing started
Because she has been keeping her voice low
"I can't"
"You must obey me" Stella added
I meant to stand up but Anthony, who was sitting next to me, held me back
"What are you planning to do?" He asked
I looked at him with an unbelievable look
"Can't you see that they are planning to fight" I responded
"Who will you stand for, when you get there?" He asked
"Stella your crush or Mira your family friend?" He asked again
I became weak
Who would I stand for
If I get there, I have to be talking to one as someone was wrong
But who would I
"I already know your secret love for Stella" Anthony added
Mira and Stella were still looking at themselves like that when Ajax first walked in
Followed by Jack
Ajax was fast in thinking because he understands what was happening from the way Mira was trying to walk in
"Stella let her go" Ajax said
"Better stay out" Stella responded with her hand on the air
Without looking at him
"Stella!" Jack shouted
Stella had to turn immediately
Maybe she recognized his voice
She shifted for Mira and she walked in
"That Stella must be troublesome" I heard Alex saying
He was lucky that he was in our gang
"Not even up to one semester" Andrew supported
I turned to look at them and they kept quiet immediately……
????⚡????⚡????Ajax POV ????⚡????⚡????
After the first lecture, we walked to our normal hall for refreshing our brain
I noticed something on Jack ever since I visited him that morning
He seems to be thinking a lot but I decided not to push him for the main time
Maybe it might be family problem
"Does it show love?" Jack asked after staying for a while
I smiled understanding what he was saying
"She is just overreacting because you are more closer to Mira than her" I replied
"What can I do?" He asked
Seriously, that question was confusing because I didn't know
"Let's just watch as it goes" I replied
"I don't want to run mad here" he said while I laughed
"That's funny" I said
We heard footsteps walking in
It was no other person but Henry
I wondered what he has in mind at that moment
"Hello guys" he said smiling
We shake hands as usual and he sat
"I have never seen you with book before" I indirectly asked because that was what I observed
"I only come here to see you guys and then leave" he replied
I had to agree
"Jack seems like you travelled again?" He asked
"Oh, yes" Jack replied
"But you didn't tell me, I had to come to your room on Saturday in vain" Henry said
Only him knows his recent plan………
????⚡????⚡???? Jack POV ????⚡????⚡????
After when Henry was gone, we began to read again
I wasn't actually reading but was thinking about what happened at home
How would I live my life after my education
I was still thinking when Ajax tapped me on my shoulder
"What is the problem?"
"I have been talking to you but no response, I even called your name but you didn't answer, what is going on?" He asked
I wanted to tell him never to mind
I didn't know if I should let him know about it
"Don't lie to me because I noticed it from the time I was in your room" he said
He didn't give me chance to think of a lie
"What actually happened when you get to Mexico?" He asked
He was a caring friend
I thought he needs to know that also
I explained to him everything
Exactly as Jane told me
"Are you serious?" He asked after the explanation
"Yes" I replied
"I think you are my lost brother" he said
"How do you mean?"
"My Dad told us that we were triplets when we were delivered but after six months, my Mom ran away with the other child"
"So, after three years, he only found my Mom's corpse and that was after a plane crash they said that fell inside a river and none of them survived it" he added
How could I possibly be the one when no one survived it and Jane didn't say anything related to plane crash