Undergrounded Demons. Chapter 45
12 min read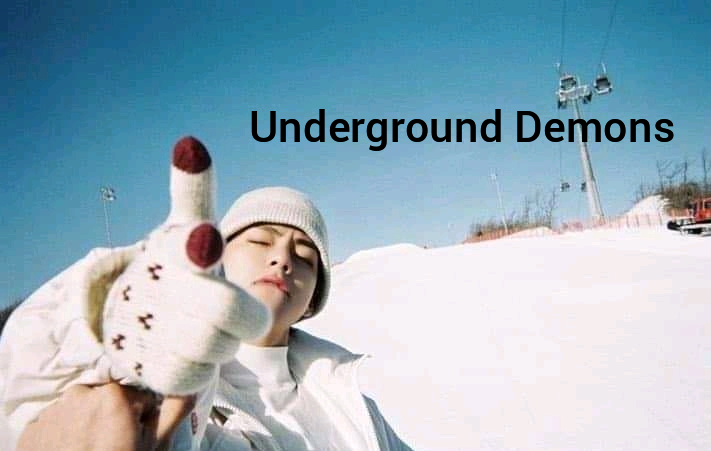 ???????? UNDERGROUNDED DEMONS????????
????
_______???????? The Revenge????????________
????
????????Chapter Forty-Five
Brought by Chris Val ????✨
→→→→→→→→????
°°°°°°°°°°°°°°° California °°°°°°°°°°°°°°°
????⚡????⚡???? Aiden POV ????⚡????⚡????
The following morning, it was already Friday
The week really went fast
I dressed up as usual and headed to Axel's apartment which we normally do
I got there and knocked on his door and waited for some minutes but there was no response
"Could it be that he is still sleeping?" I asked myself
I tried knocking like three times in addition to the first one I did but it still gave me the same result
It was unlike him
I took my phone and called him like 5 times but he wasn't picking up
"He wouldn't have gone anywhere because his car was there in the parking spot" I said to myself
I was becoming worried
"Could it be that he took a cab?" I asked no one to reply
I had to ask his neighbours maybe if they might have seen him going out
In their compound, it has four buildings
All were flats with one student with his own
The only students living there were from wealthy families
We weren't poor but we can't compare our families with them
Only Axel would
Still they acts cool at school
I met the building closer to Axel's own
I knocked on his door and after some minutes, one handsome guy opened the door
"Please, do you know if Axel went out?" I asked
"Am not sure" he replied
"I thought you guys are the A gangs, don't you have his number?" He asked
That was crazy
Must he say that
It sounds insultive but that wasn't what I was after tho
I went to all the buildings in that compound but there response wasn't helpful
I had to return to Axel's own
But before then, the rest of A gangs were already there
They all turned to my direction when they noticed my presence
I didn't see them coming because the compound was kinda huge that you could hardly see the last building in the compound, starting from the gate
"Seems like you have been here" Alex said walking closer to me
"Axel isn't responding to our call and knock" Andrew said
"I think everything isn't alright" Anthony said
That made me more scared
"Let's break the door then" Alex suggested
"Police might go against us with it" Andrew said
"I mean, it would be seen as a criminal case" he added
"If only Axel would be alive" Anthony said
"Stop scaring me" I said and rushed to the door hitting it with my foot
"Let's try that then" Anthony supported
He rushed outside to get a weapon
He hits the door with a very strong rod but the door seems stronger
On the hit of five, the neighbor who I first met, rushed into the scene
"What kind of noise is that?" He asked
Seeing him alone was just to get me angry
His approach was always bad
????
We were able to break down the door and I rushed in first
Only to meet Axel, lying cold on the floor
"Axel!!" I shouted, squatting at the same time
The rest did the same except Andrew
"Axel get the car key" Anthony said
I stood up and rushed to Axel's room
Everywhere was already familiar with me
The door to his room was wide open
I wondered if someone must have attacked him
But how did the person escaped?
I took the keys and rushed back to the parlor
They were already waiting for me outside
I rushed out and jumped into the car
Starting it immediately………
????⚡????⚡???? Ajax POV ????⚡????⚡????
I found myself in an unusual area
Which I have never thought that would be existing
It was really lonely, quiet and scary at the same time
I have been there for a complete day
"Not even a food" I said to myself
I got to a spot where it seems like there was a shadow there
It was far but I could see it
It was someone's shadow but I couldn't figure out who it was
"Could he be my savior?" I asked myself
I took the courage to walk closer to where the shadow was
I couldn't believe who I saw there
Axel, looking like a lost sheep ????
He was backing my direction, which makes that he didn't notice my presence but I could tell that it was him from the back
"Axel" I called
He shakes like he was shocked
Maybe he wasn't expecting anyone, just like me
Out of fear, He slowly turned
He was more than shocked when he saw that it was me
"Ajax" he called, rushing to me
He gave me a brotherly hug
I always knew that he was caring
"Where are we and what are you doing here?" He asked
That same question was unable for me to answer
"I don't know, am just confused" I replied
"How is Jack and Mira?" I asked
"Everyone is running around because of your sudden accident that no one knows about" he said
"I am still confused about it as well" I said
"What happened?" He asked
"I could only remember that I got hits by a big vehicle" I replied
"My eyes suddenly close and found myself here" I added
"Then, welcome to the end of your road" we heard another voice in the background
Just then, Mr Noah appeared in between us…….
????
→→→→→→→→????
°°°°°°°°°°°°°°° Mexico °°°°°°°°°°°°°°°
????⚡????⚡???? Jack POV ????⚡????⚡????
When We arrived at the airport that previous afternoon
We were planning to take a cab when a car drove straight and parked before us at the cab lane
The door was pushed open and Jane stepped down
I smiled even though I wasn't expecting her
"Jack" she called
"Jane" I responded
I noticed that Mira was surprised
She haven't seen Jane before, that's why
"Is this Mira?" Jane asked pointing at Mira
"Yes" I replied
"Wow" she said and hugged Jane who responded smiling
"Welcome" Jane said
"Thank you" Mira responded
The happiness there made us to forget that we actually came for burial
"Jack you failed again" Jane said
"How?"
"You didn't come as promised" she replied
"Oh, I thought I told you the reason?" I asked
"Oh, I forgot"
"So, how is he feeling now?" She asked
"The condition isn't ordinary" I replied
????
To the current condition
It was Friday and the day of the burial
Mira has to stay in Jane's room
While I was in my room
I woke up to meet everywhere already getting hot
The cookings and arrangements has started already…….
????⚡????⚡????Mira POV ????⚡????⚡????
I joined Jane in decorations
She actually learned it during her education
According to her tho
The compound was really big
"You know that you haven't told me anything about you guys" Jane said
That was an indirect question
"We are just friends for now" I replied
I know what she wanted to hear but Jack haven't made any move
"I wonder why he is still sleeping" she said
I looked towards his window
I guessed that he must have woken up
"I will like to check out on him" I said
"Sure" she responded
I dropped what I was holding and rushed inside
I met with their mother and greeted her
It was our first time seeing that morning
"Hope you slept well?" She asked and I responded before continued walking to Jack's room
I got to his door and knocked
"And this is Mira" Jack said just as he opened the door
I had to smile
"You are still sleeping by this time" that was more like a question
"Am just tired" he replied
"Sorry, you have to brush your teeth, let me get you your breakfast" I said
"That's sweet" he said before I walked out………
????
→→→→→→→→????
°°°°°°°°°°°°°°° California °°°°°°°°°°°°°°°
????⚡????⚡???? Andrew POV ????⚡????⚡????
We arrived at the hospital and Anthony rushed out to call the nurse
I wasn't that bothered because he didn't show that much concern when Ajax did that to me
The nurses arrived with a rolling table
They took Axel with it and rushed inside while they ran after them
But I didn't
But I shows some respect by walking from behind
Axel was taken into a room but we weren't allowed to go in
Good that the door has a glass at the center
We stood a little bit far from the door
So that everyone could be seeing what was going on
The doctor and his nurses were pressuring Axel's system
They kept trying to know if it could function
After some minutes of trial, the doctor stopped and shook his head negatively
"Is he dead already?" Alex asked
He was the one who normally get scared easily
"I hope not" Aiden responded
The doctor pushed the door open and walked out
We all gathered our eyes on him
He understands that we were waiting for his feedback
So he stopped
He was just looking at us without saying anything
"Doctor please talk to us" Aiden said
"The condition is really strange" the doctor said
"How did it happen?" He asked
Who could explain when we all met him almost dead
"We just found him like this in his room this morning" Aiden replied
"Did anyone visit him that night?" The doctor asked
"I can't tell because we aren't living in the same place" Aiden replied
Silent took over everywhere immediately
"I haven't seen this situation before" the doctor said
"It is almost the same thing as his brother" he added
I wondered what could be happening in that family……
????⚡????⚡???? Stella POV ????⚡????⚡????
That Friday morning, I got to school as usual
I didn't know that I was so patient that I still hope on Dennis and Henry's plan
When I get to school, everywhere seems like something happened
Their ways that morning was different
Everyone looked troubled
I had to check it out by walking up to a guy who was passing by
"Hello" I said waving at him
He was forced to stop
"Hi" he responded smiling
I was beautiful that people could hardly ignore me
"Everywhere looked somehow, did something happen again?" I asked
I thought it would be another killing
"Haven't you heard?" He asked back
"Heard what?" I returned the question
"Axel was found almost dead, if he wasn't dead tho" he replied
That response really caught me
"What happened to him?" I asked
"That's what I can't tell" he replied
I felt troubled
"Even the principal is already there" he added……….
????⚡????⚡????Mira POV ????⚡????⚡????
We returned to school on Monday morning
Andrew has already told me that Axel was in the same hospital with Ajax
We rushed there with a cab just after we got down from the plane
The doctor recognized us immediately we entered his office
"I expected you guys since Friday evening" he said
"We actually went somewhere" I responded while he nodded
I looked at Jack who understands that I was waiting for him to say something
"Please where are they?" Jack asked
"I thought you came for the first guy?" The doctor asked
I didn't understand what that could be
"They are brothers and also my friends" Jack said
"Why then did the other guy attacked you?" He asked
"That's just emotion" Jack replied
He was just smart
"Okay then, come with me" the doctor said as he stood up from his seat
We did the same
We got to the ward where Axel and Ajax were kept
It was in the same room but different bed and system that calculate their bodies
"I still don't get it right" the doctor said while we both turned to look at him
"This situation is first in history, I don't think it is ordinary" he added
Of course, it doesn't seem ordinary
How could Ajax have such accident and two days later, Axel was found lying half-dead in his own parlor
The doors were all open except the entrance door
It would surely not be ordinary
I just hoped that what hunt the school, wasn't the reason behind it
????
We couldn't go to lecture that day after when we were done
????
The following morning, I drove to the school dormitory and picked Jack as discussed, before going to the hospital first
The doctor said that there wasn't any improvement but they still have lives in them
We had to return to school
Just as I got into the hall, a student informed me that our science teacher wants to see me
I had to go and check why
I got to her office and knocked
She didn't wait up to two minutes before she asked me to come in
"Please sit" she said still her eyes on what she was checking on her file
"Sorry but I have to finish this file" she added writing down some things in the file
After some minutes, she exhaled and looked up at me
"Do you remember what I told you some weeks ago?" She asked
I remembered that she told me about a project which I didn't know the details
"About a project?" I asked
"Exactly"
"Here we go" she said stretching out his hand
The file on it
I collected and opened it
"This is a project for the semester" she said
"Discovery?" I asked because that was what I saw there
I didn't understand it clearly tho
"Yes, we have to go on a trip to different places and have some fun, which can be adventurous" she replied
"Mr Noah suggested that we should do so but not all the science students" she added
That would be great
"I think I love this project" I said while she smiled
"No problem, you just need to select ten people for it" she replied
????
I met with Jack after meeting up with the science teacher
I explained everything to him
"Did you accept to do so?" He asked
His look was somehow and I didn't understand it
"Yes, am the best in science that's why she chose to call me" I replied
"I love adventures and I will like to add you to the ten people she asked me to choose" I added………
????⚡????⚡???? Jack POV ????⚡????⚡????
I was in my room that evening, intentionally waiting for the ghost boy to show up
I was just worried when Mira told me that Mr Noah was the one who hosted their trip on discovery
She intentionally added me because she wanted me to go with them
"Ajax and Axel are already in the point of death and am sure it is Mr Noah's handwork" I said to myself
"Let it not be that he is planning to do the same thing to this set of people" I added
"That's the main reason" I heard someone saying in the background
It was no one else but the ghost boy
He appeared before me
"Seriously?" I asked
"None of them will survive this journey if you don't act fast" he replied
"Act fast?"
"How?" I asked
"The egg" he replied
"You know very well that I am still unable to make the snake a friend" I said
"You don't have any other options" he responded
"The journey is two days to come" I said
"So?" He asked
"That's why you need to act fast" he added
"What about telling Mira not to go and she could probably cancel the journey" I suggested
"What reason will you give her?" He asked
That was true
"But she can respect that with love" I said
"What about others?" He asked
"Confusing" I said scratching my head
"What if I leak Mr Noah's secret" I suggested
"Do you have any evidence?" He asked
That was true
I didn't
"I can use that room against him" I replied while the ghost boy laughed
"What's funny?" I asked
"You are still far to understand Mr Noah's power" he said
"Once you do so, he will allow you to bring in those policemen and eye witnesses"
"But when you open the room, the other room will no longer be there, except the library, then you will be charged for accusation" he added
That means I still had a long journey to undertake
But how would I be able to get along with the big snake