The Rejected Demon. Chapter 65
8 min read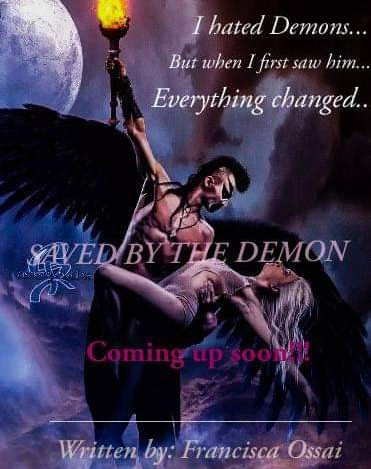 ⚔️????☠️The Rejected Demon ☠️????⚔️
……………❗????He's a Vampire ????❗
????????Chapter Sixty-Five????????
Written By Chris Val ????
….. Benita POV ❣️
You all are welcome to my own life ????
Don't be surprised if I tell you that my name is Benita Kelly
Am a gentle type but whenever it comes to Jason's case, I always go wild
Am the only daughter to Officer Kelly but no one in our class knows that, except Jason
Who else would know when he was always after his work
My Mom was late and I was left alone to take care of myself
We hardly have time for each other but he never ceased to shower me with money
The news of David suddenly turned into a monster was trending in the school
Since my Dad was a busy type, talking about David also made it worst because he doesn't plan coming home
He was always at work
I also noticed that Jason was after David, after when his mother died
I felt bad for David
Even though I didn't know the full story, I still don't blame David for what was happening to him
✓
Days were running fast as it gets to the break period for the day
Everyone went outside for their refreshments
I went out with my seat mate since she was the only friend I could keep
When we were done and was good to go
Just almost close to the class when she complained about her stomach disturbing her
She went to use the toilet while I continued walking
I got inside the class and found only Dorothy in the class
She was very busy with her book
We had never greeted ourselves before
It doesn't make enemies but just as our own lives were
I walked straight to my seat but was surprised on the book I saw on my desk
I have never seen any book like that before
It has a shining diagram on it
I looked at Dorothy but she seems to be busy with what she was reading
I sat down and picked up the book
Who could possibly have dropped it?
"Could it be for Anita?" I asked myself and walked over to sit.
The first thing written on it was BROKEN TOMBSTONE
I opened the book to check the content but it seems like it wasn't what it should
Because the handwriting and language in it, wasn't usual one
It wasn't for humans
"What is the meaning of all this?" I asked no one to reply
I kept opening the pages until it gets to the very last one
Still, I couldn't grab anything from it
"Strange" I said dropping the book back on the desk
I meant to relax well on my chair when I felt like I was going to throw up
I held my mouth and rushed out
✓✓✓✓✓✓
…. Jason POV ❣️
Calling about master planner, I think I would be fixed in it
As I planned with Dorothy
She would be the one to drop the book
While I went out for a plan best known to me
I left the class earlier before everyone
I met one of those people taking care of the food in the school cafeteria
I paid her to put in something inside Anita's food
The plan was for Anita to throw up after eating while Benita would be left alone to complete their walking to the class but unfortunately, Benita tasted the food
I wouldn't try stopping her because the drug isn't meant to kill
Don't be surprised, it was a timing drug
I watched them walking towards our class when Anita excused herself and rushed to the school washroom
I followed Benita from behind until she entered the class
✓
After when Benita rushed out of the class, I walked in gently
"Is she the one?" I asked referring to Dorothy
She shook her head negatively
"No, she wasn't able to read it" she replied
I felt disappointed
"Let's talk about it later, just take the book because I need to stay here until she comes, to avoid being suspected" Dorothy added
She made sense with that
I nodded and took the book
I walked straight to my seat
I slides it into Dorothy's bag and pretended to be reading because everyone were already coming inside
✓✓✓✓✓✓
… Dorothy POV ❣️
It was just an opportunity for me to read my book anyway
I had to remain like that until Benita comes back
"Am just surprised" I heard her voice from the door post
"I will like to see it" someone responded
It must be Anita
"Oh, it was right here" Benita said
I tried so hard not to look up
"Really?" Anita asked
Just then, a teacher walked in, interrupting them
Everyone had to return to their various positions
We waited for the teacher to leave before we could say anything
Everyone started arranging their stuff while others were already going
Meanwhile we just sat down watching them
"Like, I think the book is mysterious, how could it appears and disappeared not too long" I heard Benita saying as they walked out of the class
"Not fruitful" Jason said, I turned to look at him
"We just have to look for another way, because we don't have much time" I replied
"But I think we are making mistake" I added
"Which mistake?" Jason asked
"My Uncle said someone close to me, I haven't been close to Benita before" I replied
"What are you suggesting?" Jason asked
"I think the next person close to me was Bonny and Jenny" I replied because they were the only people that were closed to me
"Talking about Bonny, no one knows where he is" Jason said
"Let's try Jenny then" I suggested
"Maybe you don't know what you just said" Jason said
"I understand what you are trying to say but we have to try this" I persuaded
"Jenny has hated him, she won't help us"
"We are only making tests, we aren't sure yet"
"What if she happens to be the one?" Jason asked
"Then we have to accept the fate and go according to destiny" I replied
He looked at me for a while
"I just hope she isn't the one" he said taking his bag and stood up at the same time
"The book is inside your bag, I have somewhere to go now and it is very important" he added
I took my bag and stood up also
Just then, that demon appeared
I managed to hide my expression from Jason
"Long time" she said
I shifted for Jason to come out since he was sitting inside
He walked and turned to look at me
"Aren't you going anymore?" Jason asked
"Oh" I paused it with a smile
"I will but you can go first" I replied
He looked at me somehow and shrugged before walking out of the class
"Am only here to advise you" she said looking very serious with that ugly face
"Don't even think of interfering this time around" I warned
"Am not making it as an argument with you, you all might die during this" she said as if she was threatening me
"David have suffered a lot, we need to free him" I responded
"We aren't yet done with him, his father was among those who planted this" she said
"I don't know what really happened in the past but David wasn't there" I responded
"I know that's why you killed his father first but you have done enough of killing" I added
✓✓✓✓✓✓
…. Jason POV ❣️
Immediately I walked out of the class, I stood behind the door to know what was happening
Just as I heard her saying something, I understood that she was speaking with a demon
I wondered why she was pretending, knowing fully well that I knew about her gift
I waved it off and left because I was running late
I rushed to my car and drove straight to a restaurant
I bought it as usual and left for hospital
I was welcomed by David's mother with the same phrase
✓
After when David's mother was done eating, I decided to ask her something that was bothering me
"How do you think your business will be moving out there?" I asked
"You don't need to worry yourself, I have records and workers, they already know about this and they have visited me" she replied smiling
"I just hope it goes well out there" I said
"You just have the same nature as David, always caring and worried about others"
"I appreciate your care" she added
✓
The following day, I got prepared for school
I remembered that Jenny wasn't at school the previous day
I wondered if she would come that day
I took my necessary things and walked out of my room
My Dad was already in the dinning room when I walked in
I greeted him and we started eating
"You have never for once ask how your mother's corpse is doing and her burial" my father said
That was one of the things that do spoil my day
"Is it the mother that cares or not?" I asked
I lost appetite all of a sudden
I didn't bother to continue with my breakfast
I stood up and walked straight away to my car
I entered and drove off
That thing can't spoil my mood
Never will it
I got to school and met with Dorothy
She was always early
Our plan was just as the previous day
✓✓✓✓✓✓
…… Jenny POV ❣️
Really frustrated about the whole thing
I got prepared for school
I don't really find it interesting to go to that school again
Everything was just frustrating
I was surprised when I saw Jason in the school that day
Even Dorothy was present
Dorothy was sitting just at the next seat before mine but she was busy with her book
I ignored them and went to my seat
I looked around but everywhere was empty
There was no much students in the class
It seems like each seat, one person
It gonna be boring, I guessed, everyone was scared of being the next victim
I exhaled and sat
Not too long, a junior student walked in and told me that a teacher wants to see me
I waited for some minutes before walking out
Too dumb, I didn't ask him which teacher
I had to walk back
Maybe the teacher would come again
Just as I got to my seat, I saw a book with strange look
A shining diagram on it
I looked around but there was no one looking at me
BROKEN TOMBSTONE was boldly written on it
I sat down before opening the book
The handwriting was strange but understanding
I wondered which language it could be