Undergrounded Demons. Chapter 48
8 min read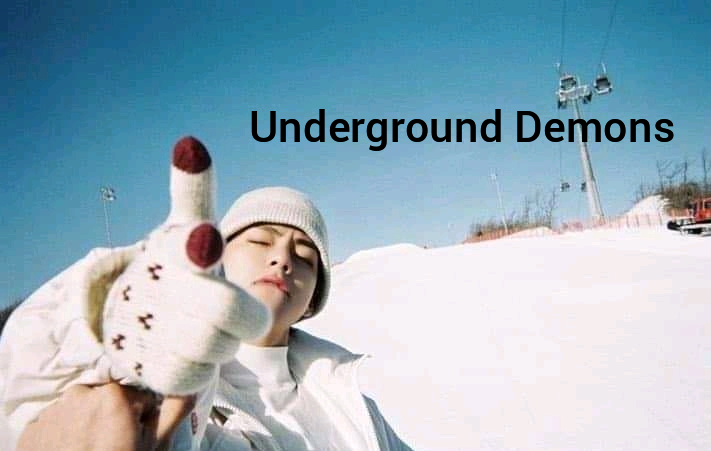 ???????? UNDERGROUNDED DEMONS????????
????
_______???????? The Revenge????????________
????
????????Chapter Forty-Eight
Brought by Chris Val ????✨
→→→→→→→→????
°°°°°°°°°°°°°°° California °°°°°°°°°°°°°°°
????⚡????⚡???? Ruth POV ????⚡????⚡????
We couldn't believe how Peter was taken
We screamed without knowing where to go next
"Let's go back, am getting scared already" I said because I couldn't continue
That place seems to be dangerous
"We can't go back now" our teacher said
"Why?" Mira asked
She was also scared
"Can't you see that Peter actually went back, I mean that was where we have passed already"
"So I think that going back will be more dangerous" she added
That seems to be true
"I don't believe such" George said
"If this place is this dangerous, that means that the other places ahead will be more dangerous" George added
It was making sense
"Then we have to be working together" Mira suggested
"I can't wait here any further" George said and took his bag
"Am going back" he added and began to walk back
We were shouting his name but he didn't listen
We watched him walk far and nothing happened to him
"I think I should follow him" I said as I meant to take my own bag
"Oh no!!!!" That was the next thing I heard
I raised up my head to see trees eating up his body
He was shouting for help but who could be
The next thing was the ground to open and swallow him up……
????⚡????⚡???? Jack POV ????⚡????⚡????
The following day, I have had made up my mind to try everything possible to get the solution because things were already getting out of hand
I dressed up for school and began to walk down to the school
I met with different students, greeting them unlike before
I got to the parking spot and stopped
I looked at where Mira normally park her car
I remembered when Ajax first introduced me to her
I looked at where Ajax do park his bike
Everywhere was empty
"I miss you guys" I said as tears was already forming in my eyes
"I can't loose you Mira" I said
"I must do anything possible to get you back safe" I heard
The sound of a car drew my attention
I turned towards the gate and saw Mr Noah driving in
I shifted from the way before he would intentionally hit me but I didn't stop looking at him
Instead of him to pass, he stopped and looked at me through his window
There was no students closer to us
"You are really something else" he said smiling
"Others are still in their position but you are here looking at me"
"But don't get it on your head because you only have power in spirit, and not in physical" he added
"Catch you later" he concluded and drove off
I exhaled without taking off my eyes on him
"Let's see how it goes then" I said before heading to the hall
????
After the first lecture, I had to look for Richard
He said that he would help me to get on my request
Since Stella's option wasn't helpful, I had to look for another way
I met him at the same place where I met him the other time
"You are really lucky" he said when he saw me
"What?" I asked and sat beside him
"You have experienced this thing twice and still survive it" he added
"So, you are aware of the accident?" I asked looking at him with so much surprise
That means the news went really far
"Everyone did" he replied
"Why then did I woke up alone at the hospital?"
"Am sorry for that"
"No problem, how Are you doing?" I asked switching the topic
"Am good"
"Why didn't you go with them, I thought you are among the best science students?" I asked
"I just don't like scary stuff, that's why" he replied while I nodded
"I have something to show you" I said bringing out my phone
"When I asked you about snake, even if you don't like them, you should at least know something like this" I said showing him the picture of that same thing Stella suggested for me
"You asked on how to be friendly with it but this is just a deceit food for them" he replied
"Okay fine, have you seen any result?"
"Am actually working on it" he replied…….
????⚡????⚡????Mira POV ????⚡????⚡????
The misfortune was what we never thought that would happen
We ran away when George was taken
We were already left with eight with our science teacher
We got somewhere to sleep for the night and woke up the following day only to discover that one of us was gone
It was Gabriel
He was nowhere to be found
"Gabriel is gone" I said because others seems not to be aware of it
"How possible?" Andrew asked looking around
We couldn't find him and we had to start shouting his name to know if he would answer
"Am not ready to die" Ruth cried
No one was ready to die
"But I think since Gabriel wasn't yet confirmed dead, he could possibly be living" Anthony said
"Why don't we go around in search of him?" Dan suggested
That was another risk
Can we do that
Just then, there was a drop of blood that landed on a paper that was in between us
Our eyes widened when we saw it
We had to trace it back to the top where it came from
Unbelievable, it was Gabriel
Hanging there, already dead
"OMG" I shouted
I couldn't believe how he was hung by the tree
He must have died instantly
"Am tired of this trip" I complained
I was really tired of it
"It will be better if we inform others, maybe they could come to our rescue because am already scared" I added
Our science teacher brought out her phone
Likewise me
Unfortunately, there was no network
Everything and everywhere was blank…….
????⚡????⚡???? Jack POV ????⚡????⚡????
At night, exactly at 8pm
I walked out of my room after locking up my door
The worst part was that I was unable to contact Mira nor any of those that embark on the journey with them
????
I got to the teacher library and entered
As usual, I took out the usual book and the door automatically opened by itself
I walked in and met with three new bodies lying at same place where Kate and the rest was
Those students were among those that went on a trip with Mira
"They are already dead" I said with my hand on my mouth
I wondered who would be the next
I was just around the room when I heard those demons
Their voice shows that they were outside
It was a relief
"What is the plan now" I heard the ghost boy asking as he appeared
"I want to try another trick" I replied
I wasn't fully prepared
Richard assured me that he will look into that
And he wouldn't fail me this time around
"Can you tell me how they are doing over there because am already scared?"
"We only need to act fast" he said instead
I was really worried
I got to the main room
The big snake was in its position
I began to sing for it
I was singing and it was making a little move
I didn't know if it was enjoying it or not
"What are you doing?" The ghost boy asked
I signalled him to keep calm
I kept singing until it raised up his head
I didn't get discouraged
I didn't stop singing
The next thing was for it to turn properly towards me
I closed my eyes, only to open it and see it right on top my head
It roared like a lion and meant to bite me for the second time
I dodged it and it mouth hits on the ground
I had to take to my hill
????⚡????⚡????Mira POV ????⚡????⚡????
The following day, we were already left with seven out of ten
I couldn't believe it
How everything turned out to be another thing
We got to a spot
It was a big ocean
Three canoes was beside the river
We were already stocked up, so we had to keep moving
"Should we try crossing the river?" Ruth asked
"We have no other options because going back is not advisable" our science teacher responded
She was also dumbfounded
Only the principal knows the place
No one else
"Are you sure that the river will be safe?" I asked
"It looks like" Dennis replied
After some minutes, we decided to go with it
Our science teacher and Ruth was on one canoe
Andrew, Dan and Freda was in one canoe
While me, Dennis and Stella was in one
"Stella I hope you will make it alive for me?" Dennis asked on the way
"Because am sure that I will get out of here alive" he added
Just as I was about to say something,
One heavy thing hits our canoe from under and I fell into the river……
????⚡????⚡???? Stella POV ????⚡????⚡????
I was watching Mira as she managed to hold the canoe and meant to climb up but unfortunately, a shark with a great speed, dragged her back
It was planning to drag her far before it would kill her
"Oh no!!!!" Mira shouts as it keeps dragging her
I wanted to ignore her but I had a change of mind
There was no need to hate her
I understand that love wasn't by force
Maybe I wasn't meant to be with Jack
"Mira am coming!!!" I shouted checking out the canoe
I remembered what my Dad told me on how to deal with it
There must be something in the canoe
"Please control this to her side" I said referring to Dennis
He nodded and began to do so but the shark was already far and I could see bloods coming up
That would be dangerous
I took their gun
It could work under water
I left the canoe and jumped into the ocean
I swim as fast as I could
I got to a spot and stopped
I went down inside the river and pointed the gun at the shark
I didn't hesitate to pull it and it left Mira immediately
Struggling for its life
Mira managed to get closer to me
I helped her to our canoe and Dennis helped me to drag her up
Just as I was about to go in, another shark dragged me down immediately
I thought I was still lucky because I was still having the gun
I pulled it but it was empty
I couldn't believe that it was my end
I couldn't hear Mira shouting my name as the shark teared me into pieces with her children