Morenikeji. Episode 16
16 min read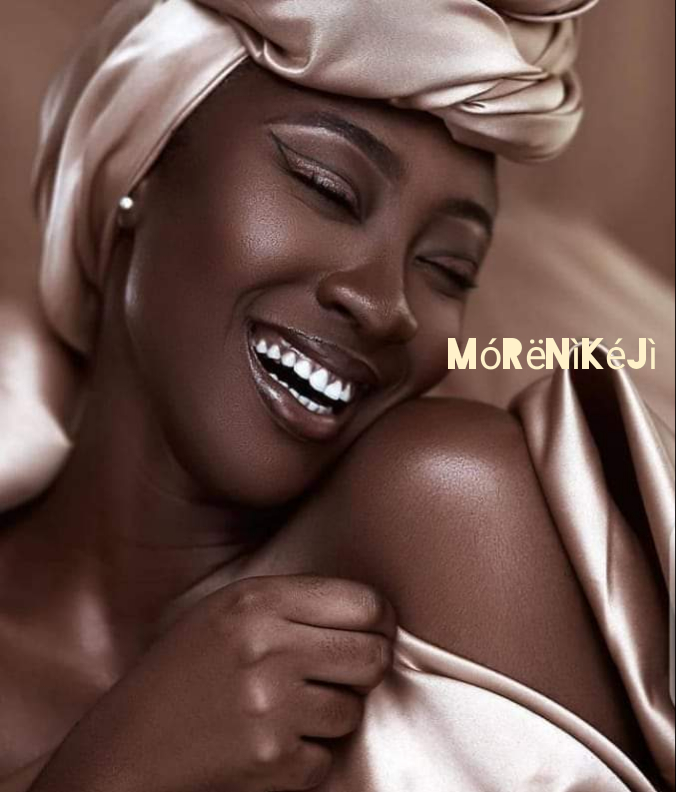 MORENIKEJI.
Episode 16.
By AMAH'S HEART.
I took her hands into mine and pat gently.
She opened her eyes and looked at me, smiled briefly then close them up again.
"You will be alright. I'm really sorry that you have to go through all of this.
She opened her eyes again without looking at me she stared up at the ceiling.
Tears glitters in her eyes. She was struggling to hold it all in, she later let go and it poured down her face.
This was my second day in the hospital. I came since yesterday I heard of the news and I have been here refusing to leave.
Her husband was with her earlier, before he Left he said to me.
"Keji, thank you so much for staying. She needs a friend around. Seeing my sad yet prentious smiling face to ease her up isn't helping out. She will prefer a close friend instead. I will continue coming to check up on her until the surgery is perfectly done. Is a difficult time for us but my prayer is that nothing will happen to my wife and also my baby.
I massaged her swollen legs and ankle and back to her hand gently.
A nurse walked in and checked on her.
She removed the almost empty drip and hanged another one, injected the tube to her body before leaving.
After sometime, a doctor walked in and checked on her.
He spoke gently to her, smiling as he obviously tries to ease her tension.
"Madam, hope you are not afraid? Don't be…. just relaxed in about 30 minutes from now we will be moving you to the theater. Is going to be successful, you have nothing to be afraid off. The most important part is for you and the baby to be alright. You are doing far more better than your panicking husband but is well expected. Please relax…. after this last drip then you will be ready. Before then I and the medical team will continue checking on you.
After the doctor left, I bent my head to say a prayer for my friend.
Because even though the doctor is making it to sound so easy, I know it isn't easy at all.
When I raised my head, she was staring at me with fear in her eyes.
"Thanks Keji, even if I don't survive this but I'm really lucky to have a true friend in you.
I quickly hush her.
"Shut up Dammi, stop talking rubbish. You will not only survive, you will carry your baby, nurse and watch her grow. Nothing… absolutely will happen to you. Do you understand me?
She didn't reply. Instead she looked at me, wiped a tear and said
"Did you know I suffered miscarriage in the first one. I was very angry at myself, at Chike and even at God. I didn't understand why such will even happen to me. I was calling you during then but you didn't pick my calls. I needed a friend to talk to…
"Oh my God. I'm so sorry Dammi. I never knew….I thought you were calling because of your money back then. I'm sorry…
I squeezed her shoulder gently. She continued talking.
"…. when I started this pregnancy journey, I was afraid of many uncertain things happening to me. My husband was the one with the faith thing. He kept saying that nothing will happen to our baby. I was afraid that what happened in the first one will happen again but when I passed the danger month I began to muster courage to carry on. Not untill the sixth month and it all started. Complications of different sort. from one medical issue to another. The doctor said they need to perform an urgent cs because both the baby's life and mine were in danger. But after several other check up, they said if I can complete seven months it will be far easier. Because operating me at six month is fifty fifty, Nothing is certain. I had a personal doctor all through this journey. Alot of money was poured in but my life and that of the baby's was far more important. At almost seven months they said if the baby stay more than this it will be far too dangerous. I have almost two weeks to complete seven months. The pain I'm passing through is unspeakable. My baby girl will be born premature, she has to live outside my womb, in the incubator for several months before she will be released to us…. that's if I survive or she survives this whole ordeal. I don't even know what to tell God. Is it to make me survive or make my child live. What if there's only one option to this whole thing Keji? I'm scared to the bone and in serious pain. As time ticks, drawing me closer to the main deal…my heart ticks with it. I won't pretend or lie… Keji, I'm really afraid.
I tried encouraging her. I even prayed for her and all she kept saying was just Amen.
I know she was trying to hang onto something.
It was time and she asked me to continue praying for her. I assured her that I will.
Dammi requested that her husband should be there even though the doctors refused at first but they granted her wish.
Chike even insisted that he will stay and watch how everything is done. He wasn't going to leave Dammi's side.
So, only her husband was allowed into the theater.
I sat at the reception and did not stop praying.
I also had fear at some point but i quickly waved it off and continue pleading to God to spare her life and that of the baby.
I beseeched God to make the whole operation to be successful.
I sat alone for several hours, I saw when the husband came out throwing up in the whole passage.
He sat on the ground with his hands on his head.
My heart skipped, my legs began to shake.
While the cleaners went about their business cleaning the whole place I was holding Chike, trying to find out what happened.
He pulled off the medic caps and gloves given, and tore off the uniform, tossed it aside and bent his face.
"Chike what happened? What of Dammi, what of the baby…?
I asked impatiently and worried.
He suddenly threw up again and before I can move back he poured it on my legs.
I wasn't even a bit irritated or worried my major concern was Dammi and the baby.
"I couldn't stay. Is..is too gruesome…too bloody…I can't stay. They were cutting her open Keji. I can't…is a terrifying sight…I have to run out.
I gasped out in relief. For a second I thought something terrible happened.
Chike doesn't even have the heart to watch how his wife will be operated on.
On a normal day I could have laugh it off but every where was too tensed.
This men don't understand the whole trouble most women goes through just to bring forth a baby.
They think is a child's play.
Many women dies of childbirth, some lost their babies or their womb for same just curse.
Women generally deserve some accolades and not just a pat on the shoulder for the lucky ones though.
He relaxed on my shoulder like a child, I pat his back gently to calm his nerve down.
After few minutes he got himself and sat up. Pacing up and down the corridor like a confused child.
I sat on a chair but when sitting wasn't helping much I decided to stand by the wall.
For over five hours we were waiting, eight hours later, still waiting. Sleep eluded us as we sat in silence.
We waited without a word, silent surrounded us.
After a little while, Chike started dozing but he was struggling to remain awake.
One of the doctors came out, he looked so worked up.
He was neither frowning or smiling. He called Chike aside, said something to him and Chike followed him immediately.
I ran after him, the doctor said I should go back.
Chike turned and said Dammi and the baby is fine but I'm not allowed to see them yet.
He gave me his car key before going in with the doctor
That was a relief. Dammi and the baby is fine was actually a hugs relief.
I was tasty, hungry, sleepy and very tired.
I decided to rest in Chike's car while waiting for more info.
I didn't know when I slept off, it was Chike that woke me up.
I checked the time it was around 3am in the morning.
He said the baby was placed in the incubator that only him and Dammi are allowed to see her.
Dammi was alright but aside him nobody else is allowed to see them.
I stayed till the following morning, Chike bought food and drinks for me. He even said I should go home and rest but I said until I see Dammi I wasn't going anywhere.
I was allowed to see her the next day. She was still weak and couldn't speak.
She smiled briefly on seeing me.
That was all I needed.
I smiled right back to her, whispered congratulations to her ear and few more encouraging words.
I left and went home.
It took a lot of struggles but I'm truly happy for Dammi.
She is a mother and her baby will be alright. I can feel that in my spirit.
While back at my quarters, I tried calling Bayo again but he wasn't picking.
Ever since last week I have called him countless times but he isn't responding.
Two weeks ago we were talking about our relationship and how the introduction will go.
I was the Master planner and he agrees to every suggestion that I raise.
He later asked me for a hundred and twenty thousand which he needed urgently for something.
I told him that I don't have such amount of money on me.
Already, I have sent over three hundred and eighty thousand naira to him
For every money I sent he promised to return it back but the more I send the money the more he demand. he is always in an urgent need.
I haven't received anything from him except "I love you Keji"
If your partner does not have, you are meant to support him, Vice versa.
Which is exactly what I did but he kept asking.
He traveled down ones to see me. Spent three days and Left. Expenses was all on me.
I clocked thirty one years a month ago, he forgot my birthday even after telling him a night before.
I have to remind him again.
Little things like this matters but he isn't taking me serious like I take him.
I'm still owning Dammi. After the fifty thousand I sent to her, I later sent another fifty making it hundred.
I haven't sent another dime ever since then.
Is been Bayo needing money for one thing or the other.
I borrowed fifty thousand from Stella just to send to Bayo when he needed money very urgent.
I finished Mr Kanu's book and it was very interesting.
Ava was deceived and her heart manipulated into getting married to Tony who duped her and almost got away with it.
Ava was desperate and thought Tony was better off than Israel after moving down to Jalingo.
But Tony was cunning and a big liar who deceived her.
It turned out Israel was a better one than her almighty Tony.
But by the time she retuned back to Israel it was already too late.
The writer did a great job by passing a clear warning to ladies especially singles.
When next I want to read another story then Amah's Heart will be a pick for me.
I'm not desperate or foolish like Avala.
I only want to settle down soon because age is no longer on my side.
Bayo maybe testing me, he maybe trying to know if I'm materialistic or after his wealth.
He may be trying to know if I'm a marriageable type. His constant asking me for cashcould all be a test.
He mentioned it the last time I sent him hundred thousand.
He said I should not panic or worry anytime he needs money from me that he might be using it to try the kind of woman that I am.
It was around hundred and fifty thousand back then when he made that Statement.
I later sent him one hundred thousand and continued sending.
Bayo probably thinks I'm a rich Lady, because I don't understand why he will be asking me for money almost every time despite knowing that I'm just a common cook and kitchen assistance.
Ever since I told him that I don't have the hundred and twenty thousand that he requested, he turned cold.
Hardly picks my calls or replies my message.
Well, let me not conclude yet, I will keep watching to see what is happening with him.
I told Dammi to be patient with me and I will pay her all her money.
she never mention or remind me about her money like she used to do earlier.
I know now that she and Chike has run so much expenses she will be in need of money .
I will find a way and arrange her money without she asking me.
Is more than a year already I borrowed the money from her.
If not for Bayo I could have paid her all off.
Philip retuned from London last week. He was there for several months.
Whenever I greet him he responds fine. But that's all to it.
Ever since he returned he has been entertaining friends that comes around.
Two has visited, a lady first then a guy came three days ago.
I wish Bayo will take everything I told him concerning our marriage rituals serious.
He agreed when I suggested the introduction first but he later asked for money and I truly doesn't have any money to spare.
He's draining and making me not to have savings of my own.
I still manage to send money to my Mom every month but it is has become a struggle.
I know I have given Bayo more than four hundred thousand if I include the urgent five or ten thousand naira to fuel either his generator or for his car.
It was as if I'm working for Bayo.
i hate to turn him down.
Since he was going to be my husband to be if God approves it then is very normal for me to help.
Three weeks later I visited Dammi, she was back home but the baby was still in the hospital.
We spoke extensively that day.
I was afraid that she will mention her money but she didn't.
As I was about to leave she said.
"Keji, I know I have been a jerk. A real life jerk. You are both a friend indeeds and in need. I don't want to say much but I'm returning back the hundred thousand you sent to me and adding extra hundred to it. Which means I will be paying you two hundred thousand. Please I'm cancelling all the debt… you deserve much more Keji. I'm sorry for all my unruly behavior towards you. Thanks for accommodating my excess nonsense. You are kind and patient, I pray that your husband to be will also be as nice and loving as you are. Thank you Keji… for everything… Oshe oremi. (Thank you my friend)
I try to reject the offer but Dammi insisted.
I couldn't thank her enough as I Left.
Marriage and childbearing has really taught Dammi a great deal.
I later sent the money to Bayo just to make him happy.
We started talking again. I reminded him about our plans and he promised to proceed but he asked me to give him time.
He asked for one hundred and twenty I decided to send him one hundred and fifty thousand instead
He didn't still call after sending the money.
I had to call just to ask him if he received the money.
He said that he could have called but was busy with work.
He apologized and thanked me.
"I was in serious need of two hundred thousand though but since you said you don't have I didn't want to disturb. Even though this one you sent is not up to what I wanted but it will go a long way. Oshe ifemi. ( Thanks my love)
We resumed our love lives again.
And preparetion was ongoing on how he will go and see my people.
He one day said he wanted to take his time in doing things but I was forcing him.
There is nothing like force here, we are not children. Why are we together if not for a purpose.
Dating him and sending my money to him is because I wanted a future with him.
A woman has picked his call like three times but he later said that is his sister that comes around often
I didn't make big deal out of it because I wanted a future with him.
I'm not forcing him because I'm not really desperate.
I just wanted to get married. Let it not look like my own case is different from my friends.
I'm not desperate in anyway, Or am I?
My story is not even related to Avala. Ava was desperate and believed Tony's empty Promises.
I can't be that foolish
Bayo later apologise and we talked about the how it will be like.
He even mentioned the color of the day and I was really pleased because he became so serious with the whole thing.
It continues like this, I was very happy and went about my daily business excitedly.
I bought a ring and wore. So that they will see that I'm engaged already.
I even told those who cares to listen that I will soon be traveling to Ibadan for my introduction.
The news started flying as many started congratulating me.
I was super excited and kept jumping around like frog.
People like Ijeoma who still doesn't like me didn't have a word to say except.
"Oh finally he decided to do introduction on your head? You have been making mouth for several months now, almost a year concerning your so called man, I was sick and tired of it. Because with the way you make mouth I thought he would have married you ever since. Sha congratulations… let it not be like I did not congratulate you. Atleast we will all all rest from your constant reminder of this your husband to be. Our ears will finally rest.
She indirectly still congratulate me. I don't care about the rest of the things she said.
She will learn to respect me ones I get married.
Bayo is probably very rich and testing me and now that I have passed his test he then understood that I'm a wife material.
I had so many exciting thoughts as I kept making arrangements of my upcoming marriage introduction.
I returned from work to my quarters one evening and saw several Missed calls both from Bayo and one other new number.
I decided to call Bayo first, a woman picked up and started cursing.
"Ashawo (prostitute) so you have been the one selling your cheap self to my husband? Wait let me ask you a question, has men finished from your planets? is it only Bayo…my husband that is the only remaining man in your miserable world?
I was confused, I removed the phone from my ear and recheck the caller again.
It was still Bayo.
What's going on?
"Hello madam… who are you?
I asked with a shaking tone
"So you're this stupid and foolish not to know who i am. Okay, let me tell you… I'm Mrs Bayo, we have two lovely children. I just gave birth last week making it two. My husband is a good husband who gives me and the kids whatever we need. He said that you have been sending him money so that he can leave me and marry you? You are a desperate witch….ashawo. you want to divide my home abi…it won't work. I don't care how two of you met or how long this whole rubbish thing has been going on but if you ever calls my husband again then I will go extra miles for you. Oloshi (thief)… Cheap ashawo (prostitute)like you…
She started cursing me.
I quickly ended the call
I was trying to understand what exactly just happened.
Could it be another test from Bayo or is this real?
I decided to send him a message but to my greatest surprised he used a woman and two children, one is still a new born baby as his profile.
He even added family time out in his status.
I chatted with him to demand explanation of what exactly was going on but he didn't reply any of my chats.
I called him and the same woman picked up.
"Cheap slut! Ashawo so you shamelessly called him again eeeh! You unfortunate bastard…. you will not die well o. For trying to destroy my marriage you will regret it. Bribing a man to leave his home to marry you… desperate olosho. If I'm ready for you, I will look for you in any ant hole that you are. My husband said you are in Abuja, I have friends in Abuja that can dig you up and mess you real up. I will share your pictures all around Abuja, pay advertising agency to broadcast your cheap ass out. If I'm ready to deal with you, nothing will stop me. You messed with the wrong woman ashawo… desperate slut…
I ended the call as She continued cursing.
There was a number that called me earlier, I decided to call it.
"…Yes, is still me oo. Ashawo one kobo. Sending money to a married man with family and begging him to marry you… Cheap slut. As far as you drink water and walk on this same ground that I'm standing on you will suffer greatly for trying to bring my home down….
I quickly interrupted.
"Your curse will only work if I know what exactly you are talking about. Bayo never mentioned to me that he was married or acted like he has a family. Your curse will go back to you and to your idiotic of a husband. I never paid him to marry me..he told me that he needed mone…..y…
She was still cursing without even trying to hear me out.
She ended the call while I was still speaking.
I tried calling back to return back all her curses in double fold but they have blocked me in both lines.
I walked round my room like a mad woman.
Tearing down things angrily.
I threw my phone to the wall and it smashed.
I fell to the ground and broke down crying.
This is not the route I wanted to take, no this is not how I planned my life.
Bayo has just killed me. Bayo has destroy me into pieces.
"Bayooooooo…..!