Married To A Millionaire. Episode 24
3 min read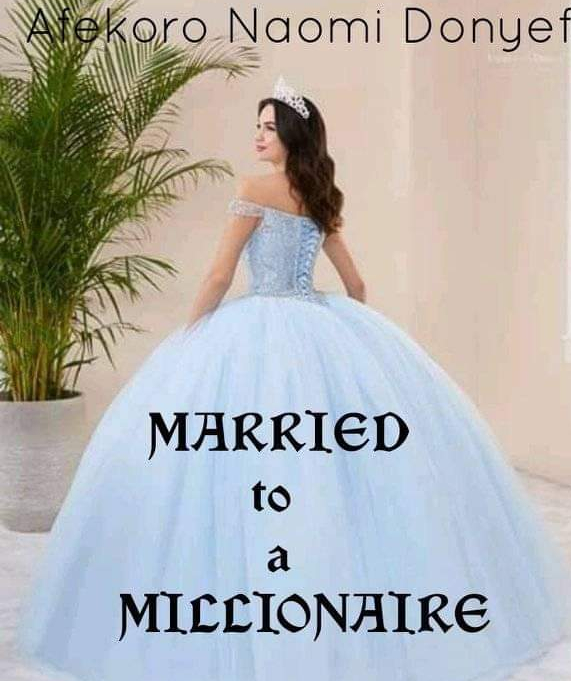 ♥️ Married to
A
Millionaire ????
♥️(Blackmailed into marriage)????
••••••••••••••••••••••••••••••••••••••••••••••
••••••••••written by
Afekoro Naomi ????
Romance ♥️. Betrayal ????. Deceit????.
???? Episode (24) Twenty_Four♥️
°°°°°°°°°°°°°°°°°
Shawn????
I wonder if I'd be able to keep my hands off her till after the party. Gosh,I can tear her clothes off. Mariah, Hannah Daphne and our mothers made sure her dress was top notch.
Who'd believe my little Cassie would look like a woman tonight.
Our eyes met again and she blushed. I just hope sara would be safe with Mrs Pamela.
I just have a strange feeling concerning tonight.
"I can hardly keep my hands to myself." I whispered into her ear and noticed her go tense.
I slipped my hands into hers, creating friction and also assuring her am here beside her. She's so young and maybe that's the reason I fell quickly for her.
"I have a confession to make." I said slowly as the car came to a halt.
"What__?" She asked and I saw something like disappointment in her eyes. Is she thinking I'd call the engagement off?
"I've not said it to any other lady aside my mom and my daughter but am saying it right now, Cassandra Jones I love you and I wanna spend the rest of my life with you, pleasing you and loving you." I whispered…
°°°°°°°°°°
Cassandra ♥️
My mouth hung open as my brain processed everything he just said. He loves me? He really loves me? I asked myself as I stared into his eyes.
"I don't expect you to say it right back. The circumstances of our marriage isn't for love so I understand." He said as I nodded slowly.
I admit my heart always leaps when ever he's around. Am always at peace but I don't know if it's love,am really confused.
We got down from the car and of course the press were in their full force.
We took turns of pictures and finally walked through the red carpet and into the grand hall.
"You're looking beautiful." Daphne complimented, followed by Mariah, Hannah and then Dora.
She stretched her hands to hug me but I moved away. I still haven't accepted her as my mom. She left because of a career and got another family? Who does that? I asked myself as Shawn's mom came to give me a hug.
Dora couldn't hold back the tears,she practically ran out of the hall as tears washed her face.
"Dad!" I called as he smiled.
"You're all dolled up sweetie." He said as Shawn's dad came to stand beside him.
"There's something you need to know." Mr Jerry Handel said as I turned to look at Shawn.
"I hope it isn't bad news?" Shawn asked as I sighted Dylan and Brianna talking to some group of ladies.
Of course Martina refused to attend the party, using her fashion show as an excuse.
°°°°°°°°°
"Come on Jerry, Chad you can tell the kids after the party. Tonight is really special for them." Fiona cautioned as they both chuckled.
Dora????
Tears pooled in my eyes as I ran out of the hall. She hates me,still hates me. I hiccuped and kept on walking till I was a little bit far from the hall.
I needed to calm down and think properly,think of a way to make my daughter love me again.
Just then,I noticed some movement in the nearby building. The building that serves as the kitchen for the event. But who could be in there?
The party is just starting and the caterers are yet to arrive. I walked slowly till I got to the entrance of the building.
The door was shut from inside but luckily for me,the windows weren't.
I peeped and saw a lady, sliding a knife into her socks. My heart skipped as my palms became sweaty.
Who could she be? I thought, looking around as a thought struck me.
'what if she's after Cassandra?'