Married To A Millionaire. Episode 28-29
5 min read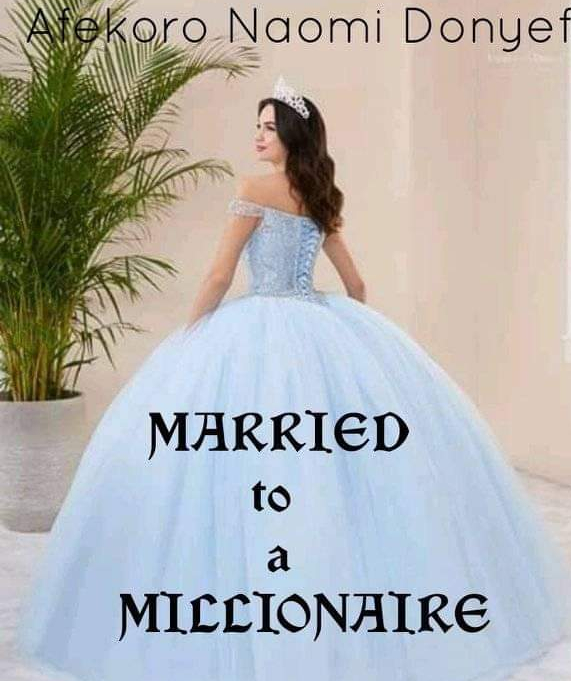 ♥️ Married to
A
Millionaire ????
♥️(Blackmailed into marriage)????
••••••••••••••••••••••••••••••••••••••••••••••
••••••••••written by
Afekoro Naomi ????
Romance ♥️. Betrayal ????. Deceit????.
???? Episode (28) Twenty_Eight♥️
°°°°°°°°°°°°°°°°°
Cassandra ♥️
"Wow? It's lovely." Fiona said as they all sat around me. My cheeks flushed as I tried to mask my excitement. Just some months back, I'd have been angry but now__? I can't say that.
"Thanks, thanks." I said, looking around to know if Dora showed up or not but of course I've pushed her away for so long.
I just wished I could take the hate away from my heart. I just wished.
Soon,I noticed Colline walking out of the place while smiling at her iPad. It made me wonder if she's seeing someone or been lured into a trap by someone.
°°°°°°°°°°
"Come on it's time for you all to change into your dresses." The attendant said, smiling lovingly at us as they all scurried into the changing room.
I decided to walk out of the place to see what colline was up to.
I walked away from the building, checking around for her until I sighted Dylan talking to her.
Are they together or what? I asked myself but of course I couldn't get any reply.
°°°°°°°°°
Dylan????
I couldn't stop the smile on my face when she emerged from the building. She had her iPad in her hand as usual and a sweet smile plastered to her face.
"So you're gonna attend the wedding right?" I asked, knowing fully well that she'd attend it.
She nodded and turned to look around before kissing me on the cheeks. Her cheeks were red when I snaked my hand around her and drew her closer to myself.
The only thing restraining me from asking her out is Shawn. Who knows she might be his mistress under disguise.
A soft cough behind us drew us apart as I turned to see Cassandra staring angrily at me.
"What do you think you're doing with her? Huh?" She asked as I rolled my eyes.
"Are you her nanny? Or babysitter?" I asked as colline came in between us. I knew she didn't want any argument so I pulled her to myself.
"Just so you know being my brothers fiance doesn't give you the right to prey into my privacy." I spat at her and pulled colline away.
Hannah ????
"Hey what's wrong?" Travis asked after seeing me in the same spot after three hours. I pretended not to have heard what he said cause right now,I wasn't in the mood for talking.
Well you could say i was sulking. "Heyo did you see the hockey__?" Marvin trailed off as he sank into the sofa next to mine.
"Is she sick or something?" He asked and I was forced to roll my eyes. "What's wrong little princess? Huh?" Jeffrey asked as I sighed.
Well they're my soldiers,my pillars. Ever since we lost our parents, they've been all I have. My brothers are my world.
"Am in love with__"
"In love with Chad." Jeffrey said, cutting me short as I turned to stare at them.
"He doesn't love me, he__ he" I said, hiccuping as they rolled their eyes.
"It's normal angel,it is."
♥️ Married to
A
Millionaire ????
♥️(Blackmailed into marriage)????
••••••••••••••••••••••••••••••••••••••••••••••
••••••••••written by
Afekoro Naomi ????
Romance ♥️. Betrayal ????. Deceit????.
???? Episode (29) Twenty_Nine♥️
°°°°°°°°°°°°°°°°°
Shawn????
I walked into the bedroom assigned to Cassandra by mom. She stopped us from staying in one bedroom since our wedding is a few days apart.
She sat facing the window,lost in thoughts. "Hey, what's up?" I asked as she turned to look at me with a worried expression.
"It's colline and Dylan. Something is up." She said as I furrowed my brows. What does she mean by that? Colline and Dylan? I asked myself.
"I saw them together,she kissed his cheek. Do you think something is going on?" She asked as I shrugged.
"Who knows. If she's comfortable around him then I have no problem with that. Considering what she has gone through." I said as she knitted her brows.
"What happened to her?" She asked as my phone beeped.
"She was raped by her father." I started as her eyes grew wide. She shook her head tentatively, probably cussing under her breath as I sighed.
"Not once, not twice but occasionally until she clocked eighteen." I said as she shook her head in horror, clamping her mouth shut.
"That's,thats so horrible." She whispered as I wrapped my arms around her.
"It's alright. So if she's free with Dylan, it's okay."
°°°°°°°°°°
Cassandra ♥️
"Oh my goodness, you're so bad." I grumbled as a red thong and lingerie came into view.
Right now, we're at my bachelorettes party and Daphne got me a lingerie. My cheeks were hot and probably red from blushing so hard.
"Woah, look what she got you." Hannah said as mom's gift came into view. It was a box containing jewelries and an album of my little photos.
Tears pooled in my eyes as I looked into her eyes. The next moment,I was throwing my arms around her and enveloping her in a hug.
"Thanks Mom, thanks so much for this." I whispered and saw Hannah leaving the room.
She had tears in her eyes and it made me wonder why. No one seems to notice so I moved out of the room and went in search of her.
°°°°°°°°
I saw her running towards the rooftop as I followed suit. Why did she run out? I asked myself as I climbed the stairs quickly.
"Hannah, Hannah." I called as she sat on the floor,her hands clutching her stomach. "You don't have to be here. Go on and enjoy your night." She said as I shook my head negatively.
"You're not fine,I know it. What's wrong?" I asked as she turned to look at me. "He loves her." She blurted out in a whisper,I had to strain my ears to hear properly.
"Who loves__?" I had barely asked the question when realization struck me.
She's talking about mom and dad but that's delusional. I know dad loves her. My eyes swept over the hand clutching her stomach as I stood in shock.
"Hannah, are you pregnant?" I asked as she gasped and looked into my eyes before looking at her stomach….