Married To A Millionaire. Episode 32-33 (Finale)
5 min read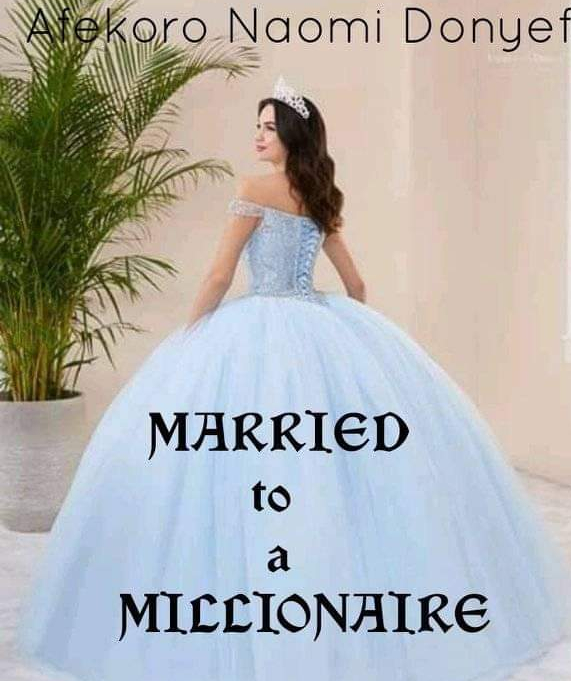 ♥️ Married to
A
Millionaire ????
♥️(Blackmailed into marriage)????
••••••••••••••••••••••••••••••••••••••••••••••
••••••••••written by
Afekoro Naomi ????
Romance ♥️. Betrayal ????. Deceit????.
???? Episode (32) Thirty-two♥️
°°°°°°°°°°°°°°°°°
Regina????
I puffed tge cigarettes as the smoke filled the little confinement of my bathroom. I'd have smoked in my bedroom but my mom's so sensitive.
I threw the little stick into the toilet seat and flushed it before grabbing my toothbrush. My meeting witg Miranda kept on replaying in my head as a kbock resounded through the bathroom.
"Regina__? Regina." Mom called and I turned on the shower Immediately. The smell from my cigarettes still filled the air and she'd go ballistic if she finds out about my rebellious act.
"Mom,am in the bathroom." I yelled not caring if I was straining my voice.
Shawn and I had met in a club at Paris and of course we had a fling. We met again here and he later found out I was a Gynaecologist so I helped him all through Sarah's conception.
I had even volunteered to Carry the baby but he'd declined.
Tears pooled in my eyes as I jabbed my teeth so hard it hurt. Miranda must work for me,she must do my dirty jobs and that's final.
°°°°°°°
Miranda ????
I continued to stare at the test results in my hands and the picture of a little girl who looks so much like Fiona. Tears gathered in my eyes when I recalled the lovely moments I had with Shawn.
Still can't believe it's over. "Hey it's all right dear.it is." Teresa my prison mate said, pulling me into a hug. I snuggled closer to her as a sob tore through my body.
"I had no one growing up,my mom worked in a bar and I learnt to become a slut there. I really wished I was the one getting married tomorrow." I said in a hiccup as Teresa patted me lightly.
"Your perfect match would come sooner or later. It's all about patience and learning to appreciate who you are." She said again and I nodded.
°°°°°°°°°
Cassandra ♥️
"I can't believe she's still asleep." I heard Daphne say from a distant before pulling the duvet away from my body. I groaned and smiled.
Shawn and I have decided to surprise the family with Sarah's presence today. Hannah and Daphne ushered me into the bathroom.
"Oh my goodness,am gonna get sick due to__"
"Shut it and get out " Hannah yelled as I clamped my mouth shut. "Alright. Alright." I replied and hurried out of the bathroom to meet turns of make up artists.
°°°°°°°°°°°°
In no time, I was dressed in my white dress,stud earrings and a moderate make up since I didn't like it that much.
"My baby is looking beautiful." Mom said, locking me in an embrace as Daphne joined in. Next,colline Hannah and Fiona joined in as we all hugged each other.
"Come on let's get going we don't wanna be late." Daphne said as everyone chuckled.
♥️ Married to
A
Millionaire ????
♥️(Blackmailed into marriage)????
••••••••••••••••••••••••••••••••••••••••••••••
••••••••••written by
Afekoro Naomi ????
Romance ♥️. Betrayal ????. Deceit????.
???? Episode (33) Thirty-three♥️
°°°°°°°°°°°°°°°°°
SEASON_FINAL
Shawn????
The wedding bells rang and Immediately I knew my bride had arrived. I couldn't keep the smile off my face as the ladies began their walk in.
Soon, Cassandra walked in,in her white and beautiful dress. My breath caught in my throat at the sight of her.
She looked extremely gorgeous. After the wedding,at the reception, we'll introduce Sara to them.
"Take good care of her. I'll have you hanged if she sheds tears." Her dad said and I nodded.
We turned to face the priest as the ceremony started in full.
°°°°°°°°
Soon,we said our vows and of course the kiss followed immediately.
"Congratulations dear. Congratulations." People kept wishing as we made our way to the car.
I had a strange feeling about today but I decided to push every negative thought down the drain.
I don't wanna ruin the day for everyone.
We were about getting into the car when a gunshot stopped us
Everyone went low as we finally raised our head and turned to look at who was shot.
"No__ no___ Hannah." Cassandra screamed, running towards Hannah as tears rolled down her cheeks.
"Come on, she'll be fine. She'll be fine." Mom and Dora kept on saying as we made our way to the hospital.
I guess the reception has been cancelled.
Cassandra ♥️
I sat restlessly, waiting for the report of the doctor. Why would someone try to kill Hannah? Or did her brother's offend someone?
I turned to look at dad as he bowed his head. He must be going through pains.
I walked uo to him and wrapped my arms around him as he sighed.
"She's carrying my baby." He whispered as I nodded. "Yeah." I replied curtly,patting his head as the door opened.
The doctor walked out, wiping her hands on a napkin.
"How's she? The baby?" Dad asked as everyone stood up, walking towards the doctor.
"She's in a critical condition. The bullet hit her stomach and there's a slim possibility that she and the baby would come out alive." She said as dad pulled her roughly.
"Look at me woman! Nothing must happen to her. If anything happens to her and my baby, you'll have yourself to blame." He spat and walked away as tears pricked my eyes again.
Martina ????
"What! You shot another lady?" I asked,not able to believe my ears. "Yes boss, we're sorry." They chorused as Brianna scoffed.
"Mom! You said they were the best. You said they are good now this?" She asked, clearly disappointed as I stood up.
I have to make her listen or she'd make a rash decision.
"Look hunny,that's not it. They probably mistook__"
"Bullshit! I'll do it myself then. The wealth and all is ours,no one else's." She said and walked away and I sank into my seat.
"Get lost." I screamed at the delirious guards as they scurried away.
"Sooner or later, she'll die." I whispered and gulped my tequila…..
THE END