Married To A Millionaire. Episode 12
5 min read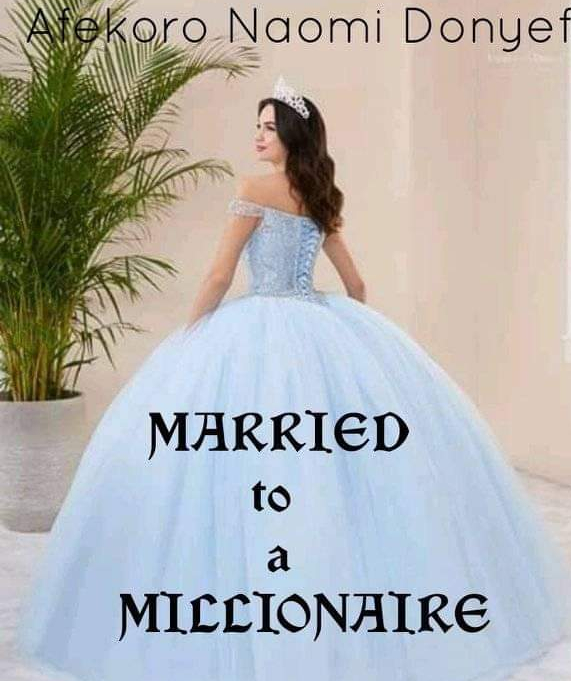 ????♥️ Married to
A
Millionaire ????
♥️(Blackmailed into marriage)????
••••••••••••••••••••••••••••••••••••••••••••••
••••••••••written by
Afekoro Naomi ????
Romance ♥️. Betrayal ????. Deceit????.
???? Episode (12) Twelve♥️
°°°°°°°°°°°°°°°°°
Hannah ❤️
"I think your statement needs an explanation." I said, walking into his bedroom as he turned to look at me. "what explanation? I only stated a fact." He replied and I saw anger and something else flash through his eyes.
Was it jealousy? I really hoped but it was already gone. His face suddenly held no expression. "What fact? Huh? You have no right to detect what I should do with my life." I replied and waited for him to talk but nothing came out.
He's such an arrogant jerk! "Suit your self." I spat and walked out of his bedroom. I needed to get home quickly and prepare dinner for the family.
°°°°°°°°°
I rushed out of the train, running down the street to my house before noticing the door was left ajar. Hayden and Jack would never do this so who? I asked myself as I walked into the house.
I know they'd never do something like this, meaning there's an intruder here. Before I could say jack,the cold edge of something was pressed tightly to my head.
I shivered in fear, trying to turn but a loud smack on my head pushed me to the floor. "You love him, don't you?" The voice asked and Immediately I knew it was a lady. But who could this be? I asked myself as she finally turned to face me.
"Do_Dora?" I called and she chuckled, walking round me as she sighed. "You know me?" She asked and I nodded. "Yeah I do, where, when_" I stuttered as she pulled me up.
"I just wanted to know about my daughter, Cassandra." She said, gulping hard as I furrowed my brows. She left her daughter for the past years yet she's back? Why? I asked myself as I saw tears pool in her eyes.
"She's okay but not with her dad presently. Where have you been?" I asked as she motioned to a chair. I understood immediately and followed suit.
Cassandra ♥️
After lunch,he led me to his bedroom where he sat me down on the bed and moved to the window. "So you must be wondering why I brought you here." He started as I sighed.
"Yeah. Why did you bring me here and why did you choose to get married to me?" I asked, looking at his back view.
"I need a baby within a year." He said as his words resounded in my ears. "A baby?" I asked and he nodded. "I need a baby for a bone marrow transplant." He said,yet I wasn't understanding him one bit.
"What do you mean? Huh?" I asked. Is he expecting me to carry his baby? I don't just understand him.
"I have a baby, one year old. She's down with cancer." He said as I stood up abruptly. "What! Am sorry about that." I whispered and noticed his eyes go dim and dark.
Who'd believe he has a child? Besides are his parents aware? The questions kept coming on and on as we stood facing each other.
"So I need a baby really soon. If possible in three months." He added as i shivered. He's really serious concerning this and there's nothing I can do about it.
Gosh,I haven't had my first kiss yet he's preparing me for carrying a bump? I watched as he walked over to the wardrobe and threw it open. After selecting some clothes,he picked a polo shirt out and slid it on before walking to the door.
"Everything you need would be given to you by Fernanda, I'll be leaving for work." He said and I nodded. I just needed to talk to my dad but asking about that_
"There's a phone on the bedside table,call your dad,tell him you're okay." With that,he turned around and walked out of the room.
°°°°°°°°°°°°°
I took in a deep breath before exploring the bedroom. Gosh I need to tell Daphne about the recent events. I bet she's worried sick over me.
The door opened as soon as I picked the phone and a maid walked in. She had a smile on her pretty face and a big box in her hands.
"How are you miss?" She asked as I chuckled. "It's Cassandra, Sandra for short." I replied but she declined. "No,no the boss would be mad at me for calling your name." She replied as an oh! Left my lips.
"What should we prepare for dinner?" She asked as I furrowed my brows. I wonder why she asked but nevertheless,am gonna reply her.
"Veges, bagels, croissants and any other food you feel like adding." I replied as she nodded.
"These are things which were ordered by the boss,he wants you to have everything." She said and walked away.
I opened the box and Immediately I came face to face with some undergarments. The blush rose to my cheeks as I sighted a night dress, totally slutty. Does he want me to wear this or what? I asked myself, almost chuckling.
He's not so bad after all. I thought, smiling at nothing in particular.
Shawn????
The car stopped at a very discreet place in the compound before I alighted it. I walked briskly into the club, heading to the elevator as several workers who came across me bowed down.
She's the first person that knows about Florentine,my baby. I closed my eyes at the thought of losing her. I've never believed in marriage so I'd decided to get a surrogate mother to carry the baby for me.
"Sir, we're here." Johnson's voice drew me back from my trance as I walked out and got into my office to meet Miranda's angry glare.
Immediately,I knew something was wrong, something was off. She threw daggers at me with her eyes but I really didn't care about that right now.
"You've decided to ditch me?" Her high pitched voice shot through my ears in a revibrating tone.
"Tell me,did you?" She asked almost in tears as I scoffed. "Just so you know,we never dated and that girl you see is gonna be my baby's mother in the next few months." I spat as her eyes widened in shock.
"You. You_ don't." I raised my hands up. "Resume your duty." I said sternly and Immediately she scurried out as I heaved a sigh of relief….