Married To A Millionaire. Episode 18
7 min read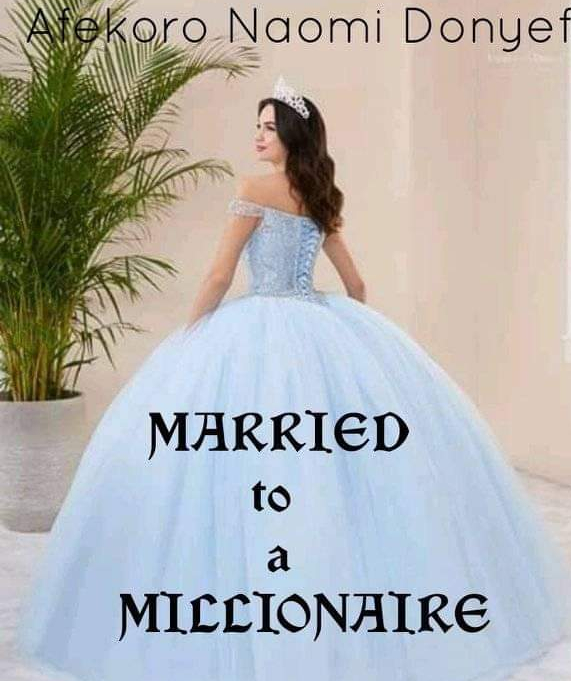 ????♥️ Married to
A
Millionaire ????
♥️(Blackmailed into marriage)????
••••••••••••••••••••••••••••••••••••••••••••••
••••••••••written by
Afekoro Naomi ????
Romance ♥️. Betrayal ????. Deceit????.
???? Episode (18) Eighteen♥️
°°°°°°°°°°°°°°°°°
Cassandra ♥️
We all sat to eat dinner, Shawn sat next to me while Mrs Pamela sat next to colline with little Fiona in her high chair.
"Dinner was delicious." Shawn complimented as I nodded. My heart still raced from the kiss we had inside Fiona's bedroom. What's gonna come next? I thought as sara stretched her hands towards me.
I turned to look at Shawn but his eyes were fixed on his little girl and her pouted lips. "She wants you to lift her." Mrs Pamela said as I smiled.
My hands and legs quivered as I made my way round the table before lifting her into my arms. I wondered where her mom could be,why would a lady leave her baby in the care of another person? I thought as Sara's small hands found my hair.
She tugged gently on it, smiling before pointing to her father. "Daddy." She called and Shawn flashed her a sweet smile.
"I'll put her to bed, just show me around." I said, placing my hand on colline as she nodded.
°°°°°°°°°°
"Stop it." I said laughing as she placed the foam from the tub on my hair. "How's she?" I heard Shawn's voice as I swiped my head to look at him.
He was leaning on the door just staring at us as I look at Sara. "She's tough but adorable." I said and he smiled.
"You look more beautiful when you smile." He complimented and I felt my cheeks go hot from the blush.
Shawn????
I chuckled loudly and she faced the other side of the bathroom. The kiss we shared was still fresh in my mind,it gave me a hard on and it took everything within me not to take her right there.
This night when Sara stretched her hands to Cassandra,I knew they'd definitely get along and am happy about that.
Mom lost her seven months pregnancy when she got attacked in her little shop then. It was a girl and we'd so much anticipated the baby's arrival but she died even before she was born.
I decided to get another baby for her,get the baby girl she lost cause she almost went insane because of it.
I did a surrogacy and got Sara,my Princess. Though am yet to show her to mom,I plan on doing it once Sara is sound. And yes,Sara is the name mom planned on naming her baby girl.
"Are you okay?, You seem lost." Cassandra said as I looked into her eyes.
"Am good, I'll be waiting in bed." I whispered but am sure she heard it cause she froze for a while before blushing hard.
♥️ Married to
A
Millionaire ????
♥️(Blackmailed into marriage)????
••••••••••••••••••••••••••••••••••••••••••••••
••••••••••written by
Afekoro Naomi ????
Romance ♥️. Betrayal ????. Deceit????.
???? Episode (19) Nineteen♥️
°°°°°°°°°°°°°°°°°
Cassandra ♥️
After bathing and tucking Sara into bed,I switched off the lights and walked out of the bedroom. My mind drifted back to what Shawn said. He'll be waiting in the bedroom? My cheeks heated up at the thought of this and I blew out a hot breath before pushing the bedroom door open.
The shower was running so I knew he was in the bathroom. I looked around the bedroom, taking in its beauty as the buzzing of a phone drew my attention.
I moved over to the bedside table and picked Shawn's phone up. Miranda was boldly displayed on the screen and I gulped hard. I was battling within myself to pick it up or not to pick it up.
The phone buzzed again and this time,I picked the call and her slutty voice rang through my ears. It annoyed the hell out of me.
"Shawn's not here, you can leave a message." I said as she gasped. "Give the phone back to him,am his secretary and I have every right to talk to him." She said as I scoffed.
"But I just told you he's not here,or_" the bathroom door opened and Shawn walked out in just his towel. It was wrapped around his waist and he had water dripping from his chest down to the towel.
He raised his brows in Inquisition and I looked at him before sighing. "Miranda. I told her you aren't here." I replied truthfully and noticed his eyes go dark.
Was he angry? I asked myself, waiting for the worst to happen but he only stretched his hands and collected the phone before placing it on his ear.
°°°°°°°°°°°
"Miranda, what's the matter?" He asked but I couldn't hear her response and it made me curious.
"We'll see tomorrow,I need to rest." He gave the Curt response and disconnected the call.
"Don't tell me you plan on sleeping with that_" he stressed as I looked at my dress. Colline had given me a little dress to wear and I saw nothing bad in it but it seems he has a problem with it.
"Wh_what, you don't like it?" I asked and he nodded. "I'd rather have you in the duvet than in that ugly looking dress." He replied as I chuckled.
"You_ you don't mean it, do you?" I asked but he only gave me his back and began to change into his PJs.
°°°°°°°°°°°
Shawn ????
I got into the PJs and climbed into bed. I was damn tired but my mind and body wasn't willing to sleep just yet. I watched as she picked the night dress up, touching it as if it'd melt away.
After changing into the night dress which stopped directly on her mid thighs,she walked wobbly to the bed and climbed in.
I needed to touch her to keep my sanity cause it's been the top priority on my mind. "Why are you fretting? Are you scared I might go beast like on you?" I asked, sensing the fear and probably insecurity in her.
"You don't need to worry,I don't plan on fvcking you tonight, just wanna cuddle you." I whispered before pulling her in for a hug.
My lips met hers in a sweet brief kiss which had her melting into my arms as she deepened the kiss, kissing me feverishly as her hands snaked up to my neck, wrapping them firmly around my neck as I moaned.
"Our engagement party is coming up this weekend." I announced after we ended the kiss and she just nodded. Though I blackmailed her into this,I feel no regrets. It's as if it's the best thing that ought to be done.
Being around her feels like haven and kissing her is something I wanna keep on doing for the rest of my life. Sweat formed on my brows at the sudden realization that I was slowly falling for her.
To be honest, I've never fallen in love with any lady,I never even believed in love or marriage but an highschool girl is making me see things in a different perspective and I think I like it.
Hannah ????
I sat nervously next to Chad while Dora sat next to her husband George. I managed to convince Chad on meeting his ex_wife Dora and now am kinda nervous.
The three of them are in a love triangle while am so out of place. I looked around the fancy restaurant, thankful that people were not much and the air seems light.
"So just like I asked before where's Cassandra?" Dora asked me and I noticed Chad clench his jaw. He must be really angry at her question. I just hope he keeps his cool.
I spoke to him about his temper before coming here and I believe he'd do it for me. Just then, Daphne rushed into the restaurant, looking around until her eyes finally found Dora.
She beamed with a great smile before walking towards our table. "Sorry am late." She said before sitting as her smile faded.
"Hannah? Mr Jones?" She called as Dora turned to look at her. "Do you know them? How?" She asked,ready to hear whatever the reply may be.
"Yeah I do mom, this is Mr Jones Cassie's father and Hannah her aunt." Daphne said as all the blood drained from my face and Dora's face.
"Mom? Is Cassandra my sister? Is Mr Jones your so called ex?" Daphne asked the same question that has been bugging me, the same hunting question which everyone needed answers to.
"Ye_yes,he is." She replied, probably surprised that her daughter's have been best of friends and she never knew.
"Mr Jones,is that why you hate me? Because am not your daughter? Because she bore me for another man? Huh?" Daphne asked and for the first time tonight,I saw pain and remorse in Chad's eyes. He was probably sorry for the wrongs he'd done.
Another part of my heart sank low at the thought of him knowing such vital information and keeping it to himself.
"Am outta here." Daphne said before grasping her purse and running out.