Married To A Millionaire. Episode 4
3 min read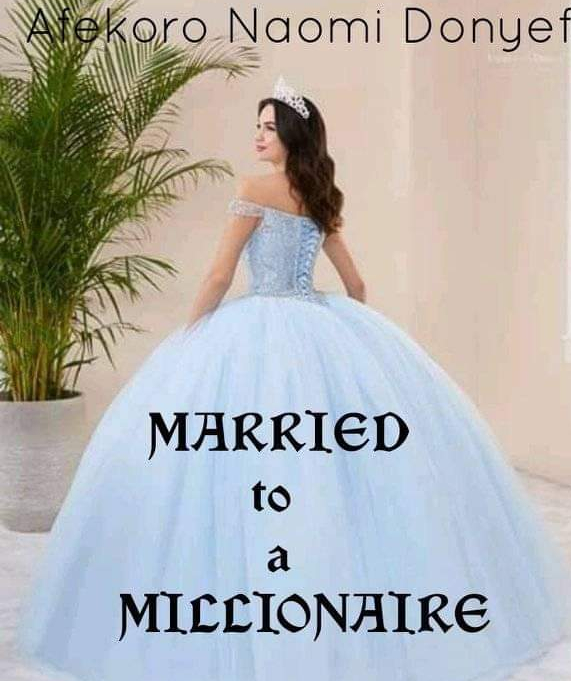 ????♥️ Married to
A
Millionaire ????
♥️(Blackmailed into marriage)????
••••••••••••••••••••••••••••••••••••••••••••••
••••••••••written by
Afekoro Naomi ????
Romance ♥️. Betrayal ????. Deceit????.
???? Episode (4) four♥️
°°°°°°°°°°°°°°°°°
Cassandra ♥️
I arrived home feeling really exhausted and tired. I could barely keep my legs moving but I knew what awaited me in there. Dad isn't feeling too well and he's not usually strong.
"Sandra I see you're home. The supplies got finished and your dad hasn't stepped his legs out of his bedroom ever since you left for school." Hannah said as I gasped.
"What! Did you try checking on him?" I asked, trying to keep my voice low since we still had a few customers within earshot.
"No…i didn't get the chance. The customers just wouldn't stop coming in." She said and Immediately I took for the stairs.
I threw the door to his bedroom open in a swift move and rushed in. "Dad," i called as he stirred before opening his eyes. They were puffy and red. I knew he'd been crying and it tore at my heart.
"Stop already. I'll ask for help from Daphne her father is rich and_"
"Stay away from her I've said that countless times." He scolded as I looked away from him. "But dad,"
"Go and change, I'll prepare your lunch." I knew the discussion had concluded so I just turned and walked away.
I still don't know the enemity he has with Daphne.
*
*
I walked into my little bedroom before shrugging my clothes off. At eighteen,I don't have a boyfriend,a phone or even a make up kit but am okay with it.
I'd rather stay without it than bothering my father with it. I changed into a short Jean and a polo top before walking down the stairs.
"Come on eat." Hannah said, pushing the bowl of fruits salad under my chin.
I know there's something going on between dad and Hannah but I can't really tell. Maybe she still wanna keep it hidden cause she's still so young.
I pushed the thought of and digged into my dessert.
Brianna ????
I chose not to come along with the family for the dinner. I knew Shawn was going to make a grand entrance and so am I.
After an hour of dressing and making up,I descended the stairs in my little black dinner dress. I always love to dress up and make guys drool over me so I walked over to the waiting limousine.
After getting in,the driver started the car and I sighed in relief. A message popped into my phone and i had to roll my eyes at it.
It's really really ridiculous. How can mom be asking of my whereabouts? Am twenty two for crying out loud, she should be caring about Mariah not me.
*
*
"We're here." The driver said as I waited for him to open the door for me. "Once am ready, I'll give you a call."
"Oh my she's looking pretty." Mariah squealed as I rolled my eyes. At sixteen, she's just a drama queen and i really can't put up with her that much.
I can't wait to leave that fvcking house and own my house.
"Didn't you talk to him before setting the dinner up" mom asked but i only scoffed.
"This isn't the first time he's doing this. He thinks his freaking money can buy us all." I spat and heard someone chuckle.
"I can't buy you but my money speaks for you." Shawn said as we all turned to look at him. He brought her? His mom?
I heard mom gasp as his mom stood rooted to her spot.
"Why is she here?" Mom was the first to ask before dad nodded. I must confess her jewelries looks really expensive.
"She's my family. If you can't put up with her you may leave." He spat before pulling out a chair for her.
Silence followed after that as we all sat rooted to our chair. Now this is gonna be a different and long night. I thought before sipping my wine.