Married To A Millionaire. Episode 8
4 min read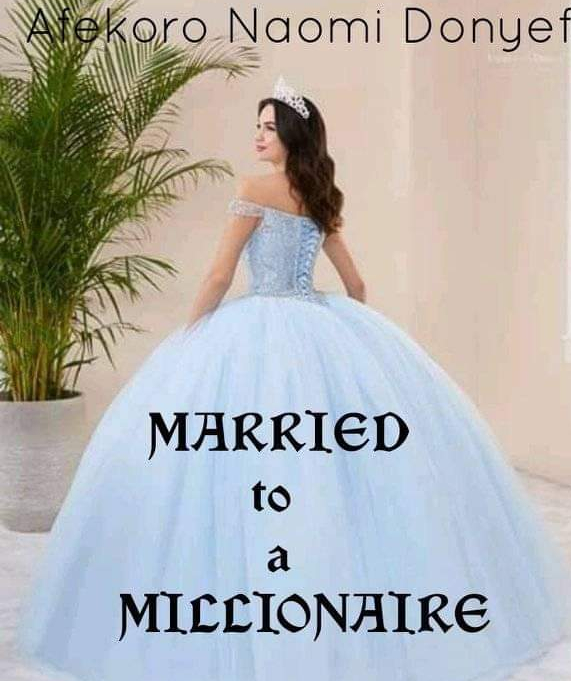 ????♥️ Married to
A
Millionaire ????
♥️(Blackmailed into marriage)????
••••••••••••••••••••••••••••••••••••••••••••••
••••••••••written by
Afekoro Naomi ????
Romance ♥️. Betrayal ????. Deceit????.
???? Episode (8) Eight♥️
°°°°°°°°°°°°°°°°°
Shawn????
We rushed out of dads office, running down the stairs towards where the scream was heard from. "You have no right to be here, you definitely have no right." Martina's voice rang through the house as I saw her sitting on the floor.
Mom must have pushed her down and I was very surprised at that. Mom was never a violent person,she preferred a quiet and peaceful life but this?
"Oh of course I do. My son is a part owner of this house and so am I, don't forget I was once his wife!" Mom stated bluntly before turning around to look at dad and I.
"What's going on here?" Dad asked as Dylan walked in. He casted us a look before walking up the stairs. I guess he's also tired about everything going on.
"Who let her in? Why's she here?" Martina screamed as mom just tapped her feet lightly on the floor.
"I did and there's nothing you can do about it." I replied and pulled mom away.
°°°°°°°°
"Mom?" I called as I tucked her into bed that night. "Shawn, what's wrong?" She asked, sitting up and looking into my eyes.
"I'll be getting married very soon,to a pretty lady. Once we're ready, you'll get to meet her." I said as she gasped.
"You aren't getting married to Miranda?" She asked and I chuckled. She actually thinks am dating Miranda? Well I don't blame her.
"No mom, you'll meet my girlfriend soon." I replied with one thing in mind and that's Cassandra Jones. She's very timid and would be good enough as a wife for me.
Cassandra ♥️
The home phone buzzed for the fifth time and that's when I noticed dad must have gone to bed. I slipped my feet into my flip-flops and dashed out of my bedroom, walking over to pick the phone.
I wonder who'd be calling by this time of the night, though the bar was still buzzing,I knew it was way past midnight.
"Hello." I spoke into the phone and the most dreadful voice greeted me. Shawn Handel's voice.
"Have you thought about my offer cause the police would be visiting your father tomorrow,I have a lot of money to make sure he rots in jail." He said as I shivered.
I knew this wasn't a mere threat,it was more than that. "Yes I've thought about it." I lied even if I barely gave it a thought.
My mind was focused on my up coming examinations and others.
"So…?" He asked and I sighed. "Alright I'll marry you, just so you know you blackmailed me to accept this and I don't know why." I said but he only chuckled.
"I'll be coming over tomorrow, look pretty." The line went dead as I wrapped my hands around myself.
I don't even know what to do. I walked up to my bedroom and collapsed on my bed. I just agreed to a marriage with the devil himself.
Miranda ????
"Hey is he in?" I asked Mariah the next morning as she sat to eat breakfast. She looks just like Shawn, only in a feminine version.
"I have a name." She replied bluntly as Brianna walked down the stairs. "Oh the sl*t is here." She said out loud, laughing hysterically as Mariah joined her.
I picked my phone and dialed his phone and he picked on the first ring."where are you? I just_"
"Am out of town. Go over to the office I'll be there shortly." He said as I gasped.
He actually left without me? I was really surprised. Out of town? Meaning he's visiting that teenage girl. I just hope my hunch is wrong.
I rushed out of the house and got into my car. I need to know what exactly is going on.
Cassandra ♥️
Hannah walked through the door, smiling and singing as she made breakfast. She must have gotten over her argument with dad. I thought before rushing up the stairs to dad's room.
I have to tell him now,tell him about my decision.
I knocked softly on the door and got a low "come in"
He was seated behind his mahogany table, reading. "Dad? Am getting married." I blurted out as he raised his head to look at me.
"You're joking Cassie,you're just eighteen." He said, chuckling as I tried not to let the tears out.
"Am being serious papa. Mr Handel threatened to make you rot in jail and the only way I could save you was agreeing to marry him." I said and he stood up Immediately.
"What? You must be joking. No_"
"Cassandra,Mr Handel is here." Hannah said as my eyes grew wide.
"He's gonna get it hot from me." Dad said, moving to the door and out of it as I ran after him.