The Healer. Chapter 12
9 min read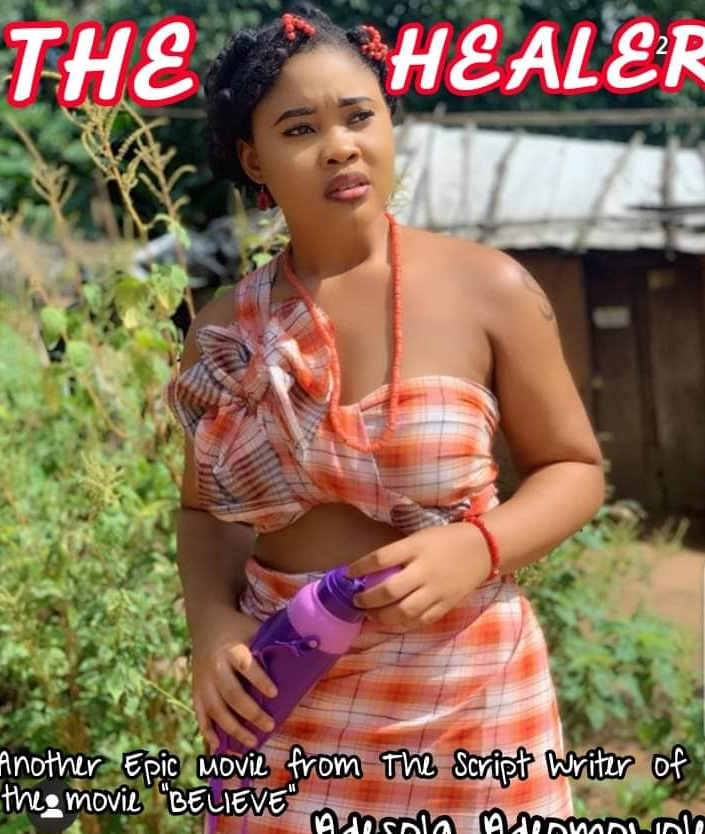 #THE_HEALER♥️
[kill me????heal my heart]
© adesola adeomowole.m.
Settings;Nigerian Epic drama????
Chapter 12????♥️????
now,enjoy..
Prince simeon ego was hurt,he was surprised someone spoke to him in that manner, not even a male but a female.
"have I suddenly turned ugly?"
he said to himself. He turned immediately,he looked at her till she was out of sight. everything about her was beautiful and loving just that she looked troublesome.
madam tamara walked down,he looked away.
"my prince"she said.
"tell me"he said.
"since you're healed and now healthy,I was thinking you might want to leave tomorrow" she said.
"umm am not completely healed..I still want to stay for some time"simeon said.madam tamara was surprised.she remembered when simeon was brought here,he shouted at everyone saying this environment is not his type.
someone would have thought simeon has changed.
"Really???"she asked.
"yes,hope you don't mind"he sounded polite.
"ohh not at all…but you once said this environment doesn't suite your health,have you forgotten"madam Tamara grinned in her head,she wondered what changed her mind totally..
"as you wish my prince,the place is set already"she said instead and left
simeon walked down to the place that was prepared by him by Aku.
I sat and poured himself a glass of wine.
madam tamara couldn't help but notice simeon smiling to himself at regular intervals
she shrugged and dragged Aku to a corner.
"nne"
"was anyone with the prince??"
"no, no one was close to his room as you instructed"
"okay"
Aku bowed and walked away.madam tamara wasn't convinced enough.
She suspected Chidinma and called Aku again
"you know what,just tell the securities to lock Chidinma up"she said.
Aku rushed out to the maids room,all were asleep.she woke Chidinma.
"did you check the prince room?"she asked.
"no,did anything happen? next time don't disturb my sleep"dinma replied.she rubbed her sleepy eyes.
"fine,madam tamara wants to lock you up you had better run away if you like yourself"Aku said with an eye roll.
"I should run away and come back very early tomorrow"she asked.
"yes madam Tamara is asleep already,she won't know you weren't locked up…all you need to do is to get back before anyone wakes up..getting locked with the securities might be the worst thing that happened to you"Aku said.
"okay! thank you! Chidinma stood,she ran to the door,the securities were already coming.
she turned to Aku.
"why are you helping me when you hate me?" she asked.
"I hate you…but after all you're worth helping" Aku said.
Chidinma smiled and rushed out through the back door.
************* light opens in chidinma's house.
chidinma's mother was sitting under the shade in front of their compound.Her face looked so sick,she was seriously down with fever.
"mama,please eat!! nonso said.
"my son…take the foods away,it makes my condition more worst"she replied.
"please mama…papa is not around,aunty Chidinma is not around also"
"mama you're crying"….
"mama please"…
nonso stated.
"only the gods know what my daughter is passing through in tamara's house"she said.
"but today is the third day…it remains 4days"
"I know..but the 4days looks like 4months in my eyes"..
"hmmm…it's okay"
mother and son hugs each other.
????????????????????????????
Prince Drema's suite
As usual,drema couldn't sleep at night.
He was just stuck with a bowl of popcorn and the boring story teller as usual..
"how many more hours is left for the day to break?"he asked.
"my prince,it's just 9pm"the woman said.
"that's still a long way to go"he replied and fell on his pillow.
"don't make that face again my prince,it's not cute"the woman said.drema took the other pillow and covered his face.
"can you check my phone for me??
"sure"
the woman took his red phone.
"is there any missed call from Nora?" he asked
"hmm no"
"what about missed messages?"
"no my prince!!
"I just want to be alone for now…get the fuck out of my room"he said.
the woman still sat.she felt his pains.
"get the fuck out of my room"he said again. the woman understand drema well.she stood up and bowed immediately.
"turn off the fucking lights"he added.
the woman dimmed his room lights and went out…
drema uncovered his face from the pillow. His tears streamed down and fell on his pretty lips he cried for everything
he cried for his sight…
he wished he was poor and have sight..
he wished he can see how handsome people say he is in the mirror.
he wished his father will branch to say "hello".
His phone beeped..he knew it was bethel.
He picked up..
"tell me"he said.
"good news sir"
"what? good news!!
"ummmm"bethel cleared her throat.
"Sir you're great…..You've covered 100 city's bill boards,that's a good start. Ultimate made you their ambassador your worth now equals
998billion naira…you're making history…this is.."
drema hung up.his tears fell on the phone.
"In the end,it's just me alone again.."he said to himself.he hugged his teddy.
The intercom on his door beeped,he wished there will be someone else that cares apart from his mother.
He didn't just turn,he chewed into his bubble gum slowly…
hanah walked in with a milk shake in a royal tray….she almost gasped put of excitement.
the room was like a paradise to her.
it has different bluish glass door
there was even a pool in one section…
her eyes caught the fansy of his jewelry box, his money was scattered on the floor.
everywhere was just wealth in all.
drema knew someone was in but he doesn't just feel like talking.
hanah dropped the milk shake with respect. she was tempted to look in Drema's face.A rush of adrenaline rush down her spine as drema looked up.
she can't explain what was wrong with her, "why can't I look in his face?" she muttered to herself and finally did.
he has a pouted pink lips that looks so juicy and soft,each time he makes balloon with the gum,his dimples tighten into a cute one.
"jeezzz I can't wait to tell Chidinma I met the young prince…"she said in her mind.
she served the milk shake and served it to rema.
"my prince,your milkshake..".
"go and get a shower..do you expect me to drink that dirty thing"drema replied..
Hana curved out a smile,she dropped the milk shake back disappointingly.
she was happy the prince spoke to her.
"I'm sorry my prince"she courtised.
She noticed his mood and walked out immediately.
"everyone makes me feel bad"drema said to himself.he stood up and dropped the teddy to the bed.
his door opened again.
the perfume on the person was different therby making it difficult for him to identify.
"is that a maid??"he asked
before he could say anything,his birth bracelet was slipped off his hand.thats the only thing he had in common with his father.
someone just stole from him.
"Charles???" he called.
"fool it's not Charles"the person said.
"Tochi??"he called.
"try again"the person said and walked out.
"please am begging you don't take that away, that's the only thing I have in common with father….
you guys feel the love of a father everyday
but I can't even call father
because it got stuck in my sight, so am always suffocating.
The only place I feel the love of a father as much as I want is in that bracelet,
please am begging you,let me feel the love of a father just like that" drema said.that bracelet seemed like his father.
"I know it's precious to you that's why am taking it away"the person said. drema knew who it was when he uttered those words.
he sighed and left his hand.
the door slammed with a strong sound.
"why is everything getting worst for me!!
he ruffled his hair.
nkem came right in time.
"my prince!!!
drema didn't reply.
"hmm I understand"nkem said.
he picked the car keys and helped him out.
he stopped the car in a calm arena.
he sat facing drema on the grass field, drema laid back on his hand…
"I will stay there" nkem left him alone.
he pitied him.
"It's getting late"nkem told him
"I know"he replied.
"okay,rema"nkem returned to his normal position.
rema sat upright and digged his fingers in the grass where he laid on.
his white top was bright.
somehow he felt like removing his rings,he did and tucked them in his pocket.
????????????????????????
Chidinma on the other hand got tired from running.she stopped to catch her breath as she walked slowly.
her house was still far,
maybe this was just an opportunity to check on her mom..
she walked down.
nkem saw her from afar and quickly moved away from drema's car that he was leaning on.
Chidinma suddenly changed direction and stopped walking in nkems direction.
by the time nkem raised his head,he didn't see Chidinma again.
"whaaaattt!!!
he dropped his phone and ran in a very high speed.He has never run like that in his entire life. he ran down no glimpse of Chidinma
he ran down again,and saw her.
jeezzz she already walked down.
he ran after her and caught her hand,dinma on the other hand recognized him.
"hey,you walk so fast" he said.
"where you running after me?"she asked.
"yes,I was"nkem said.
Chidinma didn't say anything.
"I told you about my brother the other day,he's here now.please meet him now"nkem said.
they both walked down…to the grass field.
"where's he??"Chidinma asked.
nkem looked around.
"are you playing with me or what? chaii why did I fall a victim"Chidinma said.
"but he was—
drema walked in from the opposite direction.
his eyes cleared on seeing Chidinma.
nkem breathed in relief..
"is he the person am suppose to meet"dinma said..nkem nodded and excused thrm
drema sat on the grass.he drank from his water can he laid back flatly.
dinma sat beside prince drema in the grass the space in their middle was enough for a mountain.
dinma suddenly looked in the other side, drema's sight disappeared again.
"can you please look at me,my sight just disappeared again"drema said.
"I don't understand how am I responsible for the regulation of your…siig…"
Chidinma starmmered and looked at him, his sight got cleared again..
"I'm Obim"drema said.
"Chidinma"dinma replied.
drema stared back at chidinma..
"did you brought me here for staring?"she said.
"since when are you having issues with sight?" she asked.
"since birth"
"okay,what about your parents"….
"I don't have parents,I only have my brother" drema replied.
"you don't have parents? where you abandoned??"
"if I was abadoned it would have been better than being rejected"drema said.
"that's serious"Chidinma said and looked at him with a pity eyes.
she looked away.
"sorry..Obim right?"she said and looked at him again.
"but why is it that it's only me you can see.. this is mysterious"she added.
drema didn't say anything,he stared at her..
dinma smiled and shifted very close to him, drema was surprised.
"I don't know what's the cause of this..but I think being your friend will go a long way" dinma said.
drema crackled,he almost laughed.
????????????????