The Healer. Chapter 13
7 min read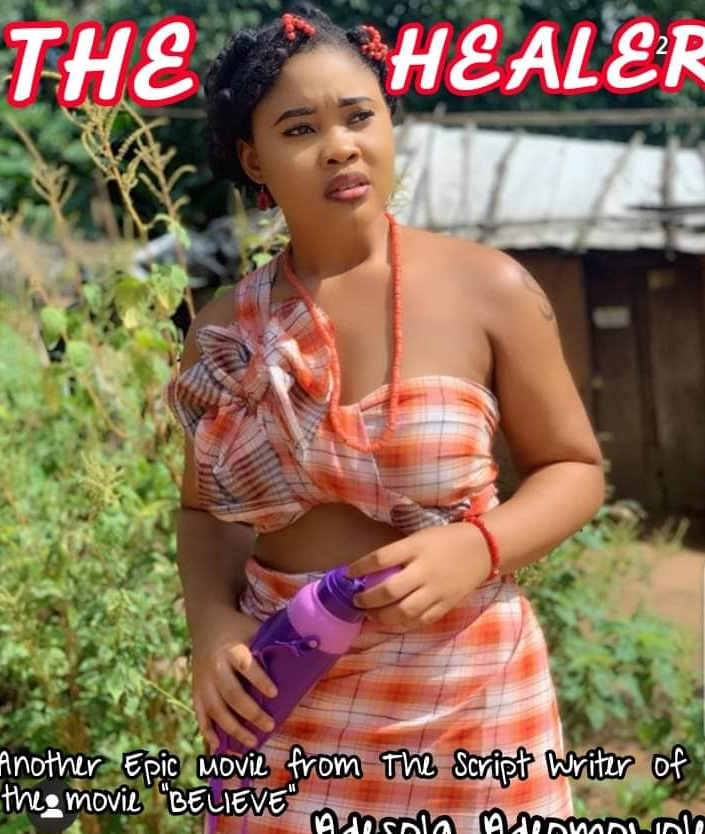 #THE_HEALER♥️
[kill me????heal my heart]
© adesola adeomowole.m.
Settings;Nigerian Epic drama????
Chapter 13????♥️????
now,enjoy..
Royal Palace
queen chiamaka suite????????
the guards came back in full without a glimpse of drema
"my queen we didn't find him"a guard said.
"and then I said I shouldn't return if you don't find him"she replied,they rushed out back. for some minutes she wasn't myself.she eel so not her as she walked into drema's suite.
seeing everywhere calm and quiet breaks her heart so much,she sob quietly..
???? my son!!
???? my chidi(my pillar)
???? my mma(beautiful)
???? my peaceful rema….
she said in between sobs….is it also my fault that I am your mother.
"drema why are you doing this to me?" she asked myself. she wiped her face with the back of my palm and walked out.she waited for the guards who went in search of him,they already returned,still without drema
"you still came back without him"she asked
"yes my queen..Nkem is not also around so we assumed that they went out together"a guard said
"also the younger prince favorite ride is not in the lot,that shows enough prove that they went together"another guard said,the Queen's heart came to rest immediately.
"you should still stay in the boarders,no one sleeps till my son returns"queen chiamaka said and went in.
queen ivory was coming from the opposite direction.she intentionally moved in her way. I sighed and left the way for her,
she blocked it again.
"his highness demands our presence"she said
"that's still not enough prove to block my way" queen chiamaka added.
"have you ever thought of getting a surgery for your son??"she asked.
"ivory don't….how dare you drag my son into this—-"
she smiled and moved back while stylishly fanning herself with her hand.
"perhaps you should have thought of borrowing a chicken eyes for your son..so he can at least watch my OWN son taking place of the Kings heart"she said and then laughed. Queen chiamaka joined her in laughing.
Ivory suddenly stopped and rolled her eyeballs wondering why chiamaka laughed,she wanted her to get angry and hit her..she really want to push her into doing something bad and frame her up in the Kings presence.
"chickens are actually very vicious birds,I have no idea why or how they are symbols of cowardice"queen chiamaka replied instead. ivory frowned and walked out angrily to the throne room.
she sighed and followed her.
ivory took her space beside the king,she sighed and sat at the last couch.
the king walked in graciously and took his seat on the high throne. Charles and tochi walked in. no one greeted,they both sat on different couch.
"I called this meeting because of blinks company,the amount it generates is getting much and without a heir to the investment am scared I might have to start again"the king said with authority,no one spoke.
"Charles am trusting you with this company but you must get married first so the money won't be lavished in frivolous things"he added
"married!! Charles said and rolled his eyes up. a guard walked in and bowed to hand the king a portrait.
the king showed the portrait. it was a well photographed portrait of a beautiful girl. Charles looked at it for a while,
tochi smiled. indeed,the girl in the portrait was amazing.
"she's princess Laura,it is said that there is no beautiful maiden like her in all 23kingdoms what do you say about her?"the king asked.
"not good.she has no shine in her eyes,she doesn't deserve someone like Charles" ivory said.
"why?? isn't she beautiful enough?.
"the girl will not only be Charles wife,she will be a young queen too,there shouldn't be any reason to point her out"….
queen chiamaka watched as they discussed and conclude without her permission.
"fine.i will find another princess for Charles, since you said this isn't beautiful enough" the king said.
"you don't need to father,I already have someone in mind"Charles said and walked out
queen ivory followed her son all in smile. queen chiamaka left lastly. she was still worried for her son who hasn't returned.
she wasn't even looking where she was going, she bumped into the royal adviser,
all the files in his hands fell.
"am sorry my queen"
"umm no need"she smiled and bent to help him pick the files.
"you don't need to,my queen"the royal advisor said. queen chiamaka already bent when a particular file caught her fansy.
*statement of ownership*
Jewels group and co.
charles-70%
Tochi- 30%.
she sighed and picked it up for the advisor. she left.
????????????????????????????????????????????????????.
Drema♥️.
drema got comfortable with drema just on their first meeting,maybe because she is the only one he can see.
not this time,he can't handle being with a girl again.cos after getting used to her,he will still end up being alone….
that's why he came up with the idea of acting poor…no girl will date a broke guy.
that's just the perfect way of making Chidinma gets comfortable with him,
a perfect way of them not falling in love so none of them will be hurt in the end, he just wants to be happy. if he can't get happiness as a prince,he will get it as a pauper.
"obim have you eaten"Chidinma said.
"no do you want some food"he asked.
"yes,let's go together"Chidinma said and stood up from the rock she sat..
drema also stood up from the grass he laid on, a diamond stoned chain fell from his hair. he was lucky Chidinma wasn't looking,
he quickly wore his facecap and picked the chain..
"what food do you like? I like abacha(African salad)"Chidinma said as the walk.
"well I like…umm..ab"prince drema stammered he doesn't know of any local food..
"me too,I like the same food with you" he quickly said.
"ohh..that's the first thing we have in common" Chidinma said.drema smiled.
they got to the food seller place..drema leg pained from walking too much.
Chidinma sat,he lined with other customers to buy food..
"jeezzz I can't believe am doing this" he said to himself. finally it got to his turn.
"two plates"he said.
"abacha how much?"the woman said.
drema doesn't understand the method of buying food..the woman was the understanding type.
"mr,I sell from #50*the woman said..
"just sell what a normal person can finish" drema said.the woman put salad in the two plates,she put veggies,meat and fish.
"OMG…rockstar rema!!! a girl came to drema's face..
"you're mistaken..maybe I just look like him" he said,he carried the food and walked to where Chidinma sat.
chidinma smiled and started eating immediately…rema couldn't touch the spoon not to talk of eating.
"you're not eating..this is not good on the first day of friendship*Chidinma said.
"here,open your mouth".she added.
drema eat from her hand and forcefully swallowed it….
"is this food really good for your health?"he asked.
"hunnh"Chidinma said.the noise didn't let her hear him clearly.
finally she drank water. unknown to drema, the girl who recognized him already went to call her friends who were current about celebrities.
???? that's him..
???? that's him….jeeezzz he looks like Rema
???? same height,same handsome face..
???? jeezzz someone check his neck,the tattoo.
the girls already got much….
drema quickly took chidinma hand,they both went out through the back door.again, Chidinma didn't notice,she only thinks drema took her out of the restaurant cos she was done eating.
drema left her hand,they both walked down..
"I will escort you to your house"drema said.
"who will escort you back? am the only one you can see right"she said.
"I almost forgot"drema said,they both chuckled.
drema tucked his both hands into his pockets, the diamond chain which he kept there slipped into the dirty water when he removed his hand.
drema stopped and looked in the water and didn't say anything.
"it's five millionaire,I can always buy another one"he said in his head.
"what's that??..
"it's nothing important"
"if you lost something then you should look for it no matter how small it is"Chidinma said.
she comfortably walked into the dirty water and started searching for what fell from obim
drema didn't still say a word
minutes later dinmma brought out the diamond hair chain from the water,she was surprised. It was a real diamond.
"actually it's…." drema tried saying.
"but you said you were….." Chidinma tried saying too but, drema covered her mouth and hugged her.
????????????????????