The Healer. Chapter 15
6 min read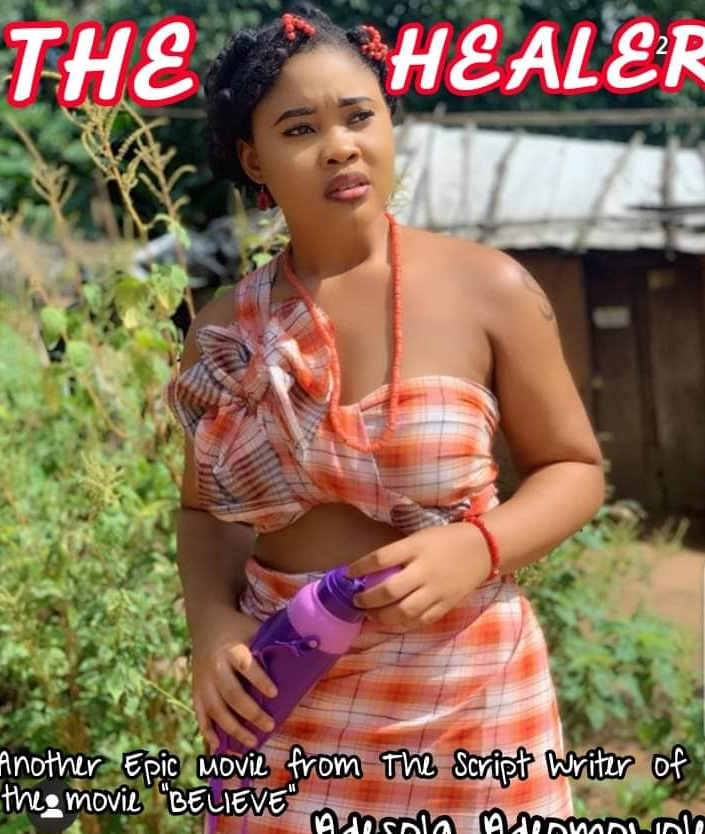 #THE_HEALER♥️
[kill me????heal my heart]
© adesola adeomowole.m.
Settings;Nigerian Epic drama????
Chapter 15????♥️????
now,enjoy..
Jackie's p.o.v
"my princess,dinner is set"
"are you sure you don't need anything?
"should we call the doctor??
"you're still not speaking"
the maids chatter at my door while I just sat on the bed looking all worried.
it really means I will still be mad if that maiden didn't come to rescue,I even had her hand bitten.
gosh! I feel terrible.
I fell on my pillow,I changed positions again.
"how did she do those things?
"Jackie remember… jeeezzzz!!!
I can't really recollect,but i saw a light shine so bright on her wrist the moment she said those comforting words to me,the light from her wrist shine to my eyes and then I regain my senses.
but why was I the only one seeing the light? why not the both of us???
"arrrghh this is just so confusing?".
I changed positions on my bed again.whatever it is what her,I will find out.
a knock came on my door.
"who's there?"I asked.
no reply,the door opened and a maid came in with a flat tray,on it was a mug.
"yes,didn't I say I want to be alone"I said.
"yes my princess but I guessed you will need this since you like chewing chocolates bar" she added and dropped the tray.
"where's nanny Alice?"I asked
"she travelled so am taking replacement"she said. I took the mug.
"hanuel what the fuck is this!!!!!!
"strawberry sauash"
"is it?? why is it so watery and not iced? do you expect me to drink this…why are you commoners so stupid.
You brought me this without tying your hair, you didn't even wear gloves"
"am sorry,it was because I placed it carefully in the tray".
"and you still didn't wear gloves…have you…–
i paused.i remembered a commoner cured my madness and I am here insulting another commoner.
godddd why didn't my mother train me well.
"am sorry my princess,I will take it away and get you another one"she said.
I carried the mug immediately abd drank it like that.she was too surprised.
"hanuel…am…sooo…am…what I said earlier,I didn't mean it…am"I sighed and hit my forehead. I couldn't even apologize properly.
hanuel smiled."it's okay,I understand".
I returned her smile.
"will you reach me how to apologise??
"sure"she replied.
????????????????????????????????
Next day— Vanilla town????
Nkem's p.o.v
drema sat quietly at the beach facing the ocean,he wore a very transparent shirt with nothing inside then he wore shorts.A neat maid stood beside him she held his towel and his water.
the photographers were set and ready, everything was prepared for the shoots.
just then Mr kelvin walked towards drema.
"am tired of waiting,where is the model,does she knows she Is keeping me waiting"rema said.
"you should be glad they rescheduled this shoot,i mean you cancelled it first"Mr kelvin replied him.
"whatever"drema said.
"don't worry you will be glad to see who your partner is in this commercials"bethel added.
just then two cars drove in. a slim nicely statured light skinned tall girl walked out. she wore a matching bra and pant with a long transparent jacket then she wore glasses,her hair was dyed red,she was very attractive
"perfect"the director clapped when she walked out with her assistant behind her.
"omg Rose Alexander,it's nice having you here I can't believe this"bethel smiled
rose returned her smile and catwalked to rema she took off her glasses abd hand it to her assistant.
drema strained his eyes a little.Rose smiled as she admired drema secretly she's just trying hard not to freak out.
"ohh it's the international super model,Prince Drema Jewel. it's a pleasure,I have wats want to shoot with you"rose said.
"well the pleasure is shared equally"Dre replied
"let's do a good job"rose said,she was surprised drema didn't even look at her although rumor said he is blind…
now that she's seeing him live,he can't look in her eyes.
"am sure am not ugly"she said in her head.
"rose you have just 8outfits to model and the shoot is over. Drema is just an asset to make this shoot superb and go viral remember this swim suits are hand made design by the best designer of the year,that's why we didn't settle for average model"the director said.
rose nodded and took her eyes off drema. she was made up into the first outfit,drema was also made up.
their first shoot was captured in the waters.
All through drema strained his sight but at times it gets clear on its own.
"perfect"the director said
the last shoot was made in water.
"cut cut cut"…
drema left rose hand,rose intentionally made it look as if she can't swim. Drema caught her under the water with just one hand..
"help me…I can't"….
drema bent into the water to lift her weight fully,the photographer captured that scene unknown to everyone.
drema lifted rose out.
"am cold…I can't swim…I…"
rose stammered and hugged drema unexpected.
"then stop being a model if you can't swim" drema said and dropped her in the water.
nkem laughed…
????????????????????????????
Drema's p.o.v♥️.
"where else are we visiting??" nkem asked.
"I don't have any schedule today..let's just go home"I said.
"did Nora call"I added.
"nope"he replied.
"fine"…
"your sight seems to be improving,how good is it now"nkem asked.
"same…just 1% different"I said.
he chuckled.and drove out.
the security card followed my car from both behind and front.
"I want to stop by at Nora's house"I said and plugged in my head set.
soon we arrived.
I carried the flowers nkem got at the mall and went into Nora's house.
my sight was manageable so I find my way inside.Nkem waited at the door while I went in alone.
the living room was empty. I looked on the couch and saw her bra,her pant,her cloth, his belt,his shoes,his wrist watch..
I wiped my face with the back of my palm..I saw his shirt,her shoe, a pack of condom.
a single tear fell from my eyes,everywhere was so littered and disgusting.
I dropped the flower on the floor.i turned to leave….
I took my lips in and turn back again.
Nora came out in a very short towel,my sight just got clearer. She was surprised to see me.
A guy showed up from behind also shirtless. I recognized him as the governor's son and my competitor,Romeo.
He kissed Nora right in my presence,Nora pushed him away slightly.
"drema….can you see now?? can you see me??"she asked.still shocked.
tears stream down her eyes when I didn't say anything.i looked at Romeo from head to toe and walked out, Nora chased after him.
"no drema don't go…don't turn your back at me you already promised me" she said. drema stopped.
"drema it's not my fault,I can explain"…
"explain what?? wasn't I good enough,and even if I have a poor sight,does that matter?? it's not what's outside that matter,it's what's on the inside…tell me did I offend you??? the way I treat you,I doubt if any man will treat you that same way" I said.
she started crying.
"am…I can explain…"
"was this the first time with Romeo?? I asked, she kept on crying.
"then I guess it's the 100th" I added and walk out.
????????????????????????