The Healer. Chapter 16
6 min read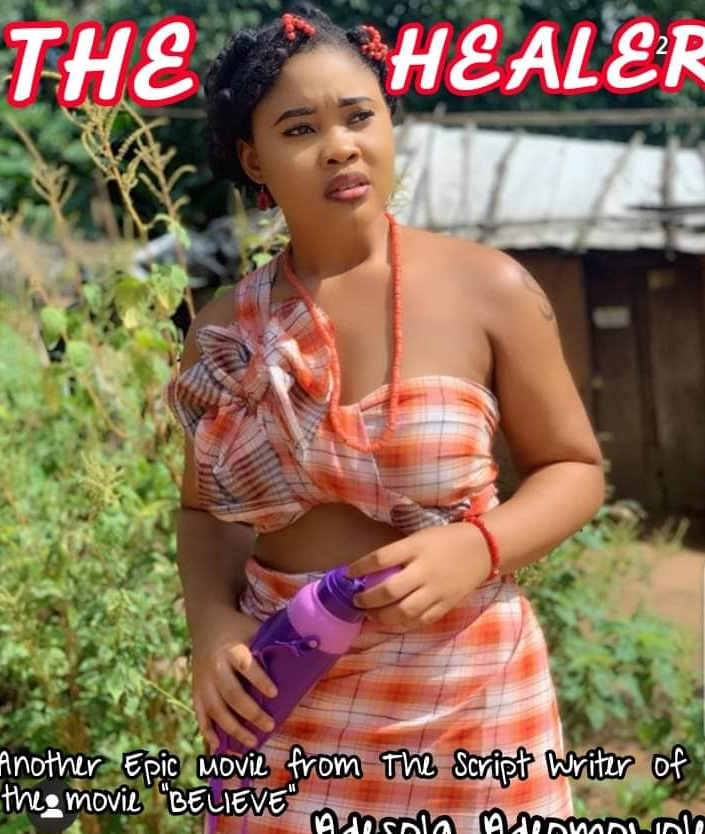 #THE_HEALER♥️
[kill me????heal my heart]
© adesola adeomowole.m.
Settings;Nigerian Epic drama????
Chapter 16????♥️????
now,enjoy..
Nkem's p.o.v????????
prince rema came out of Nora's apartment minutes later.waow I thought he was gonna be out in the next hours.
what happened??
I watch him walk out,his hand placed on his forehead. Nora rushed out after him in just a polo shirt that was as low as her hips.
"Dre my love…pls wait"
"it's over Nora ..we are over"
"no drema please"
"stay away…from me..forever"
he rushed out,Nora still rushed after him crying and begging it didn't make a difference prince drema looked really hurt.
he moved into the car swiftly,Nora rushed back in when she heard the press siren.
poor rema…it must be really hard for him.
soon we arrived in the palace.
he passed the living room where his mother sat,it really looked like Lila is back.
he hugged his mother.
"mum"
"hmm my son,how are you?you look sad,stop pretending to be happy"
"am fine,maybe it's work"
"and you even slimmed down,come here I really want to hug you again" welcome my love" she said.
drema smiled and kissed the sides of her cheeks.
"where's Lila??
"she will be back hopefully tonight"
"all right.
drema walked upstairs himself without any assistance,queen chiamaka was surprised.
"finally Dre the sight drug worked"she said to herself.
I smiled and followed him up.
Chidinma's p.o.v❤️♥️
someone tapped me from sleep,I rolled to the other side.
"Aku am too tired to do morning duties help me"I said.from sleep.
"who's Aku?? I heard.
I sprang up immediately only to see nonso.
"chimo(oh my God) how did I get here?"
"what day is today, nonso?"
"exactly I wanted to ask you did madam Tamara released you already? today was supposed to be your last day"he said.
I remembered all what happened last night.
jeez Aku said I should return very early,am dear already.
I rushed out
"you're going"nonso asked.
"no,am xoming"I replied and changed my slippers.
"bye bye" I rushed out.
hmm madam Tamara will do much scold me,that old hag.
I got half way,a group of girls ran after me.
"Hy Chidinma"
"Hy dinma"
"can we be friends"
the girls said.i stop to catch my breath
"can you help me with something?
"wait dinma I called you first?"
"what?? I greeted you first"
"I know you first,answer me first.
the started dragging me.
"stop this nonsense"I said abd break free from their hold.
"most helpful Chidinma we mean no harm,here is an apple for you.here eat it, an apple a day keeps the doctor away"Lara said. I smiled and collect it.i ate a bite.
"now how can I help you?"I said.
"that handsome guy you were with yesterday night…."
"you mean obim"I said.
"awww is that his name?
"he is really cute!!
"I fell in love at first sight" they giggled.
"ohh really he is my friend,I can help you tell him if you want" I said.
"yes,kindly help me deliver my love letter to him!!
"pls mine too"
I collected the pink papers from them.
"I will deliver them"I said abd hurried away to madam tamara.i got so unlucky she caught me sneaking in.
"and where are you coming from?"she asked.
"hmm..I…I…actually…it….I….
"don't dare me! answer me directly and stop that sturtling"she said.
"am sorry I won't sneak out again"I said.
she picked a pestle,I ran back.
"didn't I told the guards to lock you up"she said
"I got scared I will be raped and the gods will punish me and moreover it's my last day today"I said.
"and I just increased it to the next 21eke market days,until I release you"she said.
"whaaattt?!! I gasped.
she walked in and she really mean it.
Drema's p.o.v????????????
my sight really improved at least 50%. I dropped my stuff's and walked into the shower. pictures of Nora's room filled my memory.i washed my face and came out.
must all women be sluts..I can't believe Nora,she hurts me badly,just when I decide to give this love another chance it dropped me again.
maybe love was never really meant for me,it is an exam I keep failing.
I wore my robe and awaited mr Kelvin
a knock was heard on the door soon.
"who is it???
"why don't you find out yourself"
I turned back.
"Lila" I smiled.she walked in and hugged me.
"how have you been?"
"great"she replied and walked beside me.
"your cloth is pretty"I said
"hmm can you now see…OMG! my brother can see"she screamed and fell right on my phone.
I chuckled,she just broke the screen.
"partly,I can see partly" I said.
"the drug worked".
"no drug worked,an annoying girl make it clearer.i feel like it's some magic"I said.
"really?? that's similar to the healer in the fox story book"Lila said.
"wait did something like light shine on her wrists? jeez she must have some powers.i will like to meet with the girl"she said.
"no need,it's our little secret"I said and sat on the bed. Lila fell on me.
"let's go and ate dinner" she said.
"where???
"royal dinning,you should join the family now that your sight is clearer"she said.
"hmm I don't want to…"I said.
"please,I will cry if you don't come"she said.
"fine"I smiled and followed her to the next floor. the royal palace just got beautiful each passing day.
"greetings to the youngest prince".
the maids and guards bowed. Lila smiled and held my hand tightly. until Charles showed up.
"Lila come over here!! I am your brother,you should hang out around me and not some random blind ass"he said.
"prince Charles…prince rema isn't blind. he's my half brother,can you just let love and peace reign"Lila said and held into my hand tightly.
Charles raised his hand to hit Lila,
I caught his hand and twisted it down.
"you should rather hit yourself instead of hitting a lady*I said. the Queen's rushed out. to eat dinner too I guess.
the king,walked into the large royal dinning gracefully also.
"what's happening here???"queen ivory asked
"drema,my son"queen chiamaka said and took my other hand.
I took my lips in..
Tochi came in last.
"what's happening here??? the king said.every where got silent.
"ohh my goodness Charles,what happened to your arm…."queen ivory said. Charles groaned from pain.
"I said,what just happened here…" father said
"it's drema,how dare he take sides with Charles,he is really getting spoilt this days" queen ivory said..
my mother sighed. "and how are you sure??
"Enough. Now drema apologize to Charles" father said.
I took my lips in and walked to a sit on the dinning.i uncovered a plate.
they were quite surprised I can see partly.
"Drema you need to apologise,don't you hear is highness"queen ivory said.
"sadly enough,I have money but I don't have respect but I have money….so which one do you want exactly?"I asked.
"whaaaatttt!!! queen ivory asked. Lila jerked her hand and sat beside me on the dinning.
"father,can you tell queen ivory to stop trying to separate me and prince drema"Lila said.
I smiled.
queen ivory walked out angrily.
????????????????????