The Healer. Chapter 18
6 min read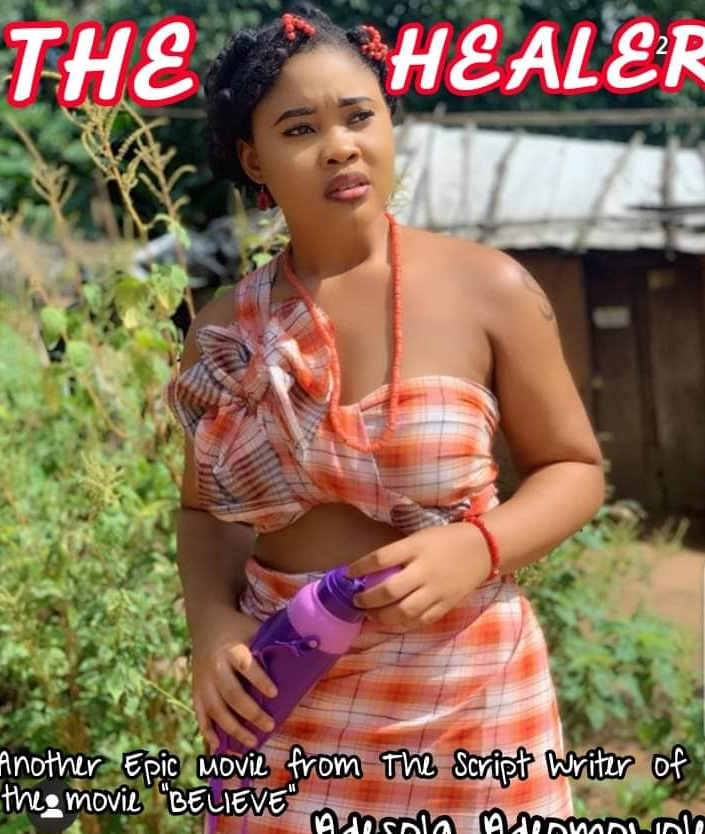 #THE_HEALER♥️
[kill me????heal my heart]
© adesola adeomowole.m.
Settings;Nigerian Epic drama????
Chapter 18????♥️????
now,enjoy..
Royal Palace ???? Prince Tochi's p.o.v
I watched queen ivory almost close to tears as she pressed the open button on dremas door countless times.
i smiled…drema must have put her in her place.This family can only grow in love if this queen ivory is only eliminated.
"Dre…."she shouted
"rema"she shouted again
no reply,she rushed out.
really,just like that.
I cooked and walked up to his(drema) door. I pressed the same open button,the intercom must have beeped so I waited a little while.
"Lila"drema said when he opened the door.
"ohh"his pink lips curved when he saw that it was me.Although we ain't close but we are close in our own ways.
"do you need something?"he asked
I felt his eyes sparkle when he left the door.i followed him behind after closing the door slowly.
oh boy! Rema really has taste,the room itself was a paradise.
"welcome to my suite"he beemed in soft smile as he laid flat on his bed.His teddy bear was right on his chest as he browsed on his phone
"your suite is beautiful"I said. I poured myself a glass of wine.
"care for some?"I asked,I took another glass
he moved his eyes from his phone.
"tochi why are you being nice to me? do you want something ..just go straight to the point" he said.
"why? am being nice to my rema? I said.
drema chuckled.
"just saying…that's how Lila behaves whenever she needs something from me"he said and joined me on the dining where we took wine together.
He took off his sleeping mask. it was my turn to chuckle.
"Dre you really look like a girl"I said.
"really,am three month older than you…call me brother"drema said and knocked me playfully.
"drema"I said.
Drema chuckled.and knocked me playfully.
"call me brother"
"what,drema"I said.
he took my hand..
"ahh bro..brother" I said.
"better"he said playfully.i withdrew my hand and rubbed where he touched.
*your girlfriend is really pretty"I pointed out. Dre took the glass to his lips,he sipped in cutely.
"Nora right??
"my ex"
"your ex??? really?? how come??? you broke up or she broke up"
"ask me no questions and I will tell you no lies" he said.
"that's deep bro"I said and fell on the couch.
pictures of drema was all over the tv.
I was caught by the interesting headlines.
WHO SAYS DREMA JEWEL IS BLIND ?
THE INTERNATIONAL MODEL ISN'T BLIND.
REPORTING LIVE, DREMA JEWEL CAUGHT ON CAMERA EATING WITH A COMMONER. WHAT A SCENE.
WHO SAID DREMA IS BLIND AND PROUD ?
drema raised his head on hearing such news, where on earth did drema meet with commoners? am finding this difficult to believe…I mean is it the drema that hates dirt.
the headlines continued.
I KNEW DREMA IS COOL AND REAL,MY DREAM GUY.
ITS A LIE,I THINK IT'S A MOVIE
WHO KNOWS MAYBE THE GIRL WAS PAID HE REALLY WANTS TO CLEAR HIS NAME ABOUT NOT BEING BLIND.
IF HE REALLY WANTS TO PROVE HE IS NOT BLIND,LET HIM PERFORM LIVE ON STAGE WITHOUT MASK.
DREMA JEWEL EATING WITH A COMMONER IS LIKE TELLING ME THAT LILA JEWEL WILL WEAR A CLOTH LESS THAN 50,000 BECAUSE THATS IMPOSSIBLE.
I JUST LOVE THAT GUY.
I chucked.
"what's with this news Dre"I asked.
"(smiling) this is good for me,finally this is going to clear that scandal of people saying am blind. Whosoever posted this deserve some reward"drema said,he sipped wine again.
"what's the source?"he added.
"the source is unknown for now"I replied
"but is it true you eat with that commoner,how on Earth did you meet?"I asked.
he stood up and walked to the window with his glass of wine. I smiled and stood beside him,we both admired the beauty of the sky together.
until we saw the retreating figure of a woman crying out of the palace.Queen ivory came out and pushed the woman who continue crying.
"this woman will never change"I grinned.
drema didn't say a word.
"leave!! leave now!!!! queen ivory shouted.
the palace guards threw the woman out as instructed by queen ivory.
"Nkem,find out what happened to that woman" drema said,his eyes already turned red.
nkem rushed out.
I smiled.
"drema you really care?"I said.
he left the window side..
minutes later nkem came in.
"queen ivory seized her properties"he said.
"why? why will she do that,seeing other people crying,does that makes her happy?"…
"what's the worth of the property??"Dre added
"I didn't ask"nkem said and rushed out.
he came back again,drema handed him a check of 6million naira to give to the woman as a refund.
Nora's p.o.v????
I had been crying silently since last two weeks my fitness even dropped.it feels like something valuable was removed in my life.
why didn't I treat drema in the good way he deserve.That guy was so real yet I kept pushing him away.
he loved me so much….I really hurt the wrong person.
my phone rang,I checked the caller it was romeo.i ended the call and text him instead.
???? don't call me again….it's because of you I broke drema's heart besides there's no string attached to that one night stand"I sent.
???? but we both enjoyed the sex–
he texted. I angrily smashed my phone.
the maids made a frightened look,I took the stairs immediately. I got to my room.
rema was all over the news already.
waaaatttt! I took my phone,it was all over the internet that he's not blind.
did he do surgery??
who's this dirty girl?
is that a shoot from a movie drema act in?
can he really see now? ohh no .
I took my car key and hopped downstairs. I dashed into my car and drove straight to the palace.
************Chidinma's house????
chidinma's mother already prepared her daughter's best food thinking she will be back at night since today happens to be the seventh day.
Nonso was tieing the groundnut outside, when he saw aunty Delilah coming into their compound he dropped the groundnut and ran towards her.
"Aunty Delilah,welcome..
"ohh my god,nonso you're now big oo…
"am fine..
"where is mama?..
just then Chidinma mum ran down.
"am here oo my dear how are you
"am fine
"good to hear.
"yes ma'am,am traveling back already so I came to take dinma along as I promised"
"eehnmm okay"chidinma mother sighed.
"my daughter will be back this night,hopefully I pray Tamara releases her"she added.
"don't tell me Chidinma is still troublesome" Delilah said.
"my dear .
they walked in.
"she will soon be back this night,please take care if my dinma for me oo or it's better she should not follow you if you know she will suffer"dinma mother said.
"sure,she won't suffer"Delilah said..
"please what's the family name so I will be relaxed my dear"Chidinma mom said..
"it is the Jewel's family,she will work as a maid with the royal family,I will write it down for you including the address"Delilah said.
"eehh that wicked king hope my dinma is safe?"
"yes she will be".
"okay my dear"..
Delilah wrote down the address,they waited for Chidinma to return.
????????????????