The Healer. Chapter 19
8 min read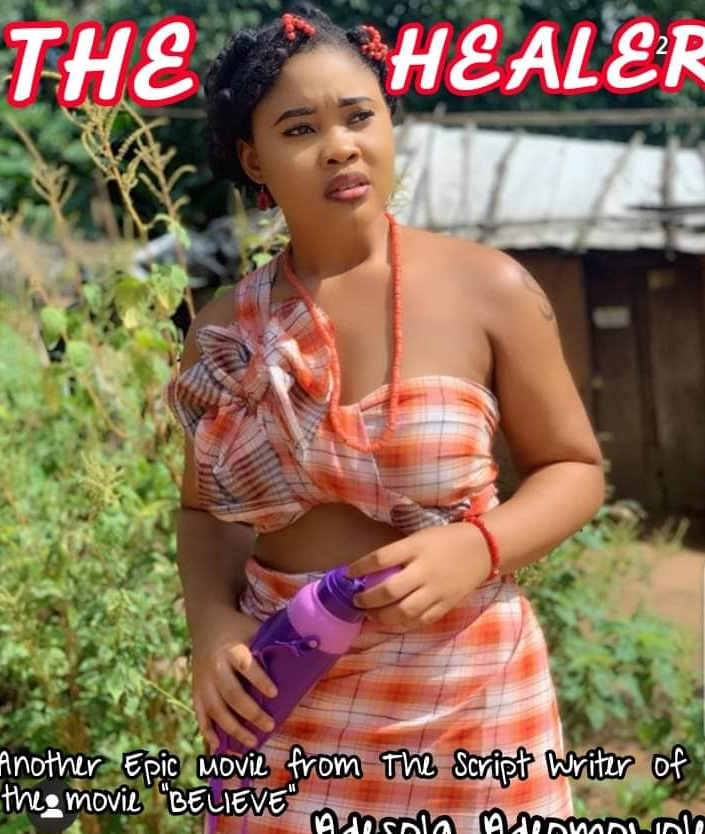 #THE_HEALER♥️
[kill me????heal my heart]
© adesola adeomowole.m.
Settings;Nigerian Epic drama????
Chapter 19????♥️????
now,enjoy..
Nonso's p.o.v????
I collected the address aunty Delilah wrote, my face still dropped down a bit,the thought of my sister going to work as a maid is something I didn't see coming.
will she ever be comfortable?…
"nonso,go and pack Donna's bag so when she returns we will just leave like that"she said.
"eeehnnn"I shouted.
"dinma said it herself that she wants to follow Delilah"
"but mum
"no buts,go and pack her bag.
"umm I will be lonely
"don't worry am here
"ok mom.
I said.i went inside and packed her few clothes by the way,is madam Tamara not suppose to release her it's almost 9pm.
it started raining quick that I had to shot the wooden window.i returned to the parlor.
"in this heavy rain,is tamara really testing my patience"mom said.
"seriously? what does that woman thinks she is? how can she detain dinma for 7days, who knows if she bribed the chief sef"aunty Delilah said.
"my dear,I don't blame her…I blame poverty" mom said.
"only the gods knows what my daughter is passing through in that witch house…in fact am tired of shouting,my dear pls wait let me go and check her" she added
"mom it's raining,I should go instead" I said.
I rushed out.
Nora's p.o.v
I felt better knowing fully well that he will forgive me,drema won't move on so easily. In his eyes am very vicious.
my driver drove in the palace- everyone's dream residence.
the mansion speaks of quality,the king have classic tastes as well.
"welcome,princess Nora"
"allow me princess"
"it's really raining"
like ten maids approached my car.
I moved in the royal coverage immediately,the other maids dropped a pair of pretty flip flop another bent to take off my heels as I changed in the slippers.
OMG!! see what I left.
drema I promise I won't do this to you again.
I was led in gracefully by the maids…
instead of walking in the direction of the royal prince empire,I entered the queen empire instead. Am very sure queen chiamaka isn't aware of what I did to her son,being close again to her is the best thing to do for now.
I was ushered into her suite,
she was sitting cross legged on the black couch and of course with a fashion magazine.
Drema was the magazine cover, she was really smiling- surely the love of a mother is the greatest.
"mother,it's a surprise" I said.
"ohh my God,look whom I have here..Nora my dear"she dropped the magazine and smiled the more,she pulled me in a motherly hug.
"I hope you came to spend some time with rema"she asked.
"off course"I said in a fast nod.
"fine. the maids will move your things to rema's room or do you want a guest room?
"oh no,I want to stay with you…I should be more close to my mother in law"I said..
she smiled.
the maids attended me.
queen chiamaka was really the funny type.
it was night,best time to check on my rema.
I left the queen suite and took the hallway. Charles passed the hallway at the same time.
"Hy"I waved.
he rolled his eyeballs up.
"Hy" he replied and walked away immediately.
I smiled and checked rema's suite,it was even more pretty…
it just got classical each passing day.
I pressed the open button several times,no response the door opened automatically. No one was in..
everywhere in his suite was neat and well arranged except for his phone and some some bundled money roughly arranged on the couch..
Where can he be???
I moved out,and walked down. I finally caught his sight at the back pool,the transparent walls give him an amazing sight.
a neat maid held his towel and water can behind. I passed back and took his things from the maid "Hannah" was in her tag.
she bowed and left passing back,drema didn't notice.
he swam too forward. I smiled and sat in the pool chair.Until his phone rang,he swam back.
I already took the phone.
I shake water out of his hair sexily,he stopped when our eye locked.
he picked the other phone which started ringing.
"Mr Kelvin??
"DREMA JEWEL galaxy wants to interview you in the next 30minutes"
"all right??..
he dropped the call and called someone else..
"hello sir"
"bethel cancel all my appointments for today thank you" he said.
whaaaattt is it because of me??
*ok sir*
he dropped the call,another call came in.
"what else again??
"what else…you just cancelled all your appointments,are you sure you're fine?
"nothing am fine,I just need a break" drema said..
"okay enjoy your break,am glad you just walkout of 30millionaire" I heard.
drema came out of the pool immediately.
I gave him the towel,he took another one and walked past me.
"rema! I'm sorry,because of this one mistake pls don't forget the days I always stand by you and now that you regained sight,is this how you want to pay me" I said.
he stopped walking.
I walked towards him and hastily hugged him from the back,his skin glittered so much.
"I'm sorry" I said.
he unlocked my hands from his waist and walked away.
"hnnn now,I have some hopes he will forgive me…I promise to be more good. I swear I won't hurt you anymore…"
minutes later,he walked out of his suite.
his dressing was somehow lame whichever way,it suite him.
I chuckled.
why will he go out like this? he doesn't have on his earrings,rings,chains nor anklets..
just his car key..
the face cap he used had no designs at all.
I was confused.
I watched him and nkem moved into one of the Benz car. drema was the one driving.
are these two up to something???
Chidinma's p.o.v????
I stood by madam tamara's inner chamber,a maid was seen washing her feet.
"am done ma'am"I said calmly..
imagine I have been acting calm by obeying her every orders without argument so she can at least set me free today.
she is just something else.
"am really done ma'am"I said again.she acted as if I wasn't talking to her.
"can I go??? I asked.
"to where"she flared
"today is the seventh day and .I….I…nne.
"have you filled the barrel with water? she asked.
"yes ma'am,I actually pushed them in the rain to ease stress"I said.
she rushed out,I watch her pour all the water away.
"you can go only after you fill these five drums with water"she said.
"okay ma'am"I bashed my lashes and carried the pot.Nonso came right in time.
I gave him signs not to interfer. we both left for the stream.He also picked a pot in the yard
someone ran after us,I turned it was Aku she was also with a pot.
"where are you going with a pot?"I asked.
"maybe after all you're worth helping"she said.
I smiled,we walked together.
"I like your brother….he is really a gentle boy,he was brought up well"Aku said. although nonso already walked forward.
with the three of us,we fetched the water real fast…
finally,am free.
"I hope we meet again"Aku said.
"fate can move a mountain"I said again and hugged her.
I picked the love letter those girls wrote to obim.then I told nonso to go home,he left. although I had to lie I want to go and see Hana instead I went to the place obim and I usually meet.
he was there waiting for me already.
"Hy"I said.
he flashed me a soft smile.
he laid on the neat grass,both hands at the back of his hair.
I just sat quietly.
"so how's your sight??"I said,I caught his stares…he look sad somehow.
he quickly covered it with a smile.
"better than before…"I said.
"your mood looks wired..not like the cheerful obim I know"I said.
"maybe because my girlfriend broke up with me"he said.
"hunn really???"I said,in a smile.
"is it funny"he smiled too..
"no,well someone is dying to be your girlfriend someone that's even more well behaved,not after material things…." I said and brought out the love letter.
I opened them one after the other,I would have read them but I actually can't read and write.
"read this first,the handwriting looks cool"I said..he read it out.
I burst into laughter,he joined.
I really enjoy seeing him smile,laugh and happy.
"that's njedika,she's a dark beauty she wrote that love letter begged me to deliver it,should I call her for you???
"are you trying to hook me up??
"what else?? you just watch me go call her…." I said..
"waaaatttt,it's not necessary" he said.
"it's necessary"I said.
"why are you so stubborn?"he said and took my hand.i sat back..
"it's okay with time,I will forget her"he said.
"who?
"her- my ex" he replied.
he must really love her.
he wanted to say something,the other guy came…what's that his name again? yes nkem
"obim,I will see you tomorrow and of course expect more love letter your lovers won't stop disturbing me" I said as we walked out of the secret garden.
finally I arrived home..I just felt happy.
is it because of obim??
no,I think it's because of am free from madam tamara.
"good evening mama
"good evening aunty Delilah"i greeted,my eyes landed on my bag which was already packed
"hmmmmm!!!!! I said to their hearing.
"you said you will follow Delilah next time she comes right?"mom said.
"okay"I said in little voice when I remembered my promise.
nonso brought my food.
I couldn't eat,I stared at my belongings,I can't live far away from my mother…and obim that means I won't see him again.
"my daughter if you don't feel like going you can stay if you're not comfortable about it" my father said from his room.
he was even watching me.
"aunty Delilah is it far?" I asked.
"no,it's royal Palace…it comes with a fat salary and you will be chanced to see your family once in a month"she explained.
"aside that it's not work work everything, they have time for resting,break and all that…work there is from 5am to 6pm…you have the rest of the time to yourself"she explained.
"okay"I beamed. that means I can still be seeing obim and Aku and besides I will be chanced to meet Hana in the royal Palace.
"I will go,I will work"I said and ate happily. after which I followed Delilah out with my bags.
????????????