The Healer. Chapter 21
6 min read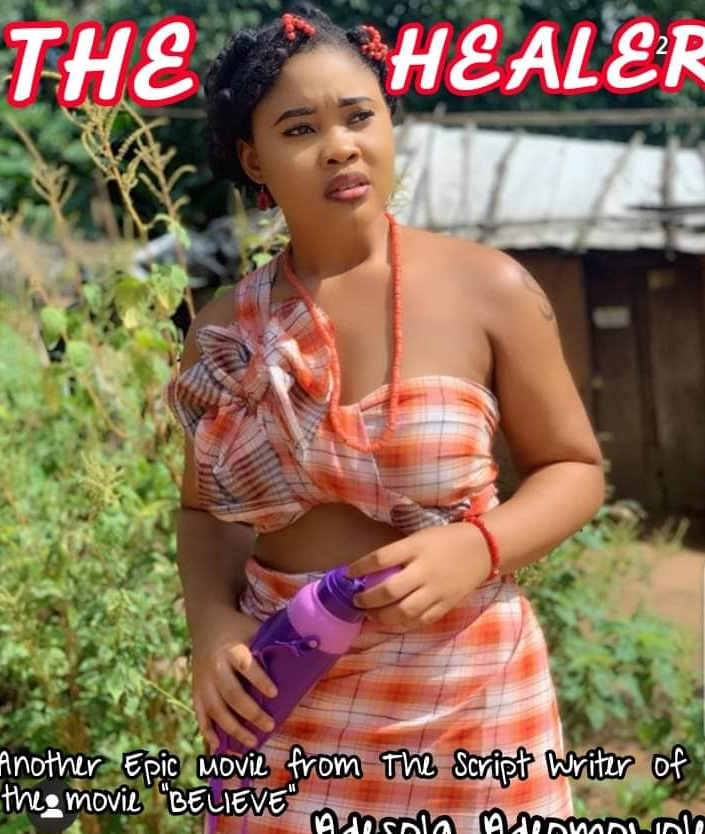 #THE_HEALER♥️
[kill me????heal my heart]
© adesola adeomowole.m.
Settings;Nigerian Epic drama????
Chapter 21????♥️????
now,enjoy..
Chidinma felt that the voice was somehow familiar,same softness,same calmness.
"oh my god am I missing him already? hmmm why won't I respect myself he is only my friend!.
"younger prince youeaj you don't want dinner? madam crystal asked.Chidinma composed herself immediately.
"what's wrong with me?"she fiddled with her fingers.
"I thought I made it clear"they both heard the younger prince voice again
"am sorry my grace"madam crystal said,Chidinma wished she could see the face behind the voice.
"rema seriously you won't eat dinner?" another voice came up.that was prince tochi
"hmm crystal you can just get me some raisins"
"I will do just that,my honor" madam crystal said.she bowed and turned away from the door.Chidinma follower her behind.
"why do I like dreaming a lot…it's high time I stop listening to love stories" she said.
"dreaming??? crystal turned at her
"ahhh sorry"she added.
she watched as crystal led her out,the buildings were so big,it would take her at least a whole week to memorize the in and outs.
"what's that your name again?.
"Chidinma"she replied.
madam crystal didn't say a word as they moved out of the main building she took dinma to the 8th building as ordered by prince Tochi's mother.
Young girls in fine dress wrappers were seen moving from one end to the other,they all had a common maid beads,maid anklet so as to identify each other.
The maids with black beads clean the out side environment while the maids on white beads take care of the inside environment.
On seeing crystal,each of the maids moved forward,Chidinma was quiet surprised by the huge numbers of maids.
"is she replacing one of us?..
"aaah did anyone go against the Queen's law..
"hmmm I think she's a new maid…
"quiet please we have a new maid"
"join them,someone will bring you clothes soon"crystal said and left
"Hy"
"hey hey..
"welcome new girl
"am Njedika. call me Dika" a girl whispered to dinma.
"Chidinma"dinma said in a small smile.
Dika walked her in.She dropped her bag on the floor that sparkled like mirror..
"waow this place is pretty"dinma said.
the room went silence as a group of girls walked in. The one who walked in front seems to be their leader.She is dark,very tall,has nice set of white teeth.
"whoops there is a new rat"Nina,the leader said.as she moved around Chidinma in circles Chidinma felt like staying with her mother would have been better but then nonso needs money for a brighter future.
"No way,Nonso mustn't end up as an illiterate like me,I must strive to gather more money and send him to the royal training school he needs the pass card.He is my only brother he is worth my sacrifice…."Chidinma mind raced
"what a rat? look here I am the queen in the maid section,you kneel to greet me"Nina said.
"you know it will be dangerous if you and I start on a bad record"dinma said and walked directly pass Nina to a bed she choose beside the mirror
"here head maid asked me to deliver you cloths"Dika said.
"daalú"Chidinma said and collected the cloth dress wrappers,she selected the common one then walk out with Dika to the restroom where she got changed
"now you look like one of us"dika said.
"that bed facing yours belongs to hana"she added.
"hmm Hana where is she- does she comes here frequently? she's my best friend I really want to see her"dinma said.
"Hana is prince dremas hand maid"Dika said.all eyes suddenly turned to her.
"whaaattt
"young prince!!!
"what happened to young prince!!
"any news about him!!!
the maids chatters.in no time they stood in front of dika. Chidinma was surprised by the way the girls rushed down.
"no news about him,just free me" Dika said.
Nina walked up to her personally.
"you really do not know how to stay on your limits..no maid has the right to mention prince drema name aside me and Hana" Nina scoffed
surprisingly the girls left to their beds.
"does Nina controls them.There are so many drama's to behold here…I see.
This Nina girl is so full of herself…I won't spare her if she crosses my path to look for trouble..mama am sorry I will fail you on this aspect although I promise to be humble of someone looks for my trouble,it's a pity my body doesn't tolerate disrespect."I said in my head.
"your last chance"Nina said to Dika.
"I'm sorry Nina pardon me"Dika apologized that alone surprised Chidinma the more.
********************
Nora sat on the couch in her suite,she soon stand up and moved from one place in her room to the other…she really wished drema will give her one last chance.
"I know I let you down…you believed and trust only me,just me in this world but I failed you now you lock up your heart against me? how else can I tell you am sorry!!! Nora said aloud.
she wiped her face and walked out,straightaway to dremas suite door.
she came right in time as the door opened to her face.
the sight of drema blinded her sight for seconds,it was as if a ray of light flashed. deep within her she felt some thing magical.
Within one seconds everything came back to normal in her eyes it was just drema.
he wore a red knitted cardigan then a dark designer Jean,he looked too casual and even had on a face cap.His other hand held his phone and car key.
"drema!!!
"my love!! am really sorry!!!
drema looked at her once and just walked away…Nora eye landed on his wrist,a clear mark was seen there.
"oh my God!! she gasped.
*****************
drema on the other hand reached the secret garden.He sat on the neat grass and waited for Chidinma.He waited for so long but no glimpse of her.
"has she forgotten today again! drema said..
he kept his hopes high that Chidinma will come.He suddenly smiled when he remembered how she duped him 60,000.
"Chidinma you're something else" he said in a smile. he checked time again.
????????????????????????????????????
Chidinma sat up.She really wish she could go out.
"obim must have been waiting!
"hunn I really hate keeping him waiting!!
"what do I do??
"I don't even know how to get out of here,every where is just too broad..
"obim am sorry…
she said and fell on her pillow.
"obim am sorry"she said again.she rolled to the other side of the bed.
he must really be waiting! I can't even sleep I already get addicted to making him happy.
Chidinma said and moved away from her bed she wiped her face and walked out.She followed the foot map out. but the 8th building gate was really high.how to get out become something she needs urgently.
A guard walked out that moment,asbavresult of that,the gate was unlocked.
so slim chance!!
thank goodness it was dark. she sneaked and made her way to the estate street,it was really free,neat.
she hasten her footsteps.until a voice stopped her.
"who are you and where are you going to????
she heard. she first froze on her spot.
she turned…
hmm its princess Nora that haha usually tells her about.
"who are you????? Nora asked.
"eeeeehnnnnm"Chidinma said and look back at Nora's eyes.
????????????????????