The Healer. Chapter 23
7 min read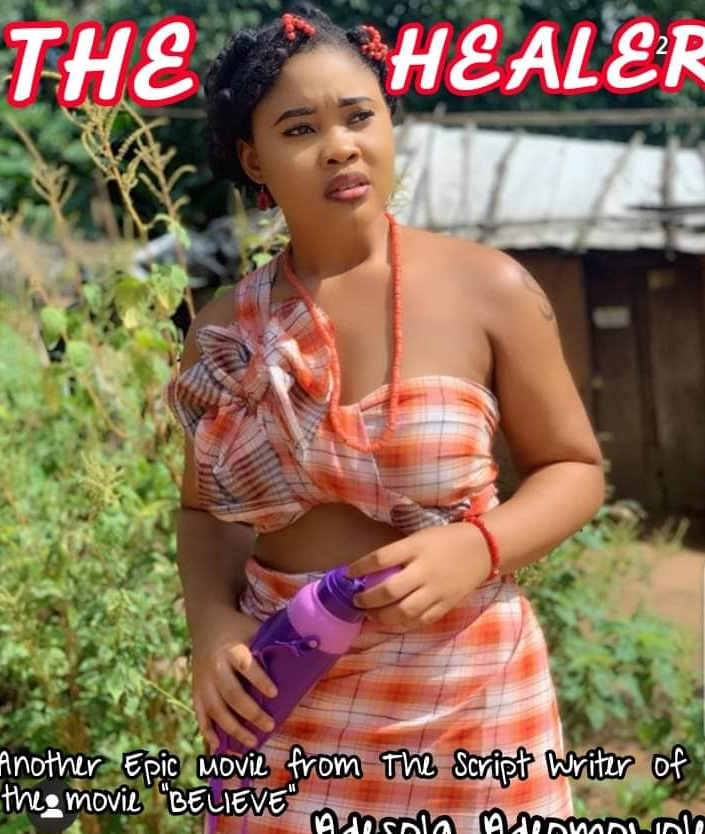 #THE_HEALER♥️
[kill me????heal my heart]
© adesola adeomowole.m.
Settings;Nigerian Epic drama????
Chapter 23????♥️????
now,enjoy..
"sir I really need you to tell me the meaning of the mark,I promise you I will…."
"you really want to know? some things are best left unsaid"the talisman said and stood up.Nora stood up also.
"you really need to help me…"
"ok..this mark means"
"it means what? tell me what it means please" Nora said already getting impatient.she got hold of the man's wrist,she knew deep down that the mark has to do with some magical powers.
"listen my princess,you will never know what it means.i won't tell you"the man said and took his hand away.Nora scoffed and walked out.
"either way I will still know what it means"she said furiously she left the clan for dremas kingdom.Her two hand maids rushed to her. she ignored them and just walked towards her suite.
queen chiamaka came right in time,Nora used that opportunity to fake tears knowing fully well how concerned queen chiamaka would be.
"what happened? she rushed to her.
Nora cried the more.
"what's it this time again,come on! the queen said.Nora hugged her.
"it's okay…he hasn't forgotten about you"she patted her back like a baby.
"just smile,I hate to see those tears" queen chiamaka said.
Nora flushed at how she handed her like a kid her mind flashed back to the mark on dremas wrist. it will be best to ask the queen but what if she sees it somehow.
"no I should not be nosy,I should be acting more humble"…
queen chiamaka took her to her suite,they ate their dinner together…
"(smiling) you treat me so much like a kid" Nora said when the queen serve meat in her plate.
"(smiling back) that's what I owe you cos you we were both with drema when he was blind" queen chiamaka replied.
"but mother now that drema can see,the king needs to count him among his heirs right? I really want to become a future queen"Nora said..
"unfortunately drema isn't interested in such things..I had to force him down to stay here for a while so he won't be a stranger to what's happening in the royal family"the queen said.
"hmm"
"come on eat more meats" the queen said.
soon they were done eating.
she got refreshed and the queen had her changed in a yellow dazzling princess night gown with slits at the front.
"you're really pretty" the queen said to her,she brushed her hair.
"we are good to go"
"where mother???
"dremas suite"the queen said and took her hand out…
Nora couldn't contain her happiness.they got to the door,it was opened immediately as soon as drema heard his mother's voice.
drema left the door when he saw Nora with his mother..
"you too have a nice night"the queen said as she pushed Nora in,she locked the door.
Nora smiled,drema already rushed upstairs to his bedroom..
"can I come over to your suite?" he sent tochi..
"hmm what,am with girls!! tochi replied.
Dre dropped his phone.
Nora entered his bedroom on her hand was a tray filled with grapes.thats dremas best fruit.
"I….brought you this"she said.
drema took his both phones.
"Drema you really like grapes right? don't I deserve a thank you for my kindness"..
"I don't need your kindness lady"he replied and walked out of the room.
"where is he going to stay for the night?"Nora rushed out as well. she watched drema enter Lila's suite.
"does he now hates me so much??? she said to herself and rushed back to his bedroom. it was neat and well arranged except for the scattered money in the shelf. Nora went towards it and arrange his money properly her eyes caught the waist chain drema bought for her….she returned it back to him when he was dying..
the diamonds on the chain almost blinded her eye sight. she stood up and tried picking the waist bead,but she couldn't she felt like some forces tied her hand from moving forward.
"what's wrong with me? she said and tried taking it again,she couldn't her hand just couldn't go forward.
"am I alright are my hands functioning? she said and used her left hand. a force like thud threw her backwards..
she stood up now so confused and walked to where the chain was,she sat beside it and watch it quietly.
…………………………..????????????????????
Maids building?????
something loud like a bell rang,it was so loud that it was heard in the whole of the maid building.The sound was disturbing. Chidinma woke up with a fright immediately she heard it
Nina and two other maids woke up as well.
"it's morning again"one of the girl said.
Chidinma stood up to wash her face,she also had her teeth brushed and kept her brush beside dika's own.
the other girls came in to do the same,each and everyone of them greeted Nina except for Chidinma.
"don't you know how to greet your elders? Nina blocked Chidinma as she put her bucket for water.
Nina removed her bucket and put her own.
dinma removed it and put her own,Nina skirk and poured Chidinma water away.
"I will let this one slide away again" Chidinma didn't say a word.
she waited for Nina and bath.she returned to the room,the light in the room was dimmed cooly and calmly. she opened her cupboard and wore something simple.
Nina grinned and watched her.
"Dika what's the first thing this morning?" dinma asked. Dika rolled to the other side of the bed snoring loudly.
"here comes the head maid"dinma said.
"whaaaat"Dika sprang up.sge fell back to the bed in seeing that no one was coming.
"I hope we get to stay the same spot this morning?"dinma said.
"doesn't Hana comes here regularly?"she added.
*not frequently,she's prince drema personal maid"Dika said. "ohh"Chidinma said.
"I wish I was in Hana shoe"Dika said.
Chidinma scoffed.
"you would also wish the same once you see the younger prince"Dika said.chidinma doesn't even seem moved.
whatever.
"he appeared in my dream… he was so kind,he took me to so many places…Hana doesn't know how lucky she is watching over that rich star day and night"Dika said.
soon the maids woke up fully.
Nina and two other girls stood nervously by the landline waiting for it to ring.
Dika and Chidinma joined the other maids on the waiting list.
"first three lines move out to clean the estate road" Nina said. the maids moved out
"why are they standing by the land line when it's not ringing?"Chidinma whispered.
"in case it rings we have to answer fast"Dika replied.
"what if it doesn't??
"it will. princess Lila always ask for milk every morning
"prince Charles ask for tea
"prince tochi ask for strawberry squash
"prince rema asks for warm water."
"okk"dinma said.
crystal walked in and collected the list from Nina,she shared the remaining works equally till it was remaining only Chidinma and dika.
"Dika go and help in the royal kitchen. Chidinma come with me"crystal said.
the landline rang in time.
"is it princess Lila?*crystal said.
"Yes. My protein shake,some flower cakes and warm water for rema.Youre fired if you exceed ten minutes"…
Chidinma heard from the phone.
ten what!!!!
her and madam crystal rushed out to the royal kitchen. the flower cakes were ready. crystal set everything ready in a tray and instructed Chidinma to take it there.
"10minutes how is that possible??" she said and walked slowly and carefully so the flasks won't fall.
she got to the princes empire and that was where confusion set in for her,do many corridors and hallway,while trying to locate which one to take,she missed a step..
her heart stopped beating for a second immediately everything poured.
the flower cakes,the protein shake and milk poured on the floor. only the warm water in the flask was instact.
"chaiiii!!! she said and packed them back in the tray the flower cake had some dirts on it.
"what do I do?????….
she looked left and right.
"do I need to do this???"she asked herself.
"i think I need it?? she said and closed her eyes very tight.her hands moved in rhymth she did that so quick. she opened her eyes everything was back to normal.
"aaahh"she said.
"what are you doing there???? she heard a voice and quickly stood up. She turned it was just a prince…
Is this the young prince??
"nothing….I….I……I…"she stood up and bowed.
"you look lost! that's Lila room? the prince said
"hmm thank you" she said in turn.
"you're new right??"
"yes,am sorry of I didn't greet you well"she said
"Am prince Tochi"the prince said.
"ohk,your highness"Chidinma said and walked away. Tochi still stood.
Light opened in Lila's room????????????
Hana was mixing princess Lila's bath in the washroom,it was all bright and glittering. soon she started hearing voices.
"stop lying on me you got heavy"
"haha drema hold me"
"no drema…"
"I really want to be close"
" about to kiss you againnn…
"whaaaaat"
she recognized the voice and smiled and left for downstairs
soon enough,drema walked down the stairs.
"my prince good—"
she said.drema didn't even look at her not to talk of answering her.she felt sad.
she admired him from up close but it's just so heartbreaking he doesn't noticed her.
drema got to the door…
meanwhile Chidinma also arrived at the door holding the tray in her hand.
she knocked.
????????????????