The Healer. Chapter 25
7 min read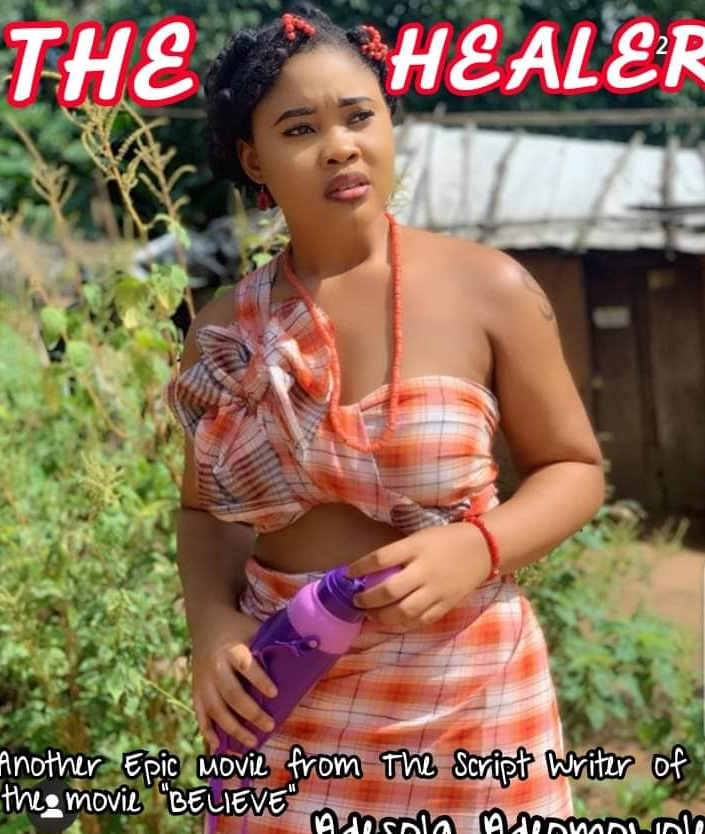 #THE_HEALER♥️
[kill me????heal my heart]
© adesola adeomowole.m.
Settings;Nigerian Epic drama????
Chapter 25????♥️????
now,enjoy..
Maids building?????
some maids were seen chatting,some playing games.chidinma walked in,she just had her night bath.she selected the maids sleeping wear from her cupboard,it was a black overall gown with white stripes.
her hair was braided in seven pretty cornrows.
she stand by the window,the wishing star was out again.
"I wish you would make obim wealthy with peace of mind so he will have a family to call his own….sky goddess please Grant my wishes" she said.
"you still believed in this myth"Dika stood beside her.
"it's real"dinma smiled
"I don't believe in it??
"maybe that's why it isn't working for you ..it works for me some times".
"opps I used to believe in it but not anymore" Dika said.
"why??
*I made a wish when I was 15….am now 23 my wishes isn't fulfilled"Dika said.
"waow you're 23…you're older than me oo"
"are you not 23 too?? Dika asked.
"nope,am only 20,I just have rapid growth..
"really…but your face looks 18,your body look 23…"
the two laughed.
isabelle dragged Chidinma from the back,they joined the girls who were chatting.
Someone cleared space for Nina.
dinma's eyes lit when she saw Hana.
"Hana you're staying here tonight?"she asked.
"what does it looks like am doing?"Hana bursted.she sat on her bed. Chidinma didn't see it as an insult,she left her bed and sat on hana's own.she really put a lot of effort in making sure that her place was beside Hana..
"Hana who plait your hair,it's pretty?"she asked
"do you want to plait your own?"Hana retorts.
"opps no,it's pretty"Chidinma said.she didn't still leave hana's bed.
"I miss my family I can't wait for tomorrow,am seeing them"olive said,she jumped on her bed childishly.
"I see myself being a successful business woman in the future"Dika said.
"you deserve it,you have been a maid here over two years now" olive said
"yes I have saved a lot"Dika added.
"dinma why did you work here,what's your purpose"Christina asked.
"probably to seduce men"Nina laughed. Chidinma scoffed.
"I didn't come here for myself,I came here for my younger brother so I can raise money for him to attend royal school"dinma said.
"waow am impressed I wish I had a sister who will put me second after God"said olive.
"hmm I thought you want to save money for your future.why wasting money on your brothers education"Hana asked.
"nonso is part of my future,he is really intelligent that I don't want him to end up being an illetrate like me"dinma said.
"that's ridiculous"someone said.
"that's why it's my effort"dinma answered.
"hmm. that's stupid. I can't spend a dime on my siblings future,they will forget me once I help them get there"Christiana said.
Olive sang out
"The moment I stood to you,I noticed your nice eyes" "I cried yesterday but I know I will be happy today,thanks to you".
the other maids sang the chorus.
"I need love that's warm,try to forget the past
"I can't live a day without you…
"who sang that song??
"Prince drema" they all chorushed.
????????????????????????????????
Hours later……..
Rose rolled on the bed,she touched her sideee,it was empty.she breathed out and flushed her eyes opened.
she remembered last night and couldn't help but blush.
she wore the signlet which was as low as her hips.
"waoow am in my bedroom,Dre must have carried me here"she smiled.
she picked the two notes in the bed side.
"six millionaire cheque".
"memory deleted" was written on a paper. she looked at the cheque again she smiled.
until a knock came on her door.
"hi ma'am,I hope you had a good night,will you he needing anything else???"she heard.
"I will call when I need something".
."okay ma'am"…
the waiter left and she kept the cheque in her purse,she walked out to dremas bedroom.
.
he was zipping in two briefcases when she entered.His physique was something that turned her up again immediately.
she swallowed her saliva by mere staring at his lips..
she wanted more,she wanted to feel drema in her,his perfect male frame…everything.
she knows what they did yesterday wasn't a real sex,it was more of a quickie and that was because she took advantage of his emotion.
drema ended up pushing her away.
"thanks drema,I really enjoyed last night I loved the way you hold a woman" she said.
"it was a one night stand right,no feelings attached plus you took advantage of my emotions"he replied.
"yeah,I know no string was attached but we should do it again"rose said.
"one night stand happens only once…I did nothing to you yesterday..you were the one remember"
rose smiled."you said you love someone else I just want to know more ".
"seriously? am single,not searching.i just told you in advance that I love someone else, bye" drema said..
he opened the first briefcase and packed more money she kept it on rose laps.
"I know the sex was nothing but can we still be friends??"she asked.
drema left,rose stood up and admired his catwalks till he was out of sight.
????????????????????????????????????????
Chidinma tried talking to Hana,
even this morning,Hana is still ignoring her.
"what's up with her?"olive asked
"hmm nothing,maybe she's on her period" dinma said.
the other maids were yet to wake up..
"she can't be on her period"olive said.
"since when did she start ignoring you".
"since when I told her prince drema looks like someone I know".
"waoow,really??
"yes, he's my friend and his name is obim,he really look like prince drema. I tried to spot out differences but I can't"dinma said.
just then they heard sounds.
"prince drema is back!!! Nina shouted.
two maids rushed out alongside with Hana.
"you look confused maybe you should see his face again and confirm"Dika suggested.
"good idea"olive added.
"I don't know,he kind of look familiar,very familiar and I want to be very sure so I won't get into trouble if am mistaken"dinma said.
Olive,Chidinma and Dika left the place they were tidying up.soon they cut across the 4th building,they entered the prince empire and hide beside the corridor….
separating the place they were standing at was a bluish transparent glass.
Prince drema walked down his eyes was on his phone..all the maids on the road bowed to him. he just nodded to their greetings as he passed them.
"have you seen his face??..
"I….wait…
"is that how he walks,he has the same walking step with obim just that obim is poor
"this is prince drema,he is an actor and a model what do you expect? catwalk has mastered him…
"his steps are so sexy"said olive
"he gets handsome more and more"said Dika
Chidinma didn't say a word,there is no difference at all..
"Obim!!! she called in her heart.
Prince drema turned right in the spot they where hiding but Dika and olive already pushed her in..
"he almost caught us..
"madam crystal is coming,run!!!
they ran away to the maids quarter.
"so what can you say now"olive asked.
"I don't even know.".
"Chidinma it's prince drema you just saw" olive said.
"he still looks like obim..
"you're really dreaming"Hana barged in.
"but am not. am not telling lies to get attention"Chidinma said.
Hana scoffed.
"look here don't you have pride at all" Hana said to dinma face.
"fine..it's okay maybe am dreaming. He just look like him am not saying he's the one and besides prince drema can't talk to someone like me so I never wish he noticed me" Chidinma said.
"now you get it"Hana said.
Olive patted chidinma's shoulder and took her away.
"you are both best friends,do you really have to talk to her like that?" Dika faced Hana.
"and what if prince drema is the obim she's talking about? I really wonder why we women are the cos of our problems" Olive added.
"He can never be!!
"it can be any girl prince drema met but not Chidinma….." hana said.
"doesn't she deserve something good"olive asked.
"something good? she has bad lucks,her having ten clothes today was all because of my help so don't say what you don't know" Hana said.
"she has ten clothes and so what??"olive said.
"hmm Chidinma have just ten clothes!
"and I was thinking she's a middle class!!
"where did you say she came from again!!
"chaiiiii!!!
Olive scoffed,people were gossiping about dinma already…
"Hana this is really bad of you"olive said.
"so now you get"Hana said.
"what if???? olive asked.
"wake up from your dream"
Olive walked out and joined Chidinma in cleaning the pool.
????????????????????