The Healer. Chapter 29
6 min read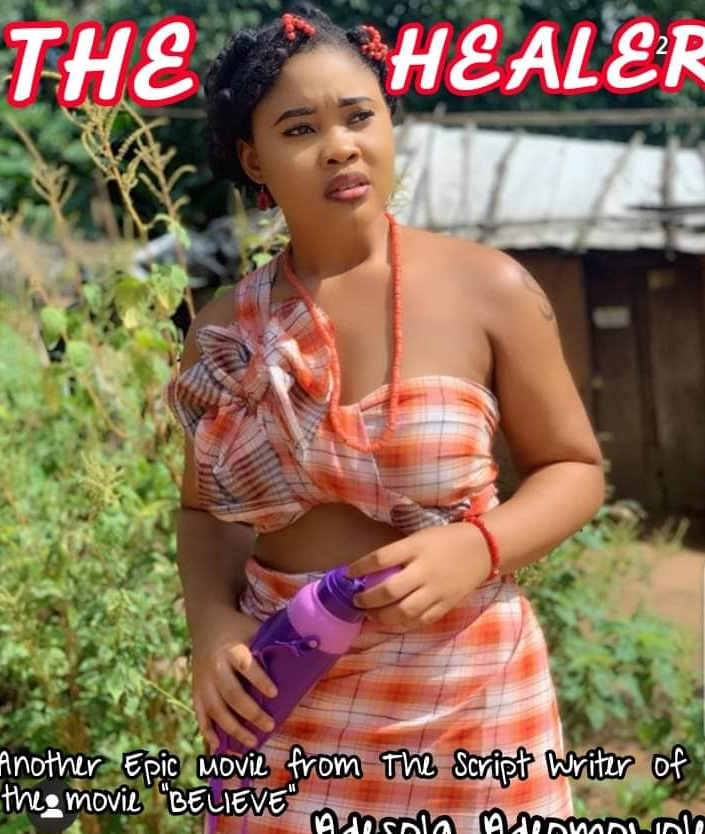 #THE_HEALER♥️
[kill me????heal my heart]
© adesola adeomowole.m.
Settings;Nigerian Epic drama????
Chapter 29????♥️????
now,enjoy..
light opens on one of the biggest designers, damina davis an halfcast(half African and half Paris) he was busy in a board meeting.
"how is the shoot for the new magazine going?…
*well it's going well sir,what about the top models you wanted to use as the cover?.
"elozonam is in charge of that,you know this is a body cream magazine,I need models who will sale it to go viral".
Just then another person walked in.
"Mr damina you need to see this".
"waow I love this. Wonderful.where did you get good male models like this? this is amazing. this is what we need for the success of this project".
"exactly sir,this particular shoot is the talk of the fashion world.Sam has gotten so many contracts out of this shoot.
"yes I saw the commercial,I mean the short film was a blast it was real and people loved it
"this video is played in all billboard on a busy road everyday by 7pm".
"waow who is this model?.
"He's drema jewel. 40plus gold award, 30plus silver award…it is said that he is the most famous and wealthy model throughout history and he is highly respected.
this magazine is his pictures made by an African photography (Esiet) is a best seller. A magazine of his worth #10,000 nigerian currency…
"hmmm drema is really expensive. I don't think he will work with us"..
"I heard he is humble too maybe we should give it a trial. We just need to write him an open check then send it through his manager"
"yes bethel or Mr Kelvin is good for a start. it shouldn't delay.but where is the settings if the shoot sir".
"anywhere drema wants it won't be a problem".
"all right sir".
*****************
maids room❤️❤️❤️
the maids were all busy very early in the morning.
As for chidinma,she was still sleeping.
"are you on duty?"olive asked.
"no,until afternoon"Chidinma replied in sleep.
"me too. but the pimples on my face is getting much I need something to clear it off"olive said.
they both walked to Chidinma cupboard.
she brought out some tumeric powder,honey bottle and lime juice.
"will this work??
"yes,as you can see no sign of pimples on my face.its always smooth and fresh"dinma said and mixed the tumeric,honey and lime in a bowl for olive.
"rub it on the pimples part".
"okay"…
olive took the bowl.
meanwhile on Hana's cupboard was a magazine of prince drema.this picture gives me goosebumps" she said to herself.
she looked away from the magazine as Hana approached.
just then the landline rang. it was drema's room.
"Hana pick it up"Nina shouted
Hana picked the call.
"my favorite wine please".
"ok.
"better go"Nina said.
*if I don't go,who else will go"Hana said.
"have you forgotten your maid hair net and apron,you better wear gloves cos prince drema hates dirt's"Dika blasted.
"whatever". Hana said. she wore only cap and rushed out she met crystal in the kitchen then she came out with the wine. she ran to drema's suite and knocked. On his door there was a good letter inscription of his name;.
Drema.
waow his room taste increases everyday.
"yes what do you want?"one of the guards asked,a little gruffy.
"prince drema ordered wine and am here to give it to him"Hana said nervously..she stared in awe as the guard let her in.
oh boy! everything changed.
The lights in his room were gloom,it has some phoenix red flowers that made the room almost dark.
The floors were something else. she came back to her senses when she heard laughter's.
"drema pls let me win in this one,you've been killing me since….are you mad???" that was prince Tochi's voice..
"sorry bro,am still going to kill you but–
"Dre let me win here are you mad???
"hmm you're lucky they don't kill in our family I will let this slide….
"okay kill me,kill me…
"(laughing) idiot"….
"(laughing in return) anofia(animal)".
"whattt. rema when did you start learning local dialect".
"to be sincere I don't even know the meaning of that"dre replied.
"Anofia…it must means something good…
"hmm no,Anofia sounds like something bad you know the likes of idiot. let's not use that word again"..
Tochi smiled.
drema dropped his game pad. Hana was lost admiring them. All she wanted was a funny, handsome guy with high pocket she really wanted to get noticed too.
"Rema what are we going to do about father?
"what about him??
"(clears her throat) am sorry to disturb you my prince i…." Hana starts speaking. Prince tochi turned but drema didn't.
"hmm I …".
this time drema turned but Hana couldn't get a clear sight of him cos of his hair fell on his face,be didn't band it.
"your wine….you ordered just now"Hana said. she traced her steps carefully and wanted to drop the wine.
"miss where is your glove"drema asked softly
"I…..I….."
"you know I get infected easily"rema said
"sirrrr"…..
"you used to put on gloves before,what happened today?
"sirrrrr"
"as from today can you stop bringing stuffs to my room…thank you,you still remember where the door is right?" rema said.
"my prince!!! Hana called. She won't be able to come to this suite and admire him anymore.
"my prince i….one last chance…" she only said in her head. Dre turned. she bowed and walked out.
jeeeeezzzzz!!! her mind raced. what she could think of that moment was Chidinma..
her looks were miserable????????????
she entered the kitchen and dropped the tray silently. Chidinma walked in.
"spaghetti Bolognese".
"what does that mean???
"chaiiii am in trouble! how do I cook that one?
chidinma put an empty pot on the gas,she doesn't even know how to turn on the gas. everywhere in the kitchen was so new to her. she hasn't used this type of things.
in her kingdom,they use fire wood. Only the wealthy use stove.
she looked back at where Hana was facing then turn to her empty pot.
"spaghetti Bolognese"…
she forgot the different between her and Hana and meet her.
"Hana please can you turn on the gas for me? she asked politely…
"of course I can"Hana replied. she followed dinma to the stand and turn on the gas.
"it's on"she said..
"but light didn't come now"..
"no if you're using gas light will not come out" Hana said.
"ohk but why is it smelling like this?..
"yes that's how it works,the more it smells the more the it gets hot"Hana lied.
"okay thank you".
Hana walked out.
Chidinma got confused. the pot wasn't hot as Hana said and the smell coming out was becoming strong.
"is anything wrong? why is this pot not hot!
she increased the gas the more hoping that the pot will get hot but it didn't.
until she heard a voice..
"what the hell is happening here???..
she turned and hastily knelt down.
????????????????
L