The Healer. Chapter 3
7 min read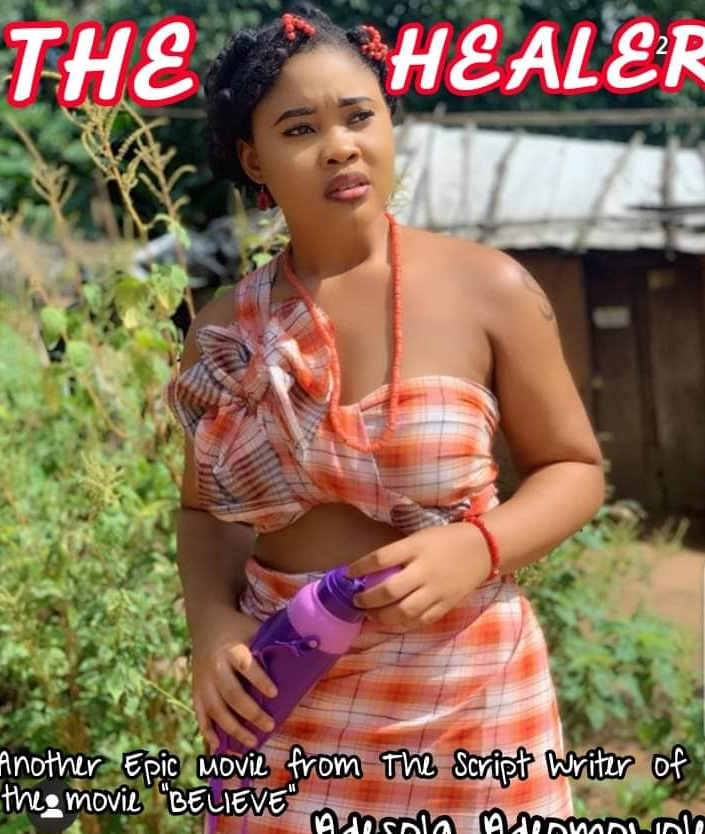 #THE_HEALER♥️
[kill me????heal my heart]
© adesola adeomowole.m.
Settings;Nigerian Epic drama????
Chapter Three????♥️????
now,enjoy..
Chidinma ran into the nearest forest in a little smile,sure that the leaves covered her face very well she took a deep breath and maintained silence.
"what is it madam Tamara? I don't like the way you came to my house this early morning shouting"Chidinma mother said.
"I am not shouting…I simply ask,where is your daughter?"madam Tamara's voice got high in full.
"any problem"
"I won't ask again,where is your daughter! for the last time!!!
"since you won't tell me what she did, she left for umunachi to fetch water"
"she did what? you allowed her to escape when you know I will be coming this morning right,when you know the crime she committed..
chaiiii…
Madam Tamara turn around dramatically.
"don't you know what she did?
I'm asking you….your worthless daughter beat up my son and almost got his manhood wounded…."
"don't you sound stupid? how many bones does Chidinma have to beat up your son? is your son not man enough"Chidinma mother said.that statement alone made madam Tamara got high,she couldn't hold it anymore, she faced the servants she came along with.
"what are you waiting for?
"scatter their house!
"turn this place upside down"
"upside down" "upside down"
"burn this place down"
"burn it down"
the servants of madam Tamara scattered everywhere around,Chidinma mother did nothing she just stood watching them.
"I will be back for you…just pray my son get well…let's go"
they left.
Chidinma mother sighed and went inside to continue what she was doing.
Chidinma on the other hand moved away from her hideout abd hastily rushed to the path she knew they would want to pass.
there were two big deep pot hole on the way she packed a reasonable amount of weak sticks to cover the pot holes then cover the surface with rustling leaves after which she rushed into another hideout
madam Tamara sooon passed with her hand maids,she walked right into the trap Chidinma set..and let out a loud scream her legs already got trapped with one of the nails on the stick
"that's what you get for shouting at my mother instead of you to train your children well"
she said in her mind and rushed away.
on her way she ran directly into hanah,the only maiden in this part of eziala that talks to her maybe because they are both class… poor poor.
Eziala has close to 23 kingdoms in countings and all her graded according to wealth standards..the part her family falls into is the lowest and also the most local.
no modern facilities at all compared to other kingdoms.
"nma how are you now?hanah asked
"I'm fine"she replied.
she's in a hurry,hanah was also in a hurry
they both ran as they talked.
"this one that you're in a hurry let me guess you just dealt with some scape goat"hanah guessed.
"you got me"Chidinma smiled.
"hmm so who's the unfortunate goat"
"madam Tamara"
*madam Tamara?? you mean the almighty madam Tamara??
"yes doesn't she deserve it"
hanah smiled."she really deserved it…mma but hope you didn't go to far..
that woman self eehnn her own is too much" hanah said.
"is it not because she's the healer…the only healer here. Very proud human being she used to collect many items,properties from people before she heal them which is very wrong…
it is really wrong….gods gave her free hands to heal for free but she turned it into wickedness and business.. well that's not even the reason I dealth with her"
"which ever way Chidinma..she deserves it for always carrying herself like she is the king of this kingdom…
take it that I am madam Tamara,this is how she behaves when people goes to her.
"hey what do you want here??
"I am Tamara,the great healer how can I help you….
"Mr Man before I can heal you….you will bringr cowries,goats,ram, clothes, 50% of your farm harvest before I can heal you,else nothing for you…
fia…the only thing remaining for her is to command people to lay on their bellies to great her"hanah said.
"that's by the way"Chidinma said.
????????????????????????????????????????????
Royal Palace.
queen chiamaka was seen sitting beside prince Drema bed.He was fast asleep the queen wore a long pitiful look.
The physician came in.
"Is there any need to fly him out again..he's getting better he's really a strong guy despite the amount of blood he Lost"the physician said..
"yeah I know"the queen pressed Drema hand softly.
"I will take my leave"
"bye thanks"
the physician left.
"Obim(my heart) how are you feeling,does it still hurts? she asked.
"umm no..it's getting better"
"Ok…can you recollect how you ended up falling on the stairs you couldn't have tried going out knowing fully well about your conditions. so how did it happen,my pillar" she asked with pure love.
Drema recollected everything. How Charles purposely slip his hand and pushed him. How cruel. I am blind already, can't he atleast pity me…
"obim tell me,how did it happened…
"come on Drema am listening"
"mother nothing…I can't remember anything" Drema lied for some reasons best known to him. gosh! this is the first time he would keep secrets from his mother.
"tell me the truth…
"yes you don't have to know it for now,I will tell you later"
"it's Charles right?? I see bitterness and jealousy in him and his mother's eyes but I assure you Drema,no harm will befall you…"
Drema rolled his eyeballs.
"that's by the way but don't confront Charles, just let him be" Drema said.
"your mom is smarter than that..
anyways your manager and assistant will be here soon meaning you will have to postpone your modelling shoots for now.
I will go get nkem"
queen chiamaka said and walked out.
Nora came right in time,everything about her was beautiful…
she is the perfect description of black bold and beautiful and also the perfect girlfriend.
the queen opened the door right on her face. In as much as the queen was disappointed that she didn't come when her son needed her the most,she smiled at her
"good morning mother"Nora said.The body hug gown suited her perfectly,her face was small she had those round bulgy beautifull eyes,nice set of dentitions
the maids behind her handled her phones abd bag.
"my dear I waited all nights did you not check your phones,Drema wasn't happy"
"it's okay mother am here"Nora said.
the queen hugged her carefully like a treasure
"please don't break drema's heart again,the only name he knows is his mother's name abd your name Nora…
not seeing you when he needs you the most breaks our heart equally*the queen said.
"it's fine mother"Nora smiled
the queen kissed her cheeks and walked away
Nora cat walked with styles until she got to a particular door in the prince empire
there was a diamond built inscription of his name
"Drema"
it was pure gem stone and it glittered.
the guards at the entrance bowed to Nora,she moved her eyes in a roll and entered.
the room was extremely side,everywhere in drema's room smelt wealth
the lights were dim and it made the room almost dark and even more beautiful and romantic…
his room has an inbuilt pool,
it's loved shape with scenting flowers sprinkled on it.
there were partitions of bluish glasses
super king sized bed
royal accessories,
artificial bluish fish floors,
a dermacated place for his jewelries alone.
Nora smiled immediately her eyes met with loads of drema's money scattered plentifully on one side.
Prince Drema sensed Nora's presence immediately.
"Nora" he called.
"my love" Nora rolled her eyeballs like she is being forced to answer.
Drema sat up and stood up..
his head was already bandaged neatly, that did not steal his sexiness.
His stature really tells he is a public figure.
"Nora I know you're here,can you stop the hide and seek"Drema said and click his lower lips.
Nora dropped her bag and walked to Drema, she hugged him.
"I'm sorry for yesterday night"she said, her expression really shows she felt sorry.
"its—
Nora kissed Drema,it got intense.
lust was clearly visible on Nora's eyes until Drema unlocked the kiss, he pulled away from Nora.
"baby"Nora said and tried kissing him again
Drema moved his face,Nora ended up kissing his cheeks…
"seriously?? I apologized didn't I?? Nora shouted like she's scolding a kid.
"I'm not mad at you…and can you stop shouting"
"ohh now shouting….it's not your fault now, it's my fault for allowing you sensing my presence" Nora said and threatened to leave she knows Drema can't do without her.
"I beg you with everything we have shared don't leave me"Drema said..Nora scoffed and came back.
"I just feel like something is not right"Drema said.
Nora rolled her eyeballs.
"anyways hows the baby"Drema said and rubbed Nora's Tommy
"I removed it…I aborted it"
"hunnnn why??? Drema tried not to shout,he felt more sad. why is Nora doing all these to him.
"I'm not ready to give birth now. I'm not ready to be a mother now!!!
Drema turn his face to the other side.
"I'm sorry"
"we will have another one"
"I'm sorry"
Nora hugged him from behind.
"what now? I said we will have another one" Nora said and kissed him.
"but Nora… why!
"I know"
Nora deepened the kiss,they both ended on the bed.
????????????????????????????