The Healer. Chapter 31
7 min read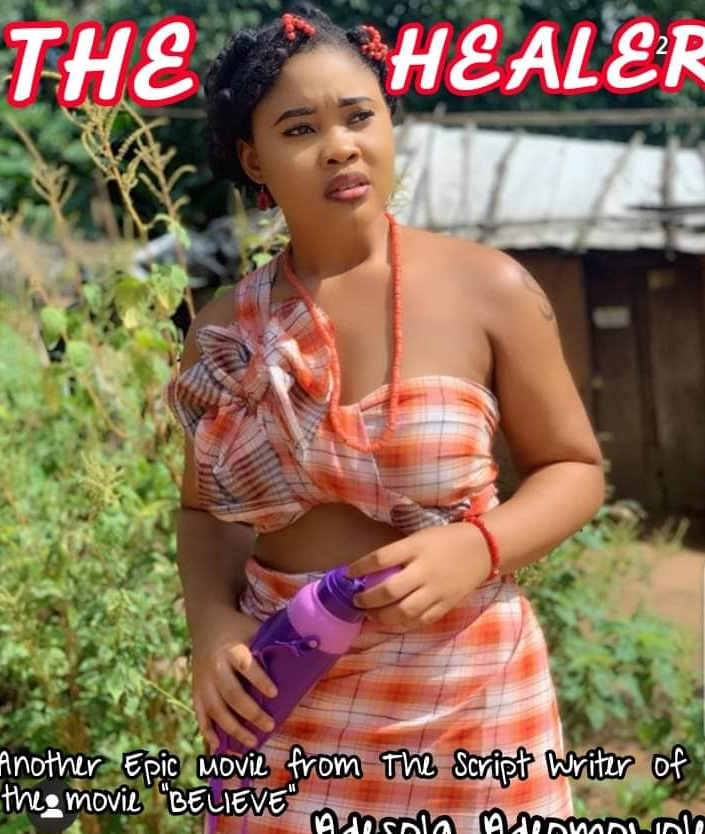 #THE_HEALER♥️
[kill me????heal my heart]
© adesola adeomowole.m.
Settings;Nigerian Epic drama????
Chapter 31????♥️????
now,enjoy..
tochi didn't withdraw his hand until Chidinma cleared her throat.
"am sorry….I…
"you shouldn't touch a woman like that"dinma replied.
"am…"tochi got lost again.
"(scoffs) thanks for your help anyways" dinma said and ran off.
that boy is really something else but if not for him I will still be in the rain imagine.
she removed her hair pin and scratch her hair
on getting to the maids quarter,Nina walked out with hana ecourting her. "why do they seem close all of a sudden? Hana has really changed. she doesn't talk to me like before, she doesn't laugh,play and share things with me like before. did she put me into trouble intentionally today again?
am really confused.
dinma shrugged and hastily changed her wet cloth in the changing room by the time she was done,Hana already returned to the room.
"hey how are you feeling,you look sick" olive said.
"the rain affected me badly in the lock up,it's just random cold"dinma replied.
"you were locked up?? why??
"nothing..it's good am out now"
"who locked you??
"queen chiamaka but princess Cora delayed my punishment"dinma said.
"it's Nora not Cora"Dika laughed.
"whatever,she's really wicked but is that how she talks?
"Yes,she speaks good English"Mary said.
"is that one good English? I don't think it is" dinma said.
"why? her English is sound".
"that one?? eeeeh that one that is talking like bird that is looking for food.I see money can make a fox look like a princess"dinma said.all the maids laughed except for Hana
"Who opened the gate for you then?.
"Tochi".dinma answered.
"hmm you mean prince tochi?? Mary said baffled likewise the other maids.
"He said his name is tochi! is he a prince" dinma said. A surge of jealousy ran through hana's spine that she had to walk out.
dinma noticed it,she watch her walk out.
"I wonder what I did to you that made you threw my friendship away,it seems you don't want me around. okay I won't force it,if you go right,I will go left"
"good night everybody"Chidinma said.
************
Hana came in when all the maids slept. I can't believe she's really shameless she said and walk over to her cupboard which was next to chidinma's cupboard.
She remembered the gift box and opened chidinma cupboard she didn't even lock it. she saw a brown envelope in her cupboard. She picked the envelope and opened it. inside it was a neatly bundled #500 notes,on the paper band was #100,000.
"how much is her salary? is it #100,000? jeeez I said it this girl is really shameless. Other maids collect #70,000 even me.
she dropped her money back and closed her cupboard for her.
…………
Light falls on Rose????????
Rose ran out of her car,her assistant ran behind her.
"madam that's not the shoot location,this is an hospital".
"I know but am sick,I need to see my doctor come on you can go,I will meet you at the hotel"rose said.
her assistant left.
Rose entered the hospital alone.
"good day miss rose first can I have your autograph"the nurses on duty giggled.
"sure,but first I have an appointment with doctor Blaine" she said.
"this way madam".
she smiled and walked to the doctor's office.
"miss rose
"yes doc,tell me my test result is out,am I pregnant?
"yes sure the test result is out
"ok
rose collected the report the doctor gave her
"whaaat,am not pregnant but I want to be pregnant,jeeeez"rose said.
"rose you are not pregnant,you're a super model and you're just 23 you're not even married and you want to be pregnant don't ruin your career when you still have a lot undone
"arrrghh but I want to be pregnant"
"don't tell me you want to tie a man down with pregnancy"
"doctor Blaine you're too smart now that you know help me please?.
"rose that's the lowest level a woman can stoop to,you will only end up being hurt
"I don't care doctor,I really want drema. you've been my doctor for a very long time.Are you helping me or not?.
"well rose. Fine try getting the person to sleep with you again,I will give you an injection that will boost your oestrogen level".
"No he won't want to do it gain.don't worry doctor if drema won't get seduced by me,I will have to drug him"
"hmm rose you need to be careful,you can't carry that type of drug around it's dangerous from your health,what if you mistakenly drink out of it again,I'm scared your system will break down again".
"No doctor I won't drink out of it.
"hmm be careful.
……………
Damina David had a little chat with drema,she was really impressed with the way he answered questions.He will really go far.
they used the chat opportunity to wait for rose.
Rose car arrived and Rose ran towards damina and they hugged each other.
"oh Mrs damina am so sorry am late
"have heard it's your habbit..
Rose laughed as she looked at where drema sat looking elsewhere.Bethel stood beside him pressing her phone. Rose was so lost staring at drema,
I want to hold your hands everytime drema,I don't know sometimes I really want to see you everyday I even think of being your maid I am ready to be anything you want me to be.
"Rose hello"damina said.
"ohh sorry I was lost in thoughts" rose replied and quickly took her eyes off drema.
"rose get ready!
"come in drema let's do a good job"
drema walked behind her soon the make up artist started their work,the custume designers where up and the shoot was in process.
**********
the shoot was successful.
Rose was glad she had a second chance of working with drema again.
"waow rose you're really good but you still need to keep fit" damina said.
"yes ma'am"rose replied and ran out of the hotel searching for rema.
unfortunately for her their booked suite was far away from each other.
finally she spotted him beside the pool. he looked like he was thinking of something as he looked in the waters.
"rema have been looking for you since…you were really good.The shoot was a hit" rose said.
Rema looked at her for a second and took his eye back to the bluish pool.
Rose carefully drop her drink beside remas own she shifted it intentionally and dropped the drug in Rena's drink.
"(clears her throat) about last time am really sorry for doing that,I never meant to do that I hope we can become good friends" she said and carried her drink. she drank out of it and gave drema his own.
drema collected it and dropped it back.
"I hardly see you in the midst of ladies can you tell me what type of girls you like"rose said in a chuckle.
"I don't really like girls…they draw me back so I don't get too close to them"said rema.
"whaaat.are you a gay?.
"hey Miss am not. I like girls too and I don't really like them"replied drema.
"you're confusing yourself"rose said…
"am not. I don't get too close to girls,I don't like girls like that most of them have bad lucks"
"wait are you saying I have badluck what type of boy are you hunnn"rose said and splash water on him.she want him to get too engross so he will take his drink.
"my type of woman must be….she must be troublesome with an innocent look just like my mother,she must be smart what else….
"rema you haven't taken your drink"
"ohh"
rema carried his drink,he looked at it first then stretch it to rose.
"drink out of it first"he said.
"whaaaat but it's your drink,I brought it for you right.dont you trust me"
"yeah I know,but I really want you to drink out of it before I drink"
"I……
"didn't you say we can become good friends..
"I…..drema…I… truthfully am…..
"why are you suddenly stammering? did you drugged it???
"of course not. why will I do such a thing,in fact let me drink it to show my sincerity"
rose said and carried the drink until she remembered what the doctor told her.
"drink it already??
"I…..actually drema….
????????????????????