The Healer. Chapter 33
9 min read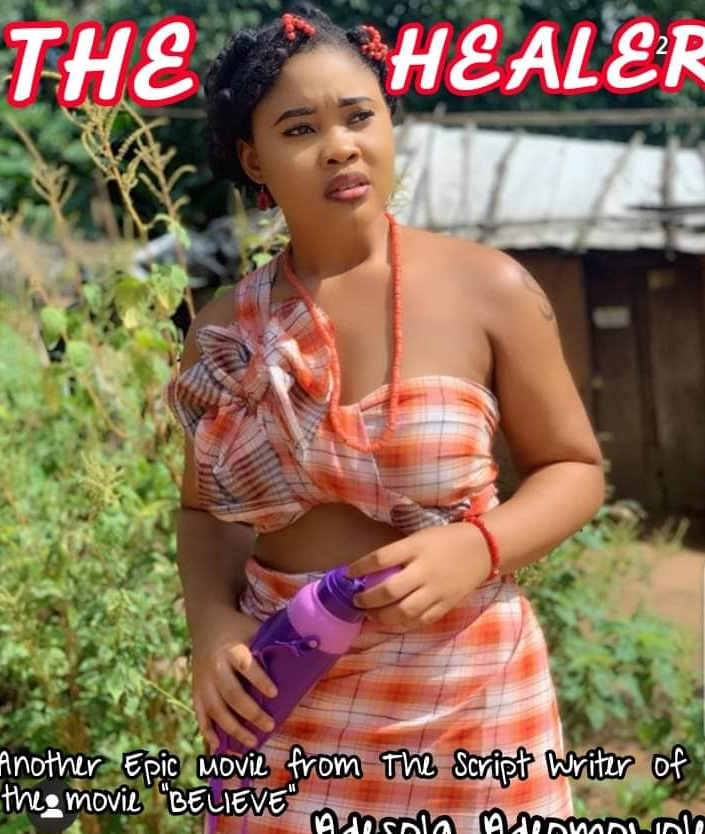 #THE_HEALER♥️
[kill me????heal my heart]
© adesola adeomowole.m.
Settings;Nigerian Epic drama????
Chapter 33????♥️????
now,enjoy..
"mama I can't remember…I can't" Nina said. she hit her head slightly.
"you really can't remember??? madam Tamara startled.
"yes…I mean no…I mean yes….aaahh what's wrong with me but have seen this before on a maid at the palace she seems close but the face is what i can't recollect"Nina said. why does mother seems so I retested in the healing mark,is yet own healing power weakened that she wants to take another person's own…
"well mother let me go to bed,I will think over it and definitely remember before the day breaks" Nina uttered.she stood up.
"my lady your food is ready and served" madam Tamara's hand maid rushed in with a wooden decorated tray.
she placed the food gently on the low table. Nina sat down to eat. She opened her mouth to take a bite of the yam, madam Tamara quickly put a round purple coloured substance that looks like candy into Nina's mouth, it dissolves in her mouth.
"mama!!! what did you put in my mouth.."
"swallow it first???
"mofe(mother)"
Nina spat out little blood as she swallowed what her mother gave her.
"mama…
"Nina you're my daughter,I can't hurt you okay calm down. You just swallowed yunn elix"
"yunn what?? Nina gasped. I don't believe in magic powers why did you have to give me that to swallow mother,why???
"Yunn elix is a rapid powerful magic,it has no match at all except…"madam Tamara paused and smiled.
"it takes only 14days to cultivate into your system,by cultivation it produces the pure glazed fire which I will teach you how to chant only this pure glazed fire can make you drain the healing power of the maid with the mark" madam Tamara explained.
"fine but hope there is no consequences if I don't use the pure glazed fire".
"No there's no effect if you know how to control it but make sure you find the maid and help me with her healing power..civilians are already loosing counts on me since am unable to cure sick patients".
"that's serious.i will try to help you with everything it will take,after all a mother is a mother"Nina said.
"you're capable,you really took after me. follow me,I will teach you how to chant pure glazed fire"madam Tamara said.
"yes mother" Nina followed her into her inner room.
madam Tamara chanted the magic in Nina's presence,it was really easy. within a blink of an eye two shinning flowers with neon fire colour lay on both sides of her hands. everywhere in the inner room become soo hot.
"waooow!!!! Nina smiled. she doesn't believe in magics but she finds this interesting.
madam Tamara breaks the chant. Nina clapped.
"hmm why are you just teaching me this now mother,I find it interesting. if I had known this since,I will always use it to defense myself" Nina said.
"you've known it now but you need to be careful. Pure glazed fire is really dangerous, it can kill as well but you should use it a little bit"
madam Tamara explained.
"ok.trt to chant yours.i just saw how I chant mine…
"yes".
Nina chanted her own.She got it right,she break the chant immediately.
"but why is my own pure glazed fire not as hot as your own???
"I just gave you the pill,it's not yet we'll cultivated.".
"hmm am glad"
Nina smiled. she got so excited that she ran into her room where she continue chanting pure glazed fire.
soon she left for the backyard where she sat on the bare floor to throw stones into the water. meanwhile Aku also came out through the back door with the card princess Jackie begged her to send to Chidinma.
"should I meet with Aku now???
"what if she doesn't want to help? hmm what if she collects it and bit give it to Chidinma??
jeez am confused and this is the only chance I have–
I could have gone to the imperial palace to deliver it to Chidinma but am a lowborn and low born ain't even allowed to step into the royal estates..
hmm I'm really in a tight position.
Aku moved out of her hideout and walked up to Nina.
"Hy"she greeted.
Nina didn't even look up.
"Hy"Aku said again.
Nina smiled and stood up from where she sat.
"hope you don't mind if I try my new found magic on you" Nina said.
"hunnn"
Nina chanted the pure glazed fire and attacked Aku with it…
"I….Nina what are you doing"Aku hastily replied and blocked the magic with water magic.
"hmmm are you mad,remove the water magic I want to test pure glazed fire on you"
"Nina why are you saying such things,magic is not something you can use to do evil,magic is meant for saving life's,it even makes life easier stop this your nonsense. I can see you really lack maternity education–"Aku said
madam Tamara came out that moment and break both their magic,Aku fell to the other side unfortunately the pure glazed fire attacked her feet,she got burnt slightly.
"waoow it works,it really worked" Nina squeaked and ran in.
????????????????????????????????
Royal Palace….
maids room???????
Chidinma was in the cleaning the garden with two other maids.She cleaned it dutifully and sometimes admire the palace building. she really wish she can enter inside again to see what the interior really looks like but unluckily she's not an inside maid.
she rushed back to the maids room..
Just then the phone rang. it was Tochi. Hana rushed the phone like a hungry lion.
"hello your highness"
"kindly give the phone to the cage girl"tochi said…
"cage girl?? who's cage girl! hana asked
"I think he's talking about Chidinma" another girl answered.
Hana dropped the phone,Dika took it and handed it to Chidinma. Mary and the others smiled carelessly wanting to hear what prince tochi has to say.
"Yes….what do you have to say? Chidinma said…
"be nice,you're talking to a prince"Sandra said lowly. dinma made a "so what look..should I kneel down because am talking to a prince".
"I need Osmothetic wine with two glasses in my suite"
"well am not an inside maid,Olive will–
what he ended the call,this guy is really trying me oo.dinma said in a frown as she went for the wine which she placed in a tray,she added the glass.
"I will be seeing the inside palace for the second time in one month,maybe this guy is useful"
she entered the palace,no one need to tell her she feel like she's in paradise. King Jewel is really wealthy.
She followed the foot map route in the prince empire and finally got the direction to Tochi's suite.
She knocked,the door got opened by Tochi. He was shirtless,the royal chest tattoo was bold on his chest and arm…
Chidinma closed her eyes."what type of thing is this very early in the morning??.
"good morning my prince"she courtesied she moved in and dropped the tray.
Tochi closed the door but he still stood by it and watch Chidinma from behind.
"is this really a room or a whole house on it's own…."
she dropped the tray carefully and approached the door where tochi stood.
"I need to leave my prince,thank you"Chidinma said.Tochi blocked her way.
"No you don't need to leave,stay with me" tochi said.chidinma clenched her fist angrily behind her..
"What's that your name again??" tochi said he left the door.
"Chidinma" dinma replied she touched the door knob.
"That's not the order given by me,I said stay here until I ask you to leave"tochi said.
"am my….my…." this people are really trying me ooo.
tochi smiled. he watch Chidinma as he silently gulped his wine.
"my….jeeezzz!!!
"your what????
"my menstruation just came,I need to go and clean up"Chidinma said in such an irritating manner. Tochi threw up.
Chidinma smiled and ran out.
She passed drema door and suddenly stopped, have never seen this door open. is the third prince really a loner???
she ran out to the maids quarter.
"Why doesn't his highness treat prince drema as he treats prince Charles and tochi?"Chidinma asked.
"if you don't want to get punished you better don't talk about that again"cautioned olive.
"this is serious,I pity prince drema even though I don't know who he is".
"hmm you don't need to pity him.He is already made,if he wants the whole world at his feet he can buy it.Its just so sad someone like him will grow up without a father's love" olive said.
"waoow.Sometimes even the rich go through pains than the poor do" Chidinma said.
"welll….
"I even heard he has insomnia right from childhood up till now his insomnia is not cured"
"tell me what's insomnia???
"Insomnia is a disorder whereby one is unable to sleep at night hours" olive explained.
"that's huge,even as a child he went through all that.
"hunn prince drema stays awake at night right from birth I know it's lack of father's love".
"that's bad but insomnia…. insomnia can be cured"Chidinma said..
"well the imperial doctors said it's incurable"
"that's a lie,I can cure it just that the herb ingredients are expensive. I will be needing up to #40,000"
"really. You can cure it.Then be the first person to take a step but there is an issue.
queen chiamaka doesn't play with drema,she prefers using doctors than local healer and besides no maid is allowed to touch Dre spoon not to talk of what he eats or drink. I heard he gets infected easily,even princess Nora isn't allowed to stay around him always" olive said.
"I think we should forget about it"olive said.
"yes"Chidinma nodded. somehow Chidinma still wanted to help.
"here head maid sent us to deliver something's to madam Klaus"olive said. they both took excuse from the guards who let them out.
they passed the market square.
it was really busy so many traders were seen. Chidinma spotted the herbs she needed to cure drema's insomnia in a nearby herbs store.
she looks away immediately. am I mad, why am I thinking of using part of my first salary to buy herbs for prince drema,someone I don't even know.
she excused herself from olive abd finally find herself in the herb store. she bought the herbs.
"Chidinma is this what you need for your brothers education,you don't even have clothes you are using your money to buy herbs for someone,what if drema doesn't accept it?? you're just a maid so was it really worth it….
if this is for someone like drema you will just get hurt in the end" Olive said.but Chidinma already purchased the herbs.
"hmmolive you're right but have bought it already,I can't return it the seller won't collect it again it's too late. I believe am just helping someone. You were the one who said prince drema is always struggling to sleep well and it makes him look weak…
and if I make the herbs and he doesn't accept my medicine,it's okay let's go"
dinma said. she walked in front. Olive statement about her not having cloths really got her. what's wrong with me am I stupid or what.i said I want to save money for Nonso future but I already spend half in a guy I know nothing about am I a flirt or what?? how can I be liking and caring for Obim and drema in the same way. she said to herself.
"dinma sorry for what I said,I didn't mean to say you don't have clothes I am only being concerned you use 40,000 on someone you don't know. Am really sorry but I don't want you to get hurt trying to show kindness to the royal family. But showing kindness towards drema Jewel is far from it,it will destroy you dinma,he's too high… we are way below him you and I are low borns so let's just work like servants humbly the Jewel's never tolerate commoners not to talk of collecting help from them…
have you heard of prince Charles??
I want you to stay away from them,it's even better we both are not inside maids" olive said.
dinma hugged olive.
"but now,the herbs is unreturnable…how do we go about it?? she asked.
"hmmmm…..
????????????????????????